Tuesday night's game vs. Gwinnett postponed
Doubleheader scheduled for Wednesday, June 23 at 5:05 pm
Tuesday night's series opener vs. the Gwinnett Stripers has been postponed due to inclement weather. The game will be made up as part of a seven-inning doubleheader on Wednesday, June 23, with first pitch of game one scheduled for 5:05 pm. Gates at Harbor Park will open at 4 pm.
Three home runs not enough in loss to Durham Sunday
Ciuffo, Nevin and Urias homer, as late rally falls just short in 6-5 loss on Father's Day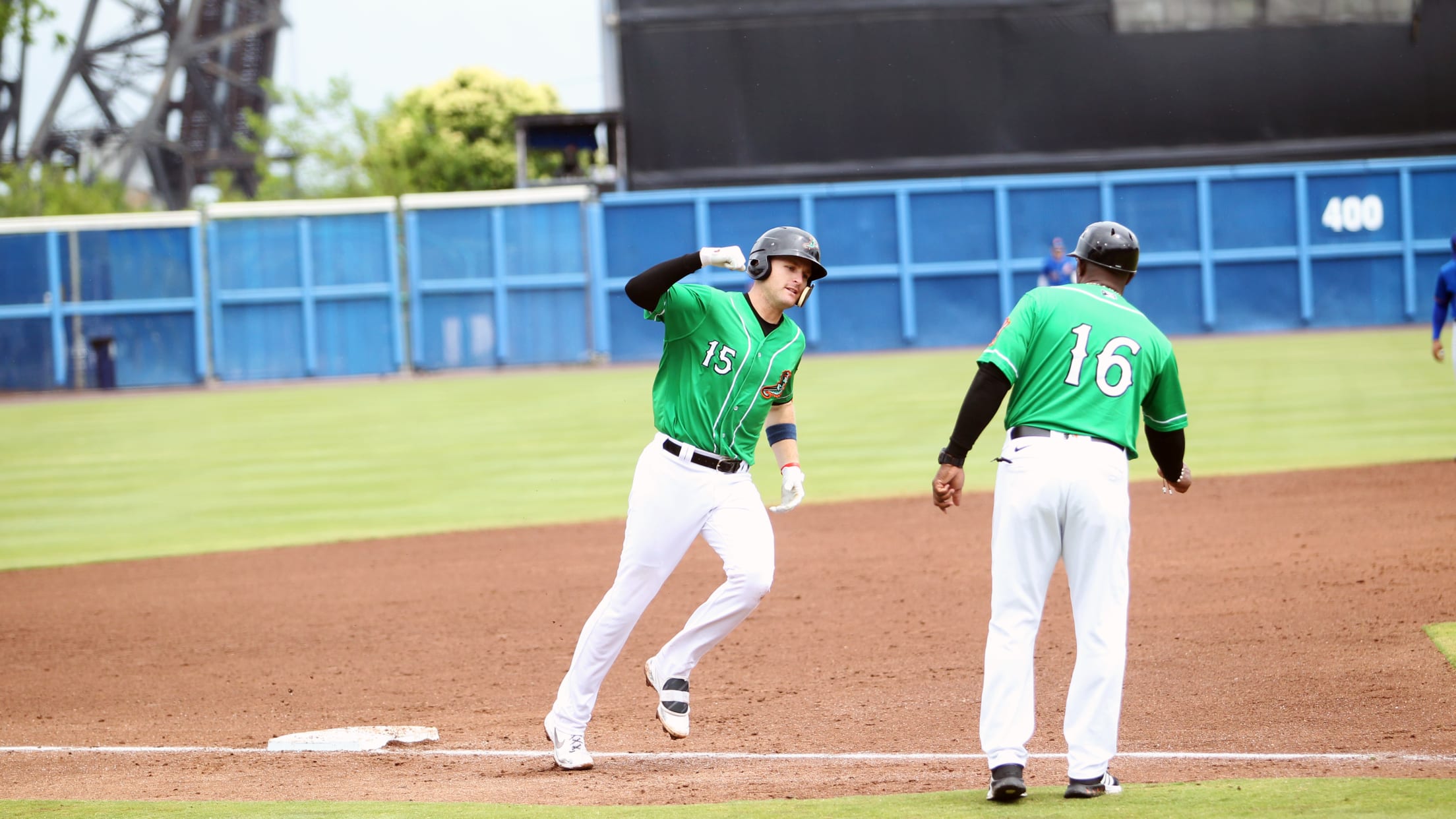 Nick Ciuffo, Tyler Nevin and Ramon Urias each homered for the Tides, but a late rally fell short as Norfolk (15-24) dropped the finale of its six-game set with the Durham Bulls on Sunday by a 6-5 final score. Durham second baseman Vidal Brujan led off the game with a
Tides blanked by Bulls Saturday
Jahmai Jones extends hit streak to 10 games in loss
Shortstop Ramon Urias reached base in all three of his plate appearances and four Tides relievers recorded scoreless outings, but Norfolk (15-23) dropped Saturday night's game at Harbor Park to the Durham Bulls by a 9-0 score. Durham took a 5-0 lead in the second inning and never looked back,
Lowther dominates and Jarrett homers, but Tides fall 4-3 to Durham Friday
Ninth-inning rally falls just short after Lowther's great start and Jarrett's big night at the plate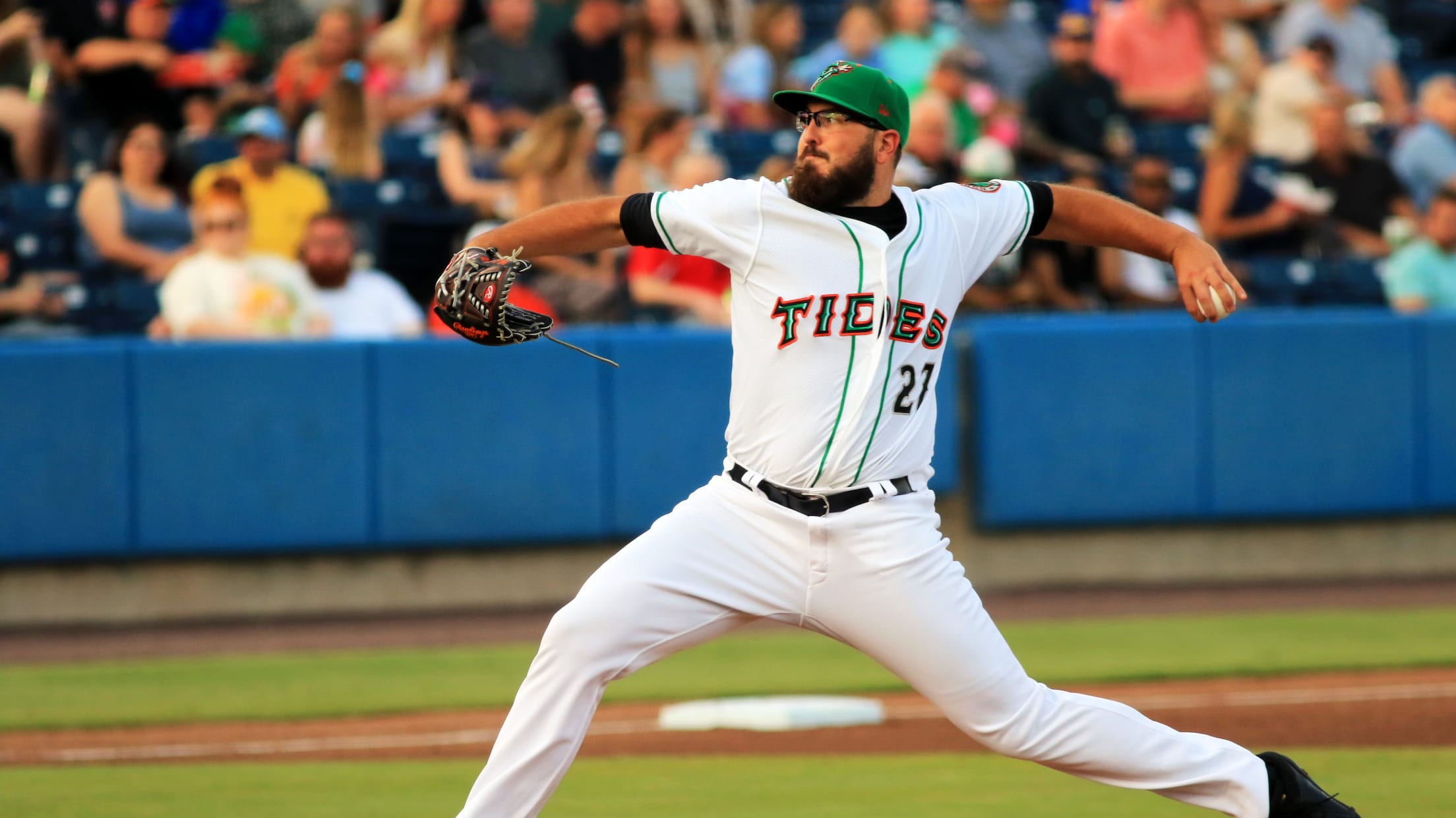 Tides starter Zac Lowther threw five dominant innings and right fielder Zach Jarrett homered and drove in two runs, but the Tides fell 4-3 to the Durham Bulls on Friday night at Harbor Park. Neither Lowther (5.0IP, 3H, 0ER, 1BB, 6K) nor Durham starter Drew Strotman allowed a run through
McKenna, Nevin and Leyba homer, Tides rally to beat Bulls Thursday
Norfolk overcomes 5-2 deficit with five-run seventh inning in comeback win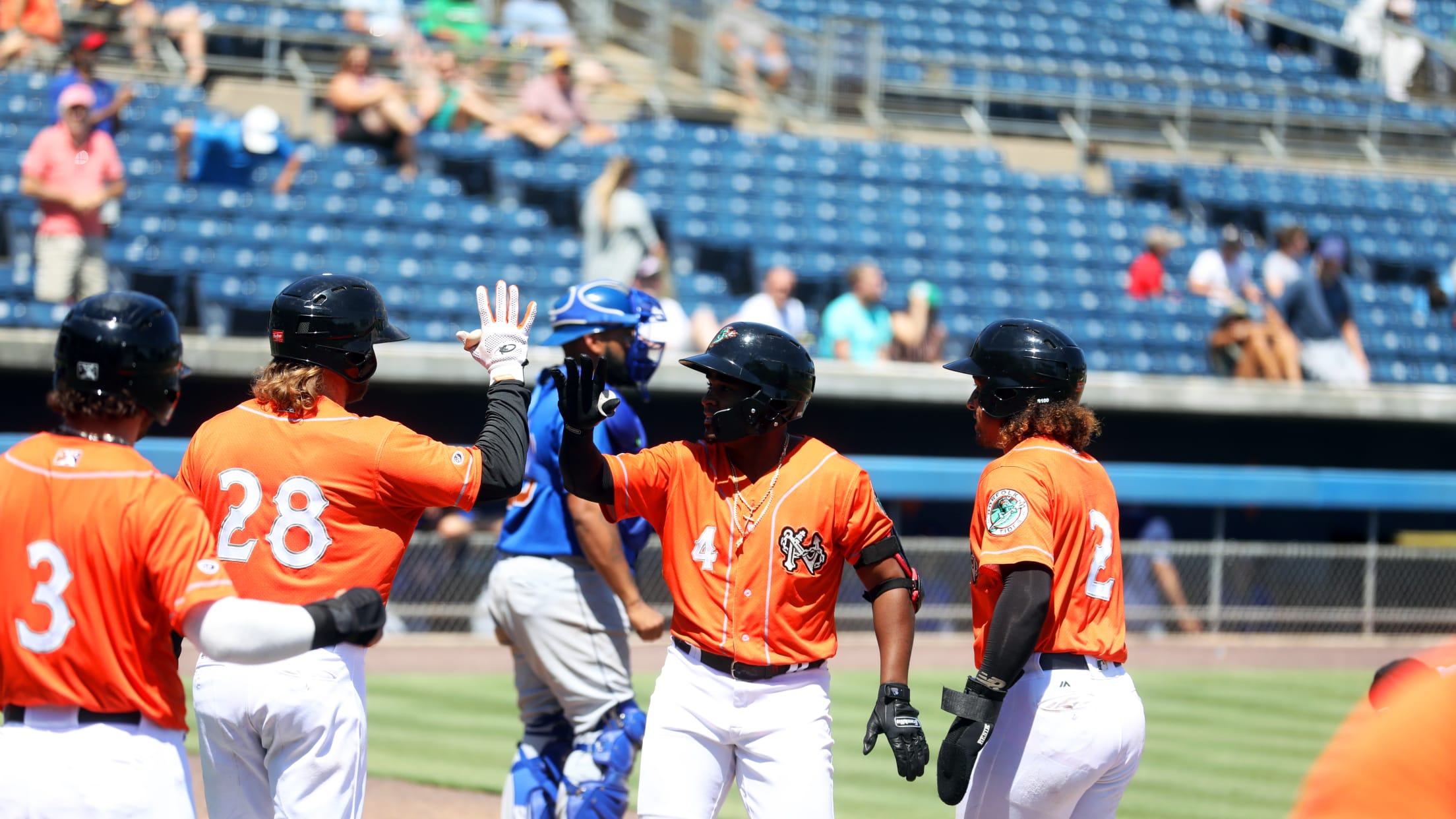 Ryan McKenna hit his second home run in as many days, Tyler Nevin blasted a go-ahead two-run homer and the Tides roared back from a three-run deficit with a wild five-run seventh inning, as Norfolk (15-21) beat the Durham Bulls 10-6 on Thursday afternoon at Harbor Park. Norfolk right-hander Mickey
McKenna and Leyba have big nights, but Tides fall short Wednesday
Ryan McKenna homers in four-hit night, as Domingo Leyba drives in three in 7-5 loss
Tides center fielder Ryan McKenna went 4-for-5 with a home run and a double and left-hander Kevin Smith turned in a solid Triple-A debut on the mound, but Norfolk (14-21) dropped Wednesday night's game at Harbor Park to the Durham Bulls by a 7-5 score. Wednesday's pitching matchup featured a
Wells shines in start, Tides hit two home runs to power past Bulls Tuesday
Alex Wells tosses five scoreless innings, as Brett Cumberland and Jahmai Jones go yard in Norfolk's 11th win in 17 games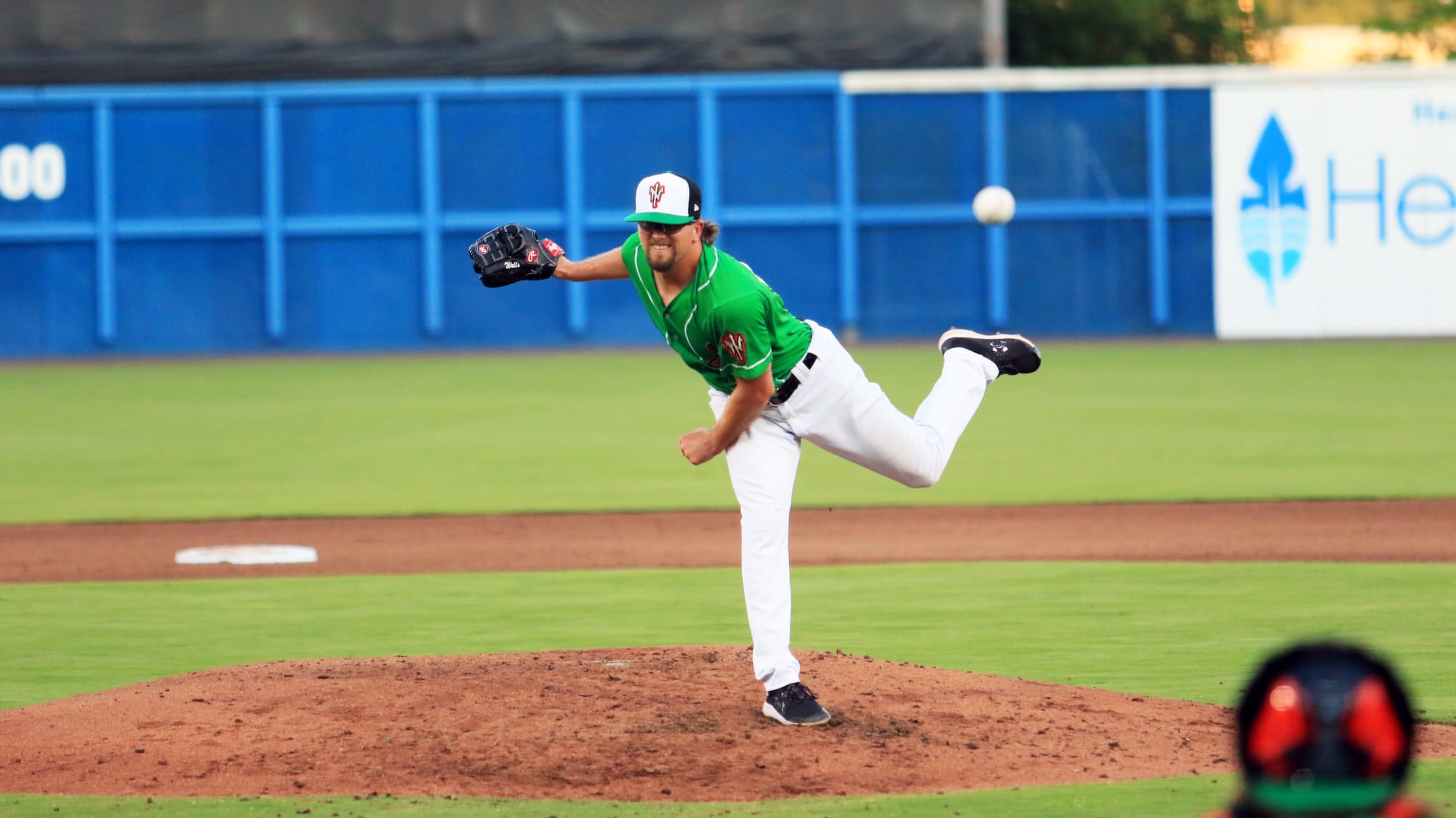 Tides starter Alex Wells continued his torrid start to the month of June by tossing five shutout innings, as Brett Cumberland and Jahmai Jones each homered to lead the Tides (14-20) to a 4-1 victory over the Durham Bulls on Tuesday night at Harbor Park. Wells (W, 5.0IP, 2H, 0R,
Tides sink Shrimp Friday night, 8-0
Lowther and Greene shine on the mound, as Leyba homers for the third-straight game in Tides shutout win
The Tides earned their first shutout victory of 2021, blanking the Jacksonville Jumbo Shrimp, 8-0, Friday night at 121 Financial Ballpark. Norfolk was led to victory by two great pitching performances from starter Zac Lowther and reliever Conner Greene, as well as a 4-RBI night from Domingo Leyba, who homered
Tides use eight-run fifth, strong pitching to beat Jacksonville Wednesday
Domingo Leyba hits a grand slam, Ramon Urias homers and Alex Wells tosses five stellar innings in 9-3 Norfolk win
Highlighted by an eight-run fifth inning, the Tides won handily in Jacksonville Wednesday night by a final score of 9-3. Norfolk tallied 12 hits on the evening, including a solo home run by Ramon Urias and a grand slam by Doming Leyba. Tides starter Alex Wells earned his third win
Hays and Jarrett power Tides past Jumbo Shrimp Tuesday
Zach Jarrett and rehabbing Austin Hays both homer, as Norfolk hangs on in ninth to take series opener in Jacksonville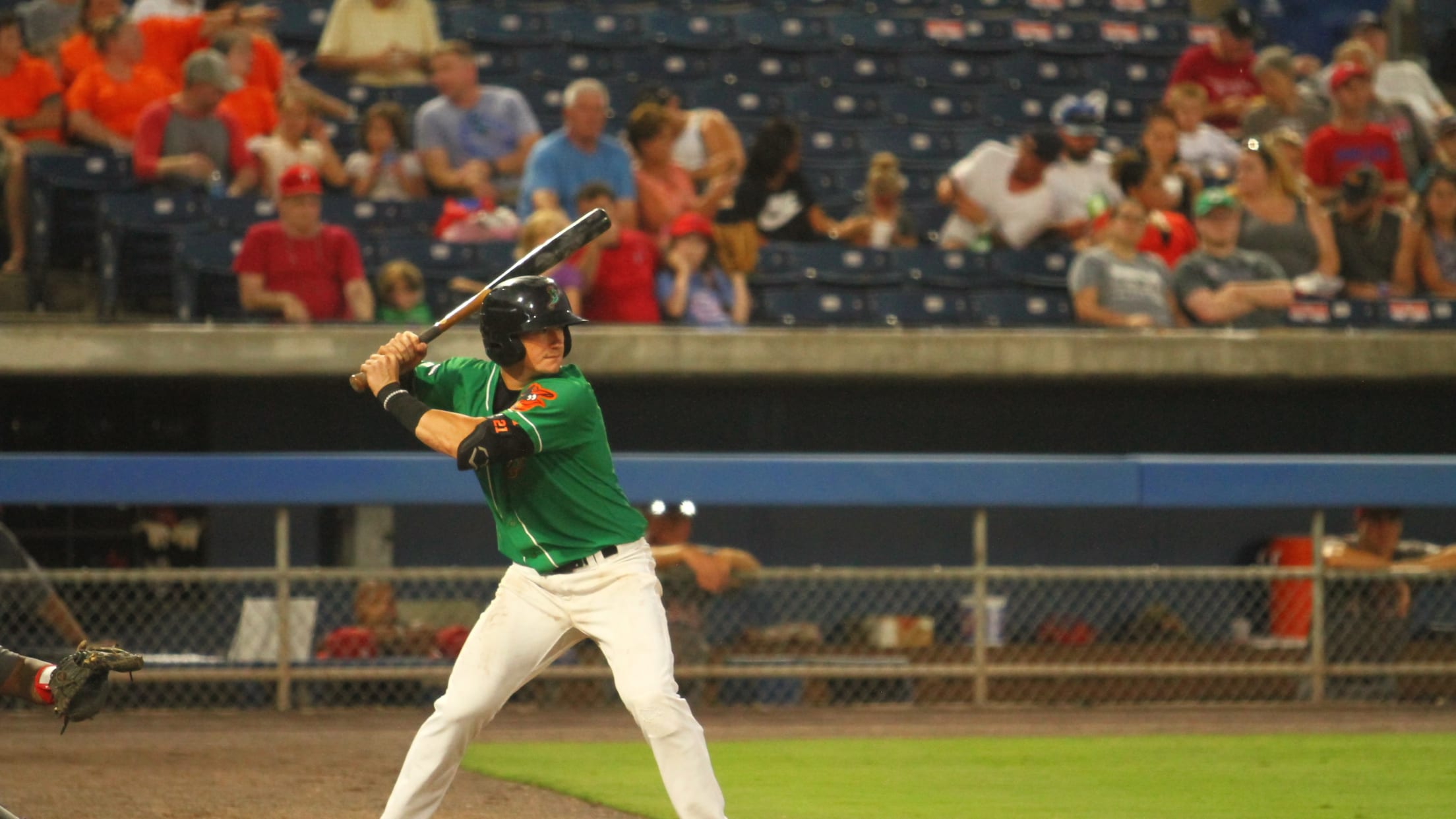 The Tides opened their six-game series in Jacksonville with a 4-3 win over the Jumbo Shrimp Tuesday night. Dean Kremer made his second start for Norfolk and took a no-decision after allowing three runs on just one hit over 4.2 innings. He walked two and struck out seven, matching his
Tides-Bulls game postponed Friday
Tides had 12-4 lead when Durham pitcher Tyler Zombro was tragically hit by batted ball
With the approval of Major League Baseball, Friday night's scheduled game between the Tides and Durham Bulls has been postponed. No makeup date has been determined. The decision to postpone tonight's contest comes after Thursday night's incident involving Durham pitcher Tyler Zombro being struck by a batted ball. In a
Tides-Bulls game called in eighth inning Thursday
Tides had 12-4 lead when Durham pitcher Tyler Zombro was tragically hit by batted ball
DURHAM, NC — Thursday night's game between the Tides and Durham Bulls was called in the eighth inning after Bulls pitcher Tyler Zombro was hit by a batted ball. Norfolk was leading 12-4 at the time of the injury and it is an official game. The thoughts and prayers of
Tides hold on in ninth to secure road win in Durham
Kremer tosses four strong innings in start, as Abad squashes Bulls comeback in ninth with two big strikeouts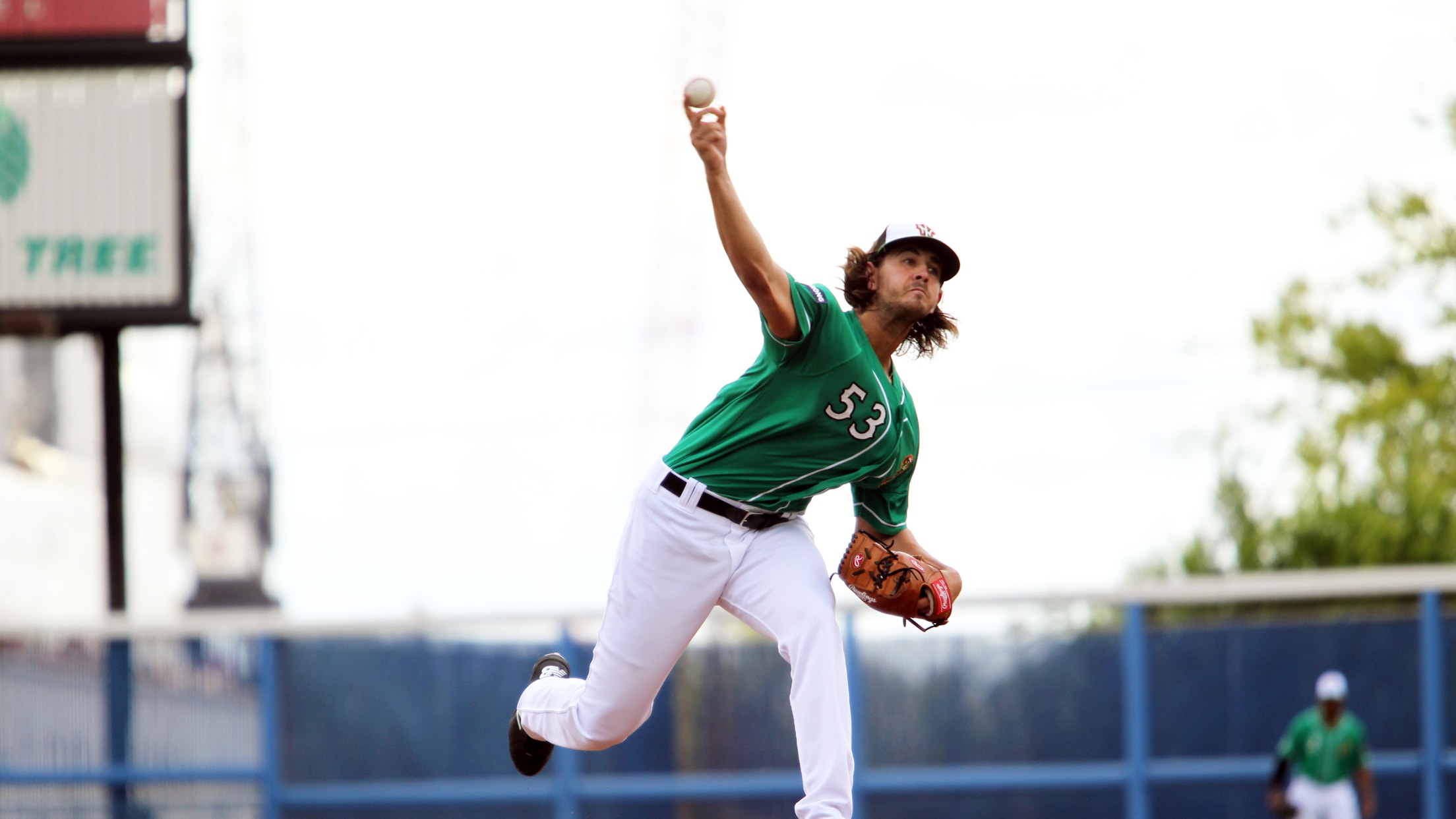 Thirteen hits from the Tides offense and four strong innings from Dean Kremer in his first start with Norfolk this season helped the Tides kick off their 12-game road trip with a 6-3 win over the Durham Bulls Tuesday night at Durham Bulls Athletic Park. After making nine starts with
Strong pitching helps tides wrap up first homestand with win
Bradish earns first Triple-A win after five strong innings, as Yahn drives in two in Triple-A debut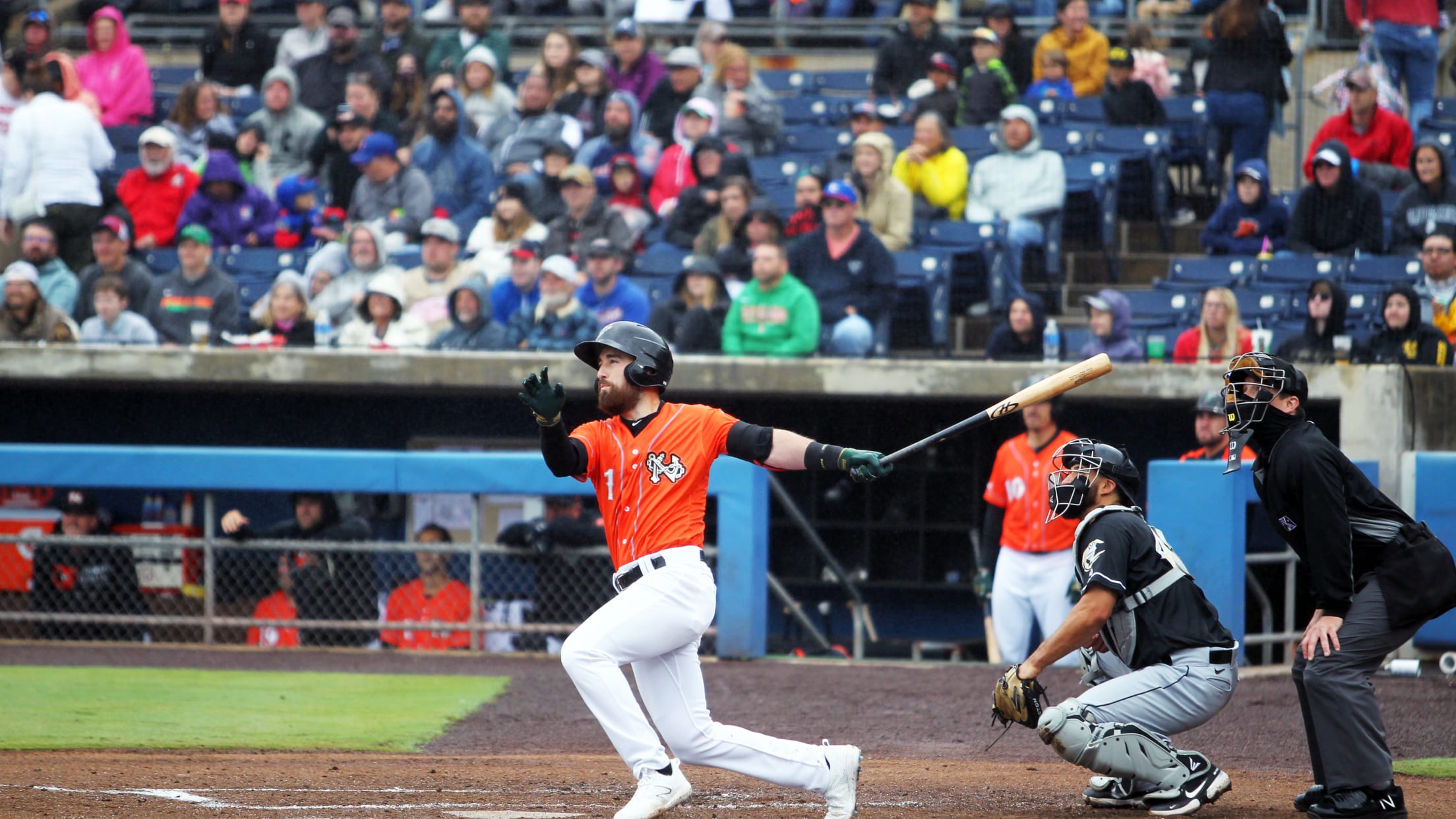 Tides left fielder Willy Yahn hit a two-run double in his first Triple-A game and starting pitcher Kyle Bradish earned the win after tossing five strong innings, helping Norfolk (8-15) end its first homestand of 2021 with a 4-1 victory over the Charlotte Knights on Sunday afternoon at Harbor Park.
Saturday's Tides vs. Charlotte Game Postponed Due to Weather
The game will be made up as part of a double-header on September 1 beginning at 5:05 PM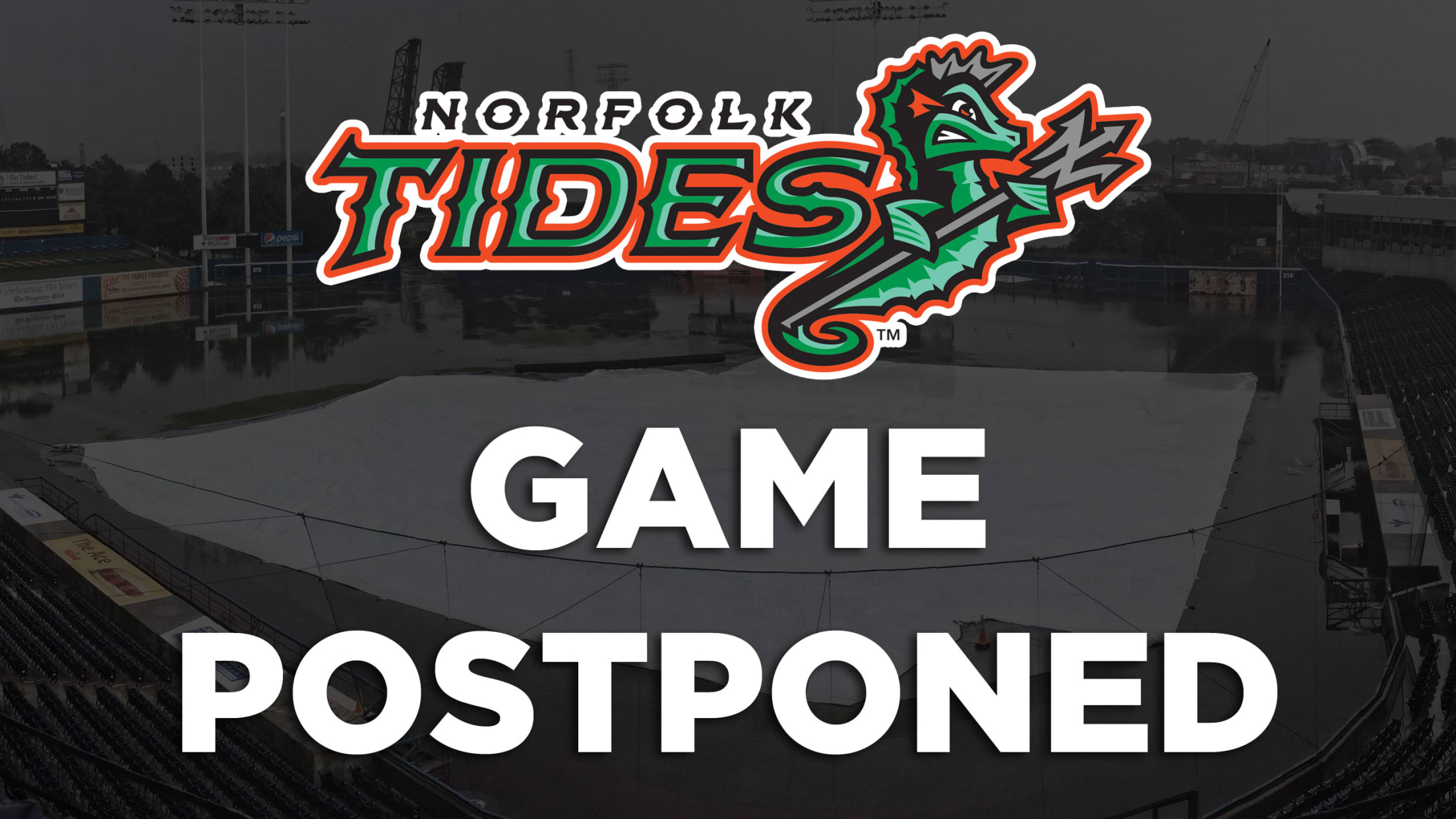 Saturday night's game vs. Charlotte has been postponed due to inclement weather and will be made up as part of a double-header on Wednesday, September 1 beginning at 5:05 PM. The double-header will consist of two seven-inning games, with game one beginning at 5:05. Saturday's originally scheduled Post-Game Fireworks Extravaganza
Tides top Charlotte in fourth straight win Thursday
Austin Wynns homers and Taylor Davis drives in three, as Norfolk scores a season-high 10 runs in victory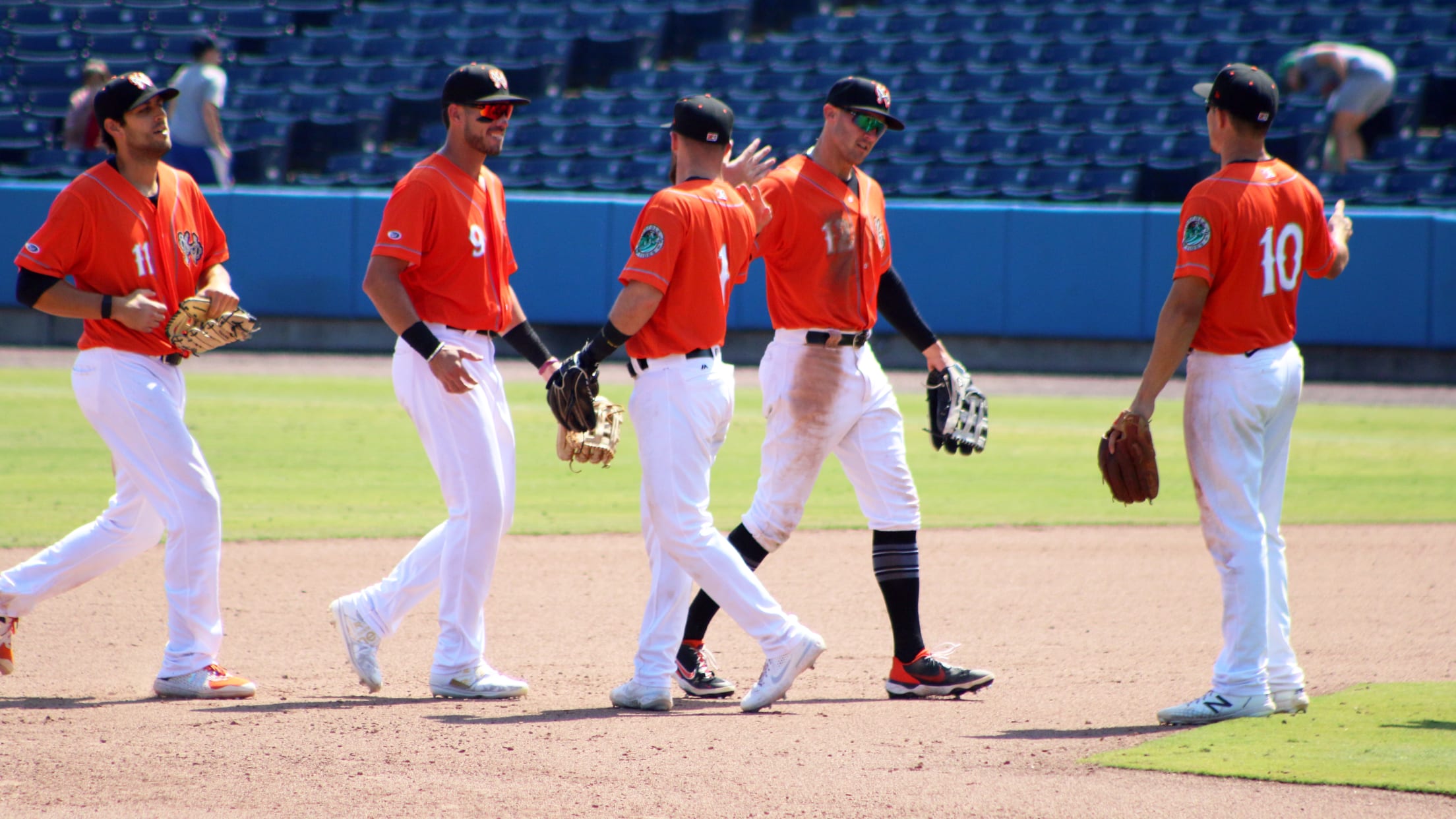 Shortstop Mason McCoy hit his league-leading fourth triple and drove in two runs, first baseman Taylor Davis added three more RBIs and the Tides (7-14) emerged victorious in an 10-7 slugfest with the Charlotte Knights on Thursday afternoon at Harbor Park, winning their fourth straight contest. Mac Sceroler (1.2 IP,
Tides win third in a row with 9-2 victory over Charlotte
Tyler Nevin and Seth Mejias-Brean both homer, as Mason McCoy triples and drives in three Wednesday night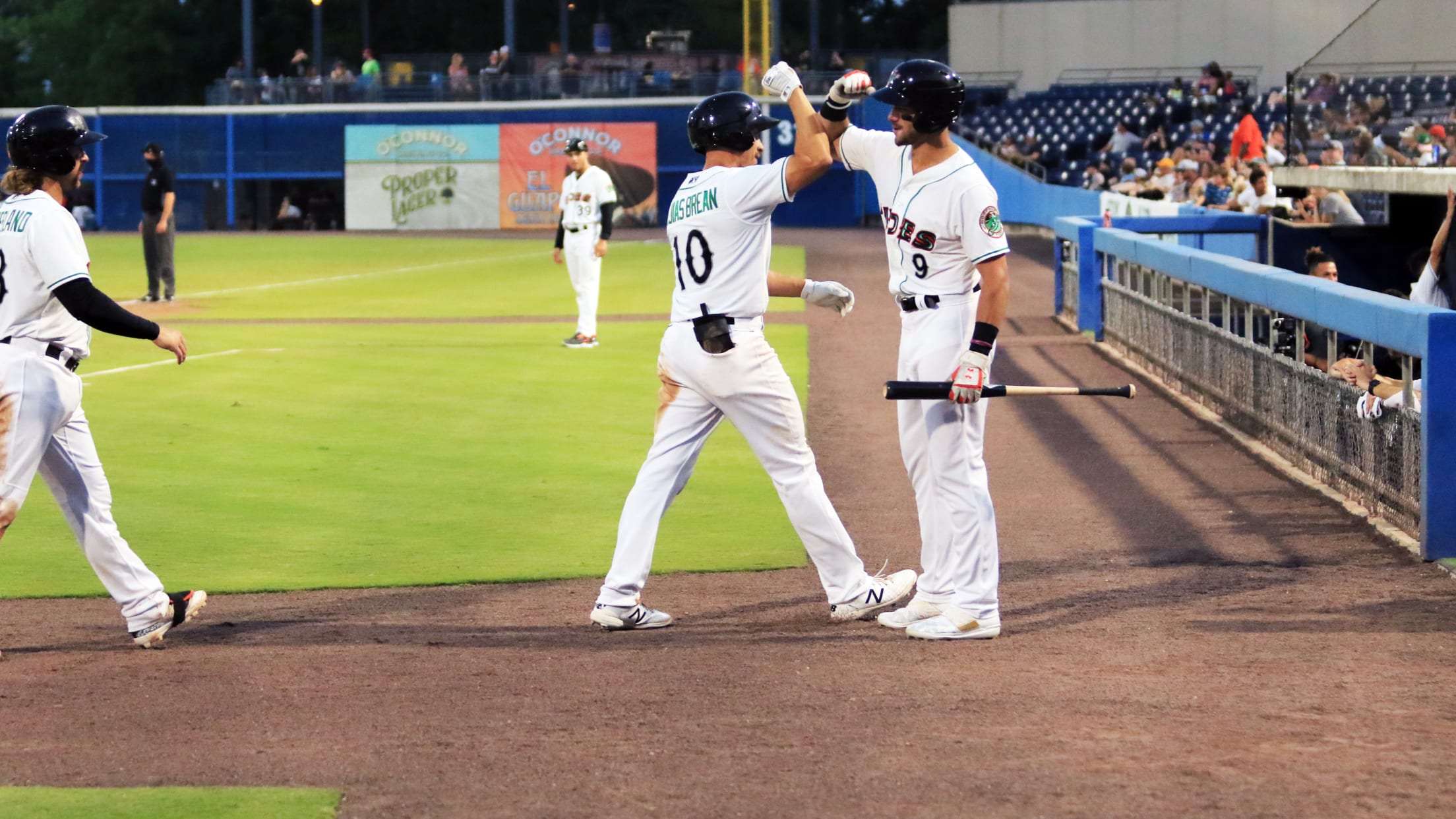 Good things came in threes for the Tides on Wednesday night at Harbor Park. Third baseman Mason McCoy had three RBIs and two hits, including his league-leading third triple of the year, Seth Mejias-Brean added three RBIs of his own and the Tides (6-14) stormed past the Charlotte Knights by
Tides walk off in another comeback win Tuesday night
Starter Kyle Bradish makes Triple-A debut, as Norfolk wins in walk-off fashion for second consecutive game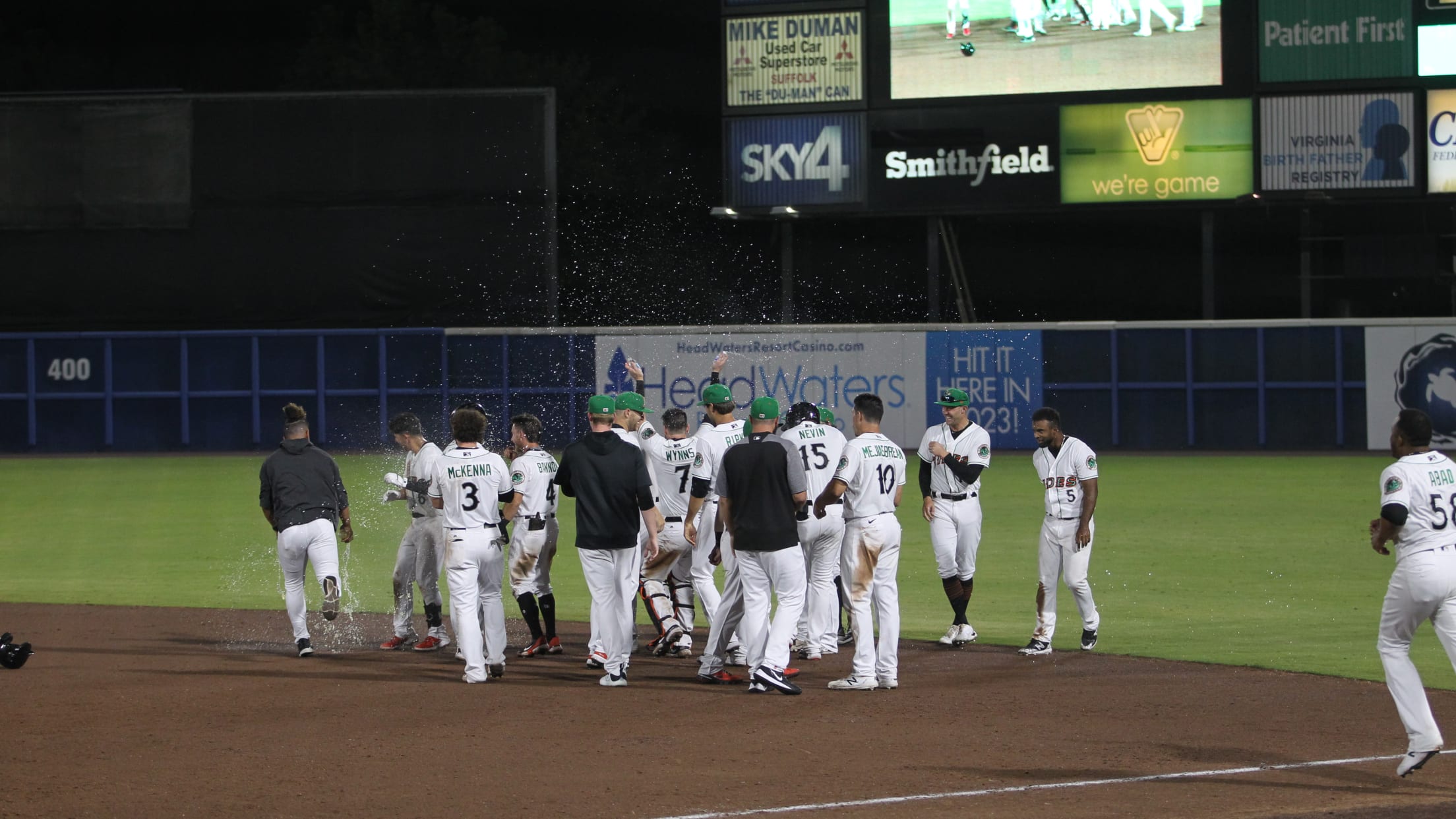 Highly-touted Orioles pitching prospect Kyle Bradish made his Tides debut on Tuesday night against the Charlotte Knights and Norfolk took advantage of a handful of Charlotte errors to come away with the team's second straight walk-off win. The Knights jumped out in front in the second inning, as shortstop Zach
Tides Announce Move to Full Capacity at Harbor Park
Harbor Park will welcome fans at 100% capacity beginning May 28, with single-game tickets for June through September on sale May 26 at 10 a.m.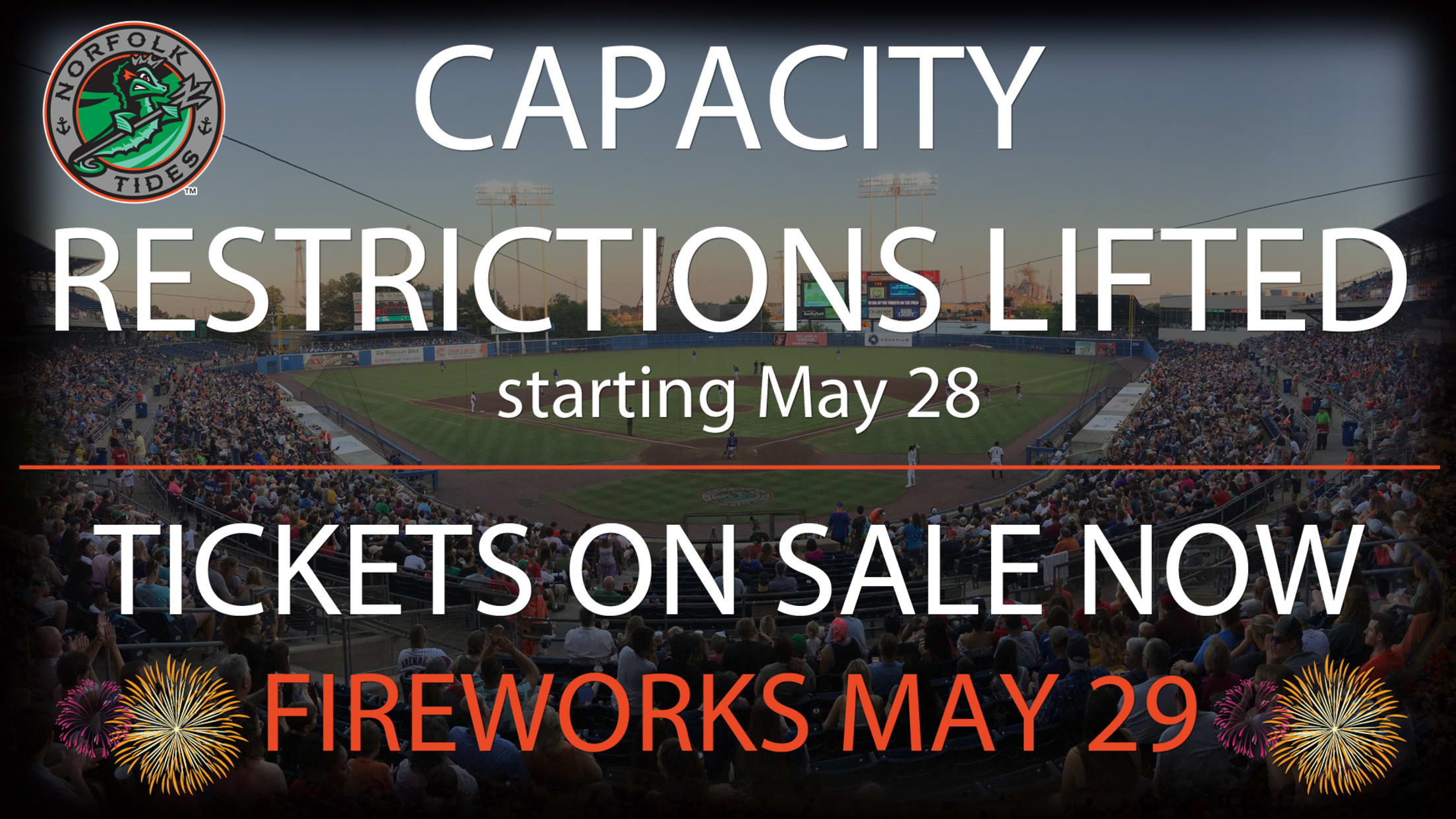 NORFOLK, VA—The Tides today announced their plan to open Harbor Park at 100 percent fan capacity. The current 38% capacity limit and social distancing restrictions will be lifted beginning Friday, May 28 when the Tides host the Charlotte Knights at 7:05 p.m. With the announcement, Harbor Park will be open
Tides rally late to win extra-inning thriller
Watkins tosses six hitless innings in start, as Tides complete come-from-behind win in series finale against Jacksonville on Sunday
A ninth-inning rally for the Tides led to a tie game and another come-from-behind rally in the 11th inning resulted in a walk-off single from catcher Austin Wynns for Norfolk's first home victory of 2021. In a rematch of starters from game one of the series, Watkins (6.0 IP, 0
Jacksonville powers past Tides on Saturday night
Jorge Alfaro homers twice for Jacksonville, as Tides drop ninth straight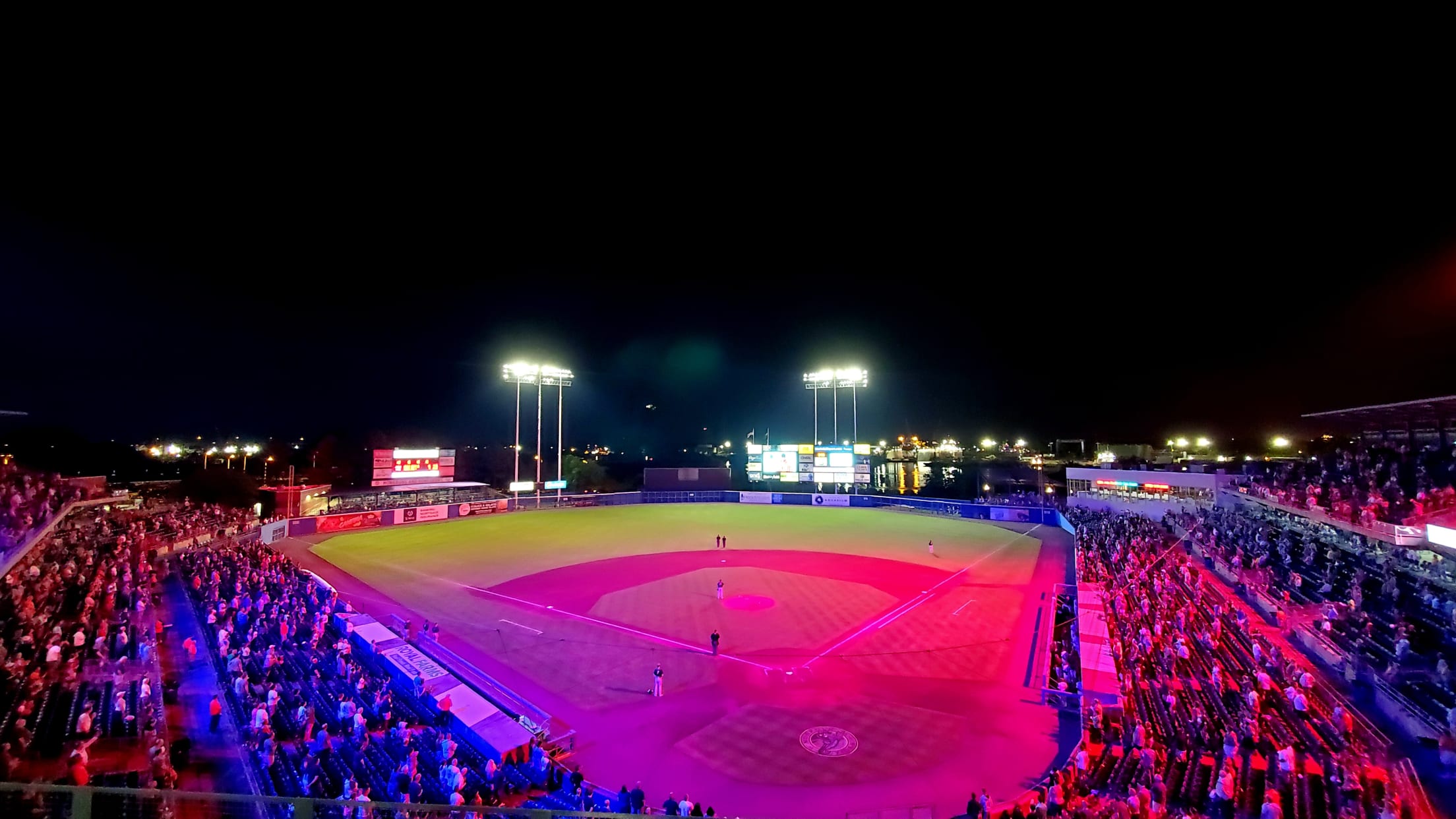 The seventh triple of the season by Tides hitters – who entered play on Saturday tied for the most three-baggers in the Triple-A East – and the second two-hit performance in as many Triple-A games for Tides outfielder Zach Jarrett wasn't enough to overcome a two-home run, five-RBI night from
Tides drop pitcher's duel against Jacksonville Friday night
Conner Greene throws 7.0 strong innings, as Zach Jarrett collects two hits in Triple-A debut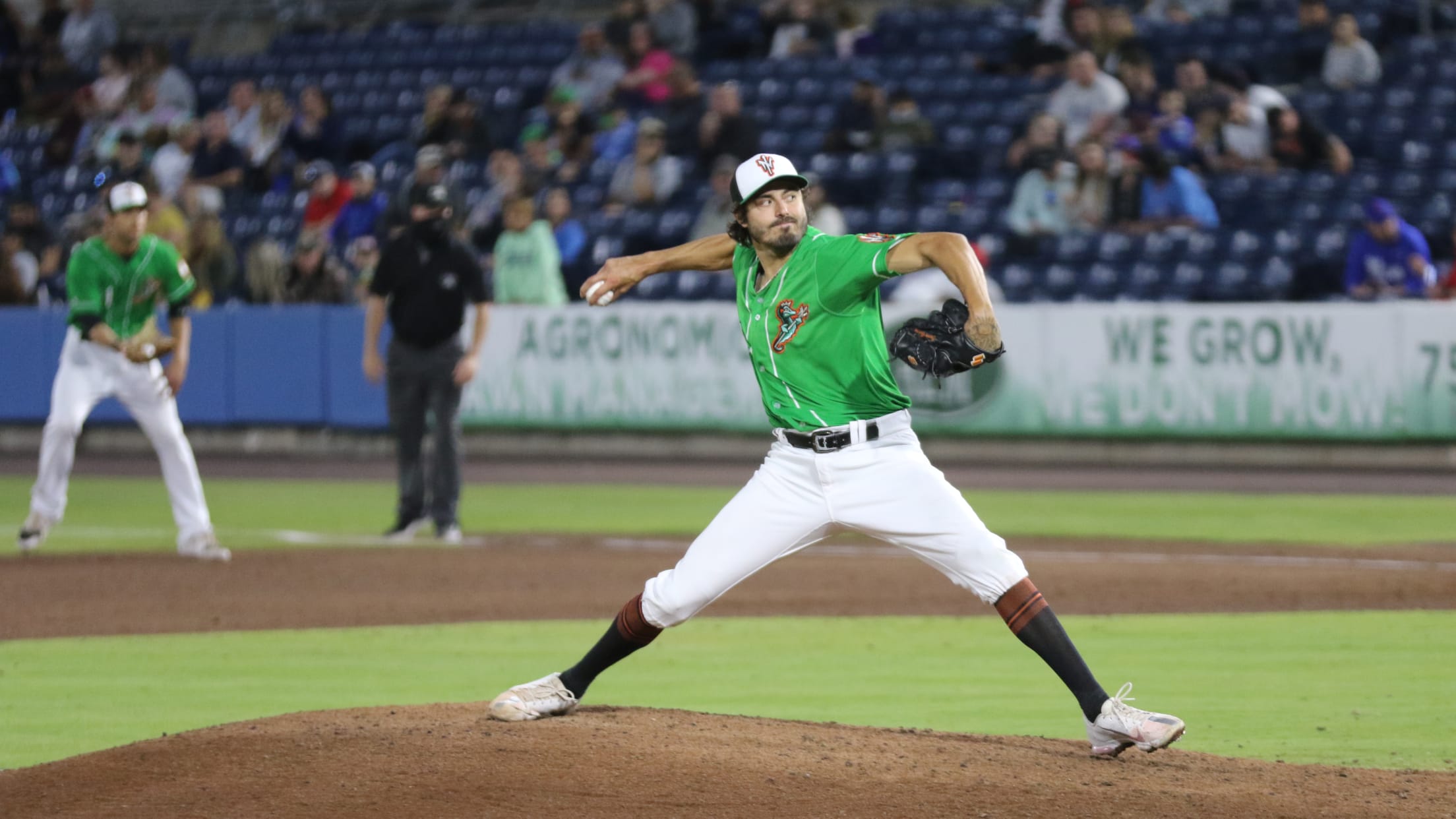 Zach Jarrett had two hits in his Triple-A debut and Tides starter Conner Greene continued a string of excellent outings by the Norfolk pitching staff, but the Tides (3-13) dropped a pitcher's duel to the Jacksonville Jumbo Shrimp by a 1-0 score. Jarrett, who hit .302 in 11 games with
Tides take tough loss to Jacksonville in extras, 5-4
Cumberland and Wynns homer, while Jannis tosses 5.0 perfect innings in relief Thursday afternoon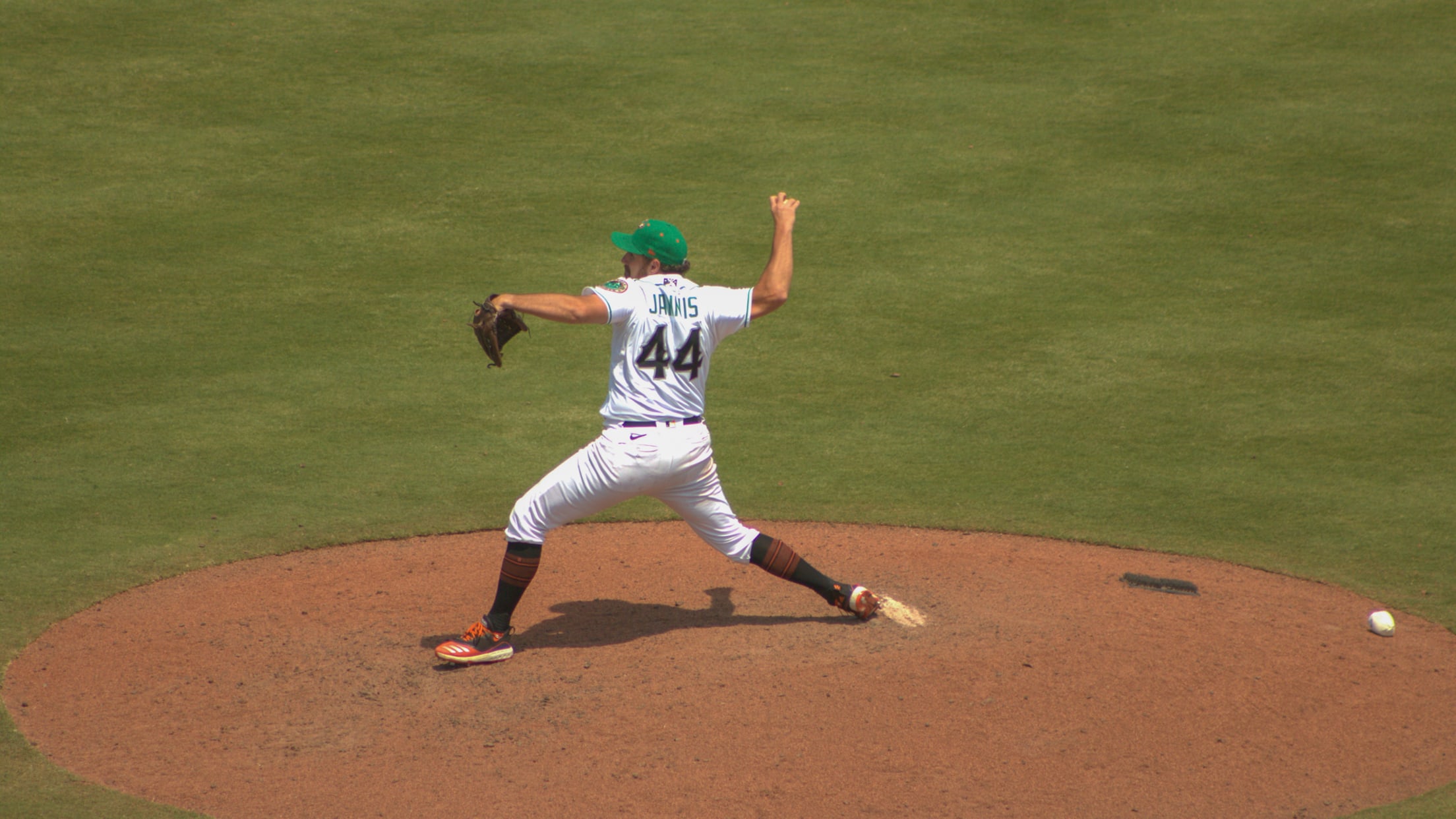 Stellar performances by Tides second baseman Wilbis Santiago, who ripped a game-tying triple and collected two hits in his Triple-A debut, and relief pitcher Mickey Jannis, who twirled five perfect innings out of the bullpen, weren't enough to keep the Tides from falling to Jacksonville by a 5-4 score in