PawSox to Become Osos Polares de Pawtucket
Team will Change Name for Nearly All Tuesday Home Games in 2018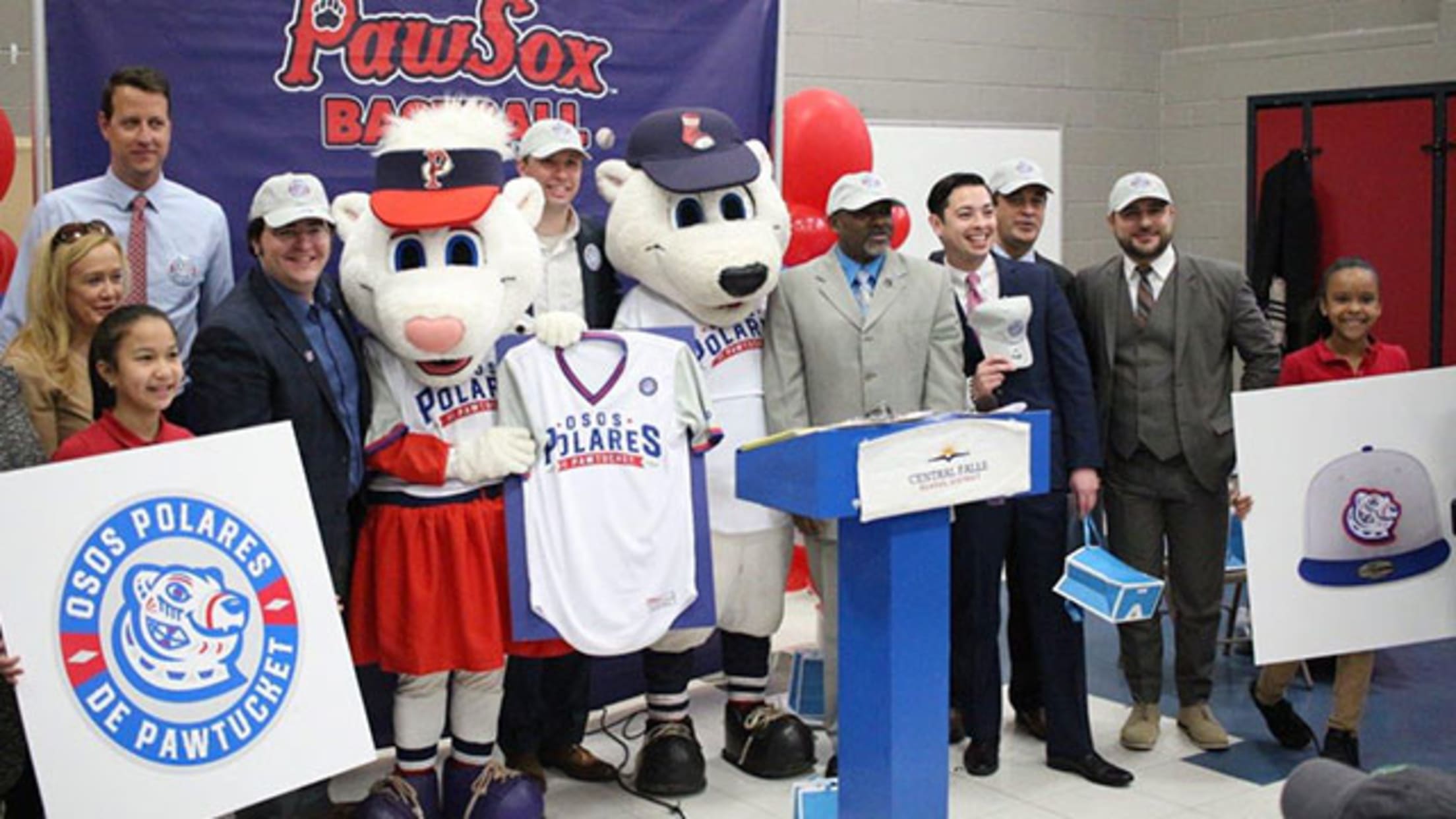 In partnership with Minor League Baseball, the Pawtucket Red Sox today announced a new initiative with the Latino community. The PawSox will change their name for virtually all of their Tuesday home games to Osos Polares de Pawtucket. The name Osos Polares de Pawtucket, "Polar Bears of Pawtucket" in English, was
In partnership with Minor League Baseball, the Pawtucket Red Sox today announced a new initiative with the Latino community. The PawSox will change their name for virtually all of their Tuesday home games to Osos Polares de Pawtucket.
The name Osos Polares de Pawtucket, "Polar Bears of Pawtucket" in English, was revealed this morning at a press conference at Ella Risk Elementary School in Central Falls, RI (a school that has about a 78% Hispanic student population). Among the attendees at the press conference were Central Falls Mayor James Diossa, Pawtucket House Representative Carlos Tobon, Pawtucket Mayor Donald Grebien's Chief of Staff Dylan Zelazo, Central Falls City Counselor Franklin Solano, RI Hispanic Chamber President Oscar Mejias, PawSox Senior VP/Sales & Marketing Rob Crain, and several other members of the PawSox Front Office.
Earlier today, Minor League Baseball announced the on-field identities of the 33 teams participating in this new "Copa de la Diversion" ("Fun Cup") season-long event series for 2018. "Copa de la Diversión" is the cornerstone of MiLB's "Es Divertido Ser Un Fan" ("It's Fun to be A Fan") Hispanic fan engagement initiative.
The PawSox are honored to be selected as one of 33 teams among the 160 in Minor League Baseball to participate in this new form of outreach to the Hispanic Community. This initiative is specifically designed to embrace the culture and values that resonate most with participating teams' local U.S. Hispanic/Latino communities.
To distinctively launch this exciting new program, MiLB and each participating team created culturally-relevant on-field personas that honor their respective U.S. Hispanic/Latino communities. All "Copa" teams will adopt these new personas via on-field jerseys and caps to be worn during designated "Copa de la Diversion" games during the 2018 season.
The PawSox will wear their Osos Polares de Pawtucket game caps and jerseys for every Tuesday home game during the 2018 season (with the exception of July 3). On those nights, the PawSox will celebrate the team's surrounding Hispanic community by playing Hispanic music throughout the ballpark, making PA announcements & lineups in Spanish, and by providing video board information in both English & Spanish. In addition, Mondor Way will host Latin-based food trucks before the game, Hispanic PawSox players will be highlighted through interviews and fun-facts, and Hispanic-focused non-profits will be recognized for their work in the community.
The first-ever baseball game played by the Osos Polares de Pawtucket will be Tuesday evening, April 10 at 6:15 pm at McCoy Stadium vs. the Buffalo Bisons.
Fans can visit pawsox.com to see more information with page versions in both English and Spanish. In addition, the new Osos Polares de Pawtucket merchandise and gear is also available. In addition, MiLB introduced their own "Copa"-specific website MiLB.com/Copa that features each participating team's unique identity and the story behind its selected on-field persona along with on-field caps and branded apparel.
After the conclusion of the season, the PawSox will auction their "Copa de la Diversion"-branded game-used caps and jerseys and donate the proceeds to a U.S. Hispanic/Latino-focused organization in the community.
Teams unveiling Hispanic/Latino identities as part of the "Copa de la Diversión" competition are listed below.