Ballpark Dining Update: Hard to Believe, But True: 88 Minutes Once Again to Sell Out "Dining on the Diamond" on Sunday, June 7!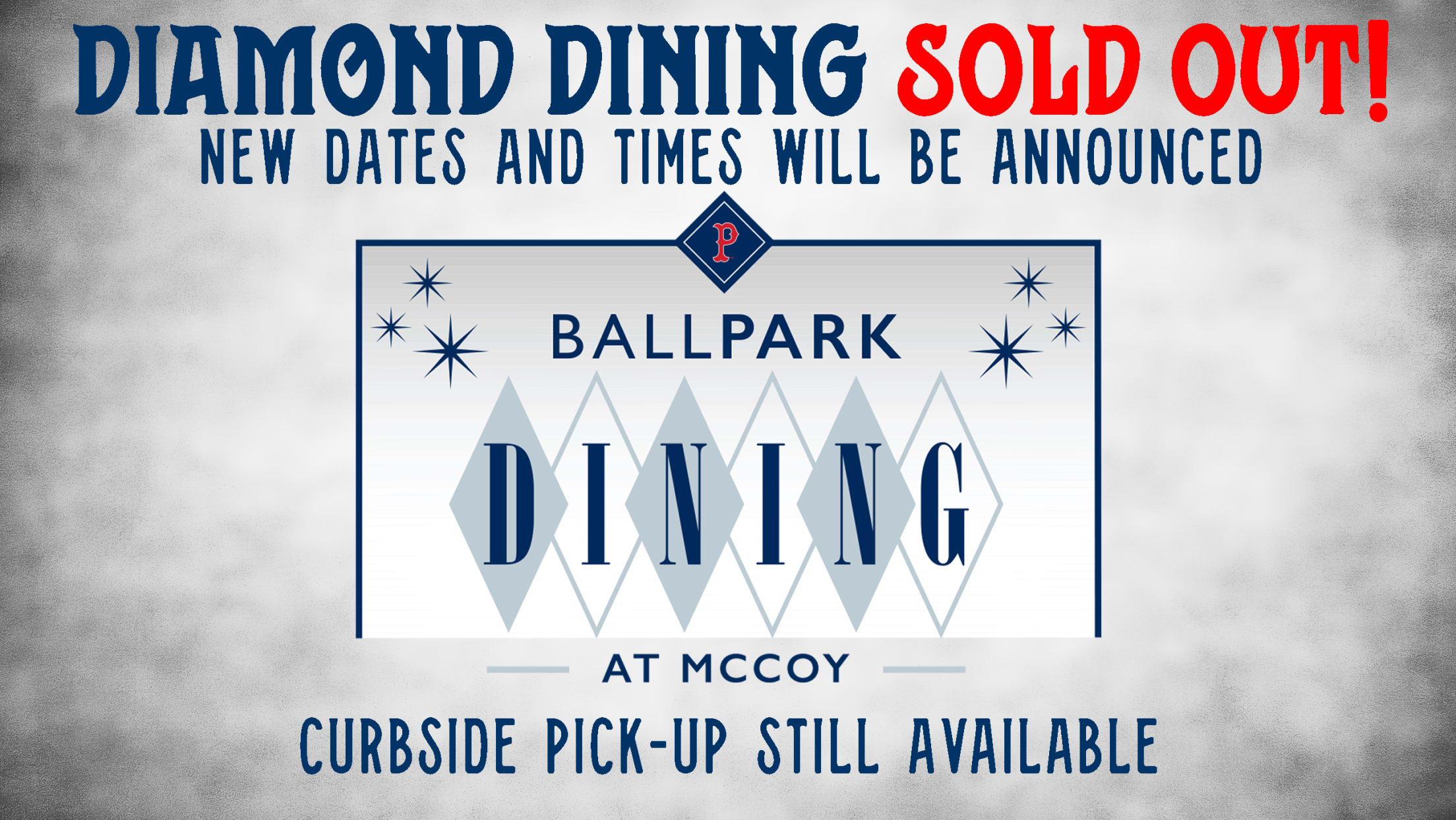 After selling out 80 tables in 88 minutes yesterday, club sells out new allotment—in 88 minutes again! More dates and times to be announced next week.
Ballpark Dining Update: Sunday, June 7 Added for Dining on the Diamond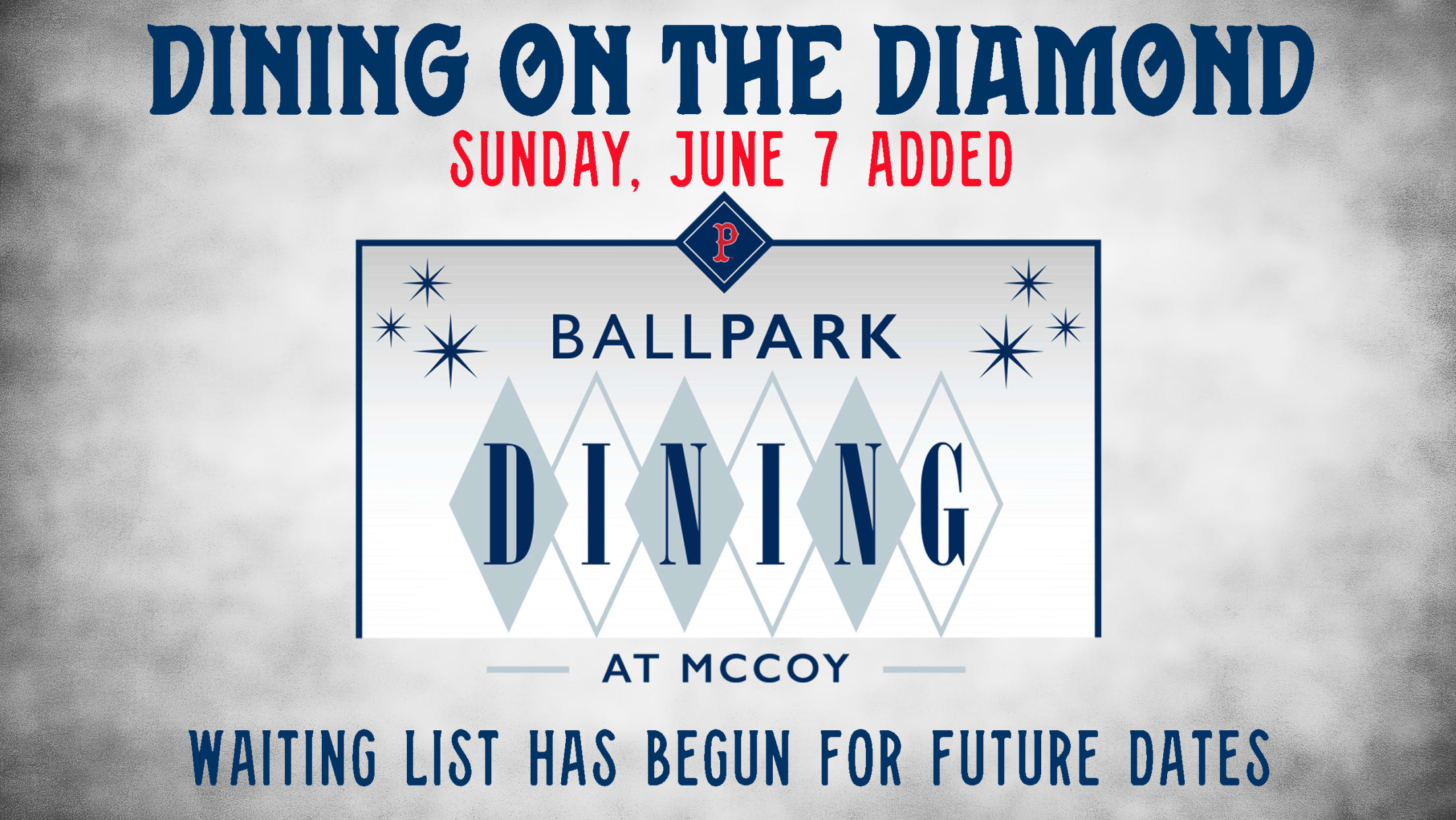 Seatings of 20 tables with up to 5 people per table available now at pawsox.com. Seatings June 5 and 6 sold out; Waiting List Begun.
Ballpark Dining Update: "Dining on the Diamond" Sells out in 88 Minutes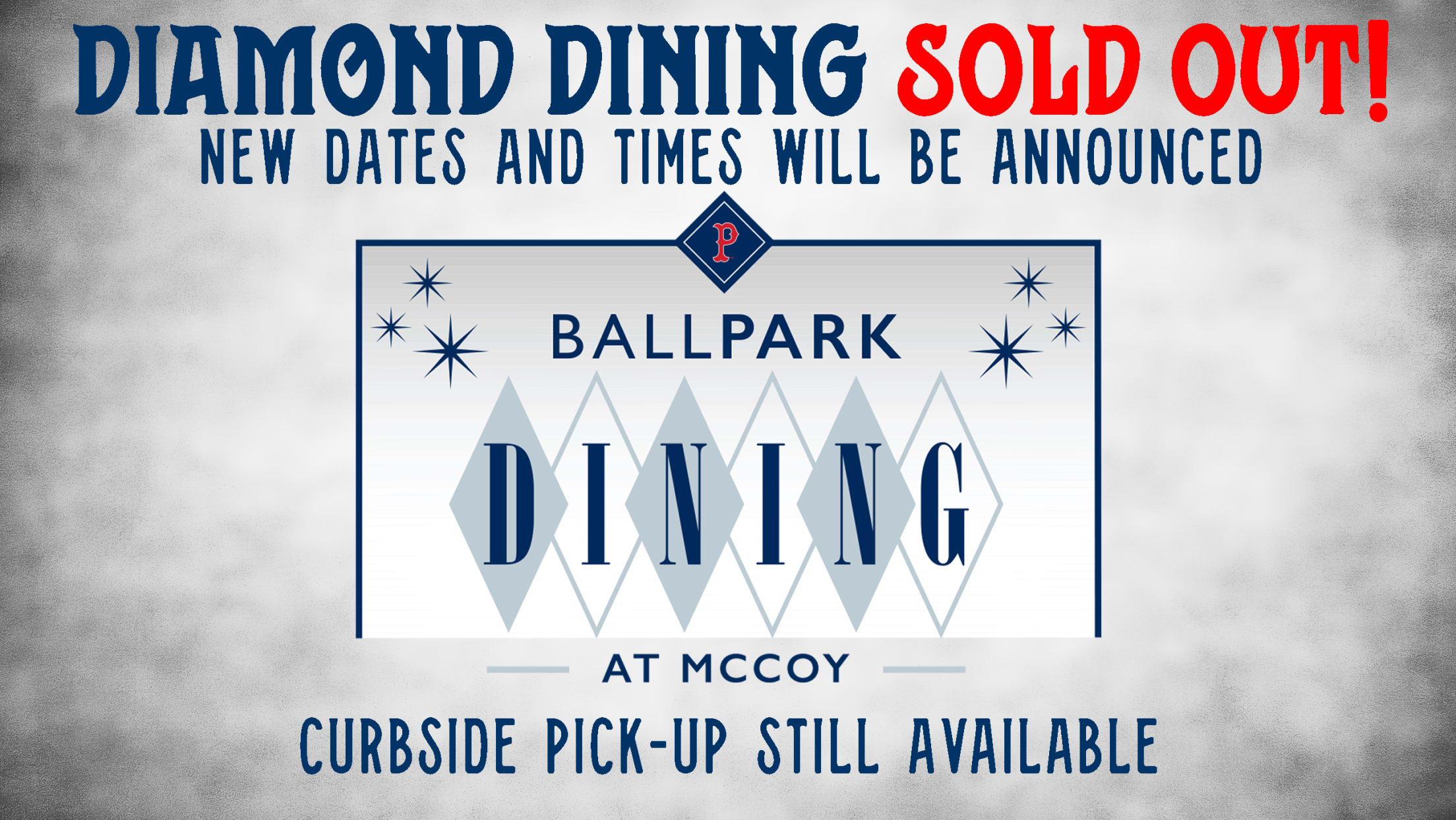 Both seatings on both June 5 and 6 sold out; new dates to be added.
PawSox Introduce "Ballpark Dining at McCoy Stadium"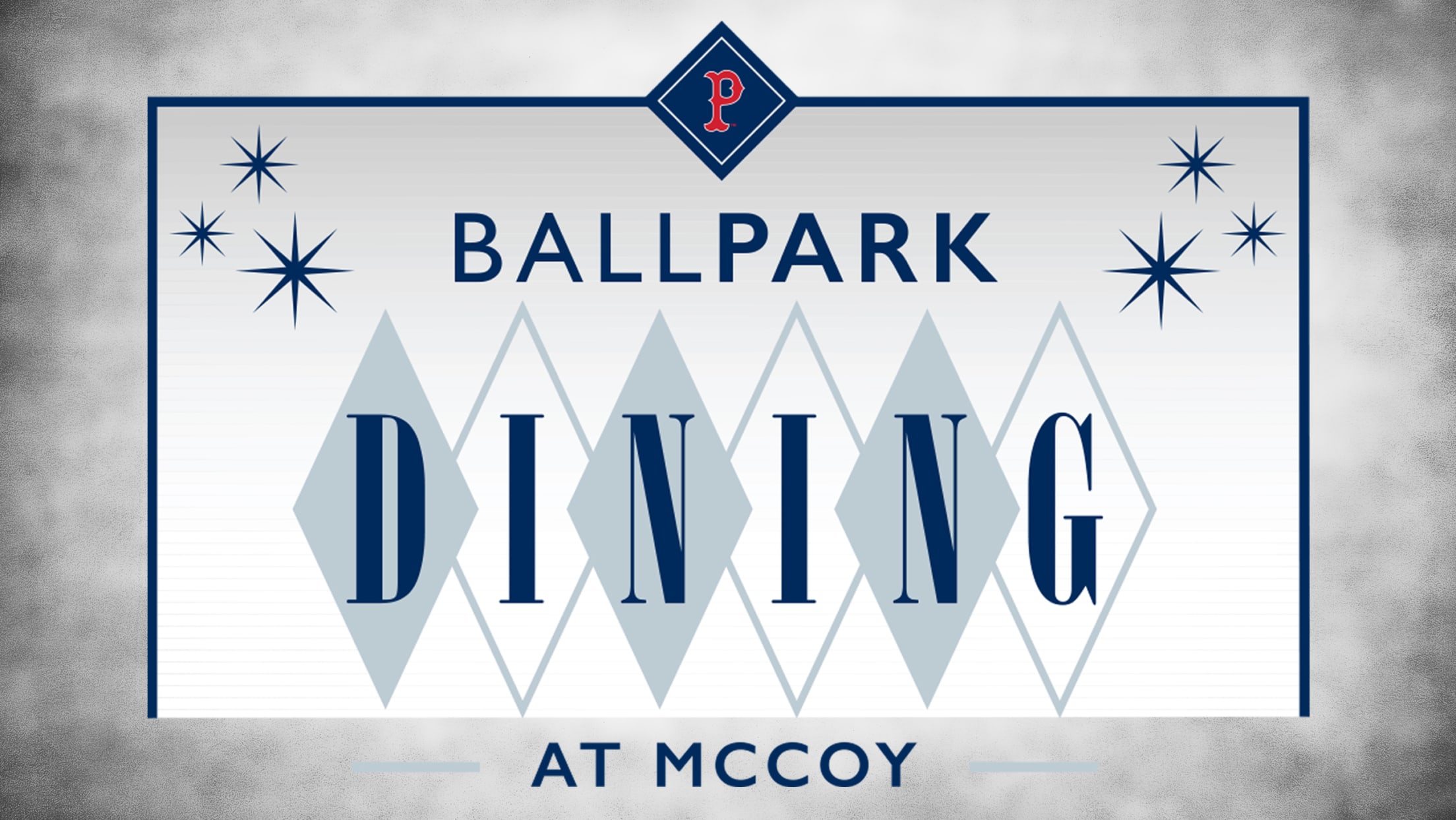 Fans can enjoy Curbside Pick Up this Friday, May 29; Dining on the Diamond debuts Friday & Saturday, June 5 and 6. Orders and Reservations must be made in advance; payment by credit card only starting on May 28 at 10 am.
"Cox Legendary PawSox Stories" to Debut May 19 at 12 noon on PawSox YouTube Channel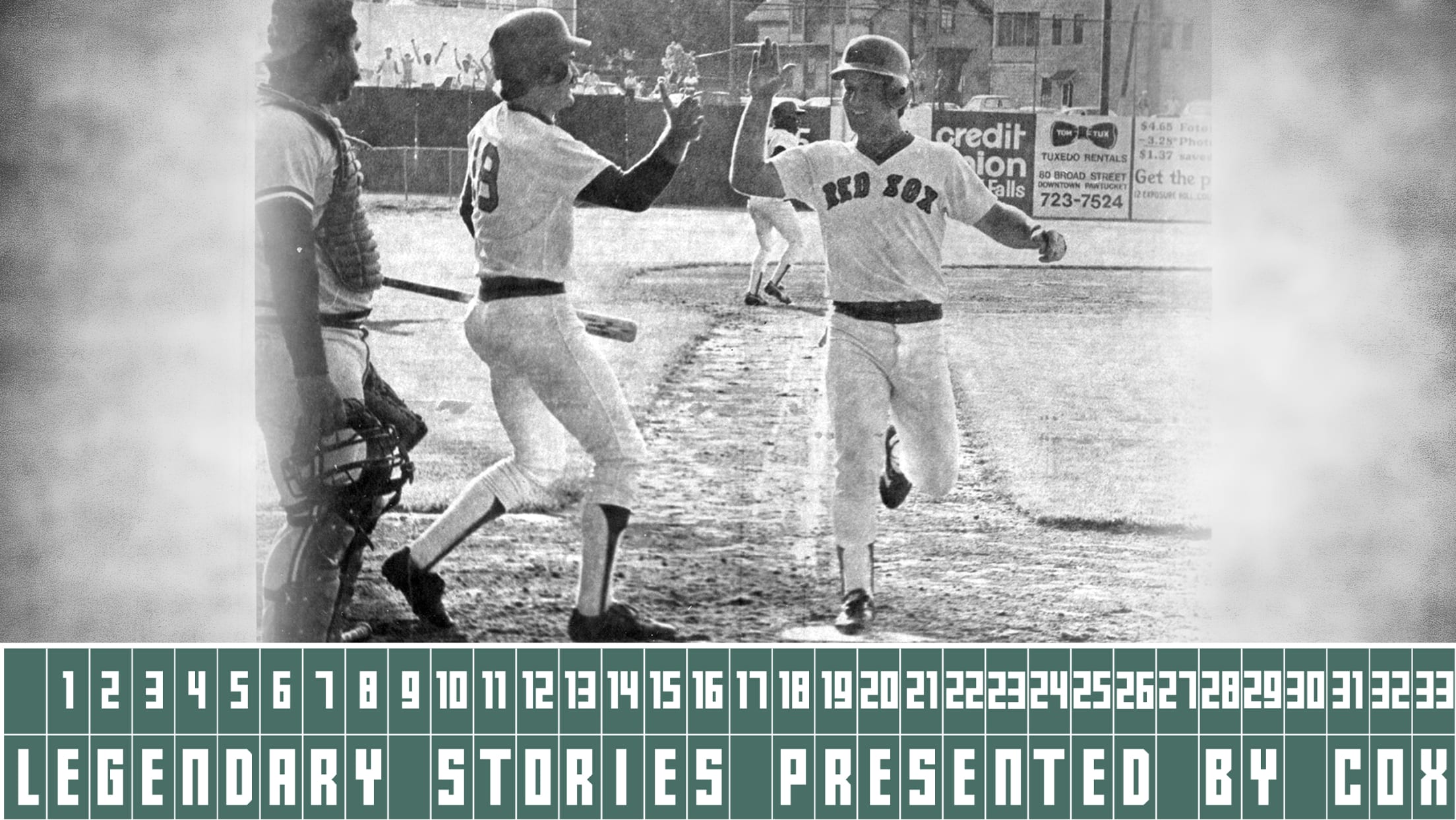 The 10:15 vignette, presented by Cox Communications, is first of a 4-part series of PawSox Baseball in the '70s & '80s; Features include rare footage and interviews with favorite players
Fans Can Post Messages to McCoy's Videoboard to Raise Funds for COVID-19 Relief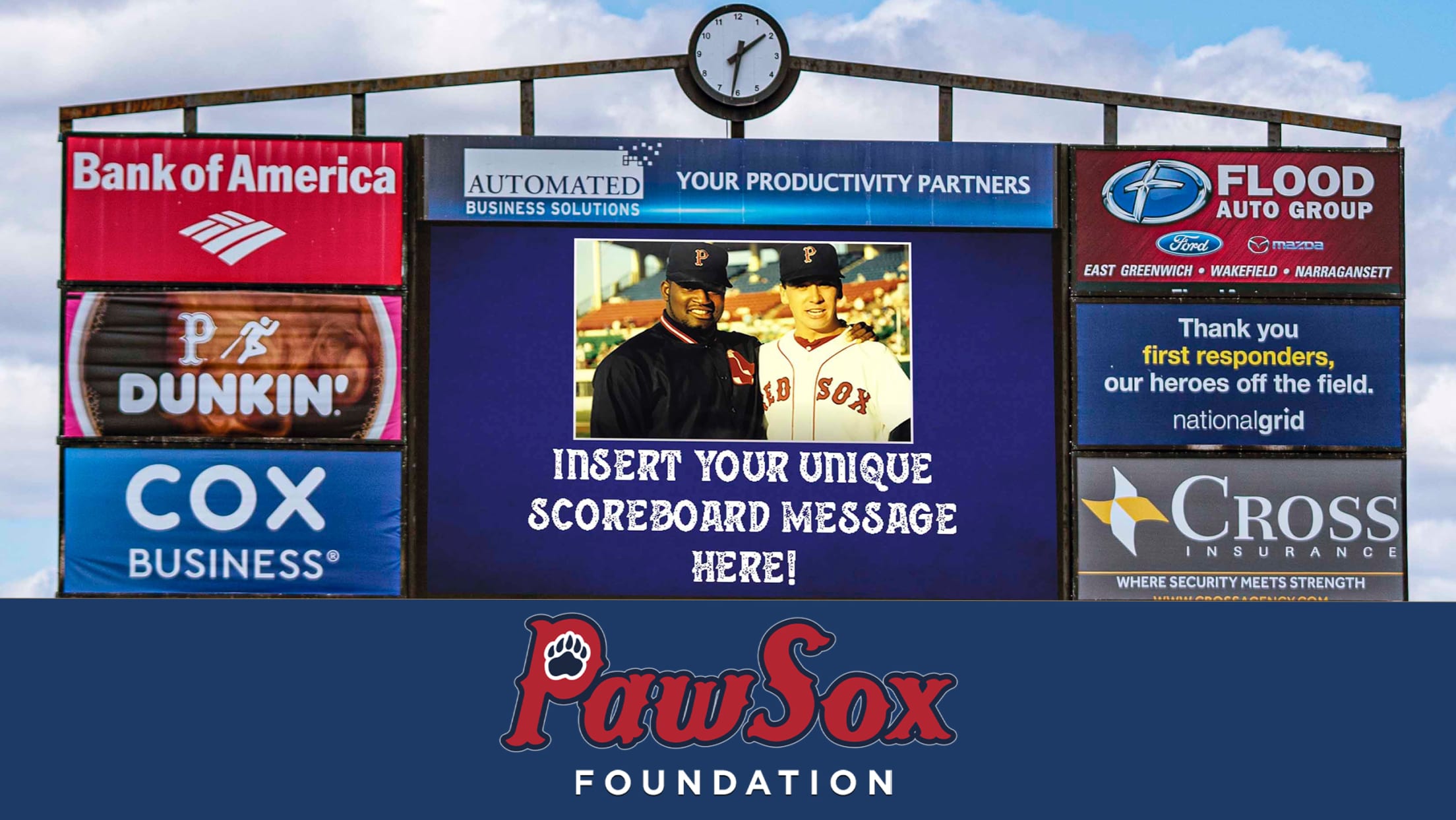 "Scoreboard Surprises…at Home Edition" can commemorate graduations, celebrations, Father's Day, and more.
"Safe at Home with Paws and Sox" debuts Friday, May 8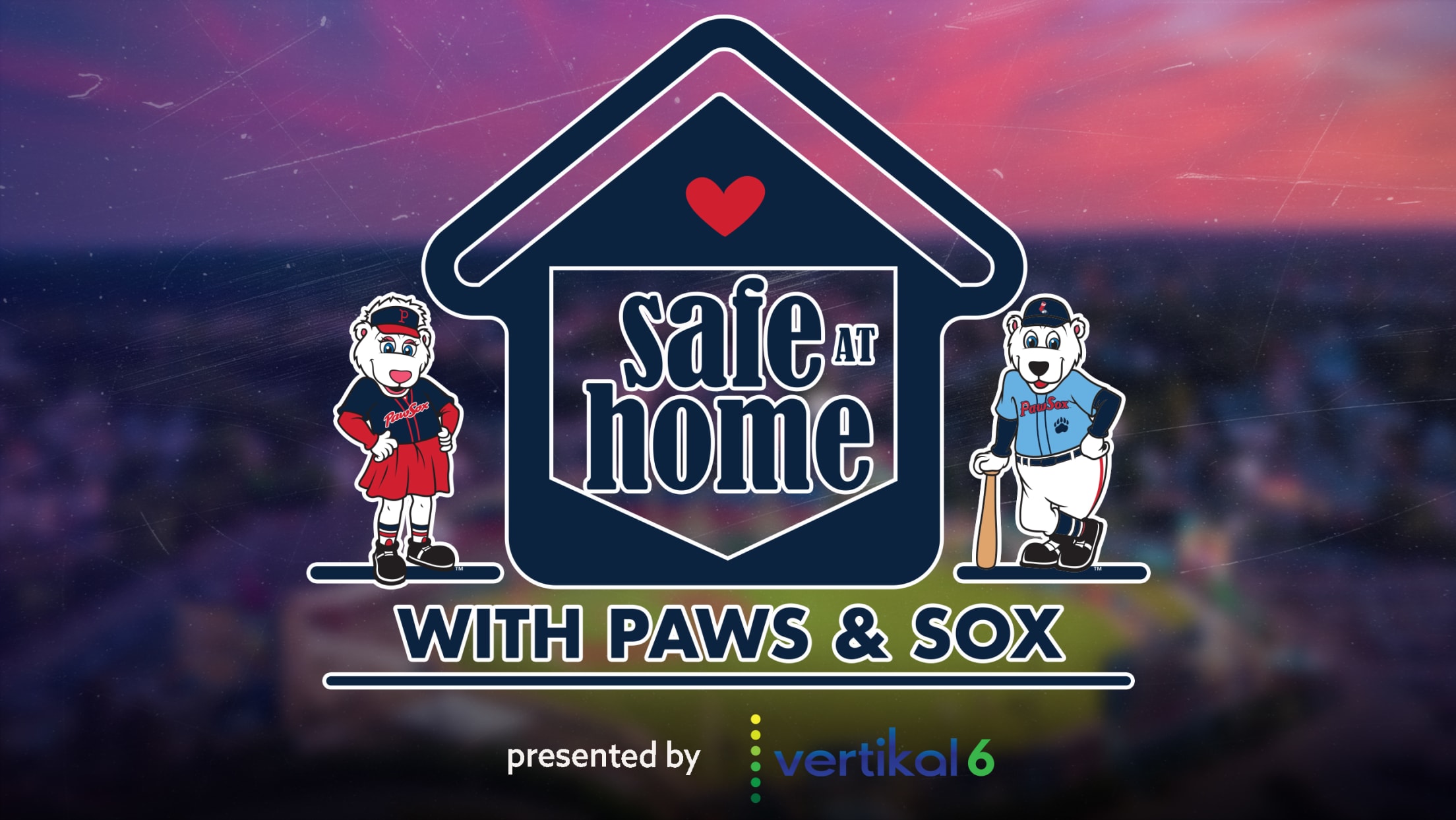 The half-hour kids' show presented by Vertikal6 features messages from PawSox players, as well as baseball tips, stories, and humor.
PawSox to Relive Greatest Games in Team History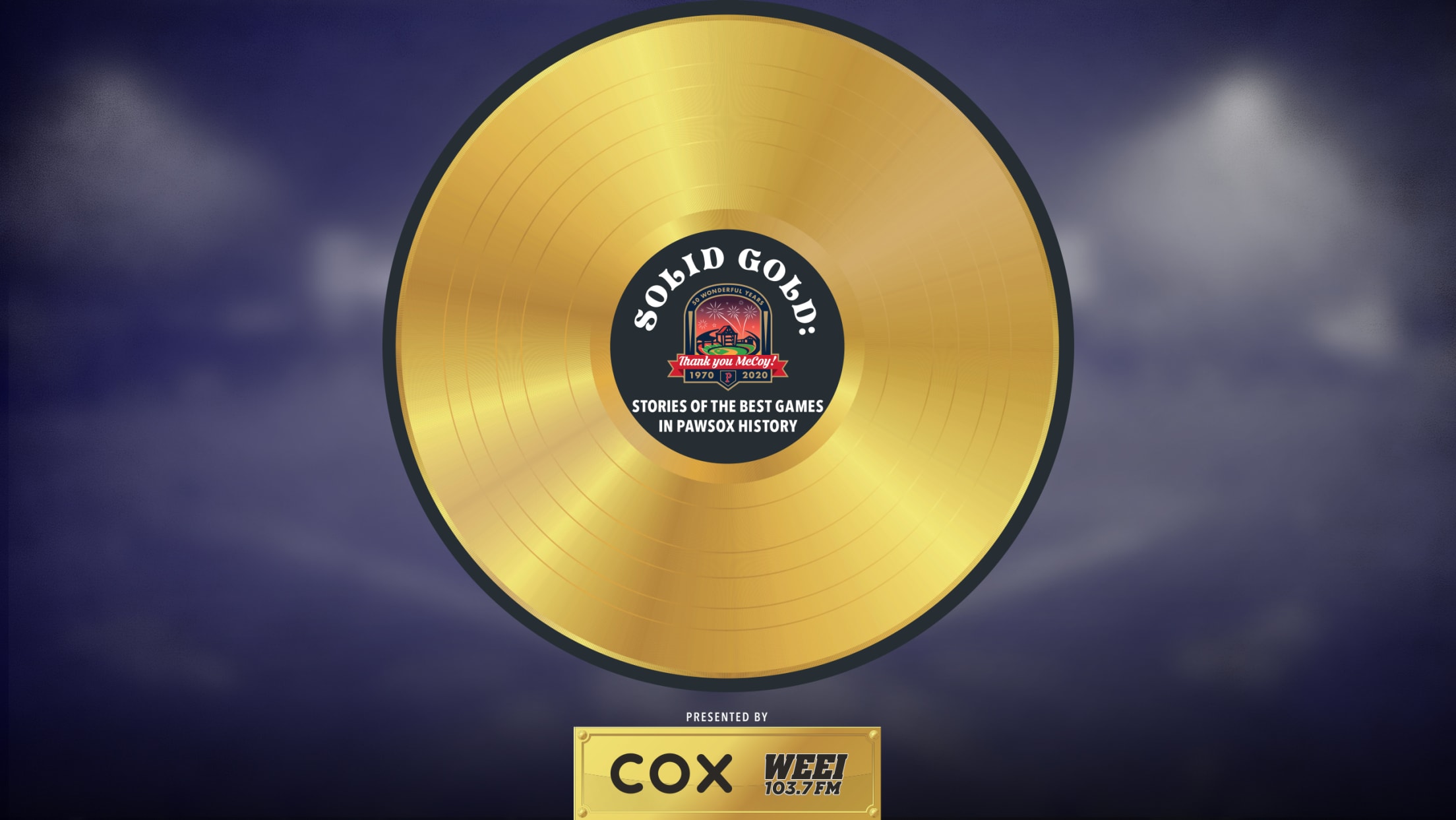 Ten-Part Audio Documentary Series to Premiere as Podcast on Monday, May 11
New PawSox T-Shirts to Benefit COVID-19 Relief Effort
PAWTUCKET, RI -- The Pawtucket Red Sox are creating a new official line of t-shirts for adults and children to benefit the COVID-19 relief effort. Bearing the messages, "Hands…Washing Hands," "Wash Your Paws," and "Safe at Home," the club is selling the garb now, at pawsox.com and gowoosox.com. Sales will
Pawtucket Red Sox & Manager Billy McMillon Present "The Billy Bunch," on Facebook Live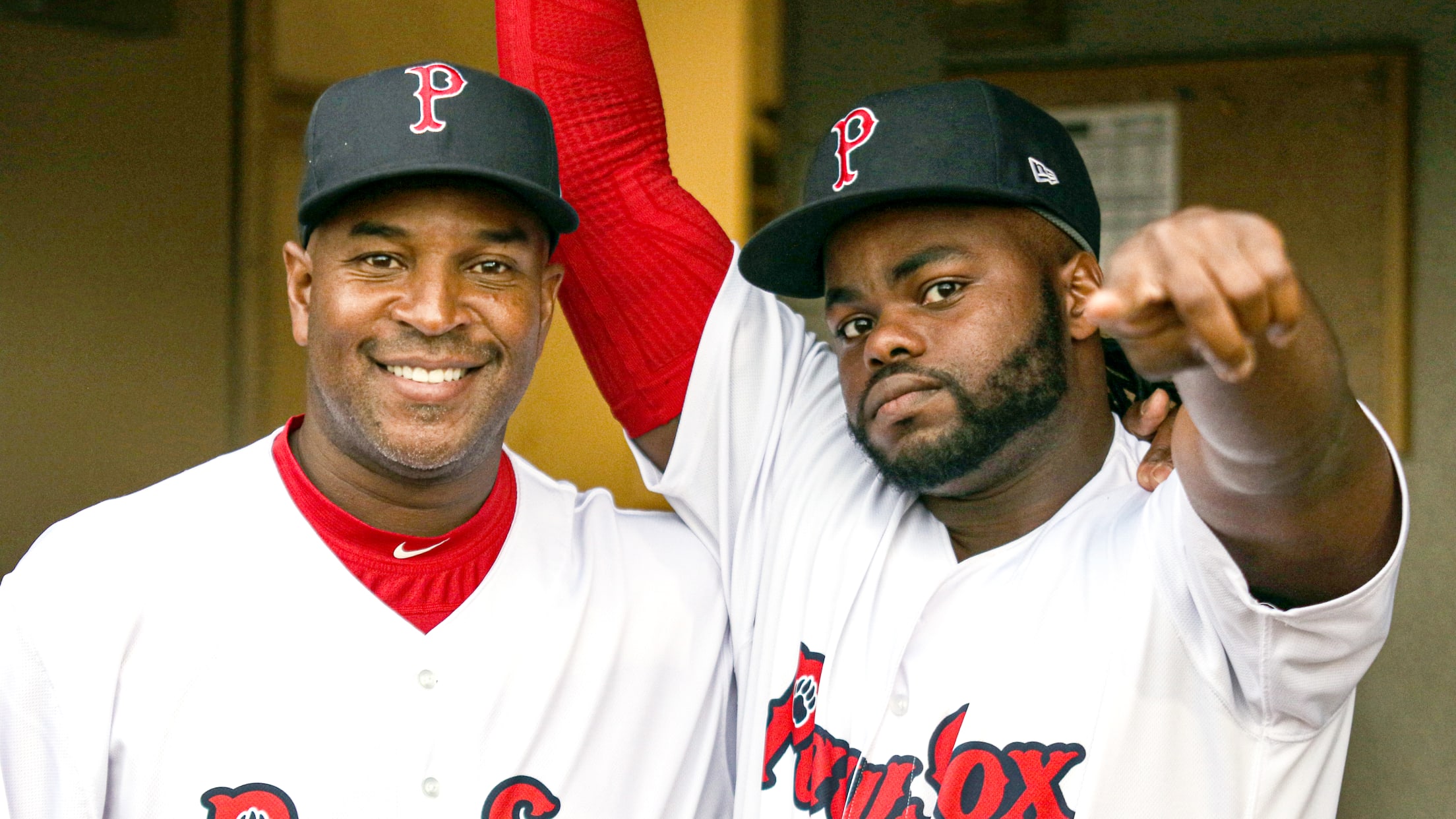 PAWTUCKET, RI – Baseball fans worldwide will have an opportunity to communicate live with "A Virtual Starting Nine" of Red Sox players as the Pawtucket Red Sox and Manager Billy McMillon present "The Billy Bunch" on Facebook Live this Wednesday, April 22, at 7 p.m. (EDT). Fans can visit pawsox.com
PawSox to Present "Opening Day, Any Way" at the Regularly Scheduled Opening Day Time, Tonight at 5 pm.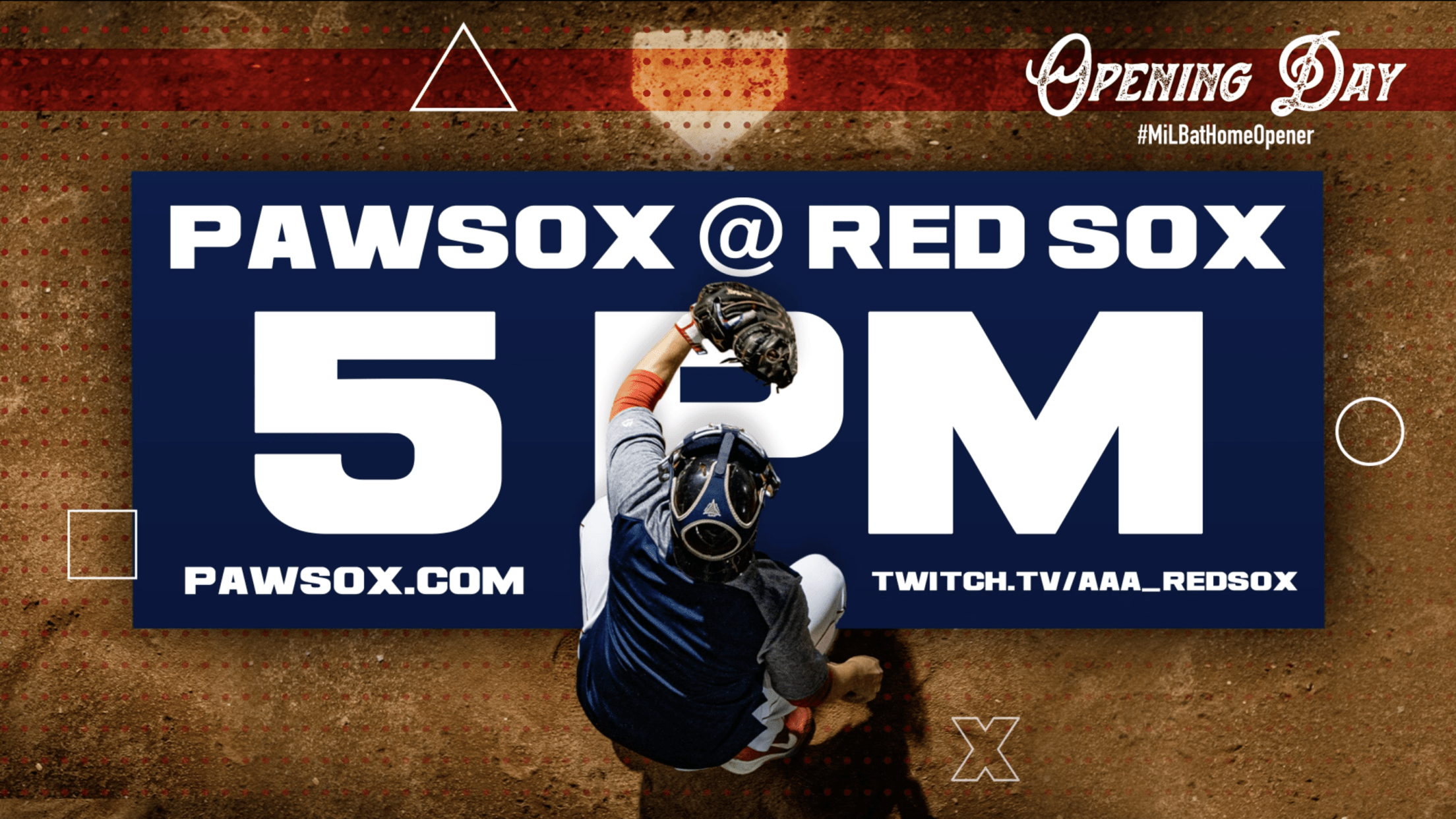 PAWTUCKET, RI – The Pawtucket Red Sox will begin their 50th Anniversary Celebration tomorrow, on the date of the originally scheduled Opening Day, Thursday, April 9, at 5 p.m., on pawsox.com and the club's social media outlets. PawSox play by play announcers will describe the action live as they watch
Dear Members of the PawSox' Family of Fans, We hope you and your loved ones are healthy and resilient as, together, we weather this unique storm. We thank you for bearing with us as we follow the lead of Major League Baseball, Minor League Baseball, and our Community Leaders through
PawSox Job Fair Postponed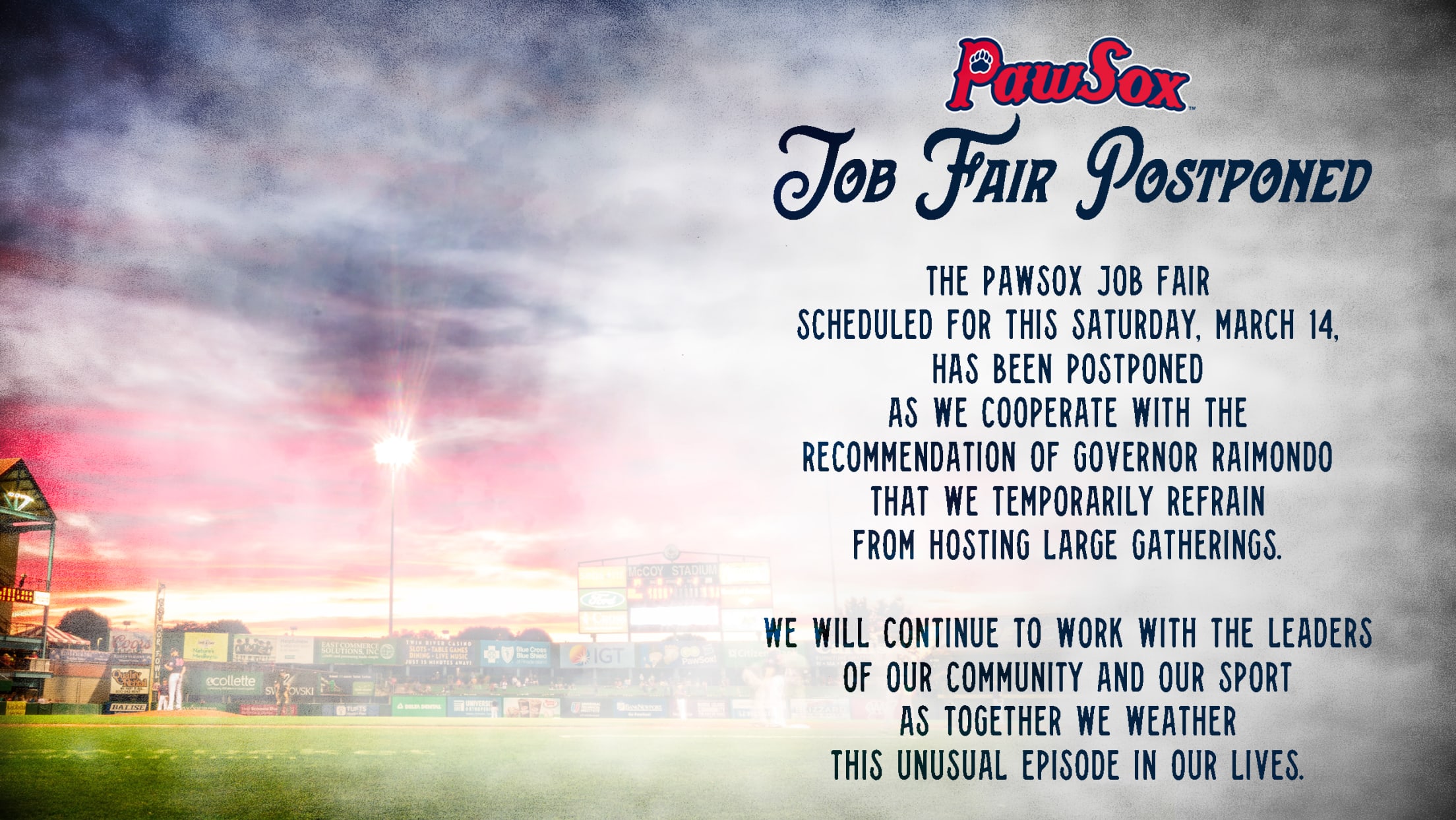 The PawSox Job Fair scheduled for this Saturday, March 14, has been postponed as we cooperate with the recommendation of Governor Raimondo that we refrain from hosting large gatherings. We will continue to work with the leaders of our community and our sport as together we weather this unusual episode
"The Queen of Baseball" claimed Worcester was One of Her Favorite Towns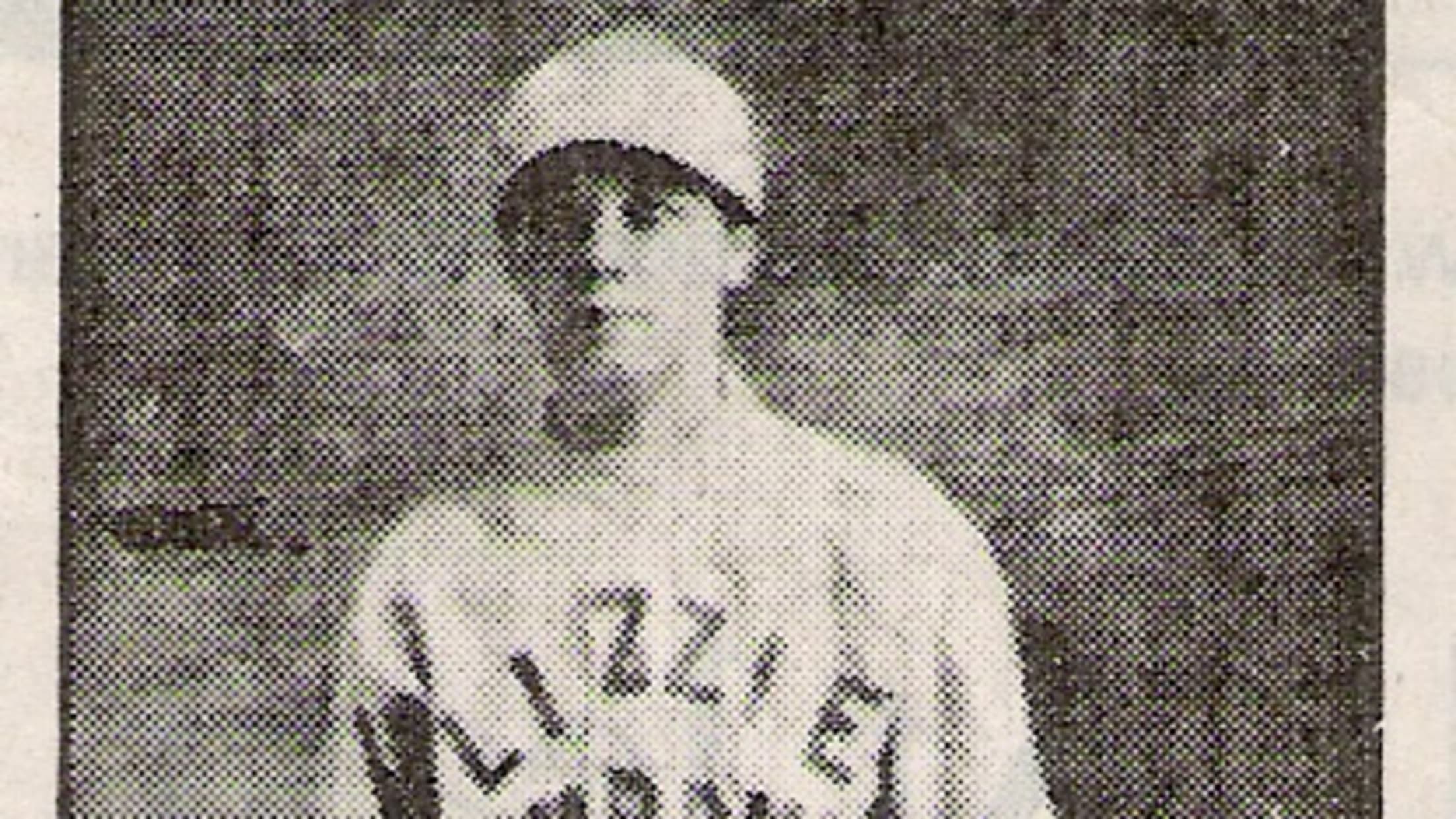 Known as the "Queen of Baseball," Lizzie Murphy of Warren, Rhode Island was the first woman to play the game professionally. Murphy grew up as an athlete and was proficient in running, swimming, and skating, in addition to baseball. At age 12, she quit school and went to work in
iHeart invites fans to say, "Thank you, McCoy" as they submit their favorite McCoy Memories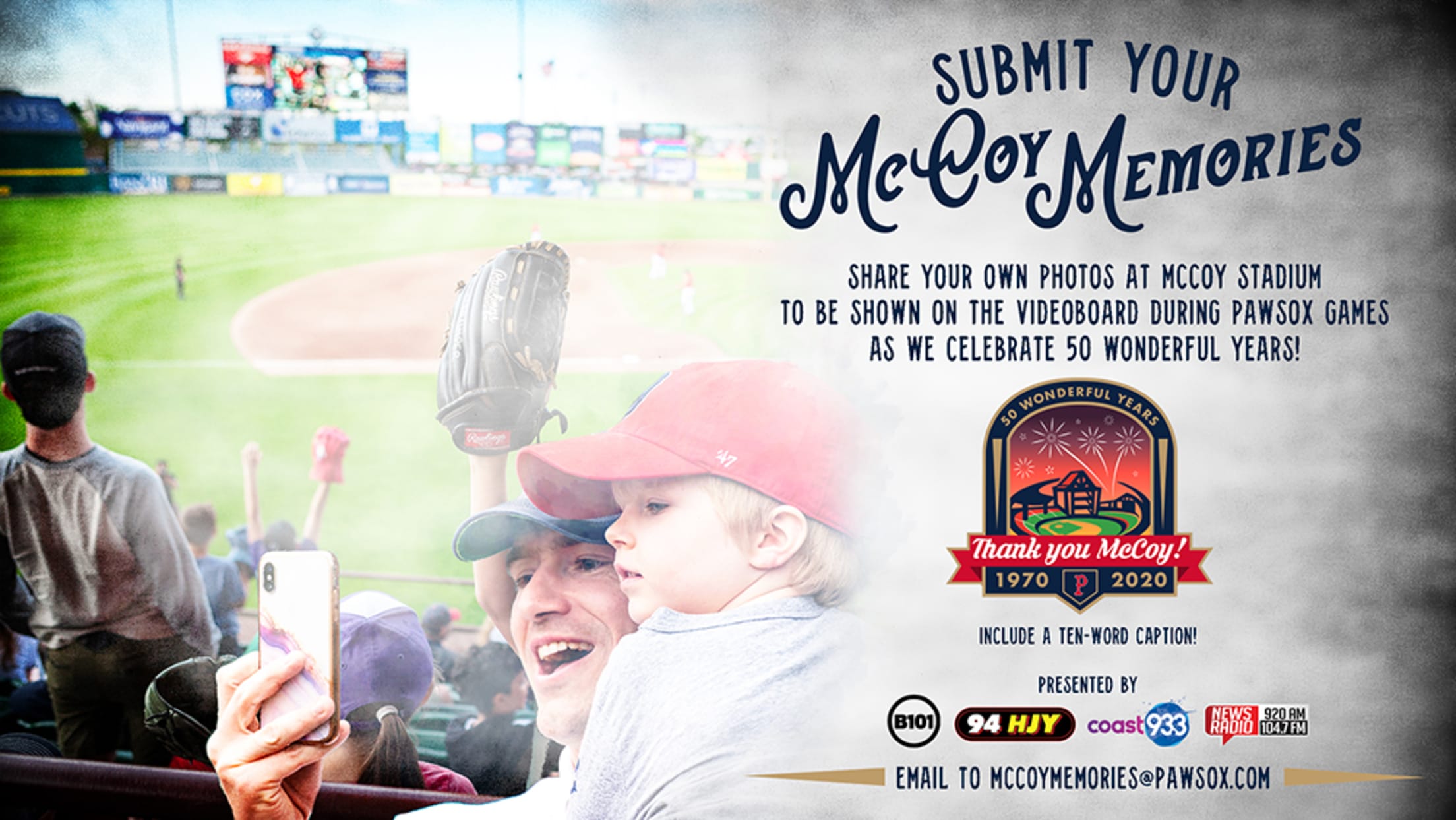 PAWTUCKET, RI -- In this 50th Anniversary season of PawSox Baseball, the club and iHeart's local stations will invite fans to submit their favorite photos at McCoy Stadium, along with a short description of each, to [email protected]. Those photos and stories will be highlighted in a McCoy Memories montage that will be
2020 PAWSOX TICKETS ON SALE NOW
PawSox Opening Day at McCoy is Thursday, April 9 at 5:05 pm Club closes the season on September 7 at McCoy PawSox say "Thank You McCoy" for 50 Wonderful Years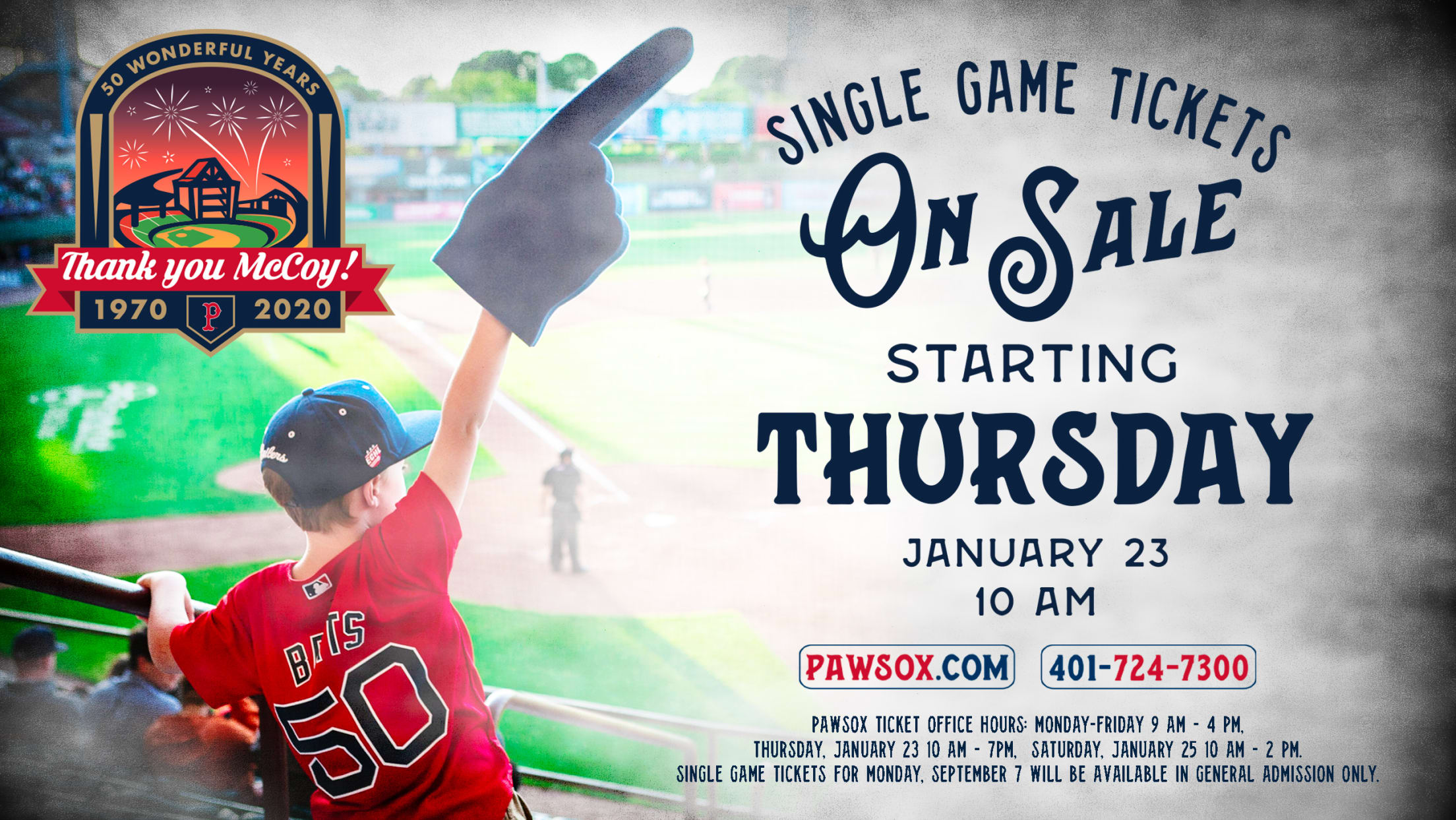 PawSox Opening Day at McCoy is Thursday, April 9 at 5:05 pmClub closes the season on September 7 at McCoyPawSox say "Thank You McCoy" for 50 Wonderful Years
PawSox Welcome Pitching Coach Paul Abbott
Red Sox Announce Personnel Moves in Player Development and Minor League Field Staffs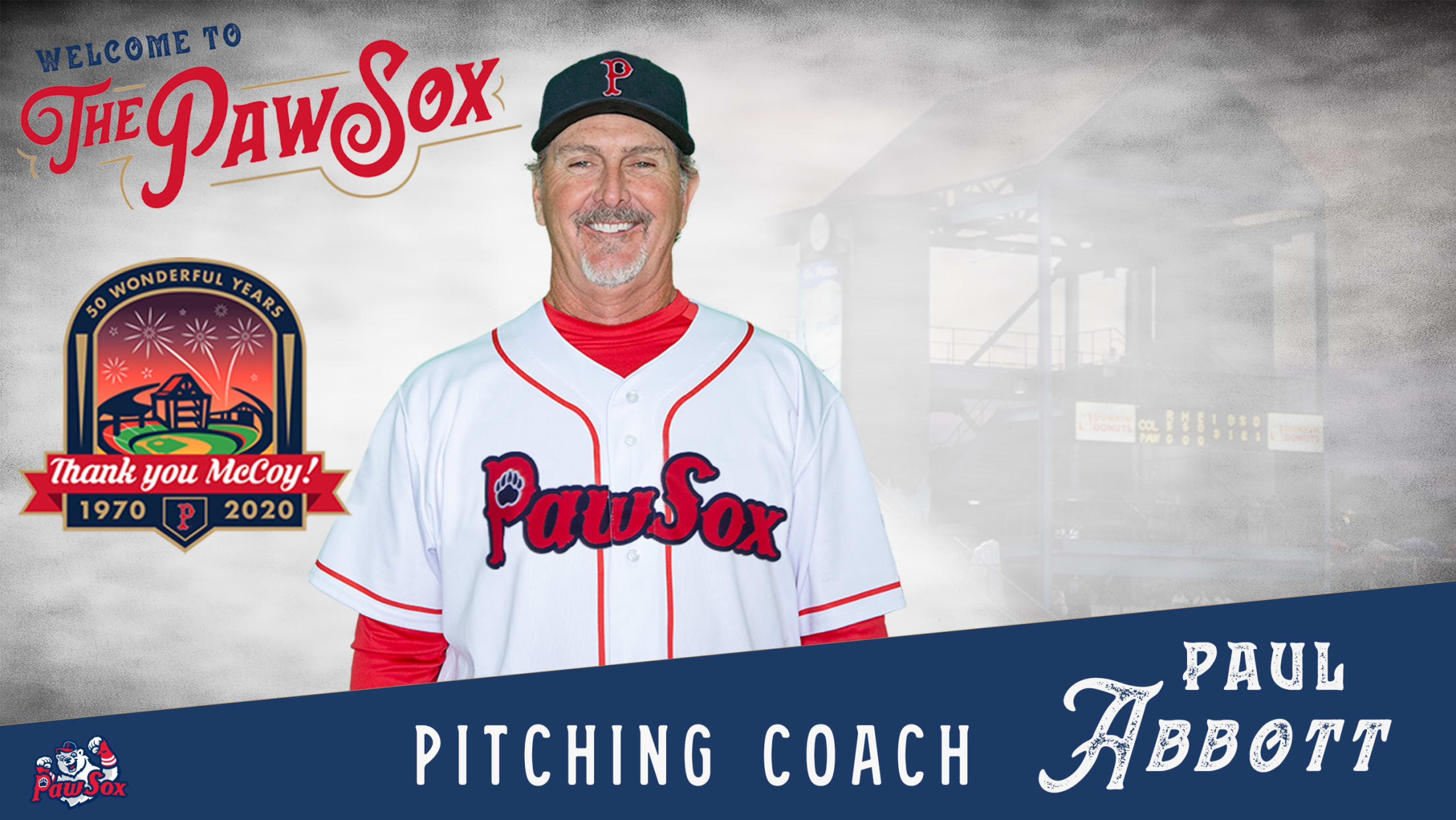 PawSox Begin Fourth Year of Mentoring in Pawtucket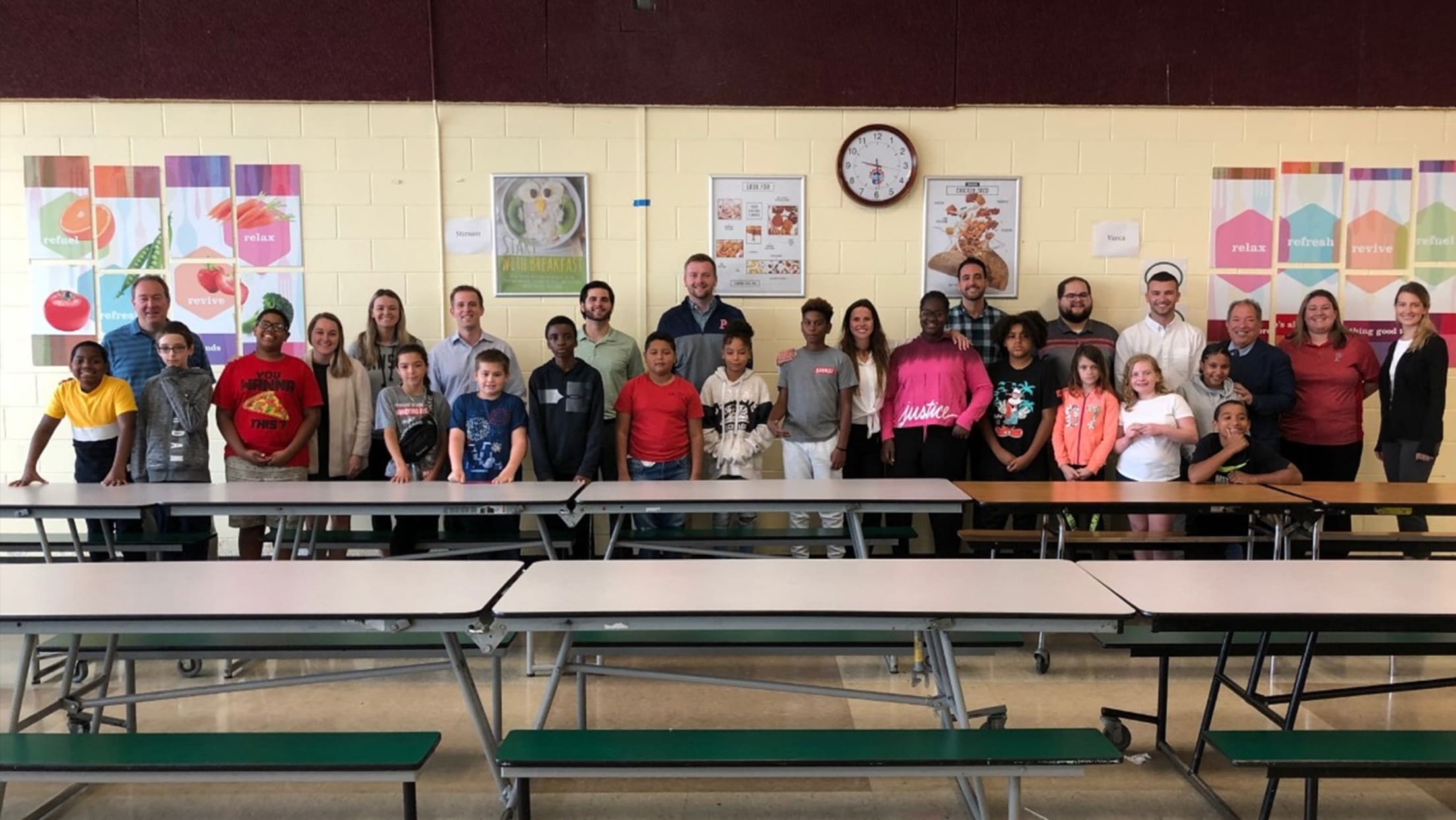 For the fourth consecutive year in partnership with Mentor Rhode Island, PawSox Front Office members have begun mentoring Pawtucket public school students directly across the street from McCoy Stadium. When the program was created in January of 2017, PawSox front office members began mentoring third graders from Agnes E. Little
Have Paws Deliver Roses To Your Valentine
PawSox Offering Special Valentine's Day Package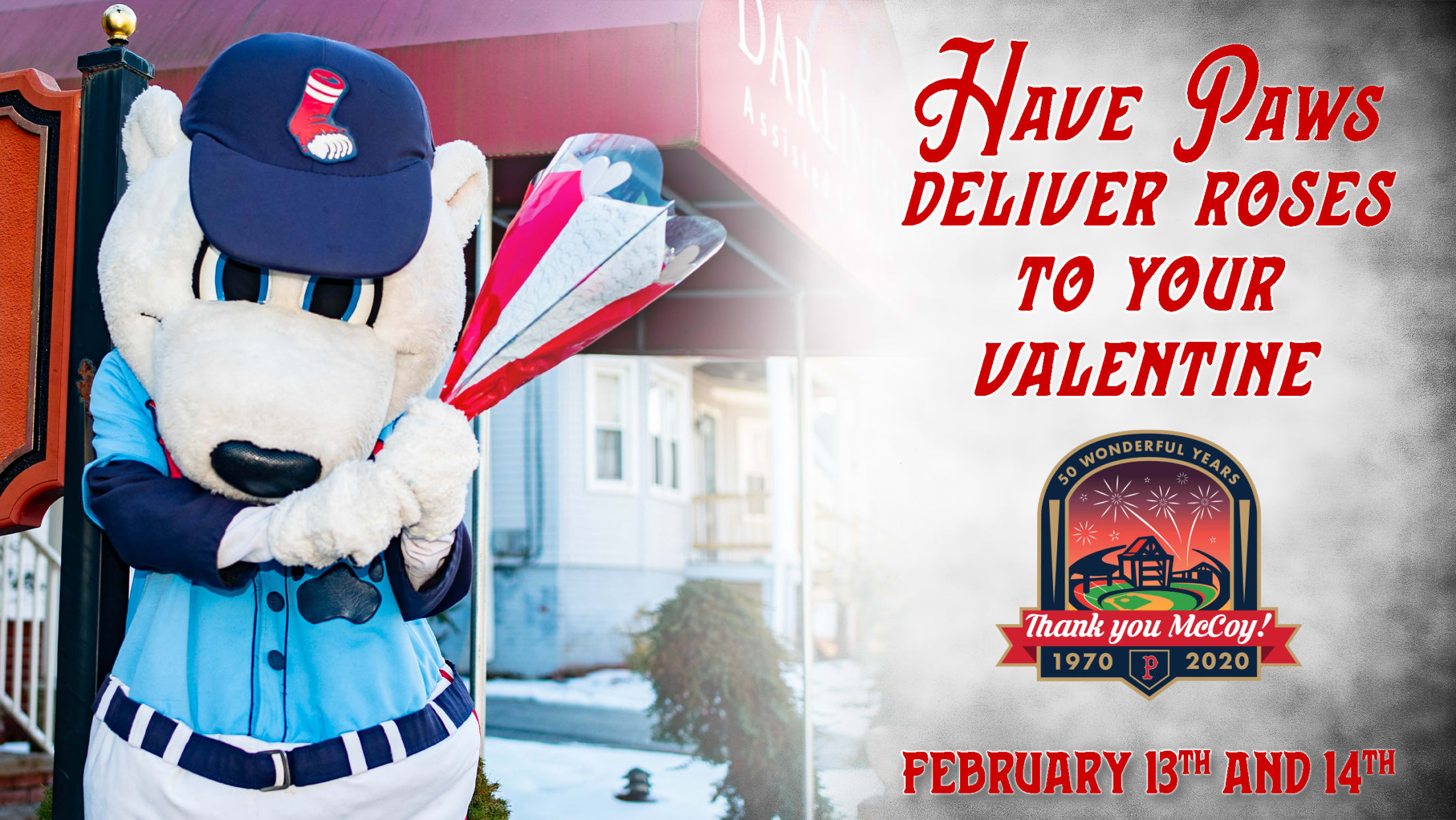 Make this Valentine's Day one to remember by surprising your Valentine with a special delivery from Paws! The Pawtucket Red Sox Valentine's Day Package includes Paws delivering a dozen roses to your valentine at their home or office on Thursday - February 13, or Friday - February 14. Paws or
Enchanted Village & Ballyard Sale at McCoy This Saturday
Fifth Annual Enchanted Village Holiday Party from 11am - 2pm on Sat., Dec. 7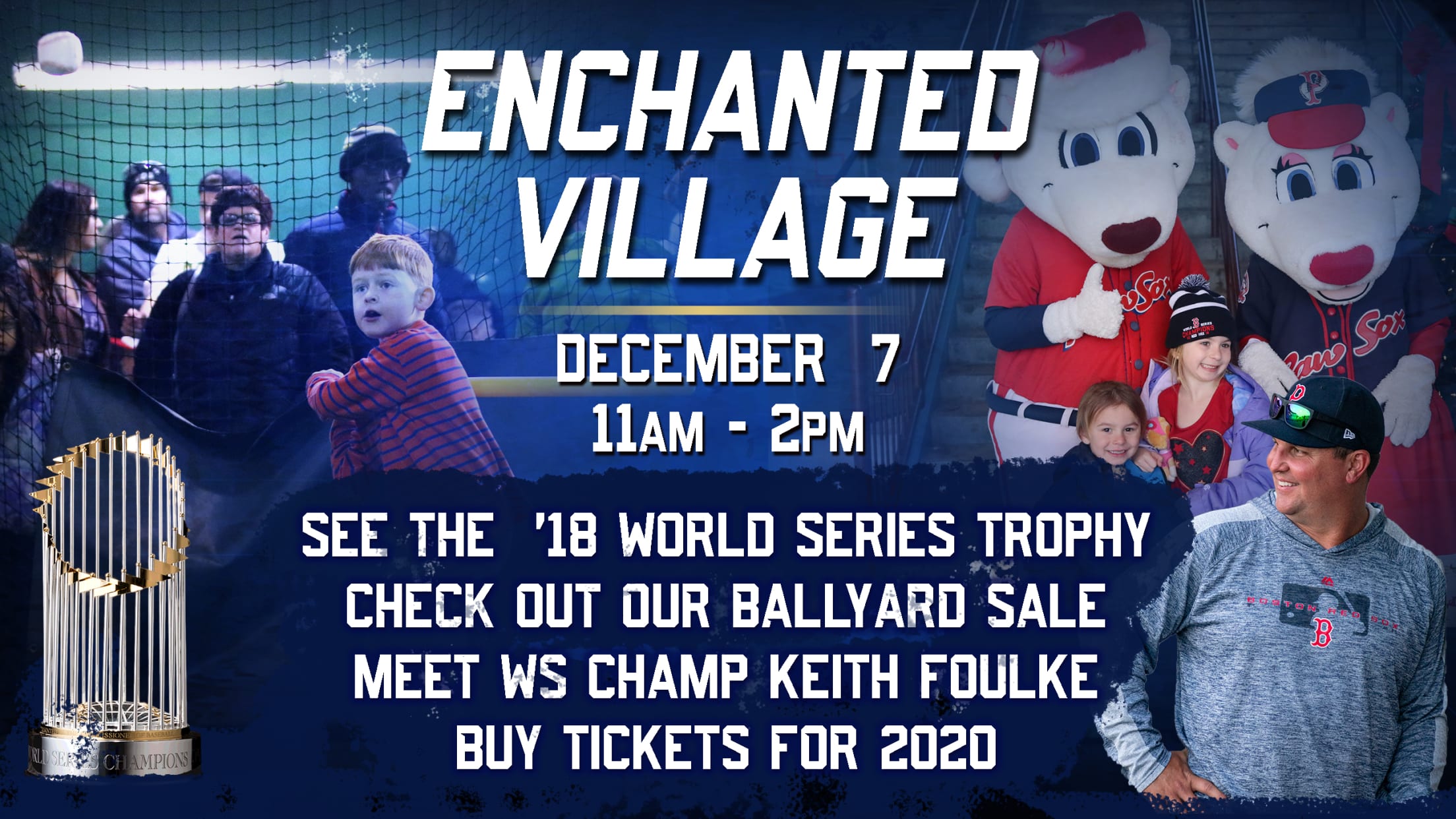 The Pawtucket Red Sox will present their 5th Annual "PawSox Enchanted Village" Holiday Party at McCoy Stadium on Saturday, December 7 from 11 am - 2 pm. The event, in which the ballpark becomes a Winter Wonderland, is free and open to fans of all ages. Fans will also have the
PawSox Enchanted Village & Ball Sale on Dec. 7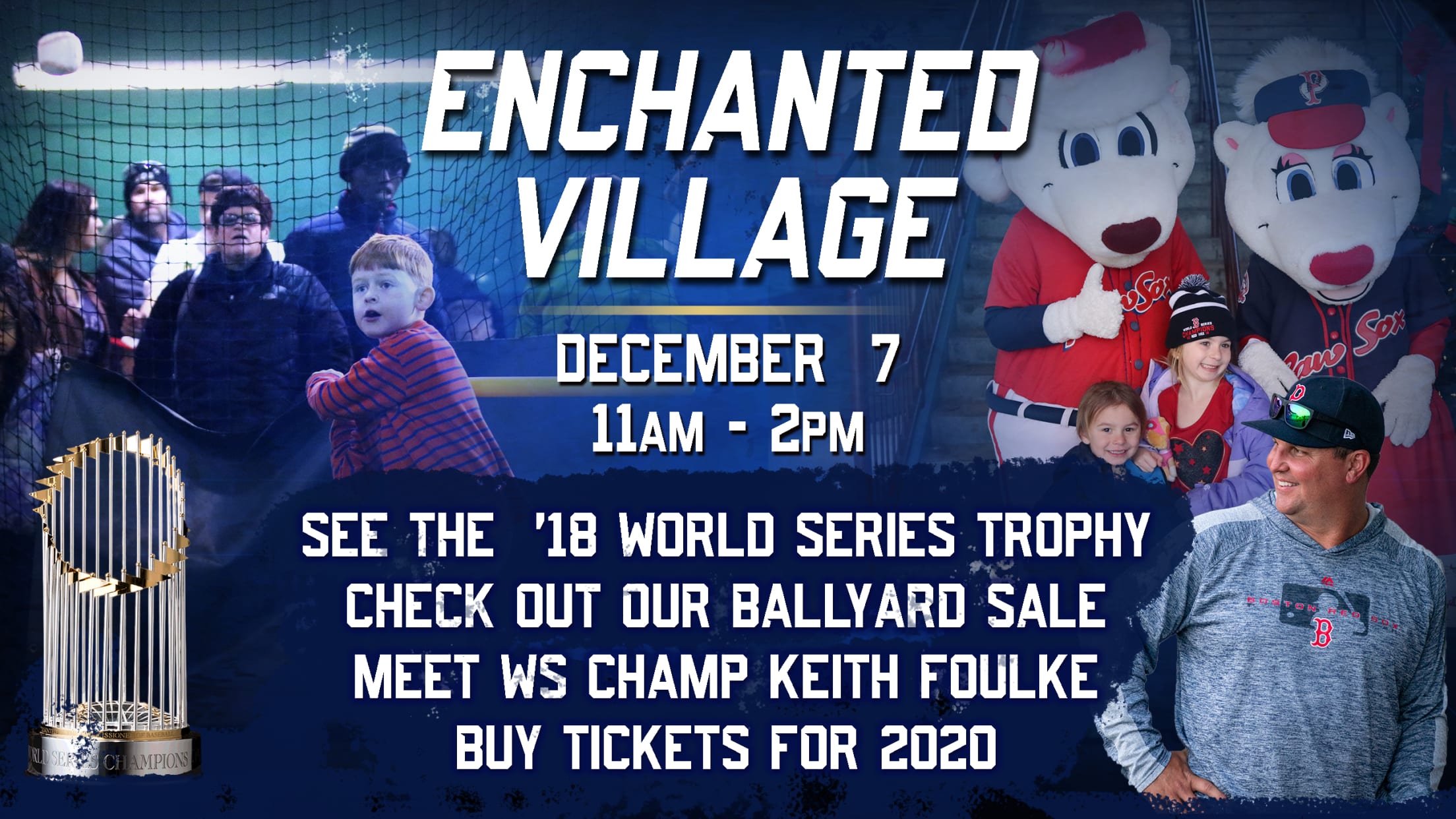 The Pawtucket Red Sox will present their 5th Annual "PawSox Enchanted Village" Holiday Party at McCoy Stadium on Saturday, December 7 from 11 am - 2 pm. The event, in which the ballpark becomes a Winter Wonderland, is free and open to fans of all ages. Fans will also have the
Food Truck & Craft Beer Festival Recap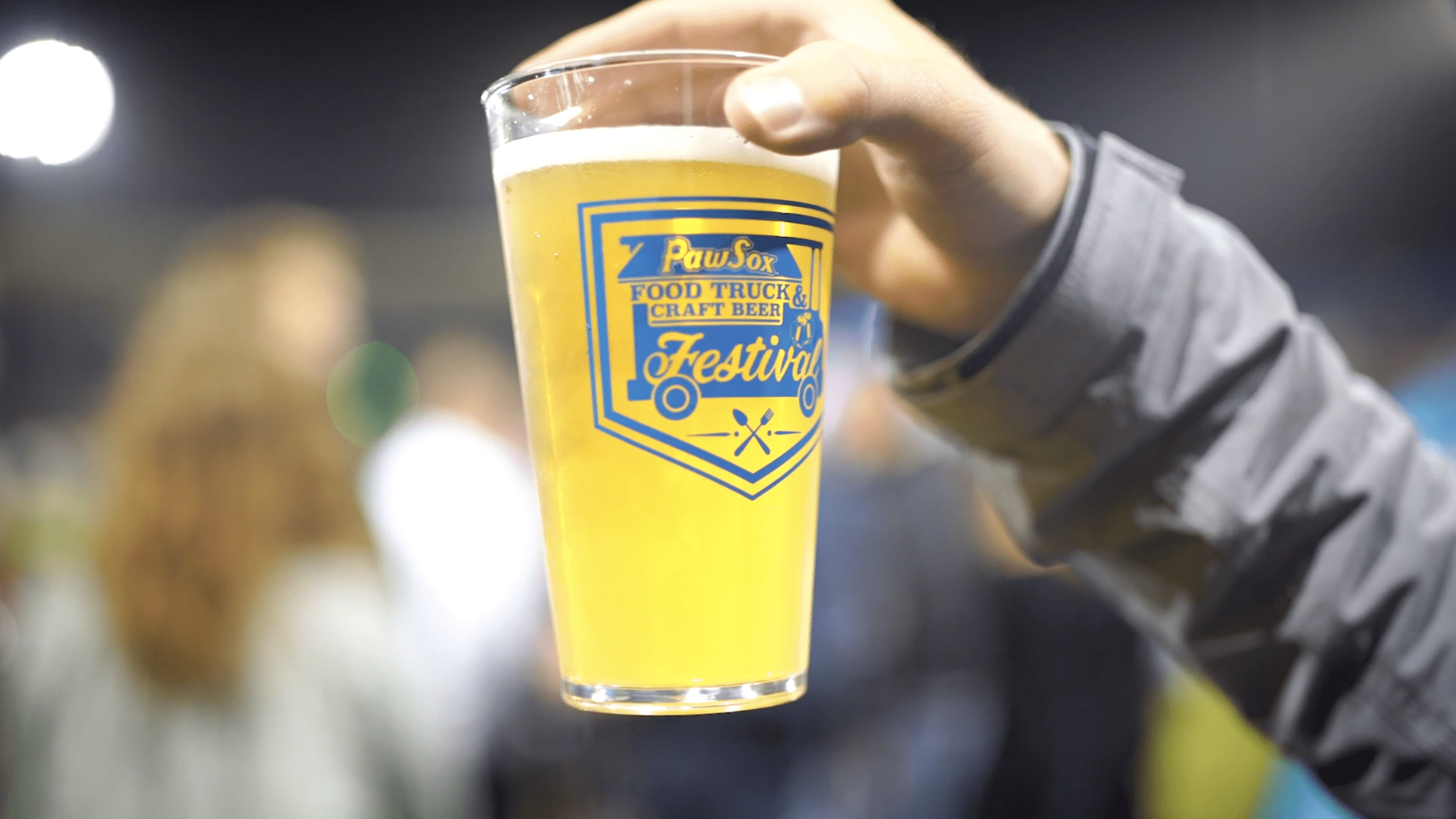 On Saturday, September 14, McCoy Stadium was packed for our 3rd Annual PawSox Food Truck & Craft Beer Festival. For the past three seasons, the event has drawn approximately 8,500 fans to the ballpark, sharing their love for specialty foods and local beers. This year's festival hosted 25 food trucks and
Sturgeon Slams Walk-Off Shot in Season Finale
PawSox End Season With Third Walk-Off Victory of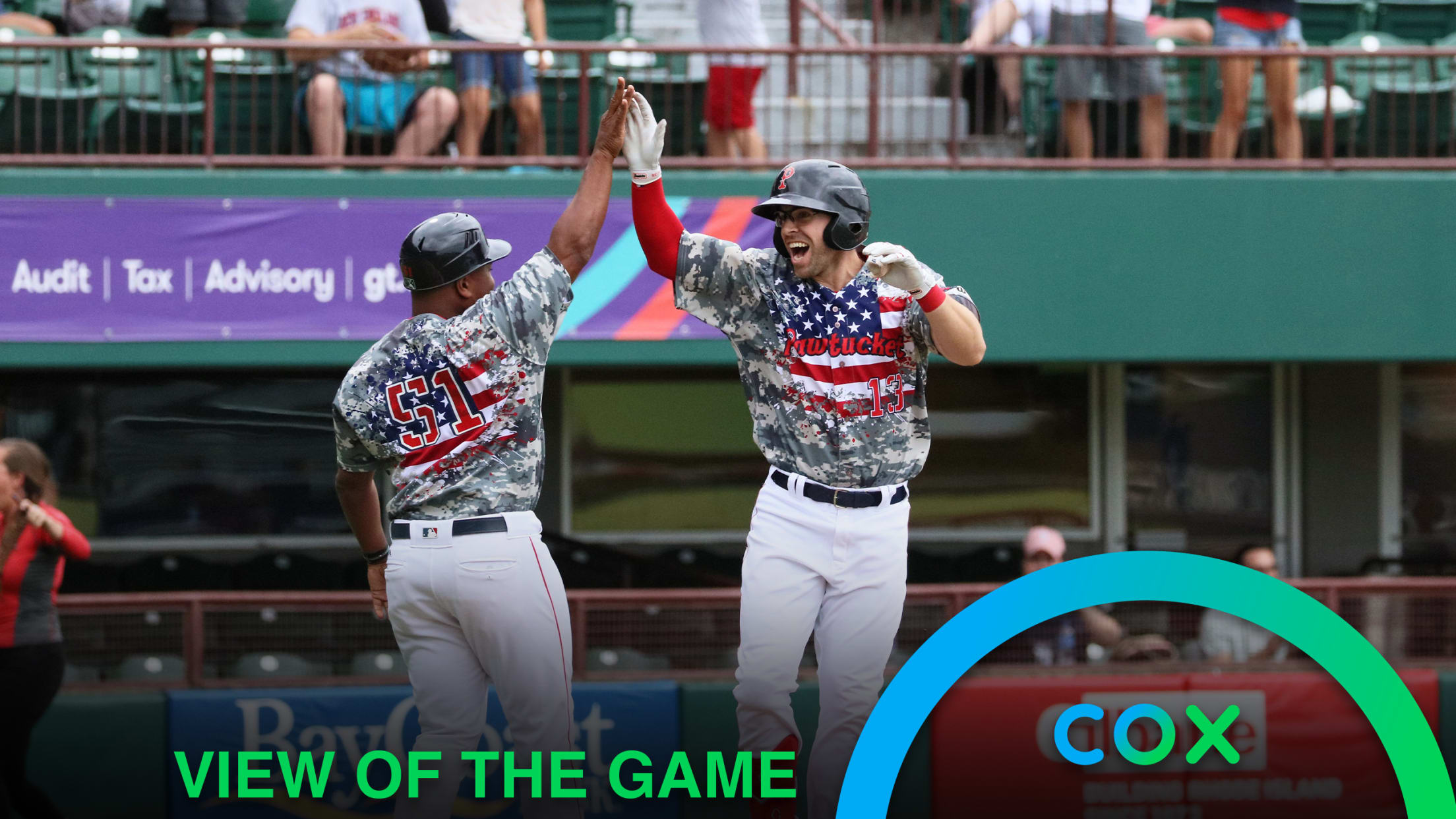 PAWTUCKET, R.I. - Cole Sturgeon's two-run, walk-off home run in the 10th inning gave the Pawtucket Red Sox (59-81) a 5-4 victory over the Lehigh Valley Iron Pigs (66-74) on Monday afternoon at McCoy Stadium to close out the 2019 season.On a 2-2 pitch with two outs in the 10th,
Straily Stymies PawSox on Sunday Afternoon
Castillo Collects Two Hits, Drives in a Pair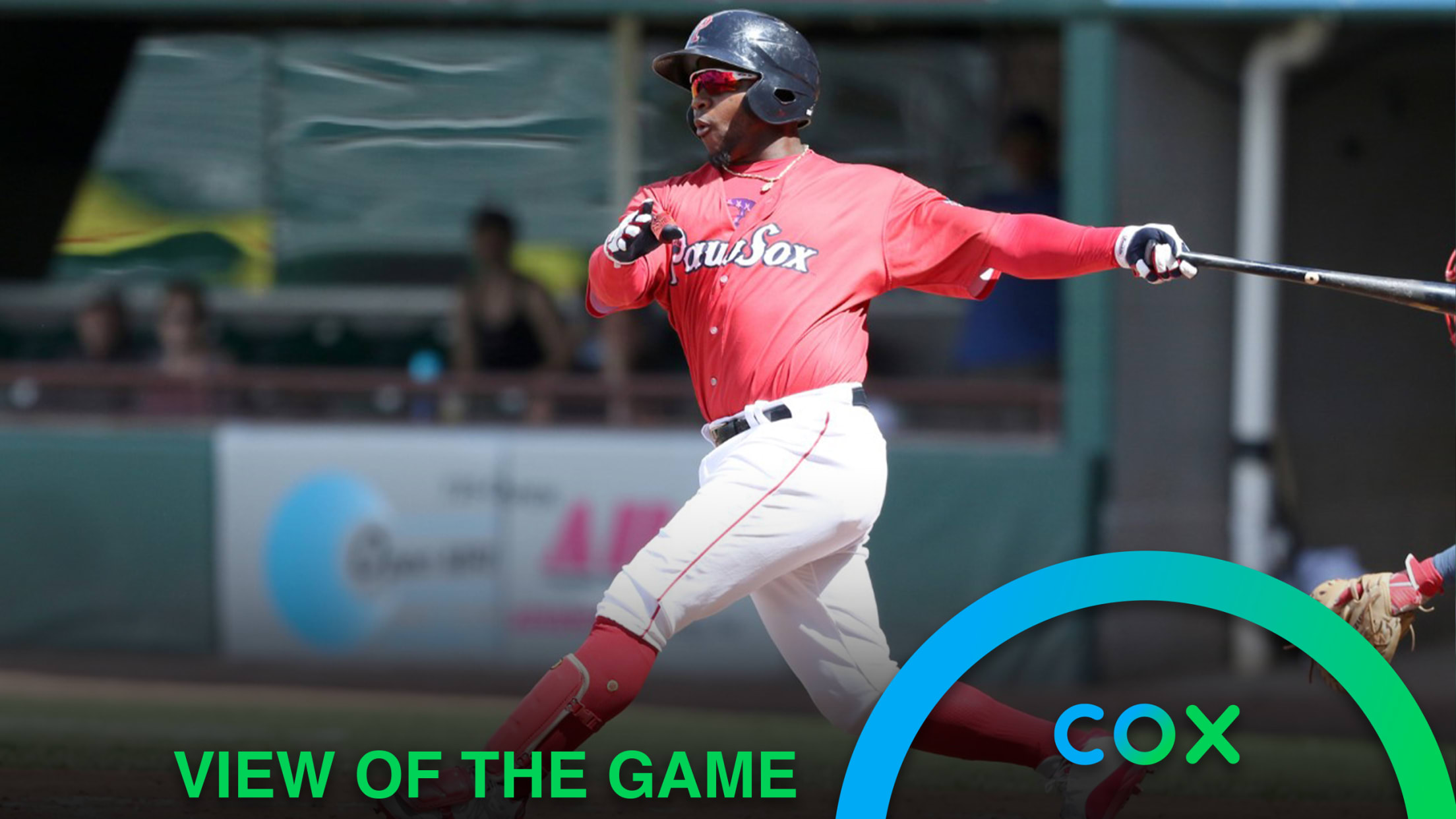 PAWTUCKET, R.I. - Dan Straily and Connor Brogdon combined to retire the final 19 batters in a row, as the Lehigh Valley Iron Pigs (66-73) topped the Pawtucket Red Sox (58-81) on Sunday at McCoy Stadium by a 5-3 final.Straily, who faced the Red Sox twice with the Baltimore Orioles
Four Homers Push Pigs Past PawSox
Chatham Extends On-Base Streak to 17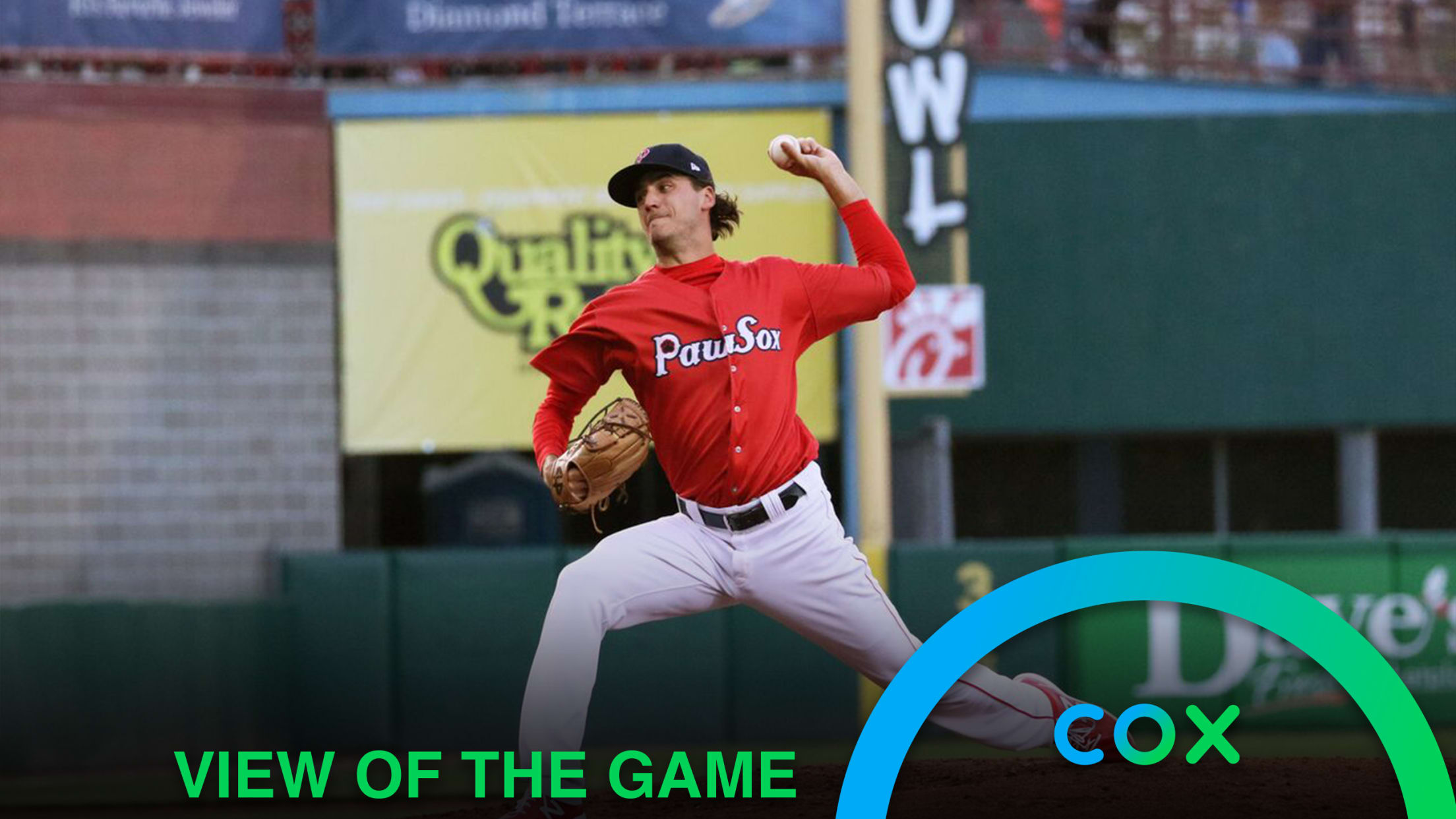 PAWTUCKET, R.I. - The Lehigh Valley Iron Pigs (65-73) lifted four home runs on their way to a 7-2 victory over the Pawtucket Red Sox (58-80) on Saturday night at McCoy Stadium.For a second-straight game, Maikel Franco put Lehigh Valley on the board in the first inning, lining a solo