Pensacola Blue Wahoos Announce 2022 Season Schedule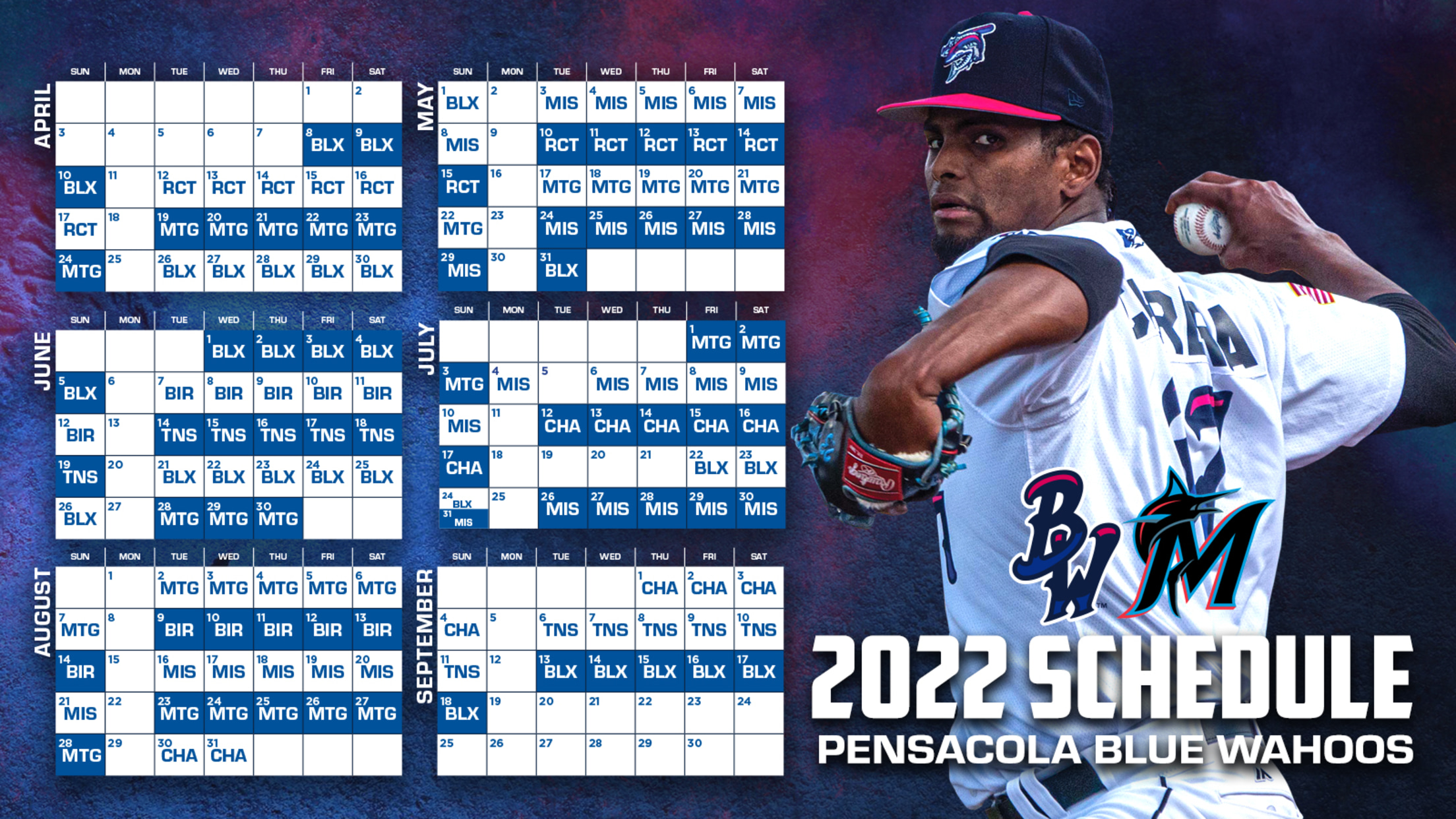 The Blue Wahoos will celebrate their 10th season in Pensacola in 2022 with a full 138-game season of Minor League Baseball starting in early April and stretching through mid-September. The Blue Wahoos will play 69 home games and 69 road games in 2022 as Minor League Baseball returns to a
The Blue Wahoos will celebrate their 10th season in Pensacola in 2022 with a full 138-game season of Minor League Baseball starting in early April and stretching through mid-September.
The Blue Wahoos will play 69 home games and 69 road games in 2022 as Minor League Baseball returns to a full season schedule following a 2021 season shortened by the ongoing pandemic.
Pensacola will kick off the 2022 season at home with a three-game series against the Biloxi Shuckers on April 8-10 and play 12 homestands at Blue Wahoos Stadium throughout the season, concluding September 13-18 at home against Biloxi.
Besides the opening series, all Blue Wahoos homestands will be six-game series stretching from Tuesday through Sunday each week with Monday serving as a league-wide off-day.
The Blue Wahoos will celebrate multiple holidays at Blue Wahoos Stadium in 2022 including Memorial Day Weekend (May 27-29 vs. Mississippi), Father's Day (June 19 vs. Tennessee), and Independence Day Weekend (July 1-3 vs. Montgomery).
Game times and the team's promotional schedule will be released at a later date.
Full 2022 Blue Wahoos Schedule:
April 8-10 vs. Biloxi Shuckers
April 12-17 @ Rocket City Trash Pandas
April 19-24 vs. Montgomery Biscuits
April 26-May 1 @ Biloxi Shuckers
May 3- May 8 @ Mississippi Braves
May 10-15 vs. Rocket City Trash Pandas
May 17-May 22 @ Montgomery Biscuits
May 24-May 29 vs. Mississippi Braves
May 31- June 5 vs. Biloxi Shuckers
June 7-June 12 @ Birmingham Barons
June 14-June 19 vs. Tennessee Smokies
June 21-June 26 @ Biloxi Shuckers
June 28-July 3 vs. Montgomery Biscuits
July 4-July 10 @ Mississippi Braves
July 12-July 17 vs. Chattanooga Lookouts
July 22-July 24 @ Biloxi Shuckers
July 26-July 31 vs. Mississippi Braves
August 2-August 7 @ Montgomery Biscuits
August 9-August 14 vs. Birmingham Barons
August 16-August 21 @ Mississippi Braves
August 23-August 28 vs. Montgomery Biscuits
August 30-September 4 @ Chattanooga Lookouts
September 6-September 11 @ Tennessee Smokies
September 13-September 18 vs. Biloxi Shucker