Pensacola Blue Wahoos Announce 2023 Season Schedule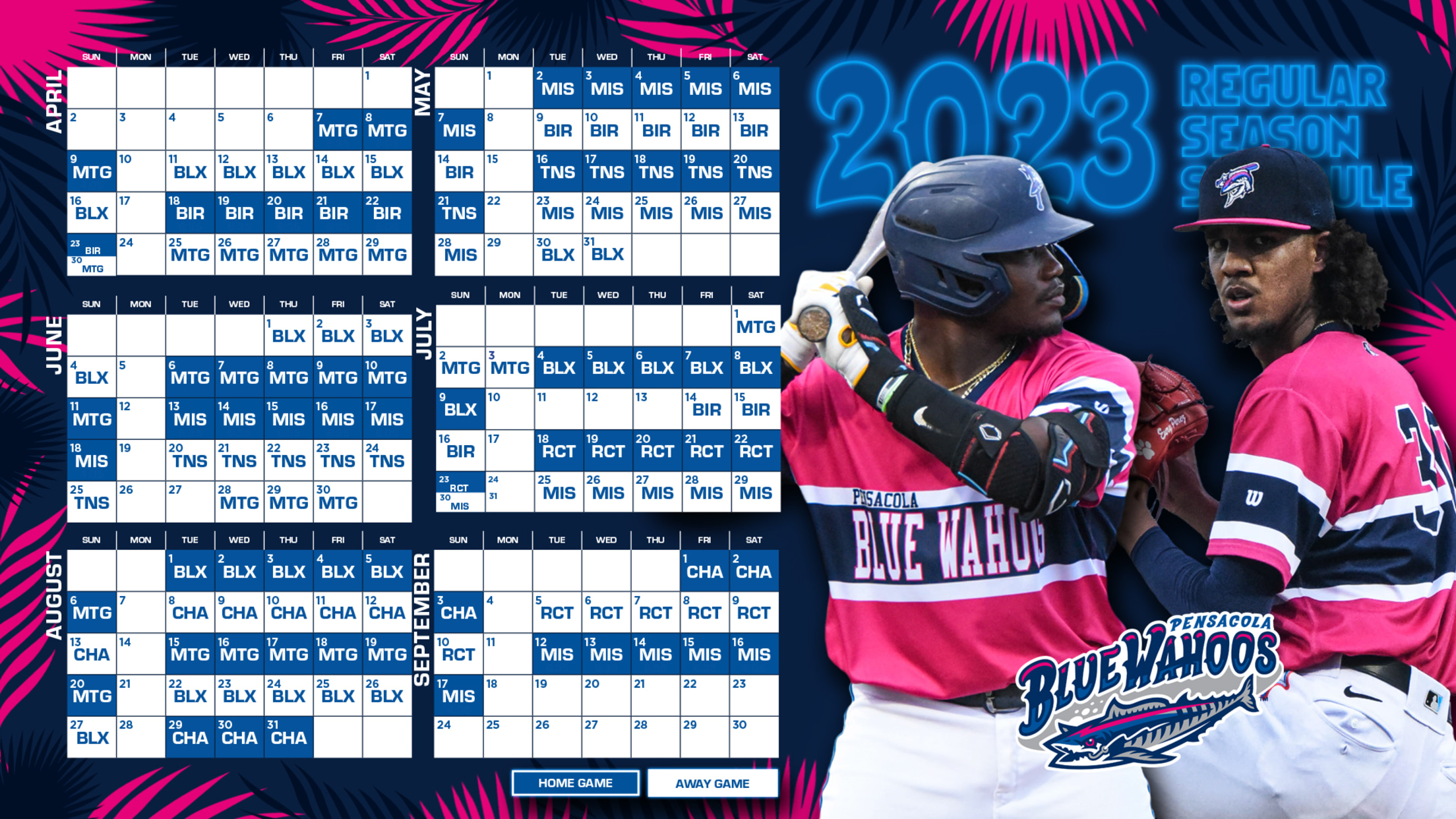 The Pensacola Blue Wahoos released their 2023 season schedule on Tuesday, complete with home and away dates for the full upcoming 138-game Double-A season. Entering their second decade in downtown Pensacola, the Blue Wahoos will play 69 regular season games at Blue Wahoos Stadium in 2023 across 12 homestands. "As
The Pensacola Blue Wahoos released their 2023 season schedule on Tuesday, complete with home and away dates for the full upcoming 138-game Double-A season.
Entering their second decade in downtown Pensacola, the Blue Wahoos will play 69 regular season games at Blue Wahoos Stadium in 2023 across 12 homestands.
"As we approach the conclusion of a fun-filled 2022 season at Blue Wahoos Stadium, we are excited to begin looking ahead to the 2023 season," team president Jonathan Griffith said. "Our staff is already hard at work developing a creative, action-packed, family-fun promotional schedule for the upcoming season."
The Blue Wahoos will celebrate Opening Day at home again in 2023 with a three-game series against the Montgomery Biscuits slated April 7-9 to begin the season. The team will also finish the regular season at home, concluding with a six-game series against the Mississippi Braves on September 12-17.
For just the third time in team history, the Blue Wahoos will play at home on the 4th of July, taking on the Biloxi Shuckers the week of July 4-9 in Pensacola. The team will also be home on Father's Day (June 18 vs. Mississippi) and Labor Day Weekend (September 1-3 vs. Chattanooga).
The longest homestand of the year falls on June 6-18 with the Blue Wahoos taking on the Montgomery Biscuits on June 6-11 and the Mississippi Braves on June 13-18 for a total of 12 consecutive games at Blue Wahoos Stadium. The 12-game homestand is sandwiched between the team's two longest road trips of the year, both 12 games, with the Blue Wahoos traveling to Mississippi and Biloxi from May 23-June 4 and to Tennessee and Montgomery from June 20-July 3.
All seven opposing teams in the Southern League will visit Pensacola for at least one series during the 2023 season. Mondays (with the exception of Monday, July 3) will serve as a league-wide off-day throughout the season.
The 2023 season will be Pensacola's 11th season as an affiliated Minor League Baseball franchise and their third as an affiliate of the Miami Marlins. Season memberships and mini plans will go on-sale following the conclusion of the 2022 season with single game tickets becoming available in the spring of 2023.