Annual Pensacola EggFest Part Of Blue Wahoos Stadium Showcase
Presenting sponsor Kia Autosport of Pensacola boosts festive event, charitable cause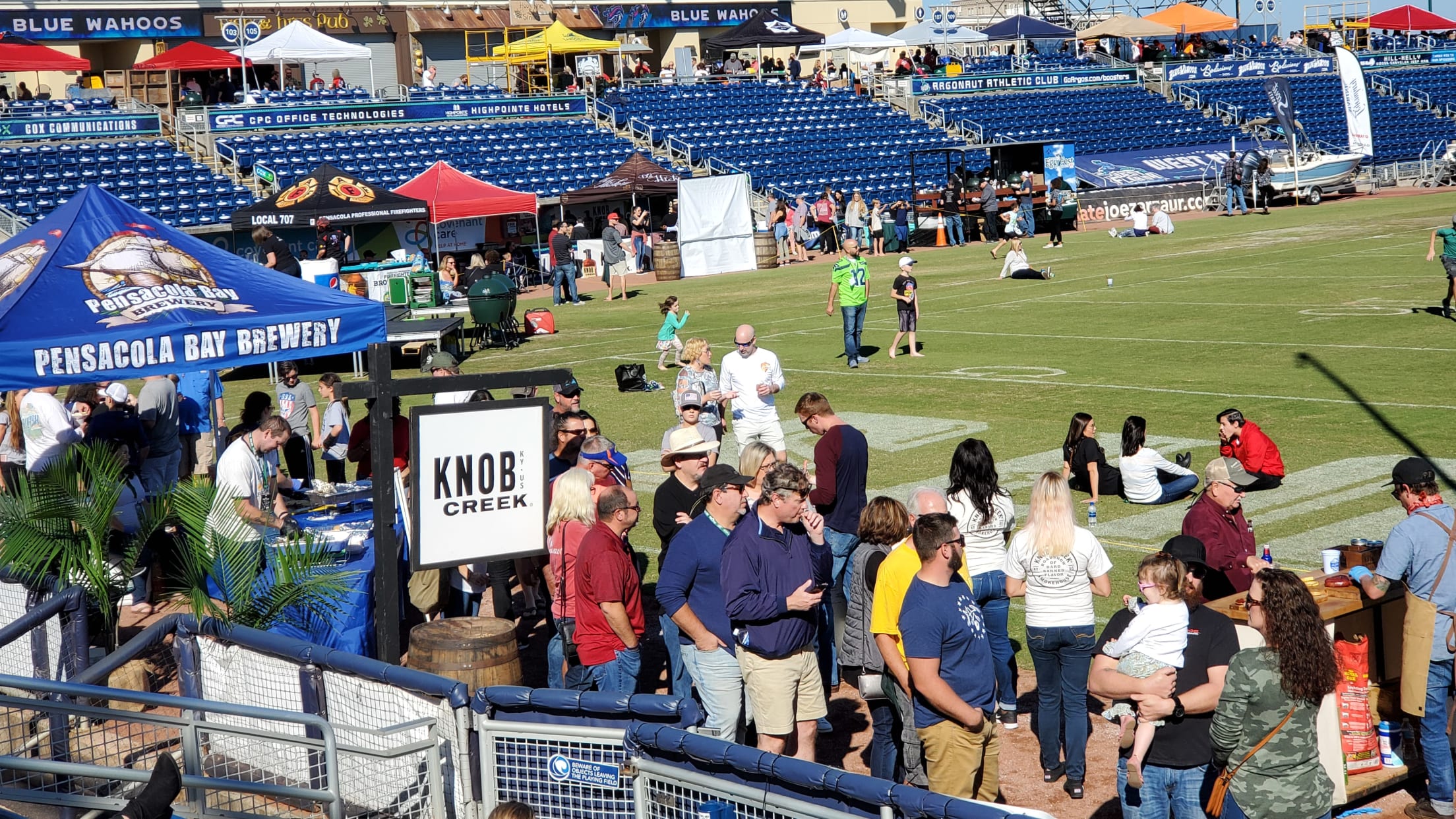 The annual Pensacola EggFest presented by Kia Autosport of Pensacola features a variety of food, vendors and another showcase for Blue Wahoos Stadium. (Bill Vilona)
A few hundred feet from the main entrance, it wasn't hard to detect the tempting array of barbecue aroma from cooking on grills.In another staple event for Blue Wahoos Stadium, the annual Pensacola EggFest last Sunday featured a variety of pork, beef, sausage and other dishes, plus other foods, deserts
A few hundred feet from the main entrance, it wasn't hard to detect the tempting array of barbecue aroma from cooking on grills.
In another staple event for Blue Wahoos Stadium, the annual Pensacola EggFest last Sunday featured a variety of pork, beef, sausage and other dishes, plus other foods, deserts and music.
And a whole lot of fun.
"There is a lot happening," said Shannon Reeves, the Blue Wahoos events manager, who has booked the event the past three years. Pensacola EggFest has been held at Blue Wahoos Stadium since the facility opened in 2012.
"It's definitely one of the biggest, non-baseball, non-football, public events that we do," Reeves said. "This is always on the Sunday of Veteran's Day weekend and we hold this date years in advance."
Kia Autosport of Pensacola was the presenting sponsor. Representatives from the dealership handed mesh tote bags to people, plus offered a raffle chance to win a Kia Soul.
Joining Kia Autosport were a variety of other sponsors such as Pen Air Federal Credit Union, Legendary Marine of Pensacola, Cox, Cat Country, Pensacola News Journal, Gulf Power, Pensacola Bay Brewery, Knob Creek, News Radio 1620 and Old Hickory Whiskey Bar.
Hundreds of people streamed the concourse area from right field to left field sampling the massive amount of food delights.
The charitable event gives proceeds to Manna Food Pantry and Rally Pensacola, which provides financial assistance to families with a child battling cancer.
"The community comes out," Reeves said. "Ultimately it's in support of Rally and Manna, which are two great causes, so it's good to get the community out on a good weather day and their money is going to a good cause.
Pensacola EggFest gets its name from the Big Green Egg, a ceramic, charcoal grill and smoker designed like a giant egg. The Big Green Egg cookers are sold at Escambia Electric Motor Service on Main Street, which then offers the nearly 100 used at the event at a discounted price.
Each barbecue team participating used one of the cookers. The event director is Gerald "Buck" Hall who coordinates the volunteers and main group of team members to run the two days of activities. A VIP party was held the previous night.
"He directs the team and it's a big team," Reeves said. "Each of them have their own jobs and duties. It's like well-oiled machine for them. It seems everyone knows what they are doing to make it run smoothly."
It's another way the stadium is showcased beyond baseball games or football. Kia Autosport of Pensacola has been a loyal partner with the Blue Wahoos. Ticket holders were able to walk the concourse from right field to left field and sample food and beverages.
The New Orleans Saints game that day against the Atlanta Falcons was shown on the video screen beyond right field.
"It's a fun event for people to just come in, have a good time, get great food and enjoy the stadium," Reeves said.