Blankenhorn Leads Three Wahoos Added To Twins 40-Man Roster
Blankenhorn, Jhoan Duran, and Dakota Chalmers protected from Rule 5 Draft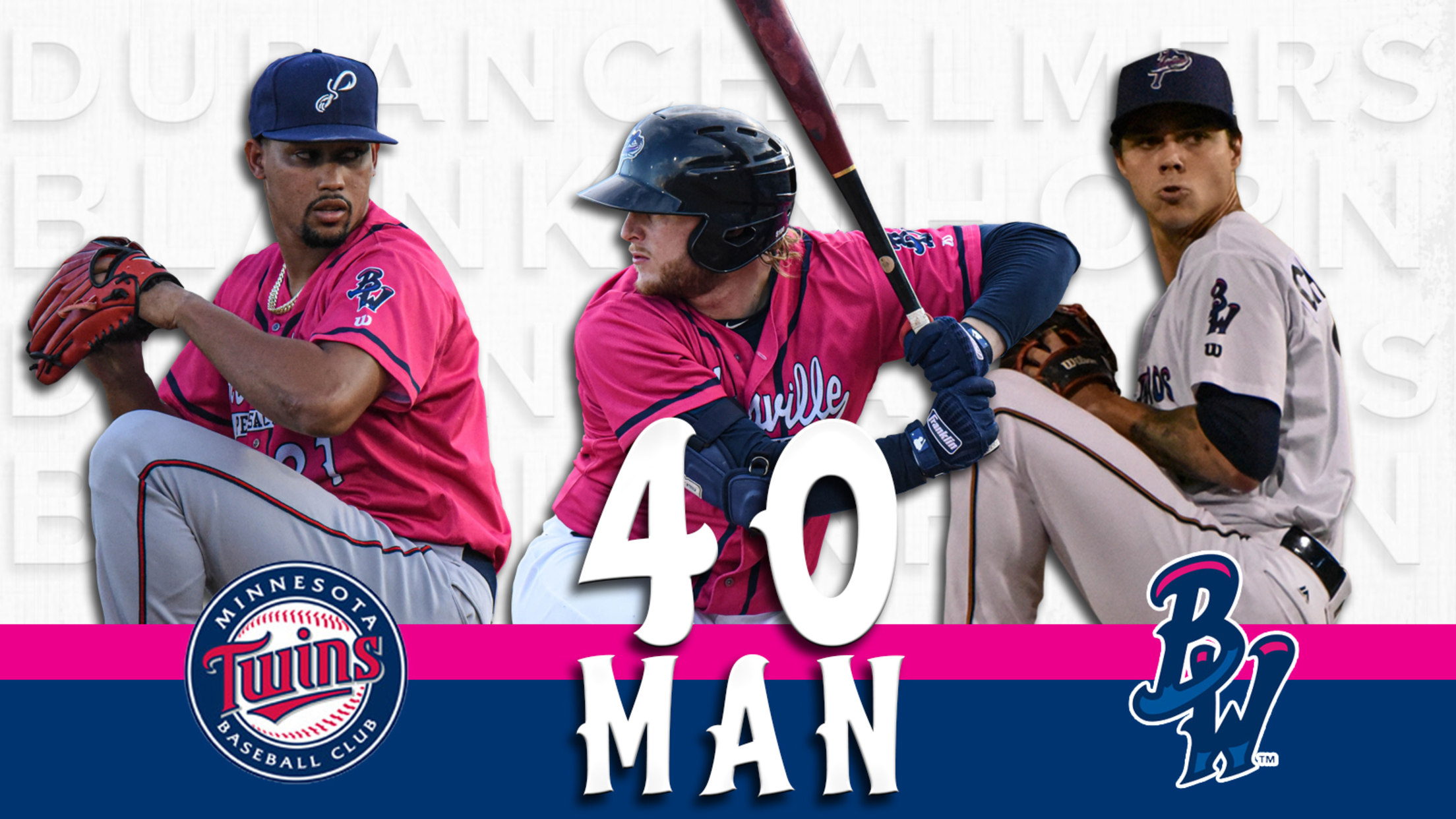 Three Blue Wahoos players, led by top power hitter Travis Blankenhorn, were among five players added to the Minnesota Twins 40-man roster Wednesday, thus protecting these players from the upcoming Major League Baseball Rule 5 Draft.Pitchers Jhoan Duran and Dakota Chalmers joined Blankenhorn on the list. Outfielders Gilberto Celestino, who
Three Blue Wahoos players, led by top power hitter Travis Blankenhorn, were among five players added to the Minnesota Twins 40-man roster Wednesday, thus protecting these players from the upcoming Major League Baseball Rule 5 Draft.
Pitchers Jhoan Duran and Dakota Chalmers joined Blankenhorn on the list. Outfielders Gilberto Celestino, who played most of the season for the Cedar Rapids (Iowa) Kernels in the Twins Class A Midwest League affiliate, along with Triple-A Rochester Red Wings' Luke Raley, were the other two protected players.
MLB Rule 5 is designed for teams to add chosen players on the protected 40-man roster, provided there is roster room. The Twins now have 37 players on their 40-man roster. The deadline to add players was 7 p.m. Wednesday.
The Rule 5 Draft will be Dec. 12 during the Baseball Winter Meetings in San Diego. Teams without a full 40-man roster are able to select unprotected players from another team. The draft is in reverse order of finish. The Detroit Tigers will have the first option to select a player on Dec. 12.
Eligible players are those who signed with their current team at age 18 or younger, but have at least five years of professional experience, or players signing at 19 years old with at least four years experience.
Blankenhorn, 23, a Pottsdale, Pa., native and multisport athlete in high school, including all-state as a tight end, enjoyed a breakout season with the Blue Wahoos, which was his fifth season in pro ball since being a third-round draft selection by the Twins out of high school
He joined the Blue Wahoos on April 25 from the Fort Myers Miracle, the Twins' High-A affiliate in the Florida State League, and began driving in runs and blasting home runs. He batted .278 in 93 games with a team-high 18 homers and 51 RBI. Blankenhorn was a Southern League mid-season All-Star.
This has been a difficult week for him. On Monday, Blankenhorn mourned the loss of his former Blue Wahoos roommate and close friend, Ryan Costello, who was found dead from natural causes in his hotel room in New Zealand, only days from beginning play in the Australian Baseball League.
Costello played 40 games this season for the Blue Wahoos.
Blankenhorn will now prepare for spring training with the Twins in Fort Myers with a chance to further showcase skills as a power hitter and infielder capable of playing third base, second base or first base.
Duran, 21, a Dominican Republic native, is a rising prospect as a starting pitcher, complete with a fastball that has hit 100-mph. Duran was 3-3 in seven games with the Blue Wahoos and a 4.66 earned run average.
Chalmers, 23, a third-round pick and Snellville, Ga. native, joined the Blue Wahoos from the Fort Myers Miracle on Sept. 4 and pitched 3.1 scoreless innings in the Blue Wahoos win against Biloxi in Game 3 of the Southern League Division Series.
In addition to those five players, former Blue Wahoos first baseman Lewin Diaz, who wowed when joining the team in 2019 before a July trade to the Miami Marlins, is now on the Marlins' 40-man roster.
The Cincinnati Reds chose to protect touted catcher Tyler Stephenson and pitcher Tony Santillan.