After Big Impact On Blue Wahoos Success, CFO Amber McClure Now At Bat For Escambia County 
Prying open the reused, cardboard box, Amber McClure beamed in joyful surprise at a parting gift for her long-time role as the Blue Wahoos chief financial officer. It was home plate. Yes, the actual home plate. Unearthed from its position on Admiral Fetterman Field at Blue Wahoos Stadium with help
Prying open the reused, cardboard box, Amber McClure beamed in joyful surprise at a parting gift for her long-time role as the Blue Wahoos chief financial officer.
It was home plate.
Yes, the actual home plate.
Unearthed from its position on Admiral Fetterman Field at Blue Wahoos Stadium with help of head groundskeeper Dustin Hannah, it was then presented with staff signatures.
"Oh my gosh!" said McClure, fighting back her emotions, during a staff, surprise party Friday on her last day of work with the team.
The gift was symbolic in so many ways when considering how McClure has been the centerpiece behind so much team success during her eight years with the Blue Wahoos as CFO for Studer Entertainment and Retail.
"I have grown more professionally during my time here than I would have ever imagined," said McClure, who joined the Blue Wahoos in January 2013. "This company has blessed me so much more than I have blessed it. And I am so grateful for that."
McClure, a 2000 Pace High graduate, who then earned her bachelor's degree and master's degree at the University of West Florida, began her new position Monday as the chief budget officer for Escambia County.
She will work directly with the Escambia County Board of County Commissioners, who unanimously approved her hiring July 2, to help shape the county's future.
In doing so, McClure transfers her engaging personality and financial management skills into a role helping a community where she has lived her entire life.
"I never thought I would go back to government," McClure said, laughing, who was hired before the Blue Wahoos' second season, after working nine years as senior accountant for the City of Pensacola.
"But I think what's intrigued me is that I want to transfer so much of what I learned here into this new opportunity that I am thrilled to have," she said. "I am bringing what I learned in a private enterprise now into government.
"And I know my gift is to try and help the county and to bring efficiencies to the operation. That will allow everyone to do what they do best."
That same game-plan brought McClure consistent acclaim as the Blue Wahoos – the Minnesota Twins' Double-A level affiliate -- blossomed into one of minor league baseball's most-respected brands. The team has a full wall of awards during its near-decade of operations, ranging from best ballpark to best minor league team in the entire 162 member organization.
In 2018, McClure received the Southern League Woman of Excellence Award.
"Amber has been with us almost from the beginning," said Blue Wahoos' co-owner Quint Studer, who founded the franchise in 2011 with his wife, Rishy. "When you develop a company, I always tell the people who helped with that process… there's only one group who can say they were there from the start.
"Amber is a great finance person. But more importantly, she is a great person who just happens to do finance. And I know how good it must feel for her to know how she has made such a positive impact in the community."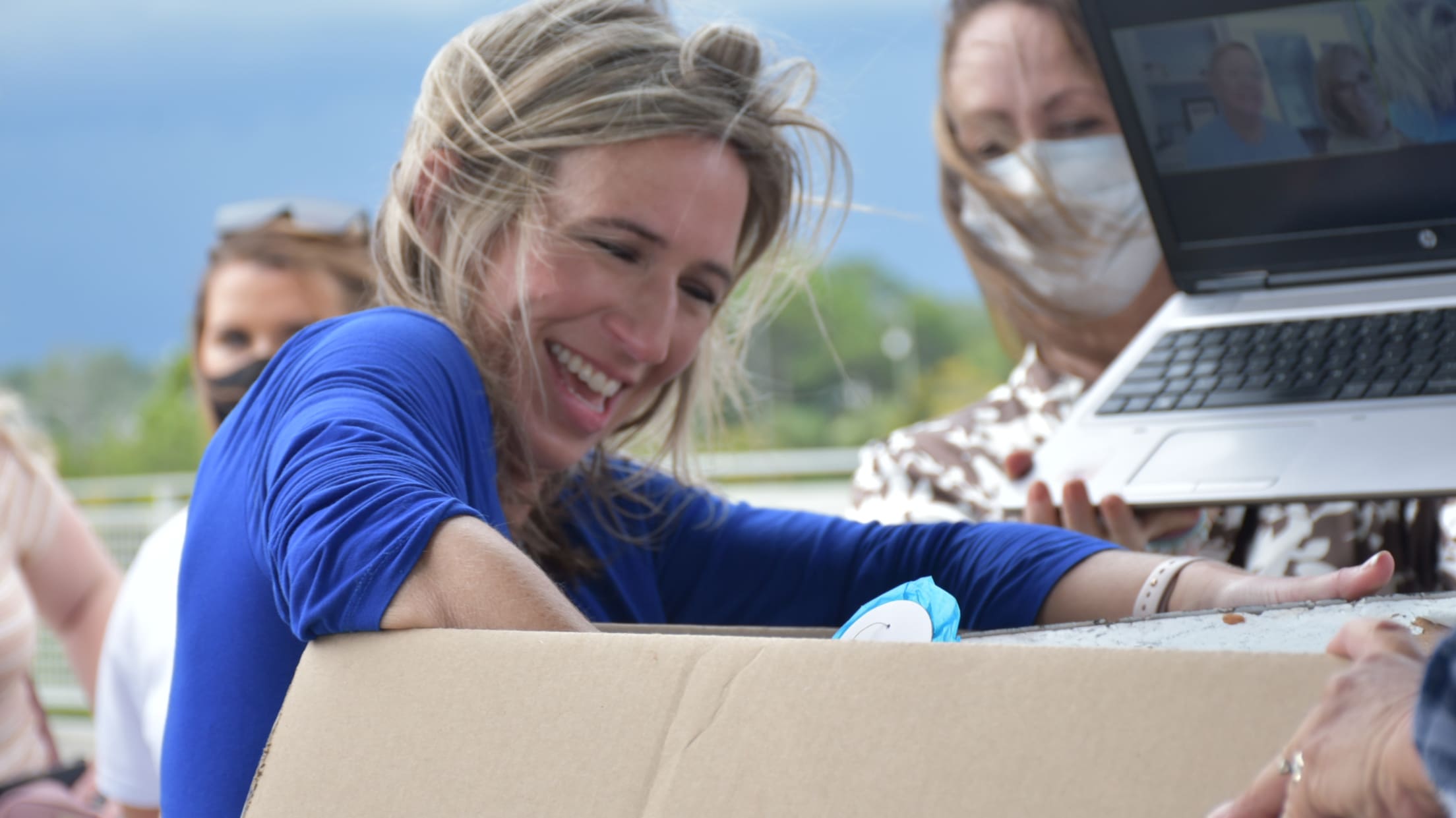 During her tenure as city accountant, McClure caught the attention of Blue Wahoos management during her work with the team on a variety of issues as the stadium was being built in 2011-12.
"I was recruited by the team," she said, smiling. "I was the accountant in charge of building out the Maritime Park project and I also was in charge of helping the team on the landlord side. I was the person the team would contact any time anything was needed.
"The team's food and beverage director at that time called me and said, 'Would you want to work in baseball?' I mean, who says no to that?
"I was very intrigued. I admired how resilient and persistent Quint and Rishy were about making a difference in the community."
It proved an easy move, literally, right across the street.
"When she first came in, I think it was a big task," said Blue Wahoos president Jonathan Griffith. "It started out just as Blue Wahoos and then she grew with the company as well."
From the team's early success, it enabled a company portfolio to develop that now includes the Bodacious Family of Shops in both Pensacola and Janesville, Wisconsin, along with Bubba's Sweet Spot on Palafox Street, the Five Eleven Palafox events venue, the Bodacious Bookstore & Café.
"She was in charge in setting those companies up," Griffith said. "Everything from making sure we had insurance, that we were going to pay the right amount of taxes, that we had the right licenses and things like that."
In addition, McClure has been vital in helping the Blue Wahoos manage the Beloit (Wisc.) Snappers, a Class-A affiliate of the Oakland A's in the Midwest League. The team is scheduled to move into a new, downtown riverfront stadium in 2021.
"She has had an important role with Beloit," Griffith said. "All the performance, budgeting, those type of things she really took control of and always made sure we were always going in the right direction."
While crunching numbers, McClure built relationships.
Her office at Blue Wahoos Stadium was situated in the middle of other managers' offices. She wanted it that way. Whenever her door was open, which was most of the time, McClure greeted everyone with an infectious smile.
There was no task beneath her.
If needed in a pinch, she bagged trash after a game. Helped pick up fireworks debris from a Saturday night post-game show. Joined with human resources director Candice Miller to help stock candy when Bubba's Sweet Spot – owned by PGA Tour star Bubba Watson – began to open for business.
And yes, McClure even helped with team front office staff on occasion to pull and lug the massive tarpaulin to cover or uncover the field during frequent summer storms.
"I did that once in a dress, too," she said, laughing. "I just believe in rolling up my sleeves. I will not ask someone to do something I would not do.
"I refuse to be any different. I believe we work best as a team. And for me to sit in an office and bark orders is not as effective as me getting out in the field and understanding what the managers are facing, what the staff is facing, and being part of the team."
A mother of two boys, Preston and Seth, ages 8 and 13, McClure said it was difficult telling them she was going to leave her job with the Blue Wahoos to start a new position.
"They were shocked. They said, 'Mom, why…. Why would you leave the stadium?' They loved to come here and enjoy the benefits of mom having a key to the ballpark," McClure said. "Once I explained to them this new job…. and that I get to make lives better in government, just like I tried to do in baseball, they started to understand.
"And hey, it's not like I'm not going to be here for the games. From my new office (county building), I can see the stadium. We'll be here.
"Never in a million years would I have thought I would be working in professional sports, professional baseball. I was actually in awe the first season. I would think, 'I'm actually working in professional sports! This is so cool.'
"I remember my first trip to the Baseball Winter Meetings. I was just trying to soak it all in. It was so neat to be in the midst of major and minor league baseball."
Her love of math and working with numbers began during preschool age. McClure said her father, who was finishing college at the time, would come home from classes and Amber would ask for math problems to solve.
"I guess I was 3 or 4," she said. "My dad said I was doing algebra level math when I was in kindergarten. Now, I think he might be inflating that. It might be one of those fishing stories."
In high school, when choosing a career path, McClure was thinking about being a math teacher. At her mother's urging and support, she began to consider accounting and took a career labs test. The results suggested her future as a business-finance executive.
Her mother's advice was pivotal.
"So that's how I chose to go into something like this," she said.
It has proven to be a home run.