Blue Wahoos Announce Chris Garagiola As Lead Broadcaster
Grandson of Hall of Famer becomes the voice of the Blue Wahoos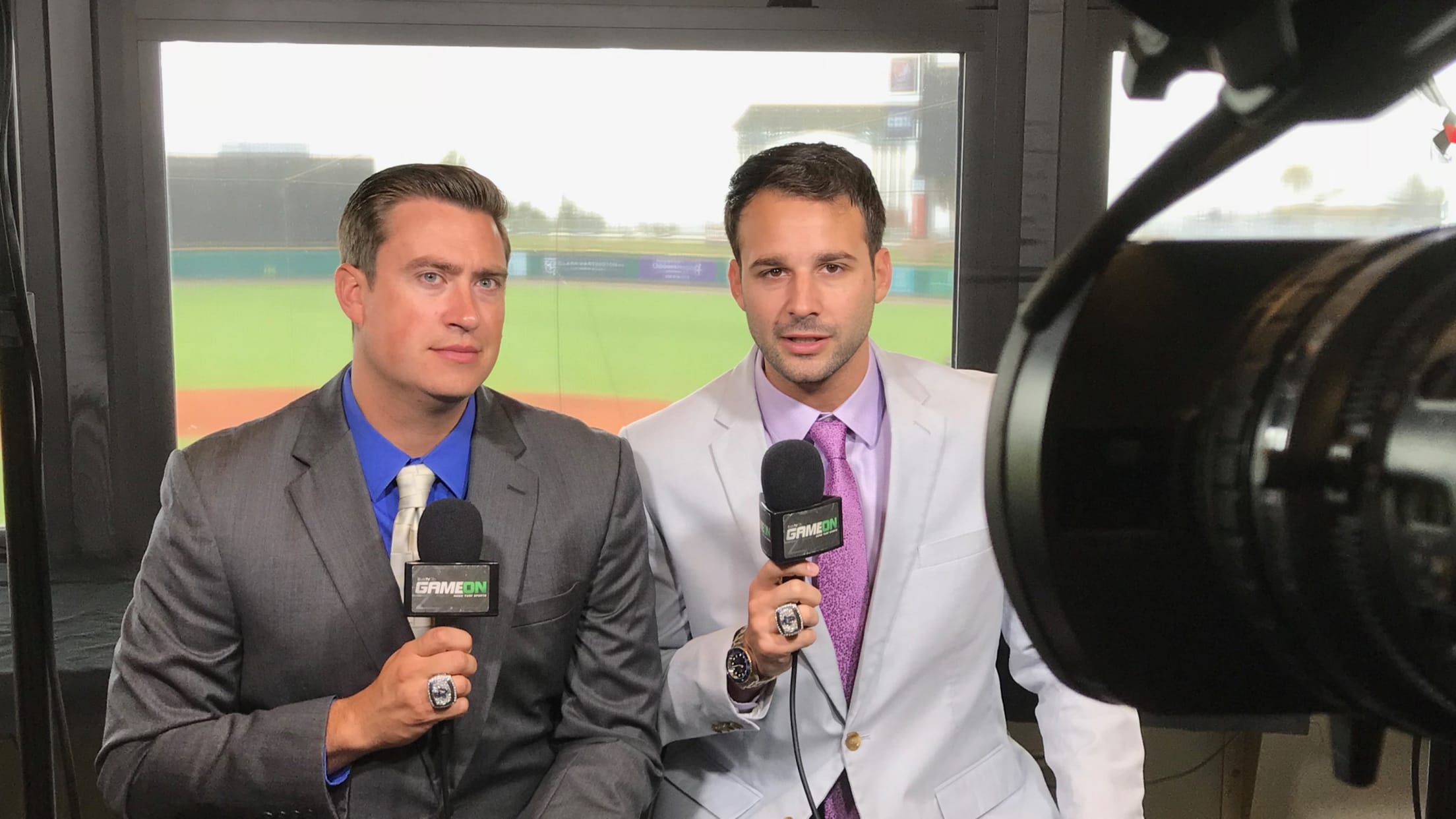 Chris Garagiola (right), the Blue Wahoos newly named lead broadcaster, on air with Tommy Thrall (left).
Once he became burned out on playing baseball, Chris Garagiola searched for a new passion.He didn't grow up dreaming of following his famous grandfather, Joe Garagiola, who went from a major league playing career (1946-54) to becoming an American icon as a baseball broadcaster and television host.And really, who could
Once he became burned out on playing baseball, Chris Garagiola searched for a new passion.
He didn't grow up dreaming of following his famous grandfather, Joe Garagiola, who went from a major league playing career (1946-54) to becoming an American icon as a baseball broadcaster and television host.
And really, who could imagine following that path?
Rather, it was circumstance that led Chris to even try broadcasting.
His college, Trinity University in San Antonio, Texas, had a fancy studio that tempted a look.
"I learned we had this really cruddy live streaming service," he said. "I started broadcasting football and I was just awful.
"I had no experience, no guidance, but I was just having the time of my life doing it."
Now, a far grander, even more joyful experience awaits.
Garagiola, 26, the youngest of four siblings, was the easy choice to become the Pensacola Blue Wahoos new broadcast voice.
He replaces his mentor, Tommy Thrall, hired by Fox Sports Ohio to work with another baseball announcing legend, Marty Brennaman, in a variety of roles on Cincinnati Reds broadcasts.
The past two seasons, Garagiola and Thrall worked in tandem at Blue Wahoos games.
Garagiola got to know Pensacola, the Blue Wahoos fans, and the Hoosville environment. And vice versa.
"It is obviously the biggest moment of my professional life," said Garagiola, who grew up in Phoenix, Arizona where he advanced from travel ball baseball as a youth, then pitching in high school, then playing at Trinity.
"I didn't go to, say, a Syracuse (University, well known for its broadcasting major) or the Walter Cronkite School of Broadcasting (at Arizona State University)," he said. "I just went to a small school in San Antonio and tried to see how far I could take it."
The day he decided in college to pursue broadcasting, he met with his parents. His father, Joe Garagiola Jr. has worked in Major League Baseball since being the Arizona Diamondbacks general manager when the franchise launched in 1998 with Century native Buck Showalter as manager. Garagiola Jr., 66, was the architect of the Diamondbacks 2001 World Series winning team and continues to work for the team as a special advisor to the team president.
His parents knew that the family name would set lofty expectations for their son's career and the potential pitfalls of any such comparison. No one else in the family chose a broadcasting career.
"My parents never pushed me to play baseball, never pushed me to any certain career and I'm grateful for that," Chris Garagiola said. "When I said I want to do this, they asked, 'Why?'
"Because I like sports and I like public speaking and it was fun," he said, recalling the moment. "For my dad and my mom, that was a good enough reason.
"I think if I had said, 'Oh, because of my last name and I want to be famous,' they would have sat me down and said, 'That's not a great way to go about living life.' And they would have been exactly right."
His grandfather was the pioneer in a now common world of ex-professional athletes or coaches turning into TV personalities.
Joe Garagiola Sr. did it an era long before ESPN and the proliferation of sports television. He was one-of-a-kind with the innate ability to be a funny storyteller and yet informative on what was evolving in a baseball game.
He teamed with Curt Gowdy each Saturday in season on NBC Sports Baseball Game of the Week, drawing consistently massive audiences.
Joe Garagiola lit up living rooms in America that still had black-and-white TVs. It eventually led to him being enshrined in 1991 into the National Baseball Hall of Fame as a broadcaster and winner of the Ford C. Frick Award.
Chris has been able to get a tape or two of his grandfather's broadcasts.
"The thing that stood out, he made it look so natural, so effortless," he said. "When you watch him on screen, there is just this enthusiasm and this sense of genuiness that made it through the TV.
"He came across as kind, not a know-it-all. He was fun, but didn't try to be funny."
Chris has tried to develop his own style on Blue Wahoos broadcasts and will continue honing the skill as he enters this new role.
"The thing to me is that Chris doesn't take for granted his family history at all," said Thrall, who was the Blue Wahoos' broadcast voice since their inaugural 2012 season. "I think he almost wants to work harder to overcome the stigma of… however far he gets and his goal is to reach the top of the mountain… he doesn't want anybody to think he got there because of his name.
"He has improved tremendously since his first year. He is a sponge when it comes to taking advice. He listens really well, especially when it comes to how to be a better broadcaster."
When Garagiola started college at Trinity, along with being a righthanded pitcher for the Tigers' NCAA Division III baseball team, the sport had waned on him.
"By that point, I was just burned out," he said. "I didn't really like (playing) baseball that much. The players on the team were arrogant, it was a toxic environment and it just wasn't fun anymore.
"It was very self-focused and I was always a team guy."
During his junior year in 2014, he became sports co-anchor for a student run newscast. He took initiative to pitch to faculty leaders an even bolder leap for the school's broadcast studio.
"Trinity has a really good Division III athletic program," Garagiola said. "I said this is what we should sell. We should make it more glitz and glamour instead of this horrendous streaming service.
"Out of nowhere, some donor came along and gave the athletic department a bunch of money and we bought these new cameras, new microphones and built what we now call the Tiger Network.
"I'm incredibly proud. It looks now like an ESPN studio. And it is student run. This is where I got started and my big goal is to keep working with the university and hopefully one day we can offer a broadcasting degree here at Trinity."
His grandfather's health was failing, but Chris was able to tell him about the Tiger Network and about his desire to make a career in broadcasting.
Joe Garagiola smiled and told him how wonderful it was to hear. He died on March 23, 2016 at age of 90.
As a kid, Chris would listen as his grandfather playfully quizzed him on baseball situations. What about this play? That pitch? This baserunning decision?
"And I had no idea what the right answer was," Chris said, laughing.
One day two years ago, when Pat Kelly was the Blue Wahoos manager, Garagiola asked a similar question on decision making.
Kelly willingly explained.
"That was kind of my Ah-Ha moment. It was like now I get it." Garagiola said.
His only lament now is that he can't pick up the phone and call his grandfather. He can't ask Joe Garagiola to lean back in a recliner, listen to Chris' broadcast of the Blue Wahoos and critique it.
But he hopes in heaven, his grandfather hears.
"I am sure he would be proud of the progress I have made," he said.