Blue Wahoos' Meyer Named Double-A South Top Pitcher; Bleday heading to Arizona Fall League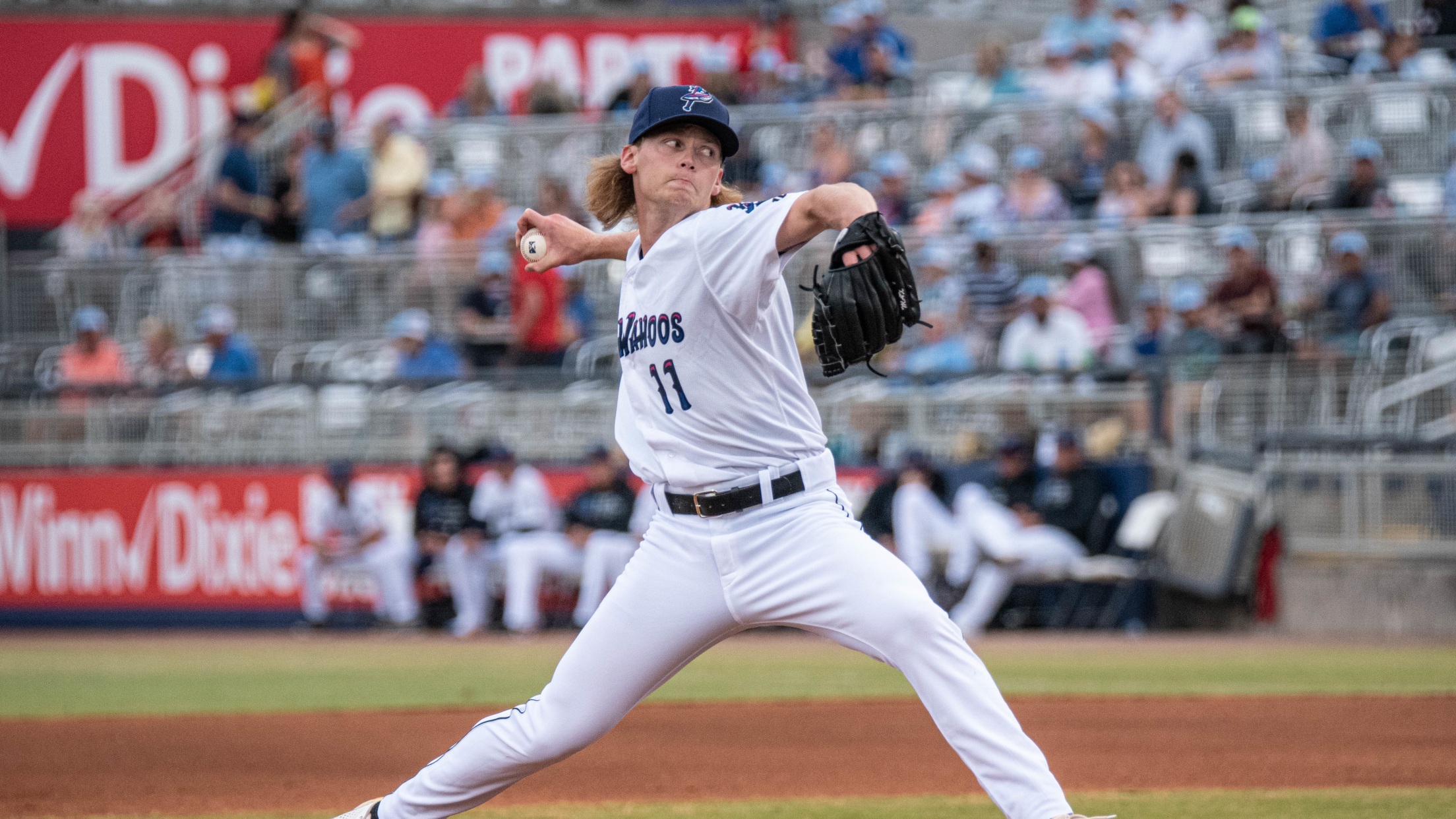 Max Meyer dazzled all season in his pro rookie year with the Blue Wahoos and was named Double-A South top pitcher. (Daniel Venn)
Post-season honors have continued for players on the 2021 Blue Wahoos team, highlighted by righthanded pitcher Max Meyer being named the Double-A South pitcher of the year. Meyer, 22, the Miami Marlins No. 1 draft selection in 2020, the third overall selection that year, was joined by two other Blue
Post-season honors have continued for players on the 2021 Blue Wahoos team, highlighted by righthanded pitcher Max Meyer being named the Double-A South pitcher of the year.
Meyer, 22, the Miami Marlins No. 1 draft selection in 2020, the third overall selection that year, was joined by two other Blue Wahoos pitchers, lefthander Jake Eder and reliever Colton Hock on the team. Outfielder Peyton Burdick was named as one of the three top outfielders in the Double-A South.
The selections were made by Minor League Baseball executives, each of the league's broadcasters and selected members of the media.
The Blue Wahoos had four of the 12 players chosen, the most of any team in the Double-A South. The selections consisted of the eight fielding positions, three pitchers and one designated hitter.
Catcher Shea Langeliers of the Mississippi Braves was named the top MLB prospect among the Double-A selections and M-Braves manager Dan Meyer was named top manager, after taking over the team early in the season and lead the M-Braves to the Double-A South championship.
Meyer had a sensational first season in professional baseball. He pitched in 20 games for the Blue Wahoos, all starts, compiling a 6-3 record with a 2.41 earned run average. He was promoted to Triple-A Jacksonville, where he's expected to start the 2022 season, and appeared in two games (10 innings) allowing just one earned run.
Eder led MILB in lowest ERA until his elbow injury forced him to miss a majority of the final two months of the season. Hock led the Double-A South with 19 saves.
Burdick, who was recently named the Miami Marlins top minor player in 2021, posted the third-best on-base plus slugging (OPS) percentage in the league and his 23 home runs were tied for the most in the league. He set the Blue Wahoos franchise record for single-season homers by a player who spent the entire season with the team.
ARIZONA FALL LEAGUE -- In addition, Blue Wahoos outfielders J.J. Bleday and Kameron Misner, along with reliever Jeffrey Yon, are among eight Marlins prospects who will play in the Arizona Fall League, which starts Oct. 13.
The Marlins prospects will play for the Mesa Solar Sox, joining prospects from the Baltimore Orioles, Chicago Cubs, Oakland A's and Toronto Blue Jays organizations.
The Arizona Fall League is comprised of six teams playing 90 games in October and November. The Fall Stars Game on November 13 and the AFL Championship Game on Nov. 20 will be televised on the MLB Network.