Five Blue Wahoos Of 2021 Part Of Marlins' Top 10 In Baseball America New Rankings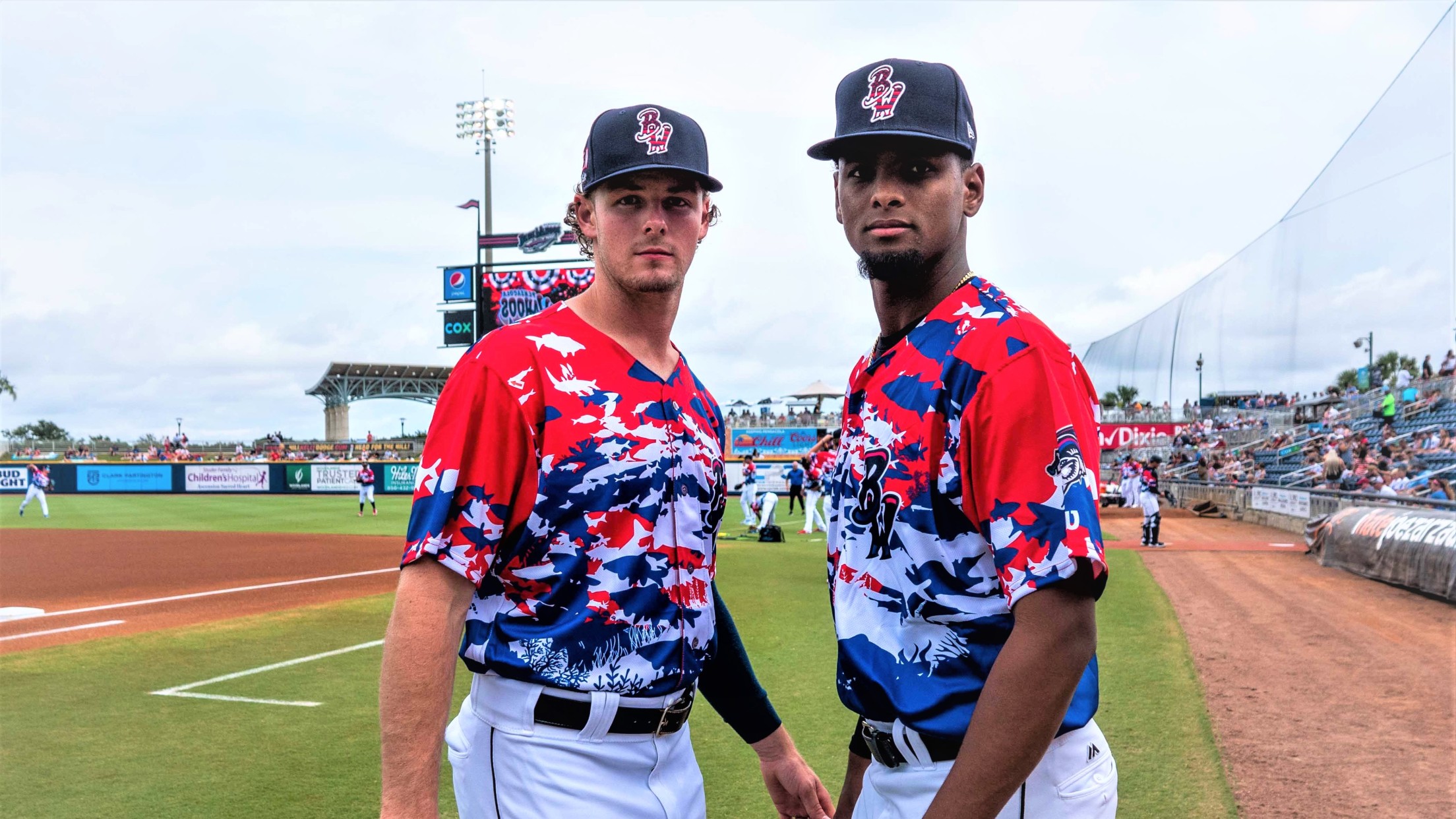 Max Meyer and Edward Cabrera, both of whom were part of the Blue Wahoos pitching rotation in 2021, were named among Miami Marlins top 10 prospects in latest Baseball America team prospect rankings. (Daniel Venn)
In Baseball America's new rankings of the Miami Marlins' top 10 prospects, half the list are Blue Wahoos players from the 2021 season. And the publication's top-rated Marlins' prospect, 18-year-old pitcher Eury Perez, may be in Pensacola during the 2022 season, after his recent success with the Beloit Snappers, the
In Baseball America's new rankings of the Miami Marlins' top 10 prospects, half the list are Blue Wahoos players from the 2021 season.
And the publication's top-rated Marlins' prospect, 18-year-old pitcher Eury Perez, may be in Pensacola during the 2022 season, after his recent success with the Beloit Snappers, the Marlins' High-A affiliate in Beloit, Wisconsin.
Baseball America announced the Marlins' Top 10 on Wednesday (Nov. 3). The group includes pitchers Edward Cabrera (No. 4) Max Meyer (No. 5) and Jake Eder (No. 6), all of whom showcased their talent during the past season with the Blue Wahoos.
Outfielders Peyton Burdick (No. 7) and J.J. Bleday (No. 10), both of whom played the entire Blue Wahoos 2021 season, completed the list of connections.
Eder, the towering left-hander, whose season was cut short by an elbow injury, along with Burdick, made the biggest leaps in Baseball America's ranking from a year ago. Entering the 2021 season, Burdick was No. 16 in the organization ranking and Eder was No. 29.
During the final half of the season, Burdick raised his average by 40 points and set the Blue Wahoos team record for most single-season home runs (23) by a player whose entire season was in Double-A.
"I feel like I was too amped up and trying to do too much, instead of just relaxing," Burdick said during a post-game interview in August. "My motto now is I'm thinking about being boring at the plate, trying to just see the ball, hit the ball. You don't have to hit a home run every time."
Burdick finished his season playing eight games in late September with the Jacksonville Jumbo Shrimp, the Marlins' Triple-Affiliate, where he's expected to begin the 2022 season.
Eder, who started 15 games with a 1.77 earned run average, will miss the entire 2022 season in recovery from Tommy John elbow surgery.
Perez, a righthander who is 6-foot-8, was named the Marlins minor league pitcher of the year, after compiling a combined 1.96 ERA with 108 strikeouts in 20 starts across the two Class A levels. Perez and Eder were the only two pitchers in the Marlins system with an ERA under 2.00.
Perez grew four inches since signing with the Marlins in 2019 out of the Dominican Republic. His rapid rise has been one of the Marlins' biggest success elements with prospects the past season.
"Just honestly truly incredible," said Geoff DeGroot, the Marlins director of minor-league operations, speaking to the Miami Herald. "You sign these guys — nobody really knows what they're going to debut like — and he definitely came on and made a big splash. He's the one that really stands out for me."
Meyer was the Marlins No. 1 draft pick in 2020, the third overall selection, when chosen from the University of Minnesota. He started 20 games for the Blue Wahoos, compiling a 6-3 record and 2.41 ERA before being elevated to Jacksonville following the Wahoos' season and making two starts in Triple-A.
Cabrera made his MLB debut with the Marlins on Aug. 25 after starting five games for the Blue Wahoos and advancing to Jacksonville before completing a three-level leap in 2021. He's expected to be part of the Marlins' starting rotation next season.
Bleday is currently finishing a short-season in the Arizona Fall League where he has raised his power numbers and batting average.
Here is Baseball America's Marlins Top 10
1) Eury Perez, RHP -- Played for Low-A Jupiter Hammerheads and High-A Beloit Snappers in 2021.
2) Kahlil Watson, SS -- Was Marlins' No. 1 draft selection in 2021, played short season in Jupiter.
3) Sixto Sanchez RHP -- Was to contend for Marlins starting rotation, but missed entire season with shoulder injury.
4) Edward Cabrera RHP -- Made 5 starts for Blue Wahoos, then eventually made MLB debut with Marlins.
5) Max Meyer RHP -- Marlins' No. 1 pick in 2020 made 20 starts for Blue Wahoos in past season.
6) Jake Eder LHP -- Before injury shut him down in July, was part of Blue Wahoos rotation and had one of best ERA in all minor league levels.
7) Peyton Burdick OF -- Played all of 2021 with Blue Wahoos, set franchise record for HR in single season.
8) Jose Salas SS -- Played for Jupiter all season in Low-A, ranked No. 3 among league's top prospects.
9) Ian Lewis 2B -- Played in Jupiter all season, ranked No. 6 among league's top prospects.
10) JJ Bleday OF -- Played all season with Blue Wahoos, now playing well in Arizona Fall League.