Savannah Bananas Visit Blue Wahoos In Meeting Of Common Goals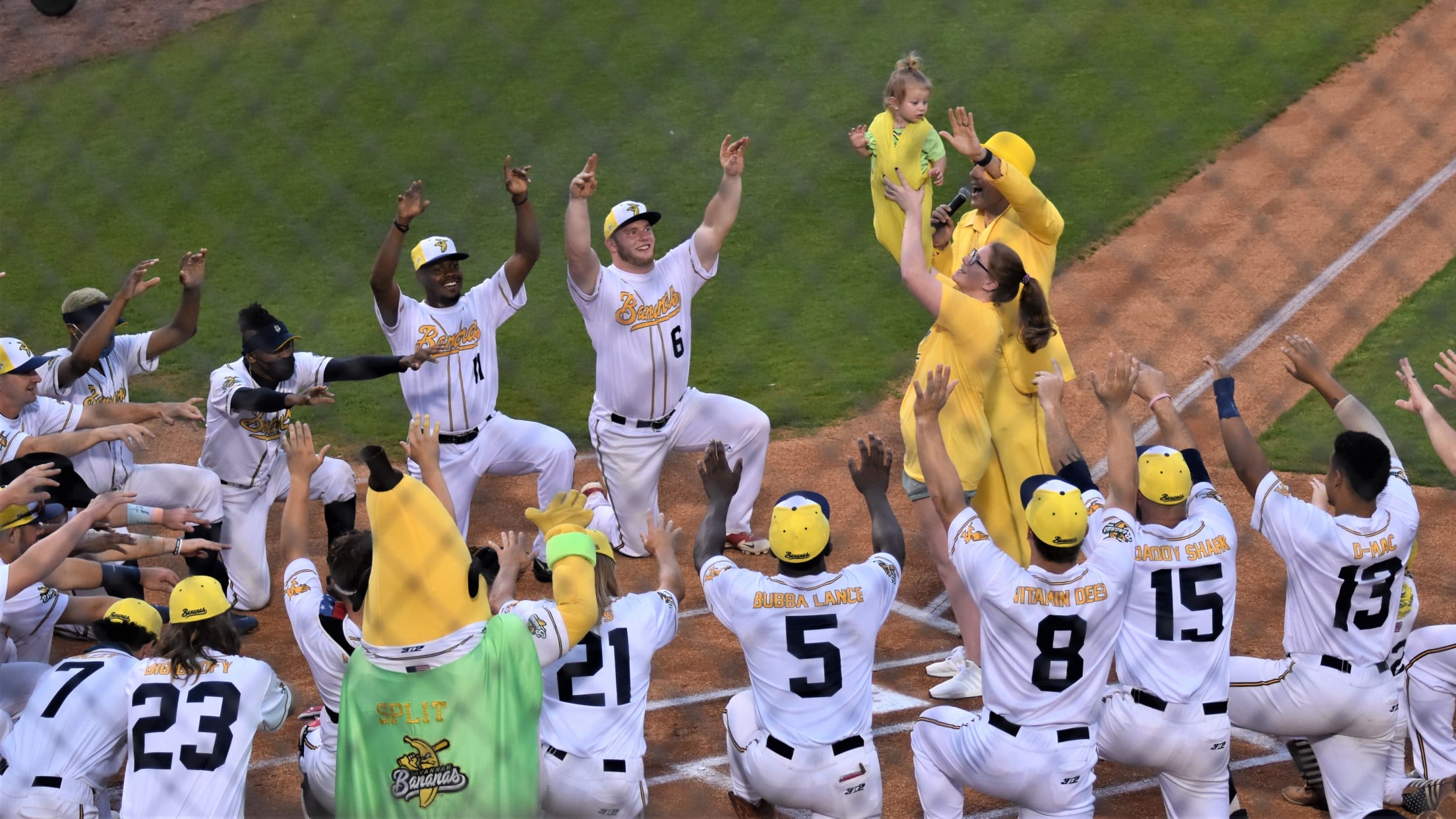 The Savannah Bananas brought their unique brand of baseball zaniness to Mobile on March 26-27 and team owner Jesse Cole and staff visited with Blue Wahoos front office staff March 29 for idea-sharing meeting. (Bill Vilona)
Banana Ball experienced Wahoos Life in Pensacola. Two of baseball's acclaimed brands, the Savannah Bananas and Blue Wahoos, met earlier this week to share ideas and team business philosophies. There was an instant kinship. Both organizations have strived to create family-friendly, fun, while wrapped around a baseball game. "I'm just
Banana Ball experienced Wahoos Life in Pensacola.
Two of baseball's acclaimed brands, the Savannah Bananas and Blue Wahoos, met earlier this week to share ideas and team business philosophies.
There was an instant kinship. Both organizations have strived to create family-friendly, fun, while wrapped around a baseball game.
"I'm just in awe of the Savannah Bananas," said Blue Wahoos owner Quint Studer during a three-hour, idea-sharing session.
"I'm fans of you guys. I have been watching what you've done," said Bananas owner Jesse Cole, who has become a rock star with his array of yellow tuxedos (he has seven), top hat and emcee talents during his team's games.
The Bananas, who play in the Coastal Plain League, a summer, wood-bat league for collegiate players, took their unique show on the road in Mobile last weekend with "The One City World Tour."
It was two games at Hank Aaron Stadium played by a different group of former minor league and college players as the Bananas. They competed against an equally recruited opponent called the Party Animals.
The games used experimental rules such as a two-hour, game time limit, each inning valued at one point for the team winning that inning, batters required to remain in the batter's box, no mound visits and no walks. On ball four, the batter took off for first base while fielders had to throw the ball around to all position players before trying to make a play on the runner.
The games wowed with large, sellout crowds at Hank Aaron Stadium. Included were the Bananas' entertainment staples like their pep bad, "Dad-Bods" middle-age men as cheerleaders, dancing players and assorted other fun stuff.
During the Coastal Plain League games, the Bananas play under normal baseball rules and nine inning games. But as Studer pointed out, many of the same entertainment elements exist.
The success of the Savannah Bananas has been recently featured in the Wall Street Journal and Baseball America.
"We have to figure out how to keep people having fun, keep them motivated and if they leave early, how to we make them feel great," Studer said. "I want to challenge ourselves to take it to the next level.
"I bet you that Major League Baseball and Minor League Baseball would love to have the publicity the Savannah Bananas have had."
With no baseball season in 2020, due to the coronavirus pandemic, the Blue Wahoos still generated attention by winning the Baseball America's Bob Freitas Award as Best Double-A organization, and the overall Golden Bobblehead Award at the MILB Innovators Summit for having the only continuous Airbnb experience at a baseball stadium.
"As far as last year, very few (minor league) teams found a way," Cole said. "You guys found a way. The Airbnb, the movie nights, the restaurant nights, the disc golf… most teams weren't doing that.
Most teams let a lot of people go and you all did not. You were doing impressive stuff. So, we have been watching what you have done."
Before the Bananas became famous, however, for their baseball zaniness, there was despair when Cole and his wife, Emily, formed the franchise in 2015, following the final season of the Savannah Sand Gnats, then a member of the South Atlantic (Class A) League as a New York Mets affiliate.
The stadium phone lines were severed. No internet. Trashed office space.
All existing at a deserted ballpark, Grayson Stadium, four miles from downtown Savannah. The ballpark opened in 1926, but had its glory days pass a half-century ago.
"We were working in old storage building trying to sell tickets," Cole said. "And we failed miserably.
"We sold two tickets in our first three months. Two! That's how bad it was."
It is great now.
In fact, the Bananas are known globally. When Cole presented his idea for a "One City World Tour" in March, there were 300 cities and 15 different countries applying to be the stop.
The Blue Wahoos begin the 2021 season on the road May 4. The first homestand starts May 11. It will be a season with a new affiliation, the Miami Marlins, a new partnership with Major League Baseball as members of the Double-A South Division.
It will be the Blue Wahoos first games at the bayfront stadium since early September 2019. That seems forever ago with all that has transpired and 2020 shutdown in sports.
"I think what last year did with COVID, is that it gave us a whole year off to re-look at things," Studer said. "We want to raise our bar.
"We feel good about where we have been, but we also want to challenge ourselves to be different. We have to figure out how to keep people having fun, motivated and if they leave the stadium early, how to we make them feel great.
"I want to challenge ourselves to take it to the next level."
The Savannah Bananas have done it with a promotional portfolio that contains 400 different ideas. What failed when Savannah was a minor-league affiliation from 1984-2015 is now a must-see happening as the Savannah Bananas.
Their 2021 season in the 15-team Coastal Plain League begins May 27 and ends July 31.
"What they did is took away all the excuses, the ones like, 'Oh it is the stadium, oh it is the location, oh it is this.' And they just created this experience," Studer said during the meeting. "This year we want to be different.
"We want to forget what we have done over these last years and look at how to we reinvent ourselves."