Wishful Thinking: Blue Wahoos, Bubba Watson Make Fun Pitch To Bob Costas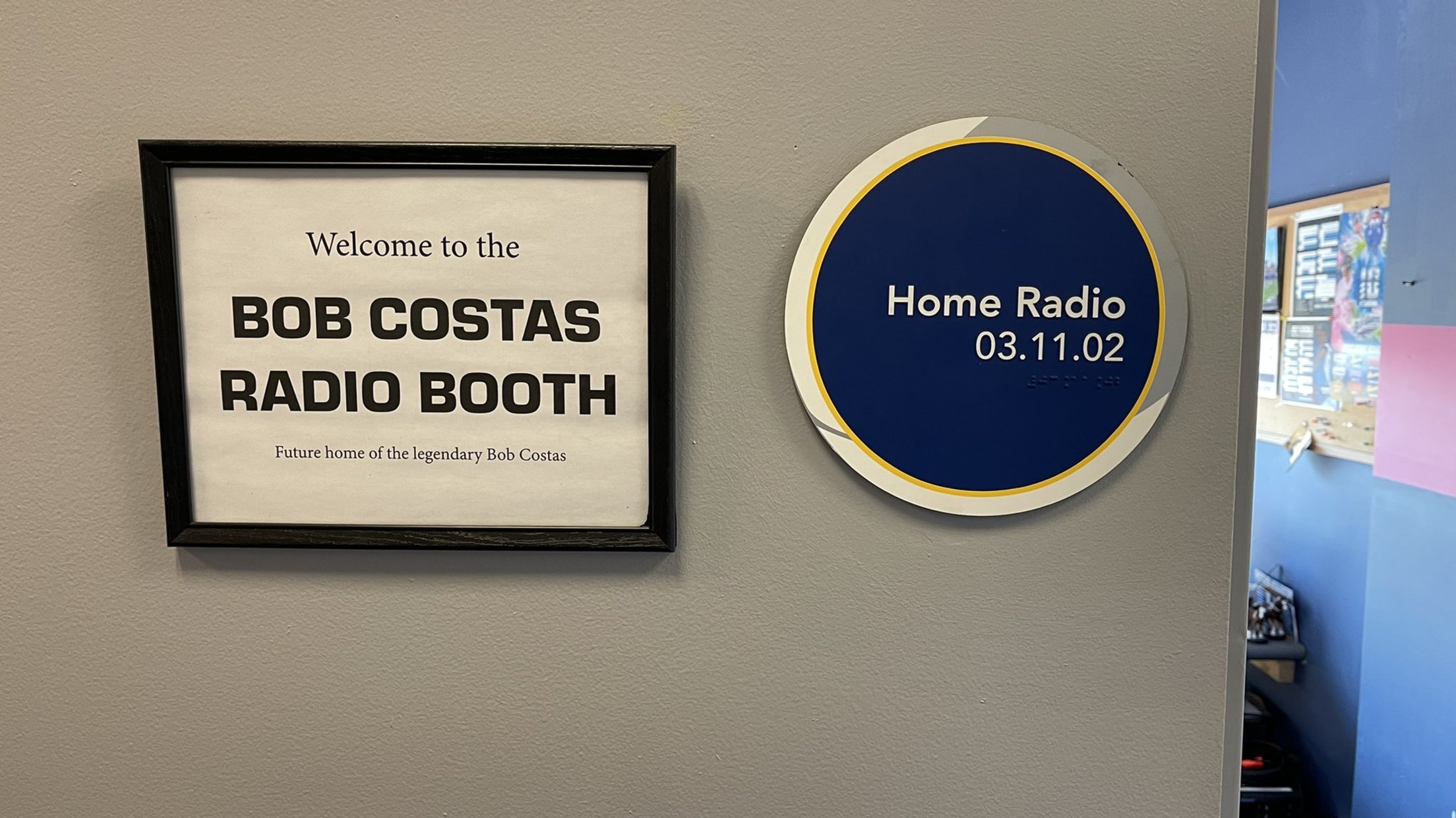 In a nod to recent podcast interviews on the topic, the Blue Wahoos have some fun and make their pitch to broadcast legend Bob Costas to work a game or two. (Daniel Venn)
The Blue Wahoos know the reality is that preeminent sports broadcaster Bob Costas can't make a cameo appearance any time soon to work a game. But it's been neat to think big. During a July interview Costas had on the Sports Business Radio Podcast, the Hall of Fame broadcaster said
The Blue Wahoos know the reality is that preeminent sports broadcaster Bob Costas can't make a cameo appearance any time soon to work a game.
But it's been neat to think big.
During a July interview Costas had on the Sports Business Radio Podcast, the Hall of Fame broadcaster said he would like one day to be a radio voice on Minor League Baseball games. It would take him back to a boyhood joy of listening to radio broadcasts of games in St. Louis.
So immediately, Bubba Watson, a Blue Wahoos investor, reached out on his social media accounts with a pitch to do a Blue Wahoos game. The Blue Wahoos media relations director, Daniel Venn, did the same on the team's Twitter account.
"Consider this an open invite," said the Blue Wahoos' Twitter message with link to story on Costas expressing a desire to do minor league games.
Days later, Watson's business manager Randall Wells received a phone call.
It was Bob Costas.
"When I answered, I immediately thought, oh my gosh, this is really going to happen," said Wells, chuckling. "But he thanked us for reaching out and said right now it's not realistic with all he is doing.
"But I just became the biggest Bob Costas fan in history. For him to call me, for him to respond back – and we weren't expecting this – it really meant a lot and it was so great of him to do this."
Watson appeared last week on Sports Business Radio with founder and host Brian Berger. During the interview about Watson's newly-released book "Up And Down: Victories And Struggles In The Course Of Life," co-authored by Don Yaeger, Berger asked Watson about perhaps getting Costas to do a Blue Wahoos game in Pensacola one day.
During his early career, Costas got to know and work together with broadcast legend Joe Garagiola Sr., who transitioned from a Major League Baseball playing career in the 1950's into becoming a Hall of Fame broadcaster for nearly 30 years on NBC Sports.
Now, Garagiola's grandson, Chris Garagiola, has been the Blue Wahoos radio voice for the past three years.
In the Sports Business Radio interview, Watson told Brian Berger, "(Costas), said if he ever does it, he would love to do it (Blue Wahoos) because of the history of families and his mentorship (Joe Garagiola Sr.) back in the day. He said he would love to do it, but timing needs to be right."
The question posed stemmed from the interview Berger did with Costas when he suggested – though knowing the improbability – of working minor league games.
"I would love to do a season or a chunk of a season of minor league baseball on the radio for nothing other than the love of the craft and to see if I could do it as well as I'd like to think I'd be able to do it," said Costas, during his July interview on Sports Business Radio.
"If only to a small audience in some nice minor league city for a season, I would just love doing it for its own sake," Costas said.
To be certain, the Blue Wahoos understand the timing may never be right. But it's provided wishful thinking. And some good-natured dreaming.
A framed sign was playfully placed on the press box wall, "Welcome To The Bob Costas Radio Booth."
Blue Wahoos majority owner Quint Studer appeared this week with Shawn Anderson on the "Hall Of Very Good" Podcast and spoke of the connections as well as the renamed Beloit Sky Carp in Beloit, Wisc., the Miami Marlins High-A affiliate which Studer owns and the Blue Wahoos help manage.
"Bubba is on top of everything," Studer said. "One of the great things about Bubba Watson is he can get a hold of anyone and he reached out to Bob Costas…
"Bubba usually stays on something and I wouldn't be surprised – and I can't commit – that sometime this year you might see Bob Costas in Pensacola doing a game. It's fun. We'll have some fun with it."