Blue Wahoos Help Southern League Toast 2019 Season As Meetings Host
Three day event helps showcase team, community to league members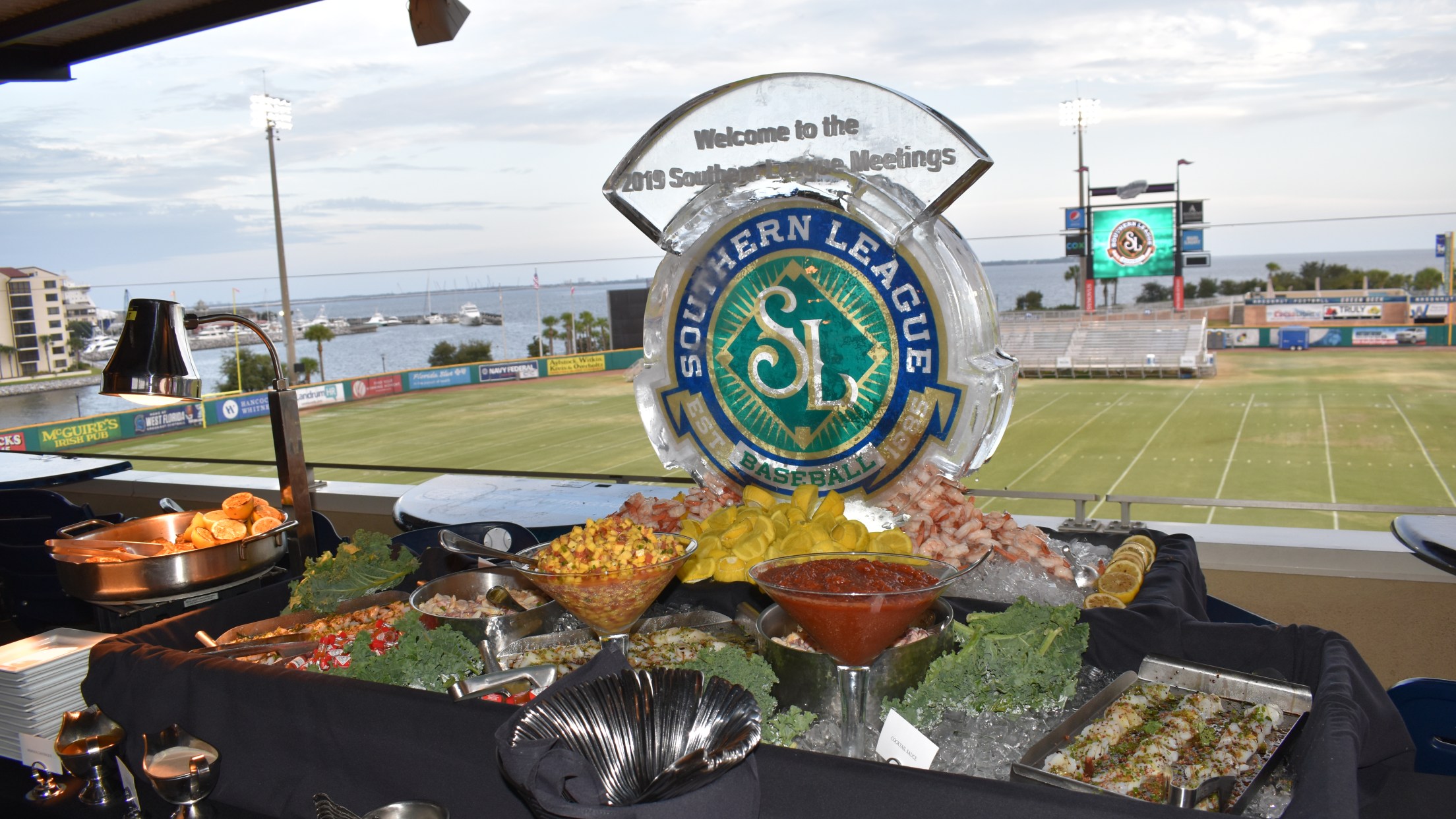 An ice sculpture was a centerpiece highlight for a seafood station during Sunday night's RS3 Southern League Awards Dinner at Blue Wahoos Stadium's Hancock-Whitney Club, as part of the SL Fall Forum hosted by the Pensacola Blue Wahoos. (Bill Vilona)
The Blue Wahoos this week are helping the Southern League celebrate another successful season.For the second time in franchise history, the team and Pensacola are hosting the annual Southern League Fall Forum, which began Sunday night with a dinner and the 2019 awards presentation at the Hancock-Whitney Club at Blue
The Blue Wahoos this week are helping the Southern League celebrate another successful season.
For the second time in franchise history, the team and Pensacola are hosting the annual Southern League Fall Forum, which began Sunday night with a dinner and the 2019 awards presentation at the Hancock-Whitney Club at Blue Wahoos Stadium.
Meetings on Monday and Tuesday will include seminars, workshops, along with a tour of the bayfront stadium all designed to help the league's 10 member teams connect with each other and share ideas to help their own operations.
"It's very significant that we're able to host teams from across the southeast, have their representatives stay at Pensacola Beach, enjoy our city, visit downtown and come together to help make our league better," said Blue Wahoos president Jonathan Griffin. "This is another way to build the awareness of our community and how the Blue Wahoos make Pensacola a better place to live and work."
Sunday night's dinner was sponsored by the Blue Wahoos' partner, Ryan Sanders Sports and Entertainment (RS3), based out of Round Rock, Texas and a company co-founded by Hall of Fame pitcher Nolan Ryan.
In 2019, Blue Wahoos Concessions featured new storefronts, new specialty food and beverage items, along with new presentation designed to enhance the game-day experience for fans.
As result, Griffith told fellow Southern League team officials at Sunday's event the Blue Wahoos increased their per-capita for customers at concessions by $8 for the 70-game home schedule.
"We have always had a pretty high reputation for culinary production and I think the storefronts match the quality we present," said Blue Wahoos executive chef Travis Wilson, who previously worked as the team's chef from 2014-17.
"And now with RS3, they have created unique items and views and kind of given me free reign to say, 'Hey, we're not just serving concessions food, we are serving restaurant quality, chef driven higher end food.' So it's been very cool," he said.
Wilson, a Pensacola native and Gulf Breeze High graduate, led preparations for Sunday's Southern League awards dinner with a five-station, buffet style meal.
The presentation included a beautifully designed ice sculpture with the Southern League logo. It was the centerpiece of a raw bar station with shrimp, scallops, crab cakes and other items.
Other food stations included soft-shell tacos, a carved pig roast with barbecue sliders, carved beef tenderloin and a "Death by Desert" bar with ice cream cobbler and variety of delights.
The event provided a sunset vista at the stadium for the league's membership to enjoy.
"They (Blue Wahoos) have done a fantastic job of planning this," said Southern League president Lori Webb, addressing the gathering. "The dinner was fabulous. I think everyone would agree.
"I would encourage everyone to absorb as much as they can this week and talk to colleagues. That is what we are hear for… to learn from everyone else."
The 2019 season featured the Blue Wahoos' new affiliation with the Minnesota Twins and fifth consecutive playoff appearance, which matched the Mobile BayBears for second-longest streak in the league's 55-year history.
The Jackson (Tenn.) Generals won the Southern League championship against the Biloxi Shuckers in a series extended to a deciding fifth game. The Generals became back-to-back league champs, matching Mobile (2011-12) - the last team to do it.
The Shuckers beat the Blue Wahoos in a deciding fifth game on Sept. 9 in Biloxi to reach the finals for a second straight year.
Four of the league's affiliations - the Blue Wahoos, Shuckers (Milwaukee Brewers) Montgomery Biscuits (Tampa Bay Rays), Mississippi Braves (Atlanta Braves) - had parent clubs reach post-season.
In awards presented Sunday, the Chattanooga Lookouts received the Don Mincher Award as the league's organization of the year. The Lookouts and Blue Wahoos swapped affiliations after the 2018 season and the Cincinnati Reds returned to Chattanooga where they had been an affiliation for 21 seasons.
Lookouts team president Rich Mozingo was presented Sunday as the Southern League executive of the year. It was the first time in Mozingo's 27-year career in minor league baseball chosen as top executive and followed the Lookouts posting their best season for attendance since 2014.
Biloxi Shuckers' community relations manager Kelsey Thompson received the SL Woman of Excellence Award for her work hosting the 2019 Southern League All-Star Game in Biloxi.
The Blue Wahoos will announce Monday a pair of national awards received this season.