Blue Wahoos End Seven-Game Skid In First Game Shutout Win, Split Twinbill To M-Braves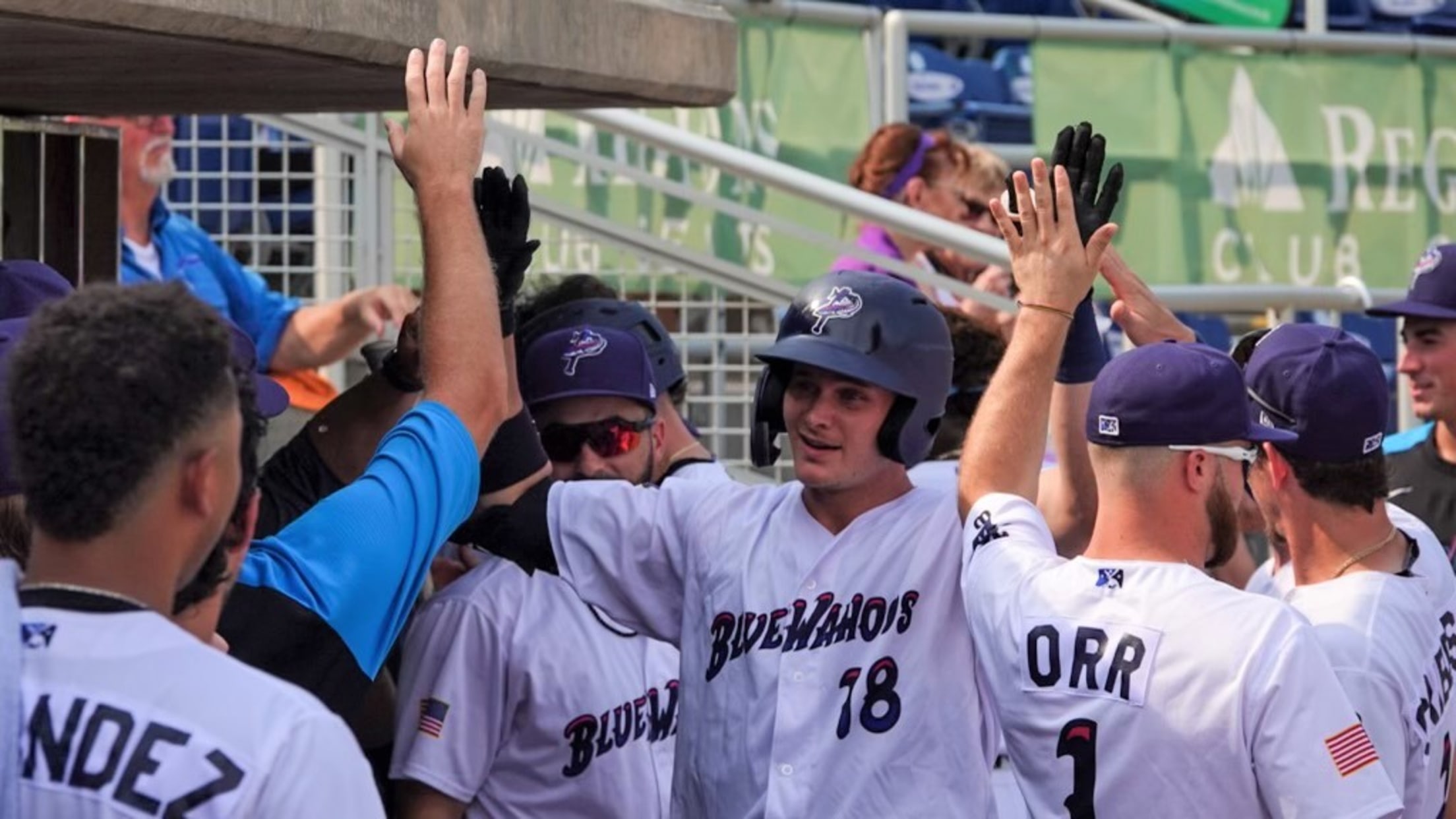 The Blue Wahoos Griffin Conine (18) is congratulated by teammates after smashing a two-run homer in the first inning of the team's 5-0 win against the M-Braves in the first game of Saturday's doubleheader. (Nino Mendez)
The Blue Wahoos' prosperity was short-lived Saturday, but enough to shed one burden. All three outfielders – J.J. Bleday, Peyton Burdick and Griffin Conine -- homered in the first game and strong pitching ensued for a 5-0 victory against the Mississippi Braves that ended a seven-game losing streak. The second
The Blue Wahoos' prosperity was short-lived Saturday, but enough to shed one burden.
All three outfielders – J.J. Bleday, Peyton Burdick and Griffin Conine -- homered in the first game and strong pitching ensued for a 5-0 victory against the Mississippi Braves that ended a seven-game losing streak.
The second game, however, resembled more of the series, after the M-Braves launched five home runs to various locations beyond Blue Wahoos Stadium in an 8-1 victory to clinch the series amid another sellout Saturday crowd of 5,038
The teams will conclude their six-game series on Sunday at 4:05 p.m. Saturday's twinbill, a makeup from Friday's postponement, also ended a rough July.
This will be Pensacola's fourth consecutive series loss, after the Blue Wahoos (38-39) lost just one series in the first two months of the season.
Their first-game win was a reminder of how they began the season.
With Miami Marlins' pitcher Elieser Hernandez starting the game on a rehab assignment, followed by relievers Andrew Nardi and Zack Leban, the trio combined on a three-hit shutout and did not allow a walk.
Hernandez threw 34 strikes in his 46 pitches during 2.2 innings of work, as he pushes closer to a return to the Marlins' major-league club. He pitched just 7.1 innings this season for Miami before a pair of injuries, but he was one of the team's top pitchers in the Marlins' 2020 playoff run.
Equally encouraging in the first game, was the big bat production. Conine worked into a 3-2 count in the first inning before smashing an opposite field, two-run homer over the left field wall. It was his first homer in Blue Wahoos Stadium and second since joining the team from High-A Beloit Snappers last week.
Bleday, who reached base all three times in the first game, hit a solo homer to right center, then had an RBI double in the fifth. And Burdick followed strikeouts in his previous two at-bats with a homer to center field in the sixth.
Burdick then reached base twice in the second game and had one of the Blue Wahoos' six hits. J.D. Orr had two hits in that game.
But after tying the second game in the first inning on catcher Chris Chinea's sacrifice fly, the M-Braves put on another power display, led by designated hitter Trey Harris who had two homers.
In four days, the M-Braves have walloped 18 homers against Blue Wahoos pitching.
GAME NOTABLES – Navy Federal sponsored Saturday's post-game fireworks show, which attracted another crowd that filled seats from both ends of the stadium.
The game included 220 members with the Gulf Coast Council, Boy Scouts of America. About 80 of the kids and parents watched a movie and stayed in tents set up along the outfield grass.
The Pensacola Children's Corus performed the National Anthem.
Manna Food Bank was presented a check from Whataburger after a charity drive.
BLUE WAHOOS WEEKEND
WHO: Mississippi Braves vs. Blue Wahoos
WHEN: Sunday, 4:05 p.m.
WHERE: Blue Wahoos Stadium.
GAMETIMES: Sunday's game will start at 4:05 p.m.
TICKETS: Available for all games at www.bluewahoos.com, the stadium box office or calling 850-934-8444.
RADIO: ESPN-Pensacola (99.1 FM, 1330 AM), Chris Garagiola
on play-by-play.
PROMOTIONS: Sunday – Military Sunday and Family Day with kids able to run bases and family toss in outfield.