Spring Training Begins, Baseball Returns With Blue Wahoos Connections Across MLB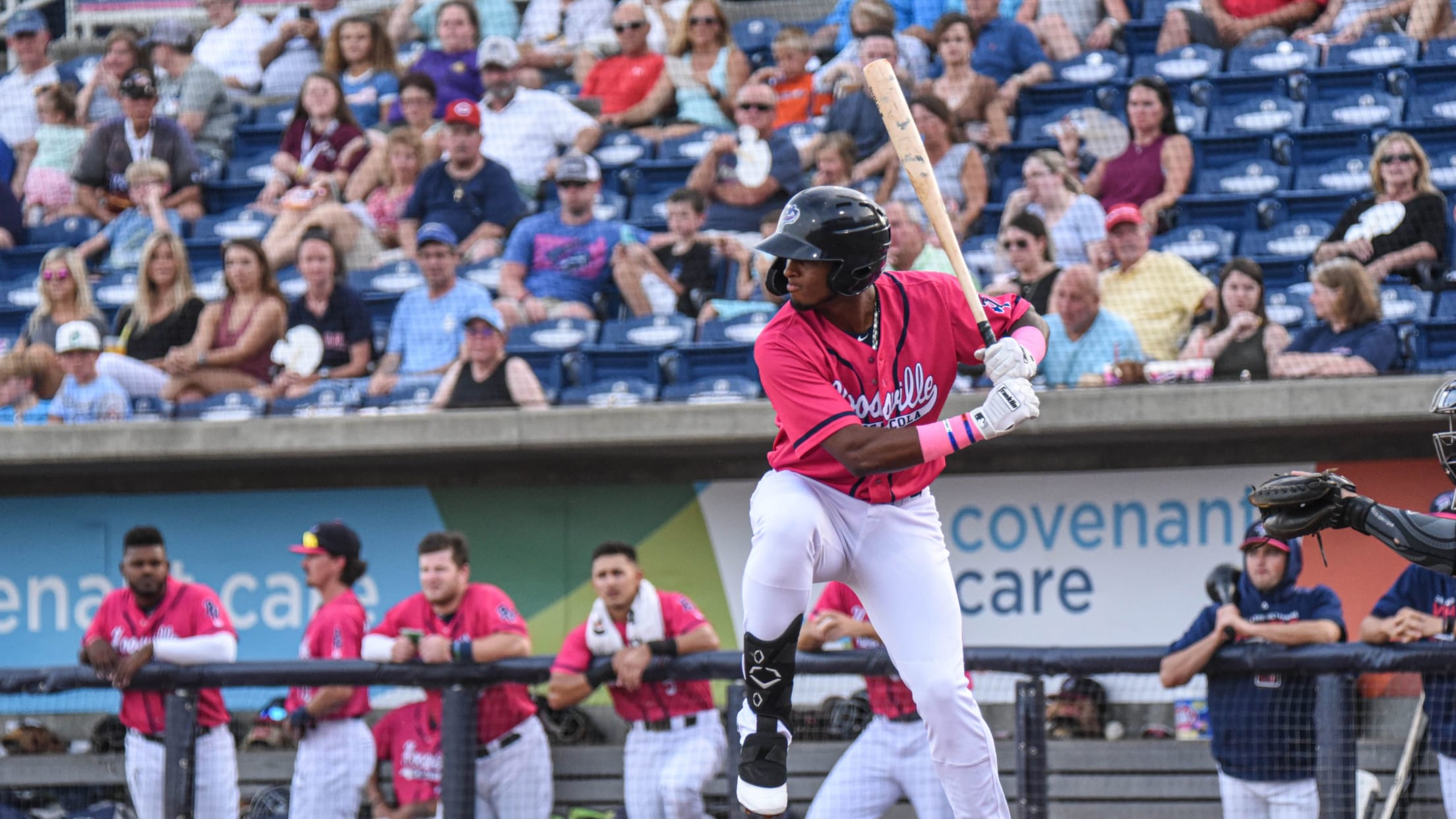 Lewin Diaz was part of the Blue Wahoos' talent-filled roster in the 2019 season before making his MLB debut with the Miami Marlins in 2020 and now part of team's 40-man roster. (Daniel Venn)
A warm vision to ponder amid this recent winter chill. Pitchers and catchers begin reporting Wednesday, across Major League Baseball teams, including the Pensacola Blue Wahoos new affiliate, Miami Marlins, whose battery-mates report on Thursday. Spring training is starting. Exhibition game schedules are set to start Feb. 28. The regular
A warm vision to ponder amid this recent winter chill.
Pitchers and catchers begin reporting Wednesday, across Major League Baseball teams, including the Pensacola Blue Wahoos new affiliate, Miami Marlins, whose battery-mates report on Thursday.
Spring training is starting. Exhibition game schedules are set to start Feb. 28. The regular season has a start date on April 1.
Yes, professional baseball is back. And warmer weather is on the horizon.
The Blue Wahoos, who will soon learn their own 2021 season schedule, have a large number of former players who will be part of full squad workouts which begin Feb. 22-23.
Three former Blue Wahoos are now on the Miami Marlins' 40-man roster, led by shortstop Miguel Rojas, who was part of the Blue Wahoos' inaugural 2012 season roster. Catcher Chad Wallach and first baseman Lewin Diaz will join Rojas in the Marlins training camp.
Rojas, a versatile infielder, is coming off a terrific 2020 season where he batted .304 in 40 games with a .888 on-base, plus slugging percentage (OPS). He was the team's unofficial captain and played a big role in the Marlins' rise in the shortened season to reach the playoffs.
Rojas, who turns 32 on Feb. 24, was signed by the Cincinnati Reds in 2006 and played 58 games for the Blue Wahoos in 2012 before to the Los Angeles Dodgers organization in 2013, then on to the Marlins through a trade in 2014.
Wallach, who was originally drafted by the Marlins in 2013, played for the Blue Wahoos in 2016 as a member of the Reds organization. He appeared in 15 games for the Marlins last season, including both playoff series.
Diaz played for the Blue Wahoos in 2019 as a Minnesota Twins prospect, then was traded on July 27, 2019 to the Marlins as part of a four-player deal where the Twins acquired veteran reliever Sergio Romo.
Diaz made his MLB debut with the Marlins on August 15, 2020 and played in 15 games.
The Marlins are set to begin their spring training schedule on Feb. 28 against the Houston Astros in West Palm Beach.
Five members of the Blue Wahoos' 2019 team were part of 18 players the Twins invited to their major league camp, which begins with pitchers and catchers first workout on Friday. The full squad reports Feb. 23.
The group is led by former first-round draft picks, infielder Royce Lewis and outfielder Trevor Larnach, along with pitchers Charlie Barnes and Griffin Jax and catcher Caleb Hamilton.
Alex Kirilloff, the third member of the Twins' former first-round picks who played for the Blue Wahoos in 2019, is already part of the team's 40-man roster.
Also on the Twins' big league roster are former Blue Wahoos' pitchers Jordan Balazovic and Jhoan Duran, along with catcher Ryan Jeffers.
Blue Wahoos fans were able to see the Twins' top six rated prospects in 2020 – Lewis, Kirilloff, Larnach, Balazovic, Duran and Jeffers on the same team in Pensacola during the 2019 season.
The Twins also added 14 minor league players for depth in spring training. That group includes former Wahoos pitchers Andrew Vasquez, Ryan Mason, and Tom Hackimer, along with infielder Drew Maggi, who opened the 2019 season for the Blue Wahoos before advancing to Triple-A.
On the Reds' 40-man spring training roster, former Blue Wahoos pitchers Tyler Mahle and Luis Castillo are expected to be part of the five-man starting rotation when the Reds open the season.
Amir Garrett is projected to be the Reds' closer. Catcher Tucker Barnhart is now a two-time Gold Glove winner and mainstay backstopper.
Among other teams releasing their spring training rosters, outfielder Jose Siri, who played for the Blue Wahoos in 2018, was part of the Houston Astros' non-roster invitees.
Outfielder Billy Hamilton, who set the Minor League Baseball stolen base record with the Blue Wahoos in 2012, is among the Cleveland Indians non-roster invitees. He will earn $1 million if he makes the big league club in spring training.
IMPORTANT DATES
Wednesday-Thursday – Report dates for pitchers and catchers among all 30 MLB teams.
Feb. 22-23 – First full squad workouts for all 30 teams.
Feb. 28 – The Cactus League (Arizona) and Grapefruit League (Florida) spring training, exhibition games begin with 40-man MLB rosters and Triple-A level players.
April 1 – Major League Baseball season begins. (Miami Marlins vs. Tampa Bay Rays).
Late March-Early April – Spring training expected to begin for Double-A players, both Single-A levels, in Arizona and Florida.
Early May – Double-A season expected to begin for Blue Wahoos.