Blue Wahoos Stadium Provides Showcase For Escambia, Gulf Breeze HS Teams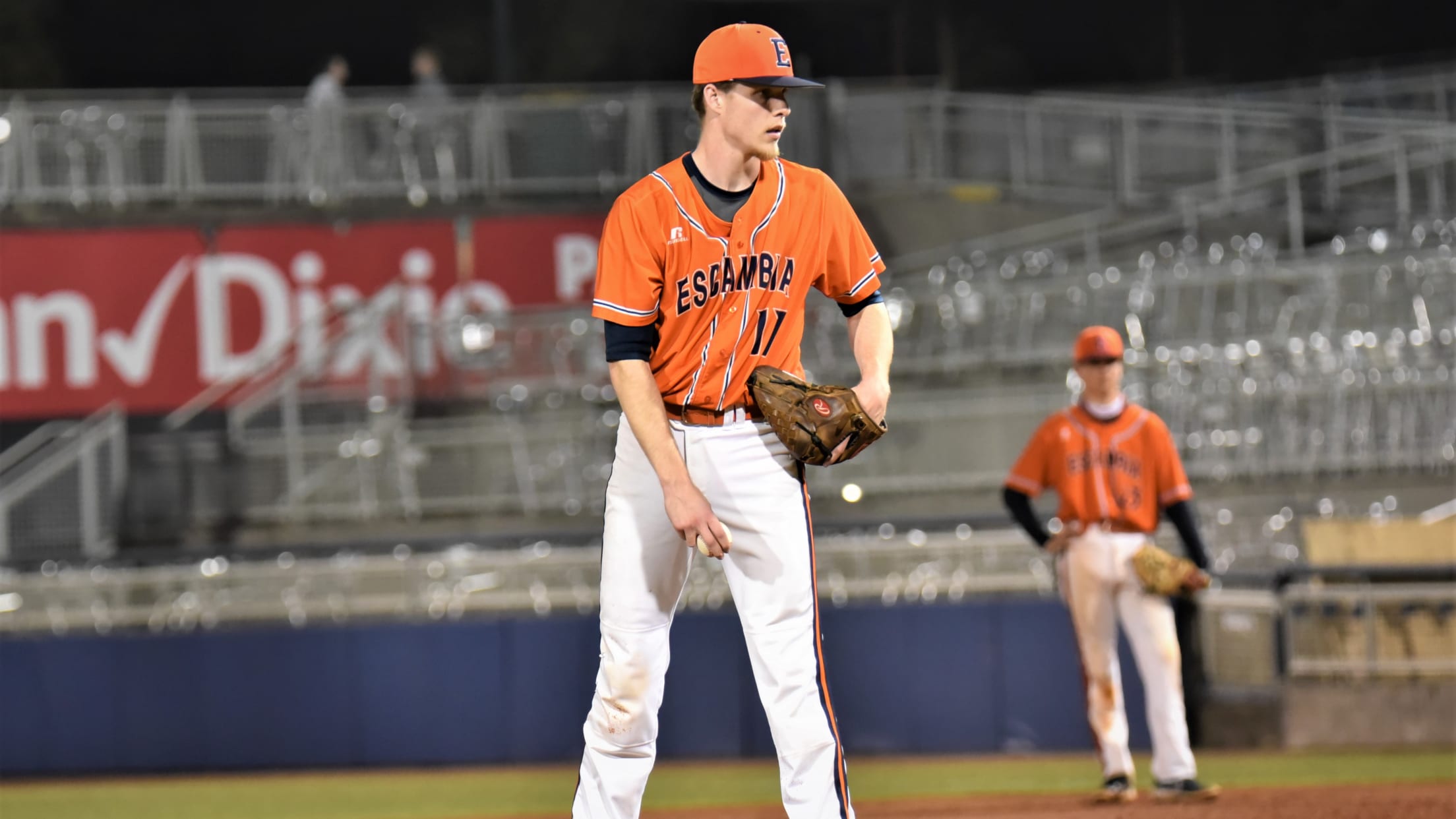 Escambia High senior pitcher Hunter Pierson created another special memory at Blue Wahoos Stadium, leading team to win against Gulf Breeze. (Katie Florio)
Hunter Pierson was a 7-year-old, T-Ball player, when he first caught the eye of Escambia High baseball coach Tracey King. "I had a feeling then he was special," said King, who was his youth coach in those days. "I have known him ever since." The good impressions continue to grow
Hunter Pierson was a 7-year-old, T-Ball player, when he first caught the eye of Escambia High baseball coach Tracey King.
"I had a feeling then he was special," said King, who was his youth coach in those days. "I have known him ever since."
The good impressions continue to grow with the latest being Pierson's performance on the mound Monday night in Escambia's 5-3 win against Gulf Breeze at Blue Wahoos Stadium – the first prep game in two years at the bayfront park.
Pierson, now a senior righthander, tossed six strong innings, followed by fellow senior JoJo Blackmon's effort as closer, as the Gators won a showcase District 1-5A matchup.
"I had everything going (with pitch variety)," Pierson said. "Just trying to pitch to contact. My defense worked amazing behind me. They got me out of a lot of jams. I couldn't be more thankful for them."
As a freshman four years ago, Pierson was called upon in relief as Escambia held a 2-1 lead against Milton in a game at Blue Wahoos Stadium. He pitched a flawless seventh inning to close out the win.
The poise he showed that night playing at Wahoos Stadium was remembered.
"That is why we went with him (as starter)," King said. "He is just a hard worker… busts his tail and such a good kid. That is what contributed to his win. He's relentless and always gives us 100 percent."
These teams were set to play March 16, 2020 at Blue Wahoos Stadium. Days earlier, however, the first impact of the coronavirus pandemic struck nationwide. The game was cancelled. The rest of the area high school baseball and entire springs sports schedule never resumed.
It brought a special element to the redo game Monday, including a first for Gulf Breeze coach Travis Mattair. He played two full seasons for the Blue Wahoos, back in 2013 and 2014 when they were affiliated with the Cincinnati Reds. He became one of the most popular Wahoos players in club history.
Monday was his first time in the third base coaches' box.
"I would lie if I didn't say I had butterflies before the game," said Mattair, in his second season as Dolphins coach. "It's definitely different as a coach than as a player, but the butterflies stay the same.
"My players are like my little brothers. I always look at them like that. I always want what is best for them. So to get to experience this with them is such a special moment.
"And this field and this stadium have provided me so many lifetime memories that I will never forget. So now, to get to share it with my little brothers is really special."
As the visiting team, Gulf Breeze got a first-inning run off Pierson. But from that point he was in control. He consistently made great pitches to end innings.
"He did a great job. He had the strike rate about 70 percent," Mattair said. "He has one walk or less in every game he's pitched. He's a good pitcher. We took a lot of fastballs unfortunately and we're a fastball hitting team, but give (Pierson) credit. He battled his butt off."
The Gators answered with five runs in the bottom of the first inning with two outs.
Chris Hunter had an RBI single to score JoJo Blackmon. He then stole second and scored when Ethan Meredith hit a hard shot that deflected off an infielder's glove, scoring Jaylen Blackmon and Hunter. Clinton McNair later followed with a two-run double.
"We jumped right back and I relied a lot on my teammates," Pierson said. "Definitely a big crowd out here under the lights. We came out and performed. We didn't let the pressure get to us. And we all just stayed under control."
Both teams now move on to enter the second half of the season schedule.
Gulf Breeze (6-5) will be off the rest of this week on its spring break. Escambia (7-4) played Tuesday at Pensacola High and will travel to face Mobile-LeFlore on Wednesday.
"This is a great memory and a big district win for us," King said. "Hopefully we carry this momentum through spring break. And end up week 9-4."
Gulf Breeze got outstanding relief pitching from Jonah Cook, who came on in the first inning to end the Gators' surge and threw scoreless innings from that point.
The Dolphins got runs in the fourth and fifth, then had the tying run at the plate in the seventh when JoJo Blackmon, a lefthander, struck out the final batter to end the game.
"We had that first inning… you don't expect that coming out, but it happened," Mattair said. "And I was proud of the guys for facing adversity and staying in the game. And then Jonah Cook did an excellent job on the mound.
"This was a really good game, overall. This ballpark plays big and the boys realized that real quick, especially with the wind blowing in like it was (Monday).
"I have played enough games here to realize when that wind is blowing in, you better put the ball on the ground or on a line. If it goes in the air, it's an out. When (ball) gets caught up in that wind, it's not going anywhere."
Both teams produced big fielding plays to match the strong pitching which ensued the final six innings. It made for a fast-moving, entertaining experience for the crowd.
The Blue Wahoos will next host five teams – Tate, West Florida High, Navarre, Fort Walton Beach High and Fort Walton-Choctaw – in a two day, four-game event March 26-27.
"This is awesome," said King, referring to the setting that Blue Wahoos Stadium provides. "The Wahoos put on a great show. We're just so excited to play here.
"We will be back again next year. And we can't wait. Hopefully we will be the first team in here next year."