Even Without Baseball, Blue Wahoos Create Special Night For Hall Of Fame Batboy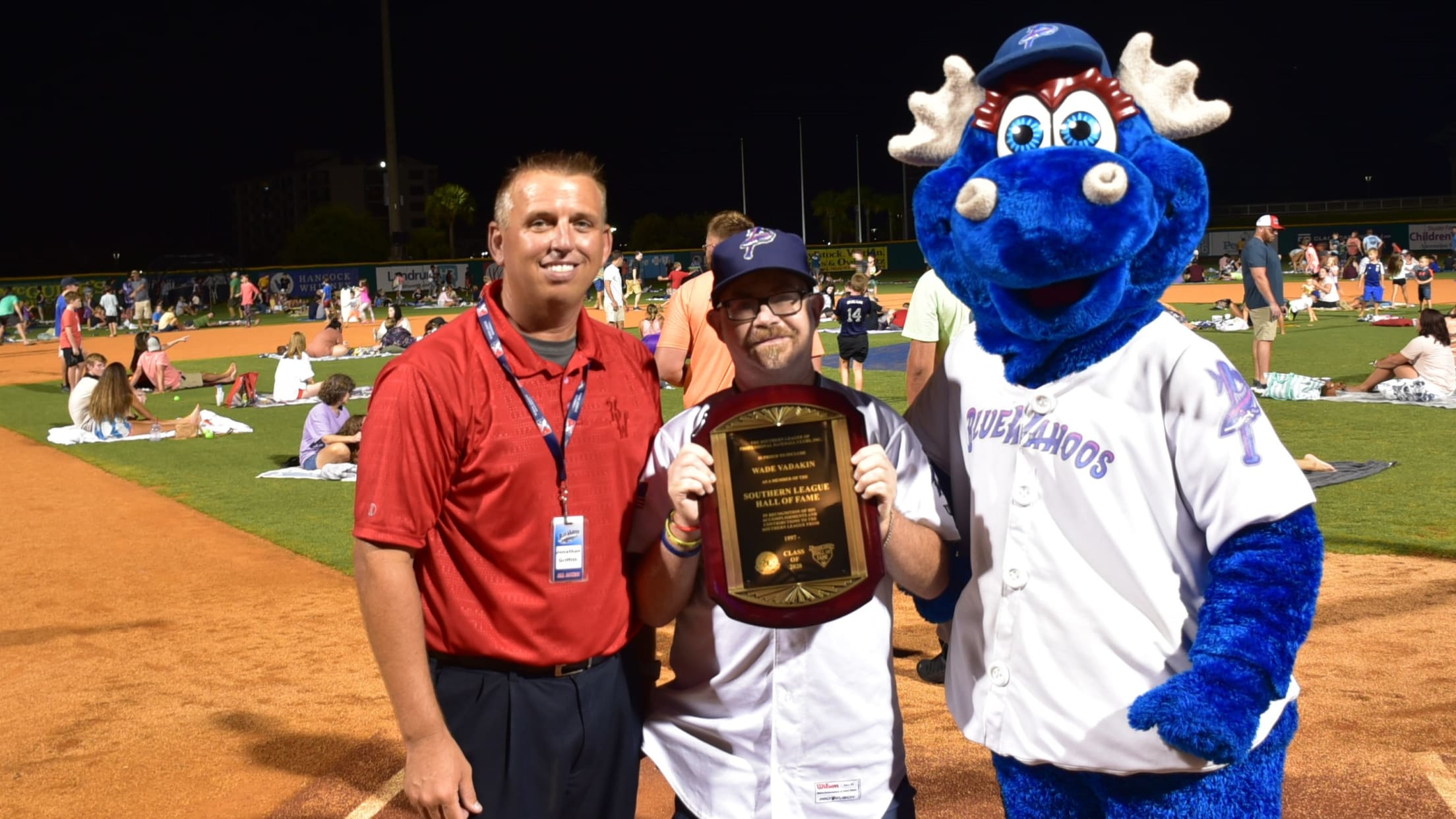 Blue Wahoos team president Jonathan Griffith and Kazoo help honor Wade Vadakin, long-time former Mobile BayBears batboy, now with Wahoos, on his Southern League Hall of Fame Award. (Daniel Venn)
His face aglow, Wade Vadakin stood near home plate at Blue Wahoos Stadium, soaking in the cheers and relishing a special moment in his inspiring life. There's no minor league baseball season, of course, in this summer of the coronavirus pandemic. No games to work as he has done the
His face aglow, Wade Vadakin stood near home plate at Blue Wahoos Stadium, soaking in the cheers and relishing a special moment in his inspiring life.
There's no minor league baseball season, of course, in this summer of the coronavirus pandemic. No games to work as he has done the past two-plus decades.
No runs to celebrate.
And his former team, the Mobile BayBears, where he became the beloved face of the franchise as team batboy for its 22 seasons in Mobile, now no longer exist.
But the Blue Wahoos, who "signed" Vadakin exactly one year ago Tuesday (Aug. 11, 2019) to join their team as batboy, were able to now honor him for his 2020 induction into the Southern League Hall of Fame.
"It feels great. It feels a little awkward, because I spent my whole career working in Mobile," said Vadakin, 41, who has overcome so much in his life since being born with congenital brain-stem damage and visual impairment, along with battling diabetes since he was 13 months old.
The Blue Wahoos honored him during their August 8th "Summer Spectacular," following the movie, "Sandlot," and before fireworks lit the sky above Pensacola Bay. The event was a rebrand from the planned Fourth of July show, which had to be postponed during the surge of COVID-19 cases in the area and rising concerns.
Blue Wahoos team president Jonathan Griffith, who traveled to Mobile last year before the teams' last-ever series, presented Vadakin with the Hall of Fame award as people were gathered in safe distances throughout the infield.
"We were going to do (presentation) on opening day (back in April). And of course, that didn't happen," Griffith said. "Then we were going to do it on the Fourth of July celebration and that didn't happen.
"But (August 8) is the biggest event we've had all summer. Now we were able to honor him in a safe way… and his history in the Southern League."
Vadakin was thrilled, along with his parents, Jeff and Kit, who have taken care of him and have driven him to all the games from their family home in Fairhope.
"With that team (BayBears) being gone, I have hooked on with this team here," said Vadakin, clutching the Hall of Fame plaque with both hands and a vice-grip of pride. "When I first got that voice mail about being inducted, I thought, could this be real?
"Could this actually be happening. I am still trying to wrap my head around this whole thing… It's crazy."
It's also notable for so many reasons.
Vadakin was given a key to the city by a former Mobile mayor in 2012 after working his 1,000th game for the BayBears. He's worked hundreds more through 2019 season when the BayBears had their farewell season and transferred into the Rocket City Trash Pandas in Madison, Ala., near Huntsville.
Former baseball star Jay Bell, a Tate High grad, who rose in MLB stardom and a World Series title, would have been the Trash Pandas manager this season.
During the past decade, Vadakin has beat back cancer in 2014 and double-pneumonia in February 2019.
Vadakin has been featured on his own baseball card and in other ways during his two-plus decades as BayBears batboy.
"You exemplify what Minor League Baseball is really about and your presence has made a major impact on everyone who has known you," said Lori Webb, the Southern League president, in a video message played at Blue Wahoos Stadium during the on-field presentation.
"Wade, you officially become a member of a very select circle of folks who have made an indelible mark in the Southern League."
This year's SL Hall of Fame Class includes former Cincinnati Reds manager Sparky Anderson, who is enshrined in the National Baseball Hall of Fame in Cooperstown, N.Y. as one of the greatest managers in MLB history.
Another Cooperstown member, former Seattle Mariners third baseman Edgar Martinez, is part of the Southern League 2020 class, along with current Atlanta Braves manager Brian Snitker and former Charlotte O's owner Frances Crockett Ringley.
"I'm honored to be considered a member of this great, great group," Vadakin said. "Just look at the people who have been inducted over the years… my all-time favorite player Willie Mays (who grew up in Westfield, Alabama, near Birmingham) Randy Johnson, Bo Jackson. Turner Ward… just unbelievable.
"I've been part of four (Southern League) championship teams over in Mobile. This ranks right there. Being chosen for the Hall of Fame, that's right up there with one of those championship rings."
Once it became known the BayBears were ending their franchise in Mobile, Griffith met with Blue Wahoos owner Quint Studer about the possibility of bringing Vadakin to Pensacola for selected home games.
"(Family) were pretty devastated when the BayBears announced they were going to leave and go to Madison," Griffith said. "It's been such a part of his Wade's life, part of the family's life.
"I just felt like we needed to make sure we try to take care of that and offer him a job, an opportunity to work in Pensacola. And we weren't sure he would take it or not. So, it worked out well and we are happy to have Wade on our staff now."
The Blue Wahoos will continue to offer movie and fireworks nights through the next several weeks, including this Saturday (Aug. 15) with the showing of Walt Disney's "Angels In The Outfield," followed by fireworks. Admission is $5.
Masks will be required for entrance, or be provided for those who don't have one. The team's request is for people to wear the masks whenever on the concourse, or in line for concessions. The Blue Wahoos staff will be wearing masks and everyone handling tickets or money will be wearing gloves.
The rescheduled Fourth of July event on Aug. 8 attracted nearly 2,000 fans, the largest attended event of the year, so far, for the Blue Wahoos.
"I think it shows that, when you can do an event in open air, and the weather is good, people will come out," Griffith said. "I think we're able to give people space to have events.
"People want to come out. You have to do it in a safe way."