Conine Homers, Reynolds Closes as Blue Wahoos Beat Biscuits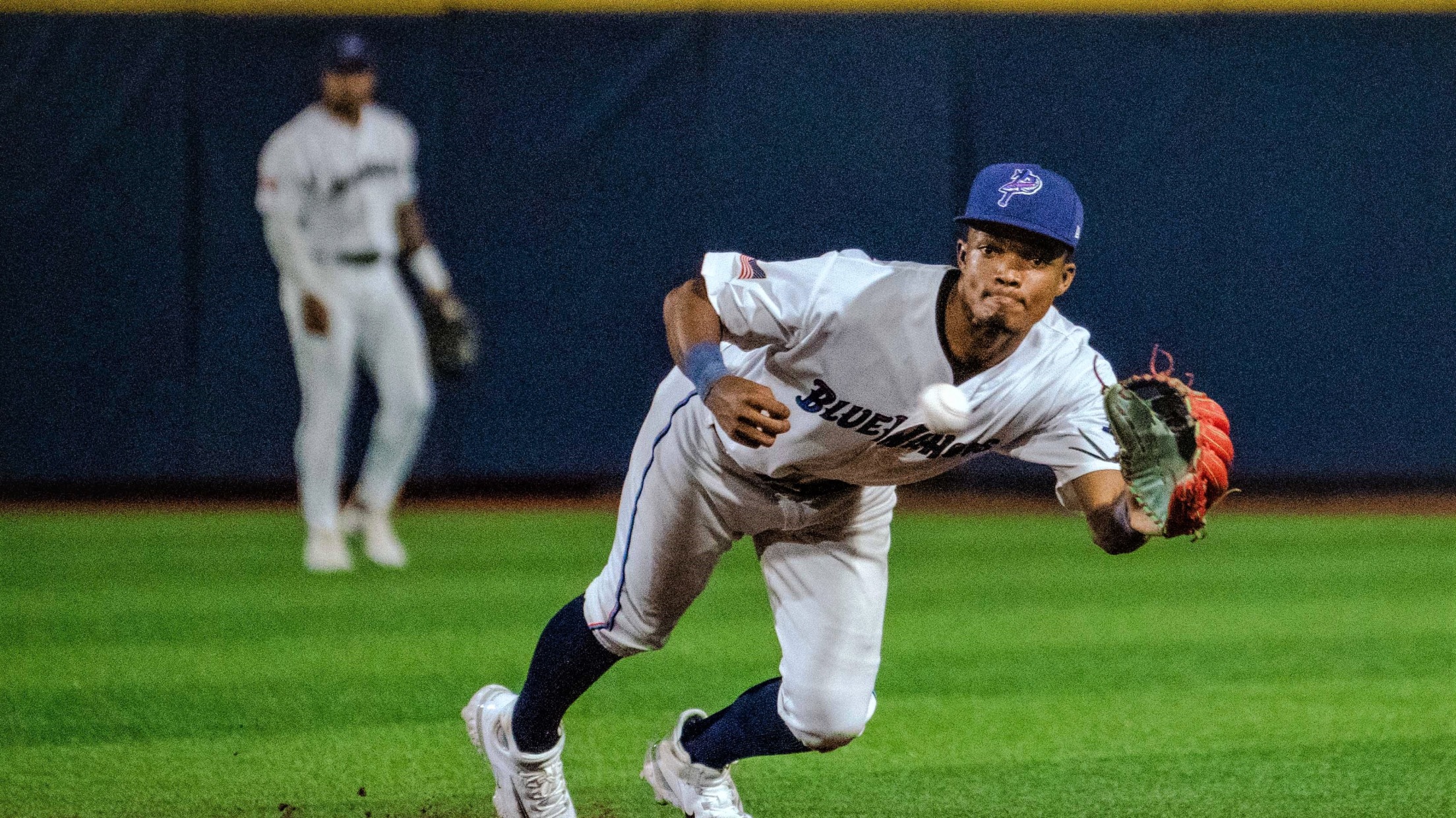 Jose Devers makes game-ending, diving catch to turn a double play in ninth inning and seal Blue Wahoos' win against Montgomery Biscuits. (Nino Mendez/Pensacola Blue Wahoos)
Pensacola, Fla. – Returning home from a long time away, the Blue Wahoos found the place to their liking. Especially with someone able to lock the doors. Sean Reynolds continued his pressure-embrace as reliever, producing his league-best ninth save, after twice getting out of precarious situations, as the Blue Wahoos
Pensacola, Fla. – Returning home from a long time away, the Blue Wahoos found the place to their liking.
Especially with someone able to lock the doors.
Sean Reynolds continued his pressure-embrace as reliever, producing his league-best ninth save, after twice getting out of precarious situations, as the Blue Wahoos beat the Montgomery Biscuits 5-2 Tuesday night in their first home game since May 21.
Reynolds entered with two runners on in the eighth and got a strikeout to end that inning. In the ninth, he got help from second baseman José Devers, who made a sensational dive on a line drive to produce a game-ending double play with runners on second and third.
Devers also went 2-for-4 at the plate – the only Blue Wahoos hitter with multiple hits on the night.
The win amid a crowd of 4,012 at Blue Wahoos Stadium began the series with a good vibe on "Doggone Tuesday" where fans brought a variety of their beloved dogs to the ballpark.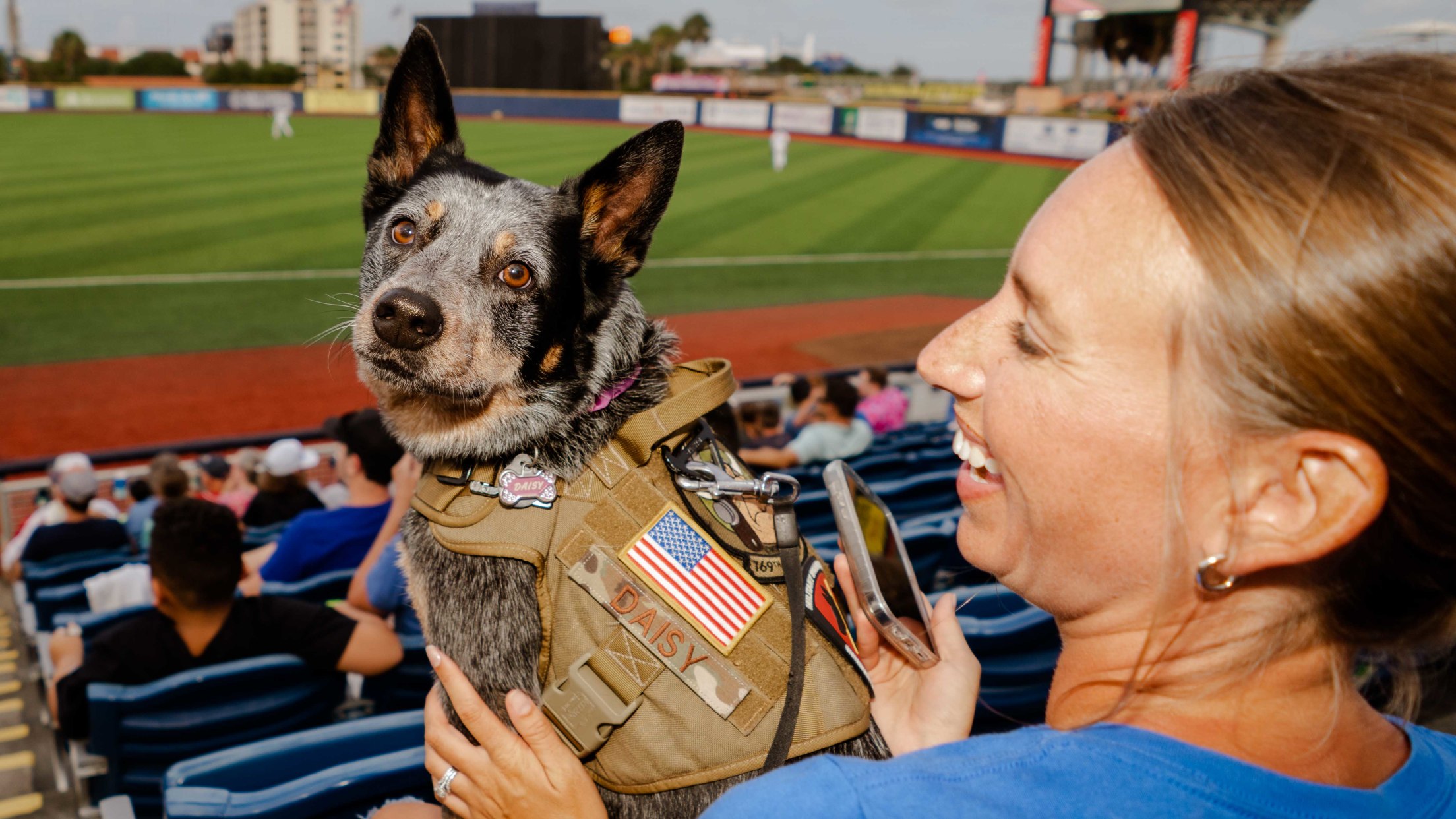 It also extended the Blue Wahoos' (32-20) grip on first place in the Southern League South Division. With the Mississippi Braves rallying for a 9-8 win Tuesday against Biloxi, the Blue Wahoos now have a six-game lead against the Shuckers and Biscuits with 17 games left in the first half of the season.
The first half winner in each division qualifies for a post-season spot.
The Blue Wahoos started Tuesday's game with a three-run second inning. With one out, Devers and Will Banfield both singled to put runners on the corners. Cody Morissette followed with a sacrifice fly RBI. Griffin Conine then worked a 3-2 count and blasted a fastball from Biscuits starter Anthony Molina deep into the right-center berm for his sixth homer this season, second in three days.
The 3-0 lead enabled Blue Wahoos starter Luis Palacios (4-1) to earn his third consecutive win in the past three starts. Palacios completed five innings, giving up two runs and just four hits -- his fewest hits allowed in his five starts for Pensacola.
The Biscuits (26-26) chipped back with two runs in the fourth inning against Palacios on Diego Infante's run-scoring double and Heriberto Hernandez RBI single.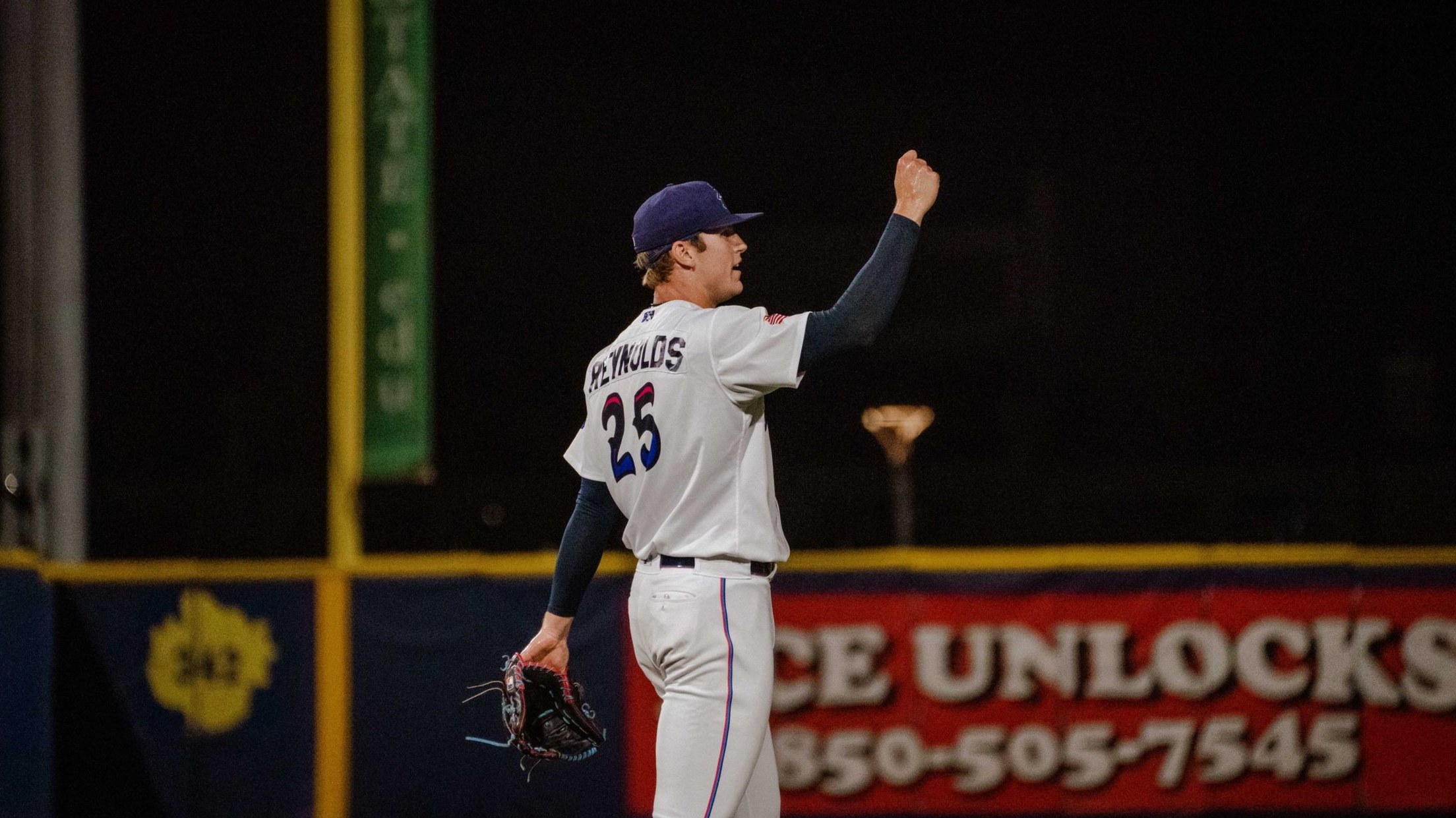 Brady Puckett and Will Stewart combined for 2.2 innings of scoreless relief before Reynolds was summoned with two outs, two on in the eighth inning. Reynolds has now gone nine consecutive v appearances without allowing a run.
Insurance was added for the Blue Wahoos on a pair of run-scoring wild pitches yielded by Biscuits reliever Graeme Stinson in the sixth and seventh inning.
Stinson entered with the bases loaded in the sixth, and tossed a wild pitch with Morrisette at the plate.
But Stinson got out of the jam by striking out Conine and J.D. Orr to end the threat.
In the seventh, Stinson threw a pair of wild pitches to score Nasim Nuñez, who had singled, advanced on an errant throw and scored on another.
The second game of the series is set for Wednesday night with the Blue Wahoos having righthander Evan Fitterer (4-1, 3.06 ERA) on the mound. The Biscuits starter was not announced.
It will be "Winning Wednesday" at the ballpark with fans able to play bingo for prizes in a promotion sponsored by Hill Kelly.
First pitch from Blue Wahoos Stadium is scheduled for 6:35, with a live broadcast beginning at 6:30 on BlueWahoos.com, the MiLB First Pitch app (radio), Bally Live and MiLB.tv (video), and WFGX MyTV 35 (local television). For more information, visit BlueWahoos.com or contact the box office at (850) 934-8444.
GAME NOTABLES
--- Each Tuesday home game, the Blue Wahoos' Doggone Tuesday promotion, sponsored by Anderson Subaru, allows fans to purchase a one-price ticket for $18 and includes a hot dog, chips and soda. Plus fans are able to bring in their dogs and sit in any available seats or stroll the stadium concourse.
-- Tuesday's game began the Manna Food Drive throughout June and July home games. Fans are encouraged to donate a variety of can goods and other non-perishable items to the areas set up at the stadium for the Manna Food Bank in Pensacola.
--- The Escambia High and Gulf Breeze High baseball teams both had fundraiser events at Tuesday's game.