Devin Smeltzer's Dream Season Had Its Launch Point In Pensacola
Twins pitcher reflects on dream debut season in Pensacola pit stop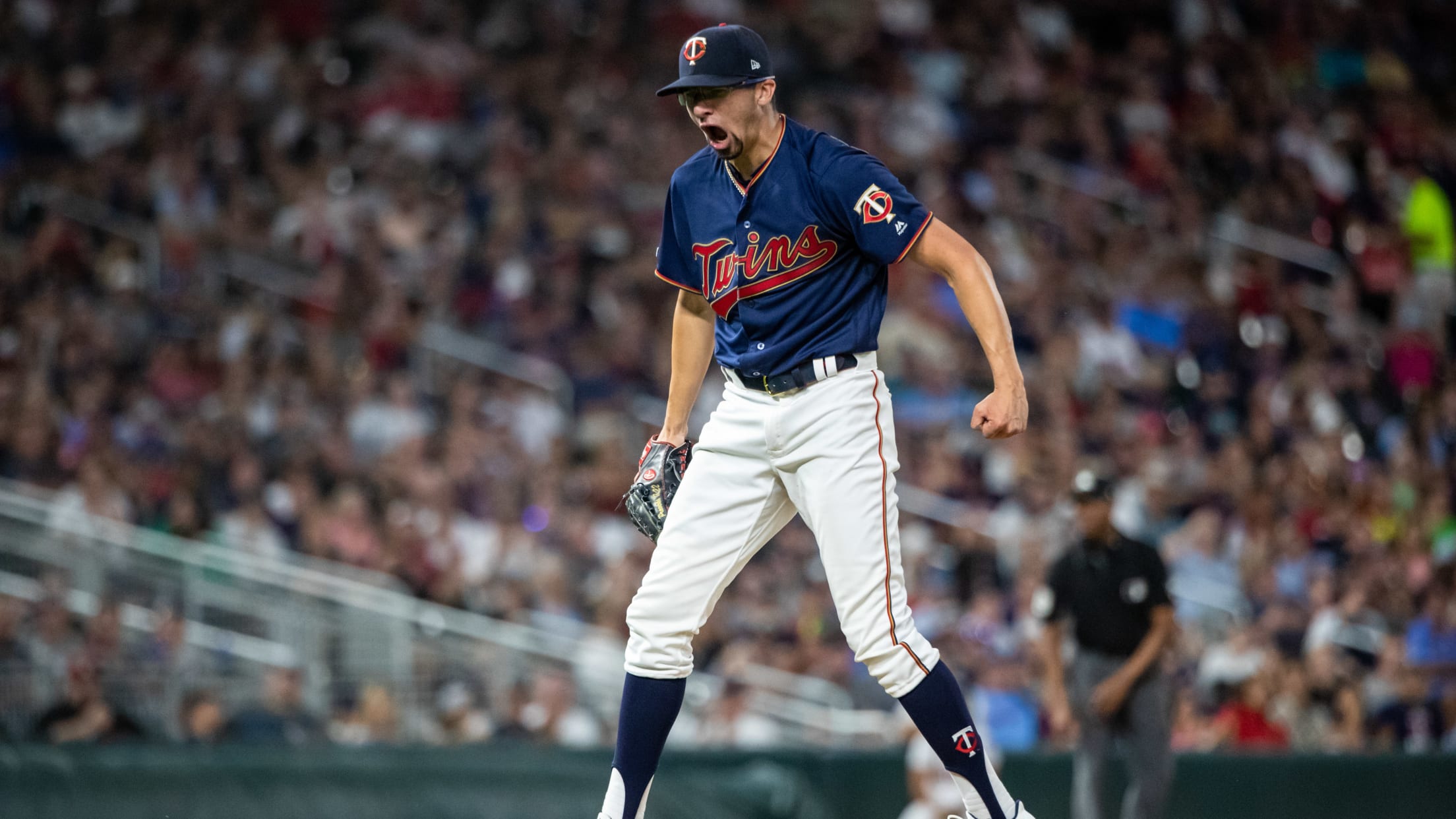 Devin Smeltzer, who began the 2019 season pitching for the Blue Wahoos, reacts to a strikeout at Yankee Stadium on Oct. 5 in Game 2 of the American League Division Series against the New York Yankees. (Ben Luderman/Twins Photography.com)
The quick stopover at Blue Wahoos Stadium was a halfway point on Devin Smeltzer's recent trip home.It was also so symbolic.He and his wife, Brianne, along with their two German shorthaired pointers, Rookie and Marshal, had the car filled with belongings from a whirlwind season. Pensacola was about midway on
The quick stopover at Blue Wahoos Stadium was a halfway point on Devin Smeltzer's recent trip home.
It was also so symbolic.
He and his wife, Brianne, along with their two German shorthaired pointers, Rookie and Marshal, had the car filled with belongings from a whirlwind season. Pensacola was about midway on their all-night drive across Interstate 10 from Houston, then eventually south on I-75 to their home in Fort Myers.
"We share the driving and I rather just get the whole trip done rather than spend a night," he said.
They were retrieving a fishing paddle board that Devin had left inside the Blue Wahoos team clubhouse since May 2 - the day he was elevated to Triple-A Rochester (N.Y.) Red Wings amid an unforgettable season.
"Back then, I didn't know if I would be up there for awhile, coming back here, or what was going to happen," said Smeltzer, smiling.
So much happened, of course.
Less than a month in Triple-A, following the five games he pitched for the Blue Wahoos, Smeltzer was elevated May 28 to the Minnesota Twins to fill an injury void in the pitching staff. The lefthander made his major league debut that night against the Milwaukee Brewers, where he started and tossed six shutout innings.
The season only got better. He wound up being called up three more times, the final one on Sept. 1 when rosters expanded.
His season's last appearance was Oct. 5 at Yankee Stadium in Game 2 of the American League Division Series, throwing 3.1 shutout innings in relief of Randy Dobnak, another former Blue Wahoos pitcher with an equally, incredible, meteoric rise.
From Blue Wahoos Stadium in early season to postseason at Yankee Stadium. From battling cancer at 9-years-old, regaining weight, strength and full head of hair from the difficult treatments, into developing all the way into a major league pitcher at age 24.
"It's wild, isn't it?" Smeltzer said. "It's been so awesome. It's something I have always dreamed of, but to be honest, I'm sort of just taking it all in. I think it will all hit once I get home."
His plan is to begin training again Nov. 1 in Fort Myers, where the Twins have their spring training home and year-round training center.
"I'll have another week or so off, and start back, start throwing again," he said. "I took my two weeks and time to rebuild now. Vacation is over."
While on brief vacation, Smeltzer allowed himself on Oct. 12 to take in Game 1 of the Astros-Yankees American League Championship Series at Houston's Minute Maid Park. He sat in the stands.
"It was crazy to think that if a couple things had gone our way, it could have been me on the field there and not in the stands," he said. "That is just how baseball works. That was kinda my first taste of, wow, I was here. Only a week ago. It has been crazy.
"This season was everything I have ever worked for. The nine-year-old me is the games I pitched in my backyard and dreamed about. I have been pitching over my head for so long.
"I worked really hard this last off season. I kind went out of my comfort zone on some workout stuff. Got out of some routines I was in and switched things up and it paid off. I feel like my body held up the best it has in my career and I was able to be healthy and strong enough to pitch in October."
The Twins' special season ended Oct. 7 at Target Field in a three-game sweep by the Yankees in the ALDS. Their 101 wins were the second-most in franchise history. Their 307 home runs were the most in MLB history.
There were plenty of other feats. It was part of the message Smeltzer said that first-year Twins manager Rocco Baldelli relayed to the Twins players in their clubhouse after the Game 3 loss to the Yankees.
"Rocco said, 'Look this is going to sting for a few days, but we're going to wake up the next day and get back on the horse and get back after it next year.' Everybody has been talking about this is just the beginning," Smeltzer said.
"So just the fact that we kinda fought through some injuries on the defensive side and had young guys step up like (Luis) Arraez (who began 2019 with the Blue Wahoos). The very few pitching injuries we had, guys like myself and Dobnak and (Cody) Stashak were able to fill in some spots and contribute and help."
Smeltzer, Dobnak and Stashak were among six Blue Wahoos pitchers who rose into big league debuts in 2019 with the Twins. The others were Sean Poppen, Brusdar Graterol and Jorge Alcala - the latter two begin late-season call-ups.
Arraez, 22, who can play third and second base, rose into being the Twins leading hitter with a .334 average in 2019, after making his MLB debut on May 18.
The eighth Blue Wahoos player from 2019 who reached the big leagues was outfielder Jaylin Davis, a mid-season Southern League All-Star, who was traded July 31 to the San Francisco Giants, where he made his MLB debut in early September.
Eight players, all of whom were at Blue Wahoos Stadium, all advancing in the same season.
"It's incredible," Smeltzer said. "Being our first year here (in Pensacola). It's a shame we didn't get a (championship) ring here. I was hoping to get one."
The Blue Wahoos missed the chance, after losing a deciding fifth game against the Biloxi Shuckers in the Southern League divisional series. But having eight Blue Wahoos players reach the big leagues, especially considering the Twins success, was one of the big takeaways in Pensacola's season.
"It just goes to show how well the front office is functioning right now in developing guys and drafting guys," Smeltzer said. "They are moving guys quick and they are ready. They are picking guys who are not intimidated by the New York Yankees or anybody.
"They are going to come out and pitch just as bullheaded against the Mobile BayBears as the New York Yankees."
That was Smeltzer's mindset. His last start in Pensacola was April 23 against the BayBears in Mobile's final season. He went seven innings. Allowed one run. Struck out nine. He pitched in five games, all stars, for the Blue Wahoos before going to Rochester.
With the Twins, Smeltzer made six starts in 11 games, finishing 2-2 with a 3.86 earned run average. He had one save. In what became his final appearance in 2019, Smeltzer gave up two hits to the first two batters he faced against the Yankees in Game 2 of the ALDS, then did not allow another hit in the 3.1 innings that he worked.
"Honestly, it's just my willingness to be in the zone. I'm not scared or intimidated by anybody who gets in the (batter's) box. I go at them with my stuff. I trust the work I have put in and all the homework we do on the lineups is going to work.
"I trust the (catcher's) fingers that are put down (for pitch selection) and everything I have worked and developed over the years. It is just trusting I belong there."
Smeltzer made it happen.