Eight-year-old Pensacola girl embraces Home Run For Life moment
Second grader honored for her courage, fight through February illness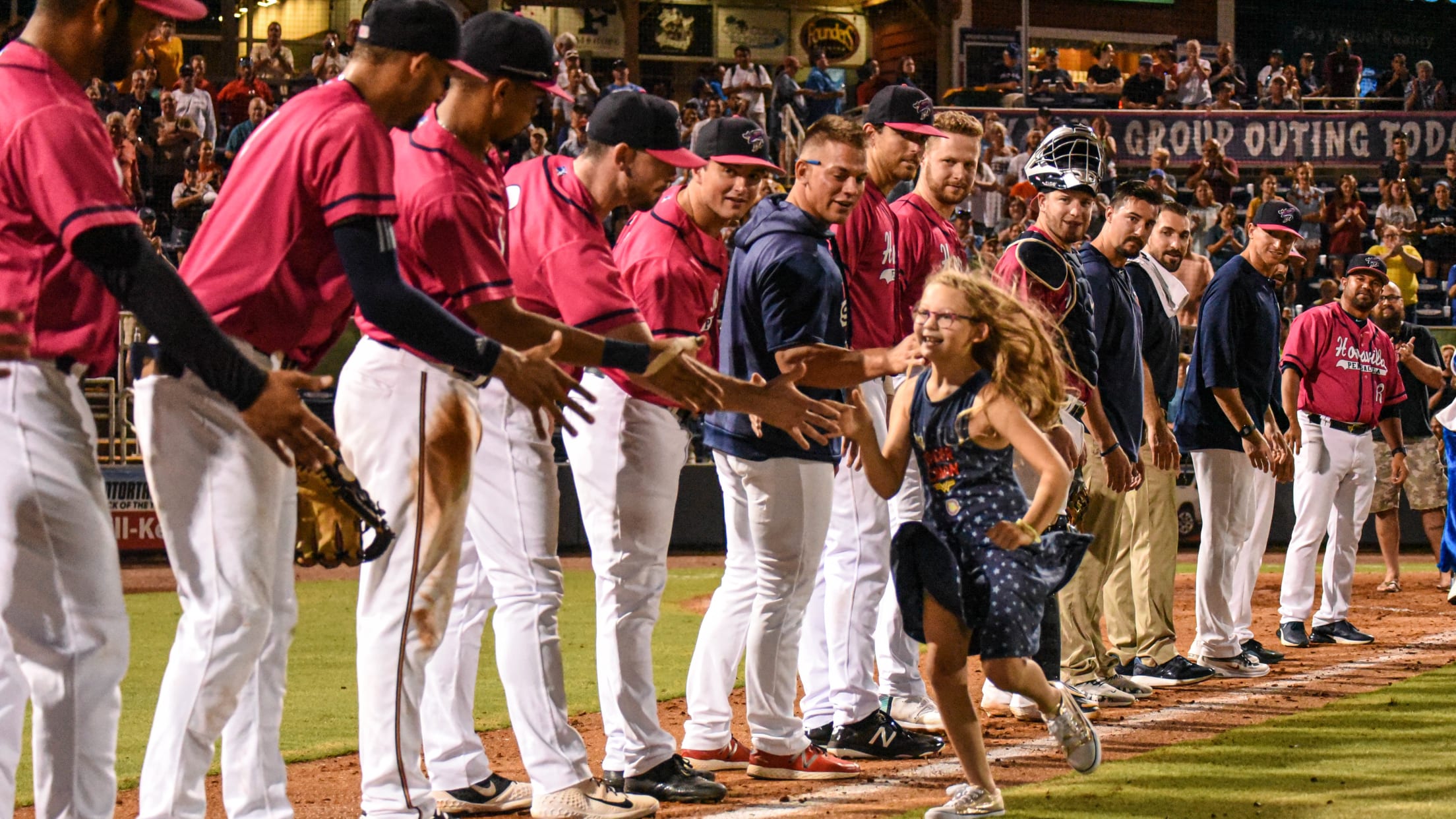 Eight-year-old Scarlett Helm begins her trip around the bases Saturday night as the Blue Wahoos line the first base line to celebrate with her during the season's final "Home Run For Life," event provided by the Studer Family Children's Hospital at Sacred Heart. (Daniel Venn)
Before she ever got the go-ahead signal, Scarlett Helm was ready to race around the bases.Helm, an 8-year-old Pensacola girl, who successfully battled through attention deficit disorder and undiscovered diabetes, was honored for her courage and spirit Saturday in the season's final "Home Run For Life" celebration during the Blue
Before she ever got the go-ahead signal, Scarlett Helm was ready to race around the bases.
Helm, an 8-year-old Pensacola girl, who successfully battled through attention deficit disorder and undiscovered diabetes, was honored for her courage and spirit Saturday in the season's final "Home Run For Life" celebration during the Blue Wahoos game against the Jackson Generals.
Smiling and eager to embrace the moment, Helm raced around the bases as a sellout crowd cheered and both teams' lined the baselines to congratulate her.
Her life has changed since February. Back then, her parents noticed she was often exhausted and experiencing frequent, erratic, mood swings. Her appetite decreased. She couldn't gain weight.
Her parents figured it was part of side effects from the medication she was taking for attention deficit, hyperactive disorder. But as she began to fall into worse symptoms, her parents suspected something more serious was happening.
Her pediatrician conducted a blood test which revealed her blood-sugar levels were almost three times the normal range. She was immediately admitted into the Pediactric Emergency Room at Sacred Heart Hospital. It was then discovered she had Type 1 diabetes.
With treatment, care and her parents help, the diabetes in now under control and Helm is a normal, young girl.
She recently started second grade at the Montessori School of Pensacola. She listed her favorite animal as a sloth on her biography. He favorite movie is Rapunzel.
She is now enjoying gymnastics.
As she showed on Saturday, Helm sped around the bases, her hair waving, her face aglow as she easily touched every base and jumped on home plate, then into the arms of Kazoo, the Blue Wahoos mascot.
It was another special moment provided by the Blue Wahoos and the Studer Family Children's Hospital at Sacred Heart.