Former Blue Wahoos Pitcher Tanner Rainey Now World Series Champion
Reliever on Pensacola's 2017 championship team is franchise first player on World Series winner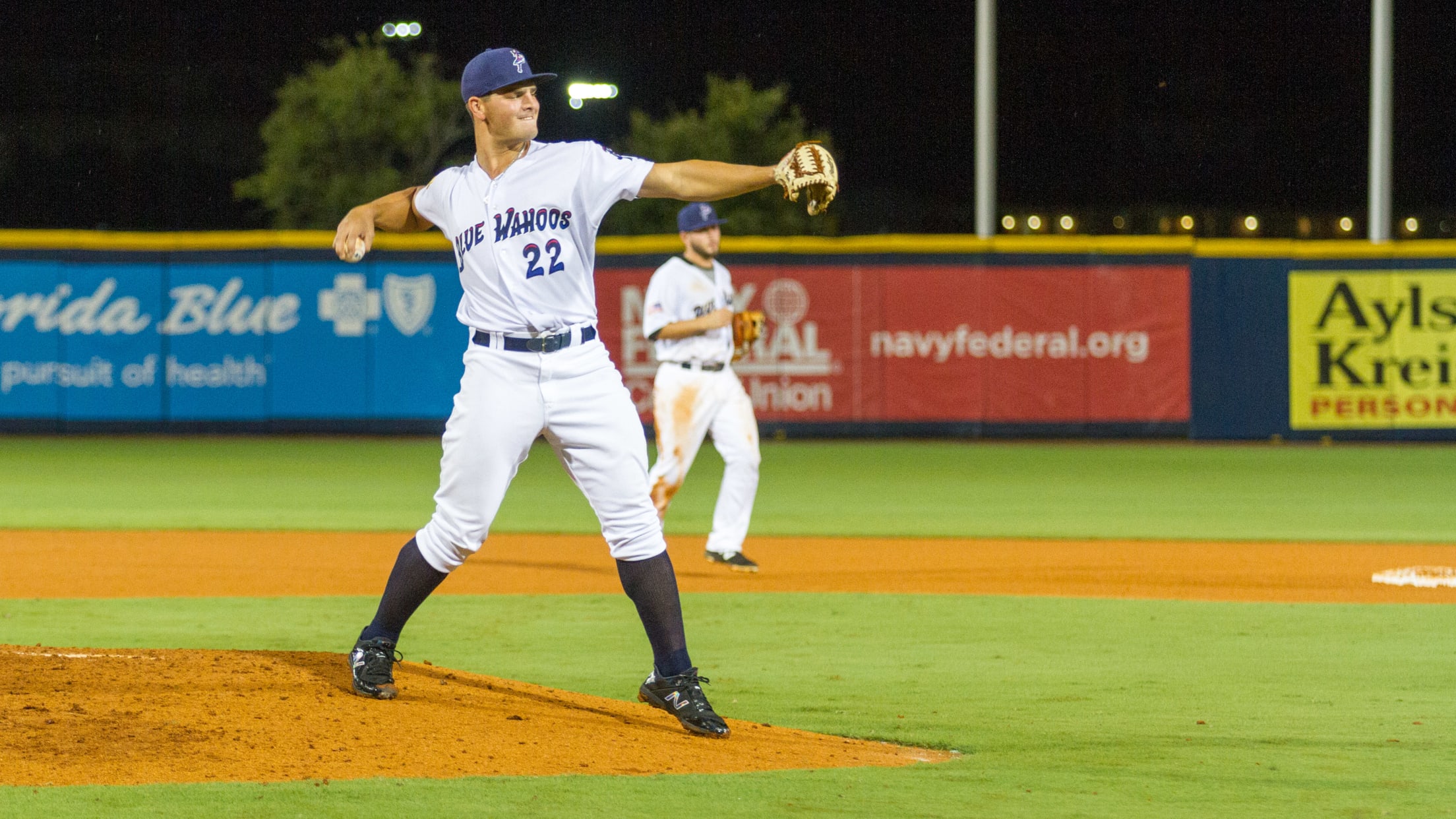 Tanner Rainey appeared in 14 games for the Pensacola Blue Wahoos in 2017, helping team win Southern League co-championship, and is now World Series champ with Washington Nationals. (Bill Vilona)
Tanner Rainey had a reliever role in the Pensacola Blue Wahoos series-clinching win in 2017 as Southern League co-champions.Now, he has a bigger championship ring.Rainey, who joined the Washington Nationals last December in an off-season trade from the Cincinnati Reds, became the first former Blue Wahoos player on an active
Tanner Rainey had a reliever role in the Pensacola Blue Wahoos series-clinching win in 2017 as Southern League co-champions.
Now, he has a bigger championship ring.
Rainey, who joined the Washington Nationals last December in an off-season trade from the Cincinnati Reds, became the first former Blue Wahoos player on an active roster for a World Series champion, after the Nationals dramatic Game 7 win Wednesday against the Houston Astros.
The 26-year-old right-hander appeared in four World Series games against the Astros for a combined 2.2 innings. He was in the bullpen Wednesday night in Houston as the final out was recorded in Washington's historic 6-2 victory for its first World Series title since 1924.
His rise to the major leagues and this opportunity began in Pensacola during the second half of the 2017 season. He appeared in 14 games during that regular season, along with pitching a scoreless 10th inning on Sept. 8, 2017 when the Blue Wahoos beat Jacksonville 5-4 in 12 innings to win a divisional series and declared co-champions in a hurricane-threatened post-season.
The way Rainey finished that season (1-1, 1.59 ERA, 4 saves) and progressed during training camp in 2018 led to him making his major league debut in April 2018.
Rainey, a Hammond, La. native, had a 2-3 record with a 3.91 ERA in 52 games, 32 innings for the Nationals. He appeared in nine post-season games.
His other local connection is that he pitched against the University of West Florida while playing for West Alabama, back when he was a position player.
The Nationals' championship finish included other local ties.
Blue Wahoos team president Jonathan Griffith was the general manager of the Potomac Nationals when Washington's Class A affiliate won Carolina League championships in 2008 and 2010. There is a YouTube video of Griffith, along with team mascot "Uncle Slam" in 2009 when the team replaced its scoreboard before that season.
Pensacola was affiliated with the former Washington Senators in the 1950's and early 1960's in the Alabama-Florida League. It was the last affiliated baseball team until the Blue Wahoos' inaugural 2012 season in the Double-A Southern League.
Pensacola native and business owner Ellis Bullock remembers being a first-grader during the team's final years and said the team was referred to as the "Nats" by fans back then when playing at former Admiral Mason Park, then located at what's now intersection of Ninth Avenue and Bayfront Parkway.
Dan Jennings, the Nationals' special assistant to general manager Mike Rizzo, is a Mobile native and Mobile Davidson High graduate.