Get To Know: Director of Minor League Operations Jeremy Zoll
Zoll to attend Twins Winter Caravan Pensacola on January 31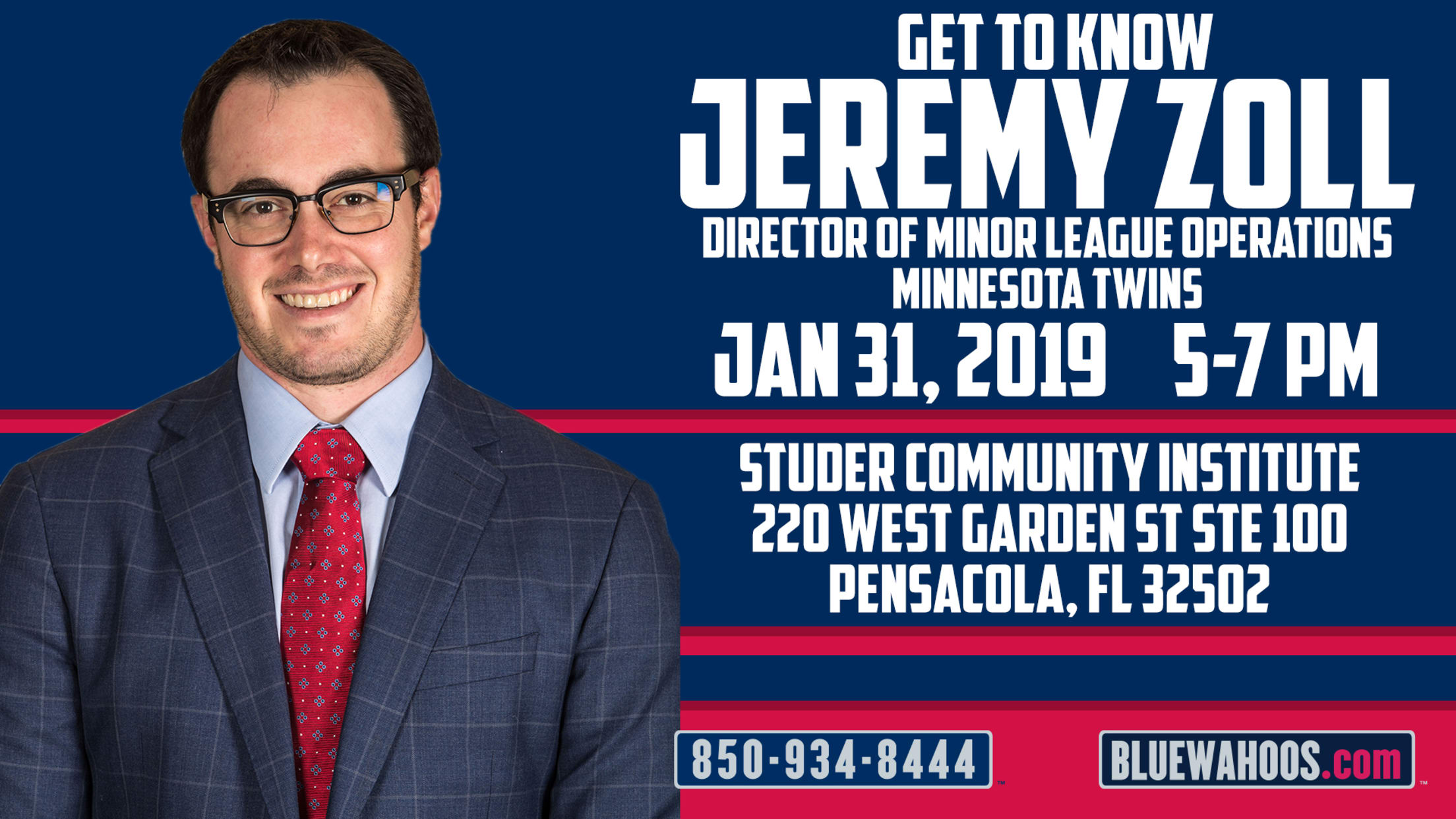 Jeremy Zoll was only two years removed from being a collegiate catcher when he landed his first job in Major League Baseball.The fast track has never slowed.The Minnesota Twins hired Zoll in October 2017 as their director of minor league operations, making the New Jersey native the youngest at age
Jeremy Zoll was only two years removed from being a collegiate catcher when he landed his first job in Major League Baseball.
The fast track has never slowed.
The Minnesota Twins hired Zoll in October 2017 as their director of minor league operations, making the New Jersey native the youngest at age 28 in this role among the 30 MLB teams.
He oversees the Twins' well-regarded minor league system, which is now aligned with the Pensacola Blue Wahoos.
"From my perspective, I look to do the best I can from whatever role I'm in. I have been fortunate to have some good things happen along the way," said Zoll, speaking from his Minneapolis home during a recent interview.
"I think for me it comes down to the relationships I have been able to build and people I have gotten to be around and learn from," he said. "I've really been fortunate to have a number of really special mentors who helped me to get to this point and I'm really thankful for that."
Zoll will introduce himself to Blue Wahoos fans and the Pensacola community on January 31 at the Twins Winter Caravan being held at the Studer Community Institute on Garden Street.
Zoll will be joined by Twins general manager Thad Levine, new Blue Wahoos manager Ramon Borrego, and two acclaimed pitching prospects, Tyler Wells and Devin Smeltzer.
The Twins added Pensacola as part of their 59th annual Winter Caravan, which began January 14 and includes 45 stops in 38 different cities from across Minnesota, North Dakota, South Dakota, and Iowa.
"We're really excited about the event," Zoll said. "I'm looking forward to being in Pensacola and getting to meet people who are passionate about the city and the organization and being available to speak about the partnership between the Twins and Blue Wahoos."
Zoll visited the city in 2018 with Twins executives, meeting with team owner Quint Studer and president Jonathan Griffith.
"Quint and Jonathan made clear from the get-go that they want this to be a true partnership and a 360 (degree) partnership," said Zoll, a 2012 graduate of Haverford (Pennsylvania) College. "They want it to be as all-encompassing as possible and really try to grow the Blue Wahoos brand and the Twins brand in a variety of ways.
"They feel they have a unique and positive approach to the partnership and we are excited to learn more about what that means to make this a reality."
Zoll began his front office career in 2014 with the Los Angeles Angels as coordinator of advanced scouting. The following year, he joined the Los Angeles Dodgers where he became assistant director of player development.
"His reputation, even at a less experienced, younger age, of galvanizing staffs and creatively development programs for players, really got our attention," said Levine, speaking to The Athletic in a story published March 8, 2018. "He's got the ability to communicate very clearly to the 16-year-old Venezuelan kid or the college senior.
"There's a presence about him that probably belies age. But I think the backbone of it really was he had such rave reviews from the senior staffers that he worked with in the past."
Zoll's gratitude with the Twins providing this opportunity is enhanced by the minor league's system array of talent. The Twins were rated No. 6 in the August 2018 ranking of top 10 farm systems by MLB.com.
Several of their top prospects, including outfielder Alex Kirilloff, shortstop Royce Lewis, and pitcher Brusdar Graterol are likely to play for the Blue Wahoos in 2019.
"I think one of the exciting things about our farm system is that it's a really deep system," Zoll said. "You can go to any one of our affiliates and you are going to see a large number of prospects.
"We have a really nice corps of young players who are working their way through and good chunk of those guys were in High A last year (Fort Myers Miracle) and won that (Florida State League) championship."
The quest is to add the next championship in Pensacola.
Twins Winter Caravan Pensacola
WHEN: Jan. 31, 5 p.m.-7 p.m.
WHERE: Studer Community Institute on 220 Garden Street.
WHO: Twins general manager Thad Levine, Twins director of minor league operations Jeremy Zoll, new Blue Wahoos manager Ramon Borrego, plus pitching prospects Devin Smeltzer and Tyler Wells. Also attending will be Pensacola authors Scott Brown and John Appleyard, presenting the city's unique and historical legacy in baseball.
ADMISSION: Free tickets available at this link
FORMAT: Pictures/autographs with Twins personnel, question-answer session, new concession food samples, special announcements from Blue Wahoos.