Mattair, Blankenhorn Reflect On All-Decade Team Honors
Blue Wahoos Fans Select All-Star Team Of Pensacola's Best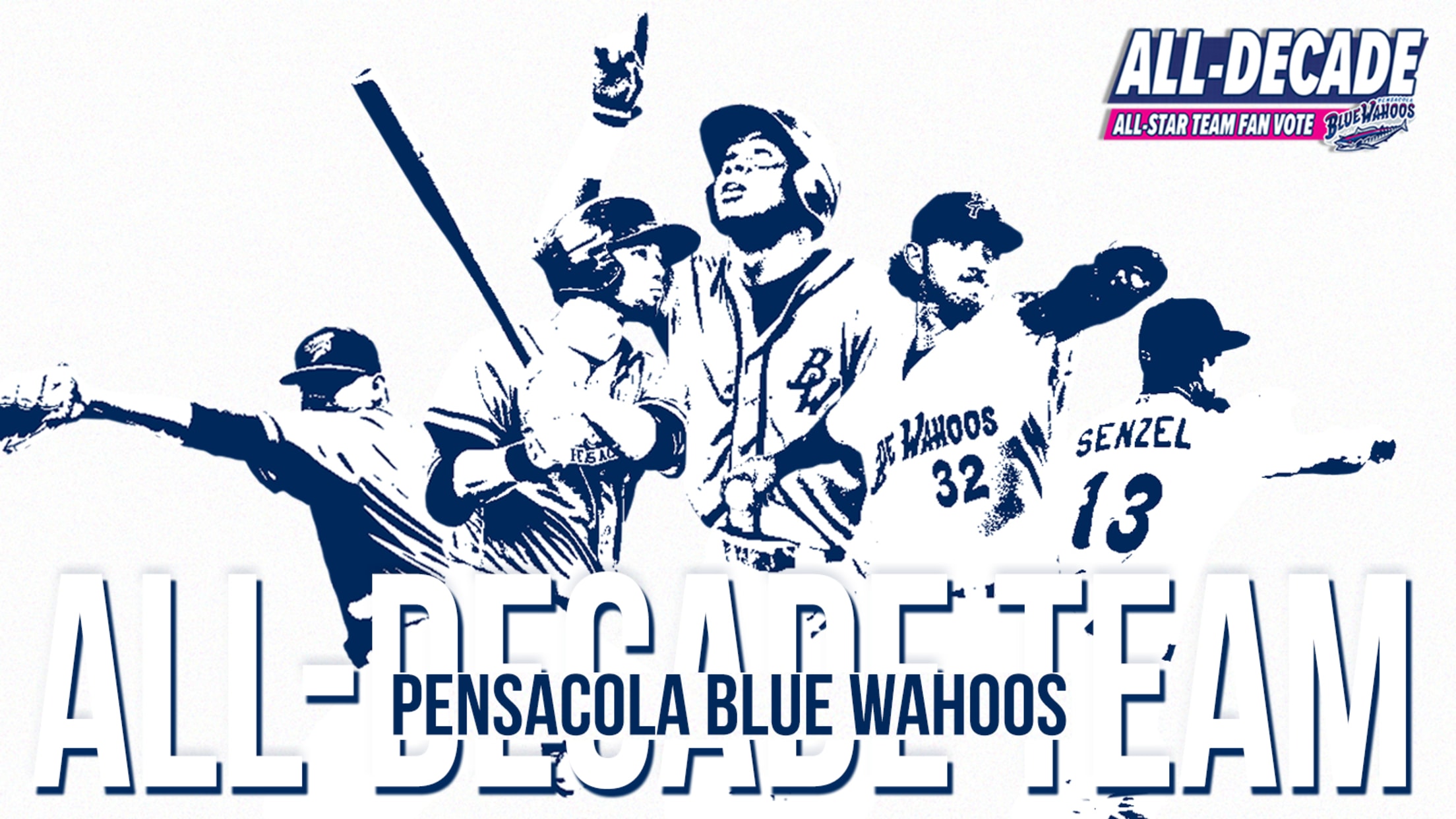 His seven seasons and 788 games in minor league baseball brought Travis Mattair into a lot of communities, a wide variety of ballparks.So naturally, he has been often asked about the most memorable place. The team he loved the most."It's a very simple, quick, answer and it's playing for the
His seven seasons and 788 games in minor league baseball brought Travis Mattair into a lot of communities, a wide variety of ballparks.
So naturally, he has been often asked about the most memorable place. The team he loved the most.
"It's a very simple, quick, answer and it's playing for the Blue Wahoos," said Mattair, who played 263 games for the Blue Wahoos in two seasons (2013-14) as a starting infielder. "It ranks up there with the top of anywhere. It is such a stadium, a great surface to play on. The fans are great. It is just a really, cool, atmosphere to be a part of."
The fans have also now recognized him with an endearing honor.
Mattair, 31, who is set to begin a new career in February as Gulf Breeze High School baseball coach - five years removed from his last season as a player - was the people's runaway choice as first baseman on the Blue Wahoos All First Decade Team.
He's among 21 players on the All-Blue Wahoos team, which includes each fielding position, three utility players, five starting pitchers, five relief pitchers. The All-Decade manager was fan favorite Pat Kelly, who took the Blue Wahoos to three consecutive post-season appearances, including a Southern League co-championship title in 2017.
"I'm definitely honored for getting voted when considering all the great first baseman who have played there," said Mattair, 31, a Kennewick, Wash. native, who often heard his nickname of "Moose" chanted as he took at-bats or made a great field play. "The city of Pensacola means so much to me.
"When I was playing here, I said this was a place where I could see myself living. And it was because of the fans and the people."
The fans' team, compiled in votes through Twitter and Facebook, includes four members of the 2019 Blue Wahoos team in the first season as new Double-A affiliation with the Minnesota Twins.
The group includes right fielder Alex Kirilloff, pitchers Brusdar Graterol and Anthony Vizcaya and second baseman Travis Blankenhorn, whose 108 hits, 18 homers and 51 RBI were all team highs.
In addition to helping lead the Blue Wahoos to a fifth consecutive post-season playoff appearance, matching the second-best franchise streak in Southern League history, Blankenhorn was a Southern League All-Star and was placed on the Twins' 40-man roster in November.
"It was a tremendous honor to be selected to a team like this," said Blankenhorn. "There are so many great players on this team.
"I love how Pensacola made me feel at home as soon as I arrived," Blankenhorn said. "It's a beautiful place to play and the fans made playing at Blue Wahoos Stadium so fun. Pensacola is a place I will always remember."
Kirilloff, 22, the Twins 2016 No. 1 draft pick and considered one of the top overall prospects in baseball, will likely join Blankenhorn in Triple-A to open the season.
Graterol, who wowed with his frequent 100-plus mph pitches and engaging personality with fans, made his major league debut in September with the Twins after he compiled a 6-0 record with 1.71 earned run average as a starting pitcher. He is expected to stay in the big leagues with the Twins as a reliever.
Vizcaya made the All-Decade Team as a reliever after compiling an 0.71 earned run average in 26 relief appearances.
The starting pitchers the fans named were led by Tyler Mahle, who threw a perfect game for the Blue Wahoos in 2017 before rising into becoming one of the top starters in the Reds rotation. The group also includes Michael Lorenzen, whose impact with the Reds has included being a talented pinch-hitter.
Of the 17 players the fans voted who were part of the Blue Wahoos' eight seasons as a Cincinnati Reds affiliate, 13 of those players have reached the major leagues. That group included shortstop Didi Gregorius, who was acquired by the Philadelphia Phillies in free agency, after his tenure with the New York Yankees.
Gregorius, outfielder Billy Hamilton, who set the all-time minor league stolen base record in Pensacola, along with pitcher Tony Cingrani, were all named to the All-Decade team as players from the Blue Wahoos' inaugural 2012 season. They were all among the 78 players in franchise history who have made it to the big leagues.
Also on the 2012 team was outfielder Ryan LaMarre, who made the All-Decade team as the center fielder, then ironically played for the Twins in parts of the past two seasons.
"It really started with Didi, Billy and Cingrani," Mattair said. "There are so many amazing players who have played for the Blue Wahoos and the Southern League is a really, tough league to play in.
"When you think of the league itself, that number might be in the thousands in the same period the Blue Wahoos have been in existence. And the Wahoos have put out really good players and that is credit to the organization."
Mattair is among the former Blue Wahoos who played in the most games. While his statistics weren't as high as he would have liked, the connections he made with fans and his community service efforts were part of his enormous popularity.
"People say I did a lot for the community, but I didn't do anything compared to what the community did for me," Mattair said. "It's such a cool feeling and the Wahoos have done such a great job and they make it easy for players to play in Pensacola."
After being released by the Mississippi Braves, part of the Atlanta Braves' organization, days prior to the 2015 season, Mattair returned to Pensacola. He became involved in youth baseball while owning his own training center in Pensacola and helping coach a travel ball team.
His efforts led to being named the Gulf Breeze coach. He is also part of the teaching faculty at the school. He said returning to Pensacola has been an easy decision.
"I just loved the town, I loved the people and they treated me so well as a player," Mattair said. "It was just a fun environment to play in and be a part of. I will cherish it for the rest of my life."
View the full All-Decade Team roster.