Sponsor Spotlight: Navy Federal Utilizes Blue Wahoos Stadium For Employees' Event
Venue's multi-use displayed in big way at 'Big Day Out'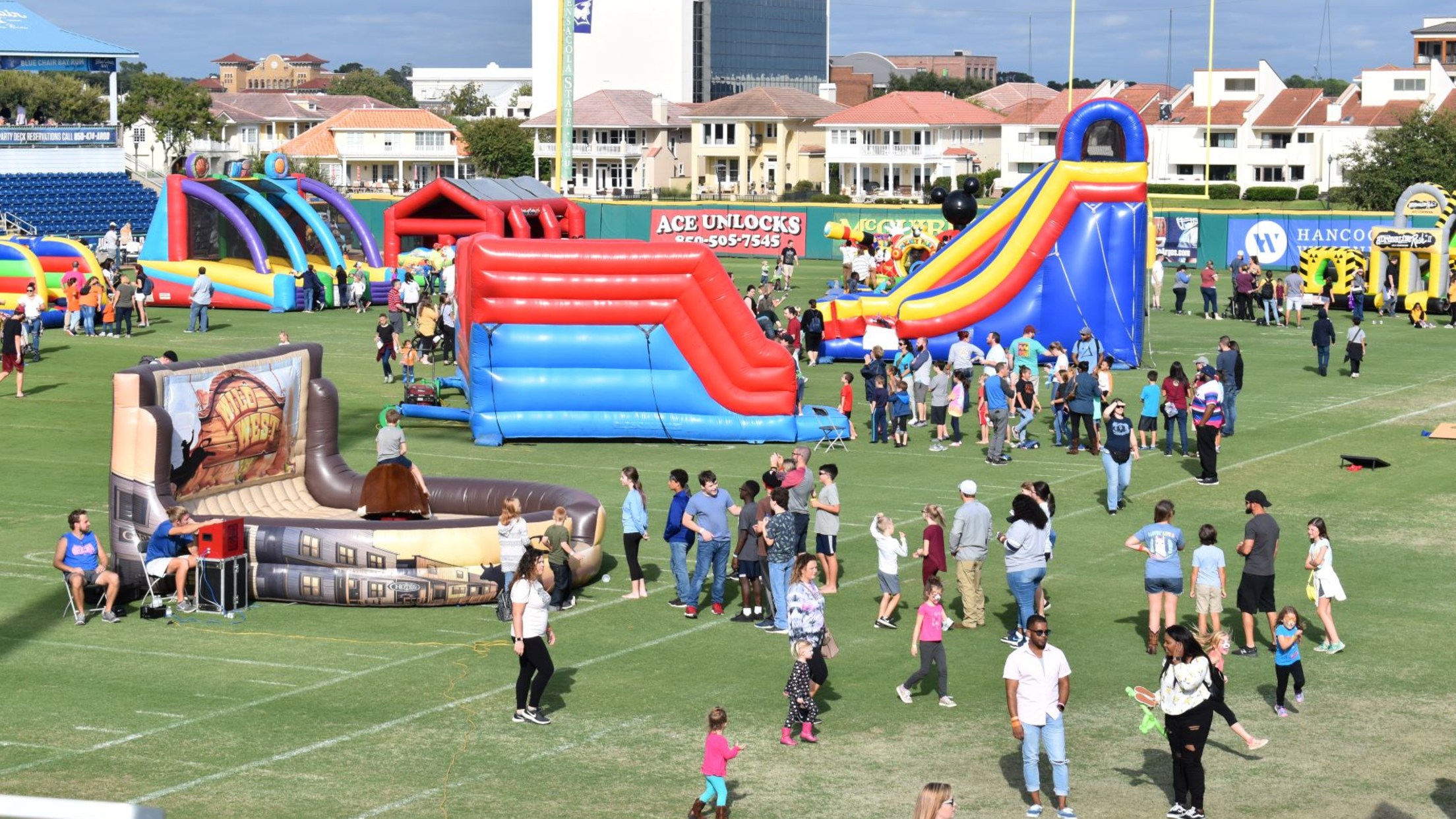 Blue Wahoos Stadium was transformed into a carnival, festive-style setting for Navy Federal's "Big Day Out" employee appreciation event. (Bill Vilona)
The versatility for holding events at Blue Wahoos Stadium was recently exemplified during a partnership with Navy Federal.In its annual "Big Day Out" employee appreciation event, Navy Federal was able to provide a festive, carnival-style setting for the company's Pensacola employees and their friends and families.More than 4,000 attended the
The versatility for holding events at Blue Wahoos Stadium was recently exemplified during a partnership with Navy Federal.
In its annual "Big Day Out" employee appreciation event, Navy Federal was able to provide a festive, carnival-style setting for the company's Pensacola employees and their friends and families.
More than 4,000 attended the Oct. 19 event, exclusive for Navy Federal employees, families and guests. It included live bands, inflatable slides and bounce houses, live reptiles provided by Reno's Reptiles of Pensacola, a mechanical bull, face painters, a pumpkin patch, balloon artists, various food and vendors and bingo and casino-style games for adults.
All of this happening at the same time on a Saturday afternoon.
"It's our biggest private event by a longshot," said Shannon Reeves, the Blue Wahoos' events sales manager. "We just turn the stadium into something it normally isn't. There's just so much happening and it creates a fun experience for everyone."
Navy Federal is a charter partner, joining as sponsor with the Blue Wahoos' inaugural 2012 season. In addition to an outfield fence sign, the company's partnership has been visible in a variety of other ways throughout each year, including as a game-day sponsor during the Blue Wahoos home schedule.
The "Big Day Out" event has been a signature element of the partnership.
"We're grateful to be connected," Reeves said. "They're so good and it's fun seeing them grow. I feel like we've been able to grow this event with them.
"Their communications team has been fantastic. They have a great team of planners there."
With its 7,500-plus employees in the Pensacola area, Navy Federal has become a huge economic engine for the region. Blue Wahoos Stadium has been a natural venue the company's appreciation day.
"We really start planning the next one this right after the (current) event ends," Reeves said.
A prior forecast of rain this time added to the challenge. Fortunately, the weather cleared by noon, the sun returned and the event was another big success.
"Everything worked out, other than I lost sleep," said Reeves, laughing. "But in the events world, this happens. I was a wedding planner for a long time.. more than 10 years…. so I certainly have been one to watch the weather and refresh a weather app about 40 times a day.
"We wanted to do everything we could to keep it on the planned date."
As Reeves emphasized, Blue Wahoos Stadium can be utilized for these types of events for other companies as well.
When built, the bayfront stadium was designed to be a multi-use facility. It's something available for other employee appreciation days on smaller-scale levels.
"While we have limited dates, we open the stadium or the grounds to the community almost every single weekend," Reeves said.
On Navy Federal's "Big Day Out," children and their parents were able to enjoy the entire grounds. For the first time, Reno's Reptiles and staff were able to put a few of its species on the field.
A sizable, African spur-thigh tortoise, crawled on the infield grass a few feet from an Albino Burmese python. Both creatures were main attractions for kids and picture-takers and weren't fazed by the amount of people around.
"That was obviously a big hit," Reeves said. "We had a lot going on. If you can imagine it, we can do it. The stadium lends itself to being a concert venue, a festival fair, a picnic, a place for kids to play, all at once."