Tommy Thrall Reflects On Wahoos Career After Call-Up
After seven seasons in Pensacola, Thrall moves to Majors with countless memories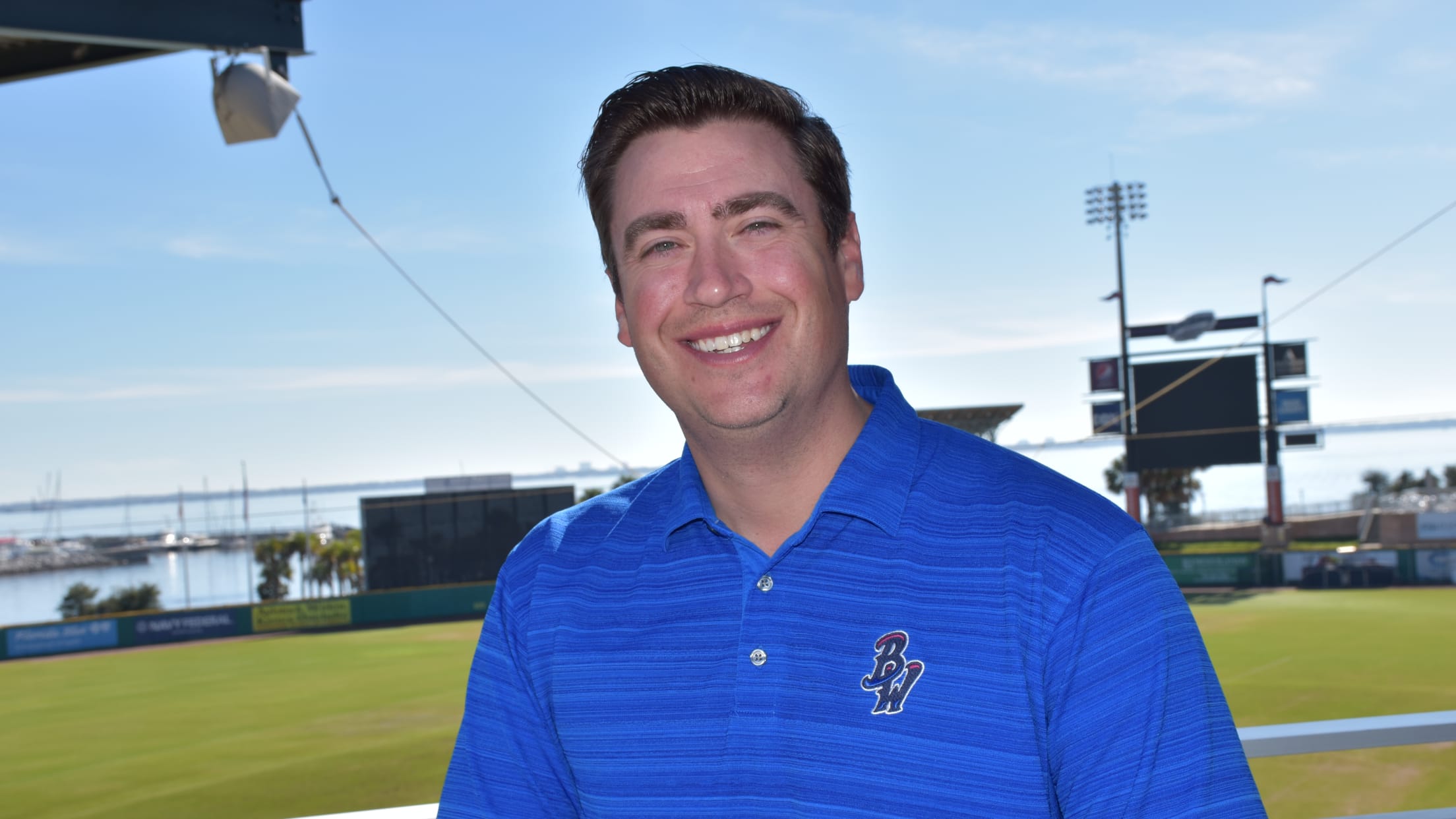 Tommy Thrall, the Blue Wahoos broadcaster since their inaugural season, poses at Blue Wahoos Stadium after accepting a job with the Cincinnati Reds. (Bill Vilona)
The royal blue seats are empty, the stadium quiet save for a wisp of breeze on this day as Tommy Thrall recalls seven years of festive nights.So many memories. So much joy. All wrapped together with a bow of gratitude."Seven years is a long time when you start to look
The royal blue seats are empty, the stadium quiet save for a wisp of breeze on this day as Tommy Thrall recalls seven years of festive nights.
So many memories. So much joy. All wrapped together with a bow of gratitude.
"Seven years is a long time when you start to look back, but it feels like the blink of an eye," Thrall said, looking around Blue Wahoos Stadium on a recent, sun-splashed afternoon.
From the press box, his seat in the broadcast booth, which doubled as an office, offered a literal window to a world of the unforgettable.
From the inaugural game in 2012, various walk-off wins, a championship celebration, along with some of the rarest baseball feats, Thrall delivered it all.
He witnessed a community and the Blue Wahoos together in harmony.
"The way the city has blossomed in seven years is just remarkable," Thrall said. "I almost wish I could see a then-and-now, because it's a lot different now than when I got here in 2012.
"That has just been awesome to see. Just the way this ballpark has been embraced. The whole vision of 'Let's put a ballpark up downtown and see a community spring around it.'
"That's exactly how things are supposed to go and that's how it ended up playing out."
For Thrall, one dream ride has now led into the next one.
After seven years as the voice of the Blue Wahoos, his future begins in the grandest of ways. Thrall was hired to join Fox Sports Ohio, where he will be part of the Cincinnati Reds broadcast team.
He'll work the 2019 baseball season absorbing the wisdom of the legendary Marty Brennaman, who announced last week that this season would be his final one of a 46-year Hall of Fame career as voice of the Reds.
Thrall, who turns 35 in February, will be contributing to both in-game and post-game coverage on the Reds' home broadcasts, along with other assistance.
At his retirement announcement, Brennaman praised Thrall, whom he's gotten to know from working a couple spring training games, as well as a fill-in role for a weekend series last year against the San Diego Padres.
"Tommy Thrall will be in the booth with us this year. Sixty or 70 games and the postgame show. I think he has a real chance to be the guy," Brennaman told Cincinnati Enquirer long-time sports columnist Paul Daugherty.
Just as Thrall brought area listeners the descriptions of Blue Wahoos players who moved on to the Reds or another big-league opportunity, this is the call-up he strived to get.
"We are so happy to see Tommy get to this level, because there are no guarantees you will ever get to this level," said Blue Wahoos president Jonathan Griffith, who first met Thrall a decade ago when they were both with different minor league teams.
"Tommy got ingrained in this community and became part of this community and now fortunately he's getting this chance. It took a lot of work to get where he's at."
The hard work always came with a bonus. He prepared for games amid a view straight from a postcard.
Most days offered the vista of Pensacola Bay as it leads into the Gulf of Mexico in the sunlit distance. Water and colors sparkling in beauty.
"Nothing lasts forever, of course, but that is a view that I will always miss," Thrall said. "There is nothing that will ever replicate it. That, to me, is the most breathtaking view in sports.
"There is just something magical about it at sunset that you can't put into words. I have yet to see any picture or video come close to doing this view its justice."
Pensacola became Thrall's dream destination the same way Pensacola has lured so many other first-time visitors.
It happened when Thrall was a senior at Northwest Missouri State University. The Kansas City native was the broadcaster for the school's baseball team. The Bearcats took a spring break road trip to play the University of West Florida.
"We stayed on the beach," Thrall said. "It was February, but it was warm by standards of where we were. I just remember how beautiful it was. It was such a great place, just a really, cool place.
"I really liked the town a lot. When we got back to school, I said if I ever I have chance to go there and live, I'm doing it."
The opportunity came when Thrall was working in Davenport, Iowa as broadcaster for the Quad Cities River Bandits in the Class-A Midwest League.
A good friend and former co-worker, Andrew Demsky, had been hired by the Blue Wahoos in creative services.
Thrall gathered his resume, broadcast tapes and other materials and sent a package overnight mail to the Blue Wahoos. He got a call from Griffith the next day.
"By the end of the week, I had the job," Thrall said.
Griffith previously worked as vice president for the Potomac (Maryland) Nationals in the Class-A Carolina League. Thrall was then working in that same league as broadcaster for the Myrtle Beach Pelicans.
"We met the one year we both worked in the league together," Griffith said. "People knew him and I knew people who knew him. With us, our priority at the Blue Wahoos was how will he fit it in here? Not so much about how can he call a game.
"The biggest thing was his voice. There are a lot of broadcasters who have this broadcast voice and then a normal talking voice. With Tommy, his normal broadcasting voice is the same one when he answers the phone. Just very smooth."
The interview and subsequent job offer enabled Thrall to become the Blue Wahoos main broadcast voice from the inaugural 2012 season through last season.
"The people here are what make Pensacola so special," Thrall said. "I will miss that. It is special to see the community really rally around this place and the pride Pensacola has for this ballpark.
"But I know I will be back whenever I get the chance to visit again. It's been such a great part of my life."