View From The Booth: Erik Bremer's Offseason Mailbag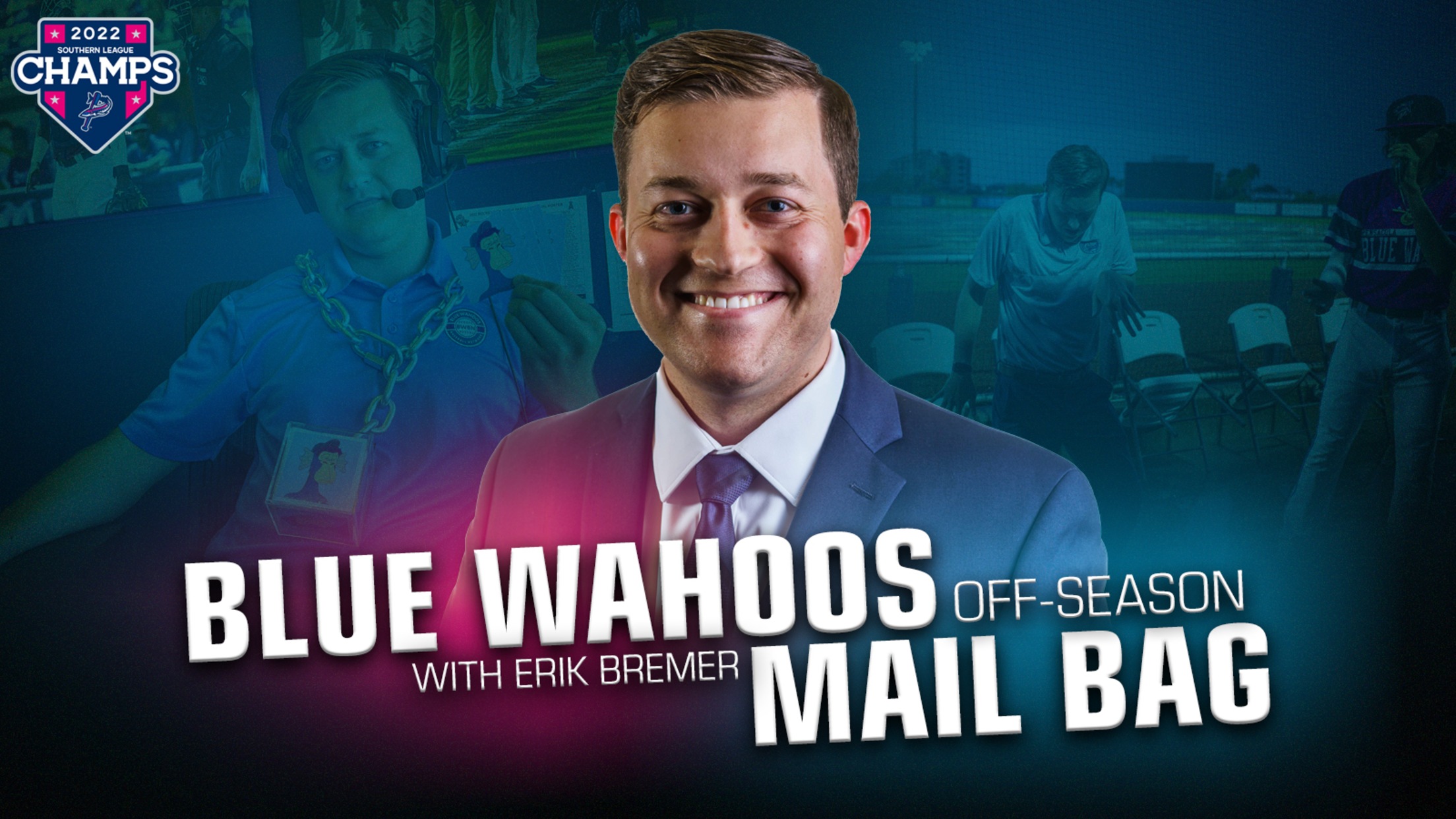 Hey everybody, Blue Wahoos broadcaster Erik Bremer here. I hope you're enjoying the offseason and basking in the glow of Pensacola's Southern League championship. We have big things in store for 2023, and can't wait to share those plans with you in the weeks to come. The end of a
Hey everybody, Blue Wahoos broadcaster Erik Bremer here. I hope you're enjoying the offseason and basking in the glow of Pensacola's Southern League championship. We have big things in store for 2023, and can't wait to share those plans with you in the weeks to come.
The end of a calendar year brings with it an opportunity for reflection, and we've revisited plenty of moments from the past season since the final pitch of the Championship Series was thrown in late September. But after spending three hours a night on the Blue Wahoos Baseball Network, I feel that I've done plenty of talking. So, in that spirit, I put out a request on social media for fans to ask me some questions. You didn't disappoint!
Without further ado, I cede the floor to the voice of the people:
Who would you name team MVP in 2022? - Ricardo in Destin, FL
There are plenty of good answers to this question. Troy Johnston came up clutch time after time for the Blue Wahoos and ended up with a batting average one percentage point shy of the league leadership, earning a postseason All-Star nod as a result.
Troy Johnston's week:

Tuesday: 3-4, 3B, RBI
Wednesday: 2-3, 2B, RBI
Thursday: 4-5, HR, 2B, 3 RBI
Friday: 3-5, HR, 3 RBI, Walk-Off 1B pic.twitter.com/YXMfG9SHRZ

— Pensacola Blue Wahoos (@BlueWahoosBBall) June 4, 2022
But Troy received a well-deserved promotion to Triple-A in August, so I'll use this opportunity to give the spotlight to someone else who was with the team all season.
Paul McIntosh was a rock behind the plate for the Blue Wahoos all year long. He homered in his first Double-A at-bat, demolished virtually every franchise offensive record for catchers, and stayed consistent despite the rigors of his first full minor league season.
So, uh, Paul McIntosh just hit a ball so high, so hard, and so far that Statcast couldn't track it. pic.twitter.com/AlMbDVlkyO

— Pensacola Blue Wahoos (@BlueWahoosBBall) August 24, 2022
It was unfortunate that Paul was injured and unable to play in the postseason, but his thump in the box and improved defense behind the plate were invaluable at a position that is so often a black hole for minor league teams. He's an easy guy to root for, and I can't wait to see what he does next year.
Since "4 straight HBPs" has now happened, what's another crazy hypothetical walk-off scenario you'd like to see in 2023? - Ryan in Bristol, CT
Good question, Ryan, and thanks for making sure Pensacola's improbable walk-off win over Biloxi made it to the ESPN Assignment Desk.
The weirdest walk-off you'll ever see!

The Blue Wahoos score three in the 9th on an error, a walk, and four consecutive hit by pitches! pic.twitter.com/NpMwfh3BmY

— Pensacola Blue Wahoos (@BlueWahoosBBall) June 6, 2022
What could possibly top that?
We're going to see a lot of uncomfortable adjustments to the pitch clock now that MiLB's experimental pace-of-play rules are being codified into the major league rule book. It will inevitably happen at some point ... bases loaded, bottom of the ninth, a three-ball count in a tie game. The pitcher gets a bit too deliberate on the mound and is called for the first ever walk-off pitch clock violation. Can't wait.
What was your favorite non-game-action moment from the 2022 season? - Danielle in Gulf Shores, AL
Every time I was reminded that Eury Perez is only 19 years old. He was so impressive on the mound, it was easy to lose sight of just how young he still is.
Eury was always dancing and smiling in the dugout, keeping things light. And he was unfazed by things that pitchers typically try to block out, even going so far as to sign occasional autographs heading to his bullpen session on days in which he started. He was not overwhelmed in the slightest.
The biggest hotel in the Southern League circuit is in Birmingham, and Eury was entertained to no end that the elevator didn't have a button for the nonexistent 13th floor. On multiple occasions in our week at that hotel, he would tap me on the shoulder, say "Erik, trece por favor" and start giggling. Then he'd go out and dice up another lineup of poor Double-A hitters a half-decade older than him.
What a cool kid. Future star.
Coaches home run derby. Who wins? - Leon in Ferry Pass, FL
Blue Wahoos manager Kevin Randel hit double-digit home runs in four different minor league seasons, peaking with 16 in 2008 between Jupiter, Carolina and Albuquerque. I'm sure he would want me to give him the nod in a hypothetical derby. But last year's hitting coach, Scott Seabol, in addition to hitting a major league home run with the 2005 Cardinals, went deep 32 times in his final minor league season in 2007. I'd have to go with Scott here.
As an aside, pitching coach Dave Eiland also hit one major league home run in his first career at-bat (!) against Bob Ojeda (!!). Vin Scully was on the call for the Dodgers. If you're gonna hit one, make it count.
If you weren't a broadcaster, what other job in sports do you think you'd have? - Tori in Pensacola, FL
I think I'd be pretty good at selling programs. Wanda in Chattanooga is the gold standard.
For the past 33 seasons, Wanda the Program Lady has greeted @ChattLookouts fans at the front gate by shouting "buy your programs, right here!" The program went paperless last year, but now she waves around a QR code on a stick. 😃 pic.twitter.com/VxMVB7QVw2

— Erik Bremer (@Erik_Bremer) September 2, 2022
Everybody needs an angle. Wanda's is being very loud and giving lots of hugs. I'd have to come up with something original. Maybe I could carry an air of desperation, like Jack Lemmon's character in Glengarry Glen Ross. "Hey pal, you gotta help me out and buy a program. Please, I need this."
Rank the Southern League broadcasters by hairstyle, best to worst. - Anonymous
When we fill out awards ballots in this league we're prohibited from voting for players on our own team, so I'll take myself out of consideration here for the sake of fairness. A couple of my colleagues have taken themselves out of the running by keeping their hair close and tight, so that whittles down the list even further.
For my money, I'd go with Garrett Greene in Biloxi. His coiffed, spiked shock of red hair just lights up a broadcast booth.
Is new pitcher Alfred Yankovic allowed to sing "Another One Rides the Bus" on Blue Wahoos road trips? - Tim in Missoula, MT
What's your favorite song recorded by Blue Wahoos pitcher Al Yankovic? - Tyler in Pensacola, FL
So, some backstory. In early October, "Weird Al" Yankovic's tour came to Pensacola. Our people talked to his people, and we presented him with a personalized Blue Wahoos jersey backstage after the show.
BREAKING: The Blue Wahoos have signed 62-year-old righty Alfred Yankovic to a free agent contract for the 2023 season. pic.twitter.com/0h8MKfe9PP

— Pensacola Blue Wahoos (@BlueWahoosBBall) October 11, 2022
We joked on social media that he had signed a free agent contract with the team, because Al's whole deal is making fun of things. That joke has since spiraled out of control, with at least one person buying a personalized "YANKOVIC" jersey from the team store.
While I don't think you should get your hopes up that a 63-year-old accordion player will take the field for the Blue Wahoos next summer (Al's on a European tour anyway), we're thankful that we got a chance to meet him. I hope he knows he's welcome at Blue Wahoos Stadium anytime, and if he shows up wearing the jersey we gave him I bet he could blend in just fine down in the dugout.
As for my favorite Weird Al song, I think his rap parodies (Couch Potato, White and Nerdy) are his most lyrically impressive. But if you're asking about his original songs, "Bob" is a stylistic homage to Greenwich Village-era Bob Dylan and it's written entirely in palindromes. Brilliant.
Are you loving living in Pensacola? - Tee in Pensacola, FL
Pensacola is awesome, especially this time of year as I see friends and family up in Minnesota dealing with winter weather. It's been great to explore this area in the offseason, since I rarely have the time to do such things in the summer. I'm a big fan of Fort Pickens and the Gulf Islands National Seashore as a quiet place to enjoy the natural beauty of this region.
Who is the best player to come through the Wahoos clubhouse, and why do you say it's Peyton Burdick? - HonestBN on Twitter
We're all high on Peyton Burdick here in Pensacola, as a player and a person. If he turns out to be the best player in Blue Wahoos history, that's a great outcome for the Marlins.
Look at his main competition (in my eyes) from Pensacola's previous affiliations with Cincinnati and Minnesota: Didi Gregorius, Jesse Winker, Luis Castillo, Tyler Mahle, and reigning American League batting champion Luis Arraez. This year alone, we saw Jhoan Duran, Jose Miranda and Royce Lewis debut for the Twins. Those three guys all figure into Minnesota's long-term plans.
There have been 121 former Blue Wahoos to go on to make their MLB debuts, including a whopping 18 this season. My bold prediction: I'll bet that a decade from now, at least two 2022 Blue Wahoos will have made at least one All-Star team.
What would your walk-up song be? - Devin in Gulf Breeze, FL
I actually have a little experience with this, as Blue Wahoos outfielder J.D. Orr was aggressively indifferent about his walk-up music this season and left it for us to decide. I went with "Flash Light" by Parliament, which I think was a hit with the fans. I was also the enterprising mind that got us playing "London Bridge" by Fergie for a visiting player each series.
What are you looking for out of walk-up music? I think you approach it differently whether you're a batter or a pitcher. And I think you want a song that says something about you.
As a batter, I'd want something that values precision and respects process but stays up-tempo. A raw flame, a live wire. We're going "Josie" by Steely Dan, off their classic album, Aja.
If I'm a pitcher, specifically a closer, the calculus is a bit different. We want to empty the tank. No modesty, no restraint. Doing 90 in a 65. The situation calls for "I'm So Paid" by Akon, featuring Lil Wayne and Young Jeezy.
Have you ever been kicked out of a baseball game as a player or assistant coach? If yes, please explain. - Ryan in Rogers, MN
We'll speak in hypotheticals here, Ryan, but thanks for the question.
If one had a reasonably successful playing career for their local American Legion team and came back to help coach said team the summer after one's freshman year of college, it stands to reason that this person would have a good understanding of local umpires on the circuit.
And so, if someone were to be a team's first base coach with a familiar umpire behind home plate, it's only natural that this person would observe an umpire's calls with added scrutiny. And if a player from their team was clearly safe at home plate and, for that matter, was never tagged by the catcher at all, it would be plainly obvious to the home plate umpire as well as someone with a vantage point down the first base line. And if it's the third out of the inning, and that person is walking back to the dugout anyway, then of course one's natural trajectory would take them right by home plate. And if a disagreement were to occur, it really can't be helped.
Now, arguing with an official is never tolerated, so this person would likely be ejected. The only reasonable thing for this person to do would be to toss their helmet into the dugout, grab their car keys, say "see you next week" and saunter to the parking lot. That's really the only course of action.
Thanks again for the hypothetical scenario!
Besides Sean Reynolds, which Blue Wahoos pitcher would make the best hitter? And vice versa? - Lauren in Cantonment
Sean Reynolds, for those who don't know, was drafted as a position player and actually led the New York-Penn League in home runs a few years ago before switching to the mound. Seeing him flourish in late game situations, closing out both of Pensacola's playoff clinching games this September, was even more impressive with that in mind.
The Blue Wahoos had another pitcher this year that was originally a position player: Eli Villalobos. He began his college career at Golden West College as a catcher before transitioning to a pitcher at Long Beach State. So I feel like Eli would probably still stand his own with a bat in his hand.
As for position players who could be pitchers, you're looking for a strong arm. And Jerar Encarnacion had the strongest outfield arm I've seen from any minor leaguer in a long time, so throw him on the mound and see what happens.
Yesterday's lesson:
Don't pitch to Jerar Encarnacion

Today's lesson:
Don't run on Jerar Encarnacion pic.twitter.com/QM99Ld1mKz

— Pensacola Blue Wahoos (@BlueWahoosBBall) April 22, 2022
What are the four best places for french fries in Pensacola? - Ben in Chicago, IL
The Blue Wahoos are proud to be supported by McGuire's Irish Pub, Culver's, Sonny's, Whataburger and Denny's. Start there.
What was your favorite theme night of the season? - Carlos in Ft. Walton Beach, FL
I thought D.I.Y. (Do It Yourself) Night in August was a brilliant idea, perfectly executed.
So fresh. So clean.

The first ever DIY Jerseys were masterpieces! pic.twitter.com/0Wt1zaLVju

— Pensacola Blue Wahoos (@BlueWahoosBBall) August 14, 2022
Some jerseys were designed by paying fans, who got to keep a one-of-a-kind souvenir, and a few were held back to allow local patients at local children's hospitals to color the letters and numbers. I usually judge the success of the novelty jerseys by how the clubhouse reacts, and I can tell you that our players LOVED this idea. As the jerseys were being hung up one-by-one in the lockers, you could sense the excitement. They had a lot of fun with it, and I hope the idea catches on throughout the minors.
Which players should we be excited about in 2023? - Kris in Pensacola, FL
All of them, obviously. Too bad I only have room for a few.
I'll start with the familiar names, guys who played for the Blue Wahoos at the end of last season and should figure to start next year in Pensacola.
Something clicked for Will Banfield in the final few weeks of the season, and he drove the ball with authority more than he ever has as a professional. His defense and leadership has always been a strength, and if his bat continues to make strides he could be a really intriguing piece for the Marlins down the road.
Will SLAMfield!

After doubling off the wall in his last at-bat, Banfield drills his first Double-A home run! pic.twitter.com/SZ9wX4DVC3

— Pensacola Blue Wahoos (@BlueWahoosBBall) August 14, 2022
Nasim Nunez might be the most dynamic player that Blue Wahoos fans have seen in a long time, and I would expect him to pick up right where he left off last season. With elite speed, great defense and an impressive knack for getting on base, he could be on a fast trajectory to the next level.
NASIM NUÑEZ DESTROYS HIS FIRST DOUBLE-A HOME RUN!

ALL THE WAY BACK. pic.twitter.com/jFQyd0sAgh

— Pensacola Blue Wahoos (@BlueWahoosBBall) September 23, 2022
He's destined to perpetually fly under the radar, but I really enjoyed watching Luis Palacios pitch in his introduction to Double-A at the end of the season. Absent eye-popping velocity, Palacios attacks hitters with a repeatable delivery, good command and an uncommon handle on off-speed stuff. In an age where pitch speed is king, I think fans will appreciate the way Palacios goes about his work.
Down in High-A Beloit, Victor Mesa Jr. and Jose Salas are both intriguing prospects with their sights set on Pensacola. And don't be surprised if Jake Eder, who dominated Double-A in 2021 before undergoing Tommy John surgery, returns to Pensacola for a brief spell as he works his way back to full strength.
Who will be the next former Blue Wahoos player to make their big league debut? - Jeff in Pensacola, FL
I think Eury Perez could probably get MLB hitters out today, though it'll be up to the Marlins to decide whether he could use any more refinement in Pensacola or Jacksonville. Can't fault them for being cautious with such a valuable young player.
The easiest way to answer this question would be to look at Miami's 40-man roster, where Sean Reynolds, George Soriano, Eli Villalobos and Josh Simpson were all added after the season. Once you're on the 40-man, you're a heartbeat away from the bigs.
Most of the players from Pensacola's 2019 team stacked with Twins prospects have graduated, but keep an eye on Jordan Gore. Since becoming a pitcher, he's had a great 2021 and a more mixed 2022 in his introduction to Triple-A. If he can dial in the control just a bit, his fastball could easily play in a major league bullpen.
Who was your favorite on-air guest this year? - Colleen in Jupiter, FL
Lots of great guests came by the booth this season, but I'd have to say that Colleen Mitchell, Marlins Manager of Player Care and Service, was the complete package. Between Marlins camp in Jupiter and their complex in the Dominican Republic, Colleen and the Marlins staff do a great job preparing players for their careers and life.
Colleen was in town this summer to present Jose Devers with his high school diploma, and it was a really touching moment. Most fans have no idea what life is like for young players adjusting to life as a professional athlete, and it was great to hear Colleen's perspective. Our best booth guests are informative and entertaining, and she was both.
How far can you throw a mullet? Donald in Brisbane, QLD, Australia
How ya going, mate? Donald Lutz played in Pensacola from 2012 to 2016, became the first German-developed player to reach the modern major leagues, and is still playing at the age of 33 down under for the Brisbane Bandits of the Australian Baseball League.
KING LUTZY 👑

Donald Lutz walks it off!!!

Final score: Brisbane 4 - Canberra 3

This game highlight brought to you by Phoenix Law #AlwaysBrisbane #ABL23 pic.twitter.com/gMwKlrB6cc

— Brisbane Bandits (@BrisbaneBandits) November 25, 2022
I got to know Donald a bit during my time in Brisbane, and I know he still thinks very highly of Blue Wahoos fans and the Pensacola community.
As for his question, Donald still brags about his impressive throw as a celebrity guest at the annual Flora-Bama Mullet Toss many years ago. Alas, the Blue Wahoos had a game during last year's mullet toss, so I have not yet thrown a sanctioned mullet in recognized competition. Rest assured, I'm throwing mullets on my own time and will be ready for the moment the good folks at the Flora-Bama invite me over.