Single Game Ticket Information
Single Game Ticket Information
Order online, in-person at the Frontier Field Ticket Office, or over the phone (585) 423-WING
Ticket Prices for 2021 Season
Tickets will go on sale on Friday, May 14 for only games in May. Tickets for games in June and the rest of the season will be available at a later date(s).
100 LEVEL: $22 day of game / $20 in advance
200 LEVEL: $17 day of game / $15 in advance
Ticket Office hours during the baseball season:
Non Game Days: Monday through Friday 10 AM - 4 PM. Closed on Saturday and Sunday.
Game Days: Monday through Friday, 10 AM through end of fifth inning or 90 minutes after game time. Saturday and Sunday 10 AM through end of fifth inning or 90 minutes after game time.
Seating Chart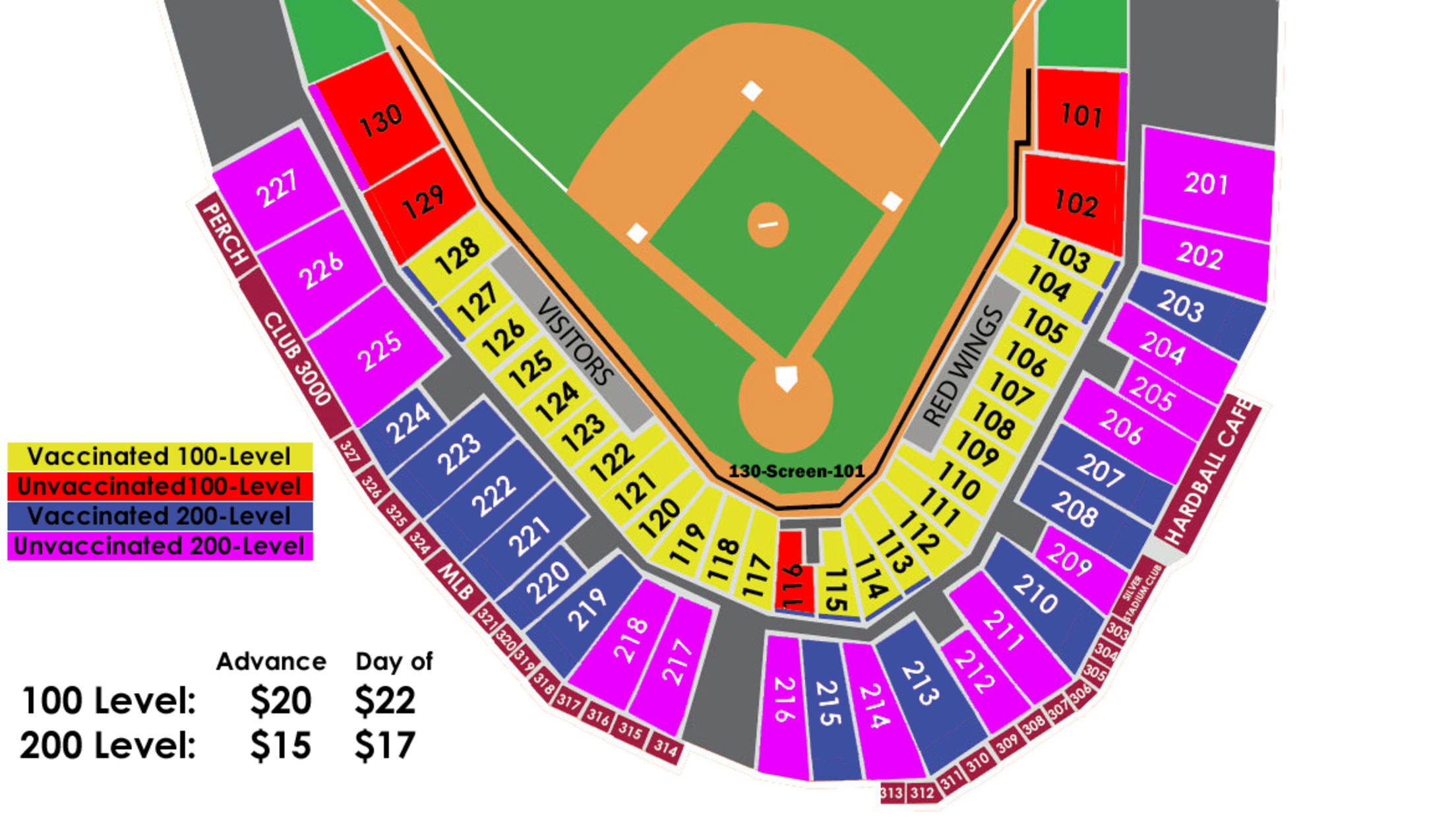 Vaccinated/Unvaccinated Sections
Vaccinated vs. Unvaccinated Sections?
Per New York State regulations, there will be vaccinated and unvaccinated sections at Frontier Field. In vaccinated sections, there will be NO social distancing or capacity restrictions and fans will be able to purchase as many tickets as they wish.
In order for a fan to sit in the vaccinated section, they must be fully vaccinated - meaning they received their final shot at least 14 days prior to the game date. Fans will be asked to show proof of vaccination, photo ID and their ticket at Frontier Field upon entry.
Kids 15 and under WILL be able to sit in the vaccinated sections if they are accompanied by fully vaccinated adults.
In unvaccinated sections, groups of fans will be spaced six feet apart and will only be able to purchase up to eight tickets together.
If fans are not fully vaccinated, they WILL NOT need to show proof of a negative test in order to enter Frontier Field.
The unvaccinated sections are: 101, 102, 116, 129, 130, 201, 202, 204, 205, 206, 209, 211, 212, 214, 216, 217, 218, 225, 226, 227. Click here for a seating map
Remaining sections in the ballpark will be vaccinated sections.
Protective Netting
Protective Netting: There is some amount of netting or screening in front of sections 101-130. Fans in these sections are still exposed to objects leaving the field of play, including bats and bat fragments, and thrown or batted balls; ticket holder assumes all risk of injury. For more information on netting or screening coverage and seating options, please contact the Red Wings ticket office at (585) 423-WING.
Youth/Seniors
There will be no discount on tickets for kids or seniors in 2021.
Children three years old and younger do not need a ticket unless they need a seat.
Accessible seating areas can be found throughout the park and are presented by All-American Home Care.
Military Tickets
Active military and veterans receive $2 off tickets in any seating section, when showing military ID at the Frontier Field Ticket Office. Note: This discount is not available online or by phone.
Plymouth Avenue Ticket Office
The Plymouth Avenue Ticket Office will NOT be open during the 2021 season.
Buyer Beware
*Please Note: "Scalpers" and ticket brokers are not recognized ticketing agents of the Rochester Red Wings or Frontier Field. If you purchase from a non-authorized person or outlet, you risk purchasing a lost, stolen or fake ticket that is not valid for admittance into Frontier Field, regardless of the event. The Rochester Red Wings employ scanning technology for admittance to events. Only valid tickets will scan to authorize entry into the ballpark for an event. Lost or stolen tickets may be deactivated and thus will not be valid for entry. Fake tickets will also not scan or be honored. Anyone who purchases tickets from a "scalper" or ticket broker does so at their own risk.
TicketReturn is the only ticketing company that the Red Wings and Frontier Field partner with, and the only outlet in which legitimate tickets at face-value base prices are guaranteed by the Red Wings. (Standard ticketing fees apply.) Beware of outlets that may overcharge or that may not provide legitimate tickets, as the Red Wings and Frontier Field have no affiliation with any other outlet and cannot be held responsible for fraudulent acts. When buying tickets online or by phone for Frontier Field events, TicketReturn.com (via RedWingsBaseball.com) is the only 100% safe option. When buying tickets in person, the Frontier Field Ticket Office is the only 100% safe option.