Aliotti's Hot Start Propels 'Hounds
RockHounds first baseman has reached base 10 consecutive times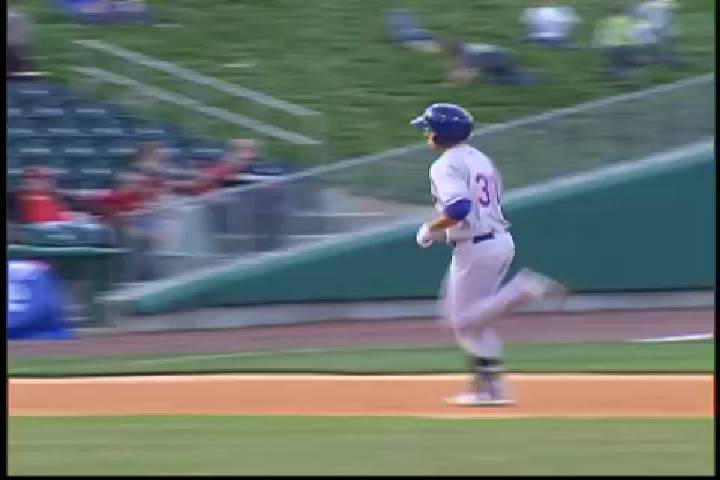 By Bob Hards / Midland RockHounds | April 6, 2013 6:37 AM ET
The Aaron Nieckula (nih-KOO-luh) "era" is only two games old, but the start has been impressive, to say the least.
The RockHounds defeated the Northwest Arkansas Naturals, 10-3, Friday night, and "Nuke's" team has won the first two games of the series (and season) by a combined score of 21-3.
The 'Hounds busted loose early Friday on a three-run home run off the bat of Anthony Aliotti. The RockHounds' first baseman is off to a remarkable start to the season, reaching base in each of his first 10 trips to the plate. Aliotti followed the homer with a pair of singles, a walk and a double. He is 6-for-6 (with a home run and two doubles) with four walks in his first two games.
Starter Zach Neal didn't go the required five innings to claim the win, but allowed only one hit and one walk while striking out two batters in 4.0 innings of work. Reliever Sergio Perez allowed Northwest Arkansas' first run of the series (and season) in the fifth, then left the game after an awkward follow-through. Paul Smyth was summoned and shut down the rally, earning the win with 2.2 innings of solid relief, allowing two hits and one (unearned) run with no walks and four whiffs.
Kibbles & Bits
- Chad Oberacker had a multi-RBI extra base hit for the second consecutive game, driving in two runs with a fourth-inning triple. He has a team-leading six RBI through the season's first two games. Anthony Aliotti (see above) has five ribbies over those two games.
- For the second consecutive game, eight-of-nine RockHounds hitters either scored a run, drove in a run … or both.
- In the two wins, 17 of the RockHounds' 22 hits have directly contributed to runs being scored.
- RockHounds pitching has a collective ERA of 1.00 through two games, with four walks and 14 strikeouts.
- The 'Hounds and Naturals conclude their three-game series Saturday, with the RockHounds then traveling to North Little Rock for a three-game set with the Arkansas Travelers (Sunday, Monday, and Tuesday).
Line Score R H E LOB
RockHounds 10 11 2 8
NW Arkansas Naturals 3 7 1 7
WP Paul Smyth (1-0, 0.00)
LP Josh Adam (0-1, 13.50)
Sv None
HR Anthony Aliotti (RockHounds, 1) With two on in the 1st (off Josh Adam)
Jeremy Barfield (RockHounds, 1) Solo in the 5th (off Josh Adam)
Next Game
Saturday, April 6 7:05 p.m. Radio at 7:00 p.m.
RockHounds at NW Arkansas
Arvest Ballpark in Springdale, Arkansas
Radio with Bob Hards on News Talk 550 KCRS
RockHounds Home Opener
Thursday, April 11 at 7:00 p.m.
vs. NW Arkansas Naturals (KC Royals Double-A Affiliate)
Tomorrow's Probable Starters
RockHounds (RH) Josh Bowman (Rated the Oakland A's # 30 prospect)
NW Arkansas (RH) Sugar Marimon
Aliotti Streak Reaches 10 This story was not subject to the approval of the National Association of Professional Baseball Leagues or its clubs.
View More