Rome Braves Announce 2020 Fireworks Dates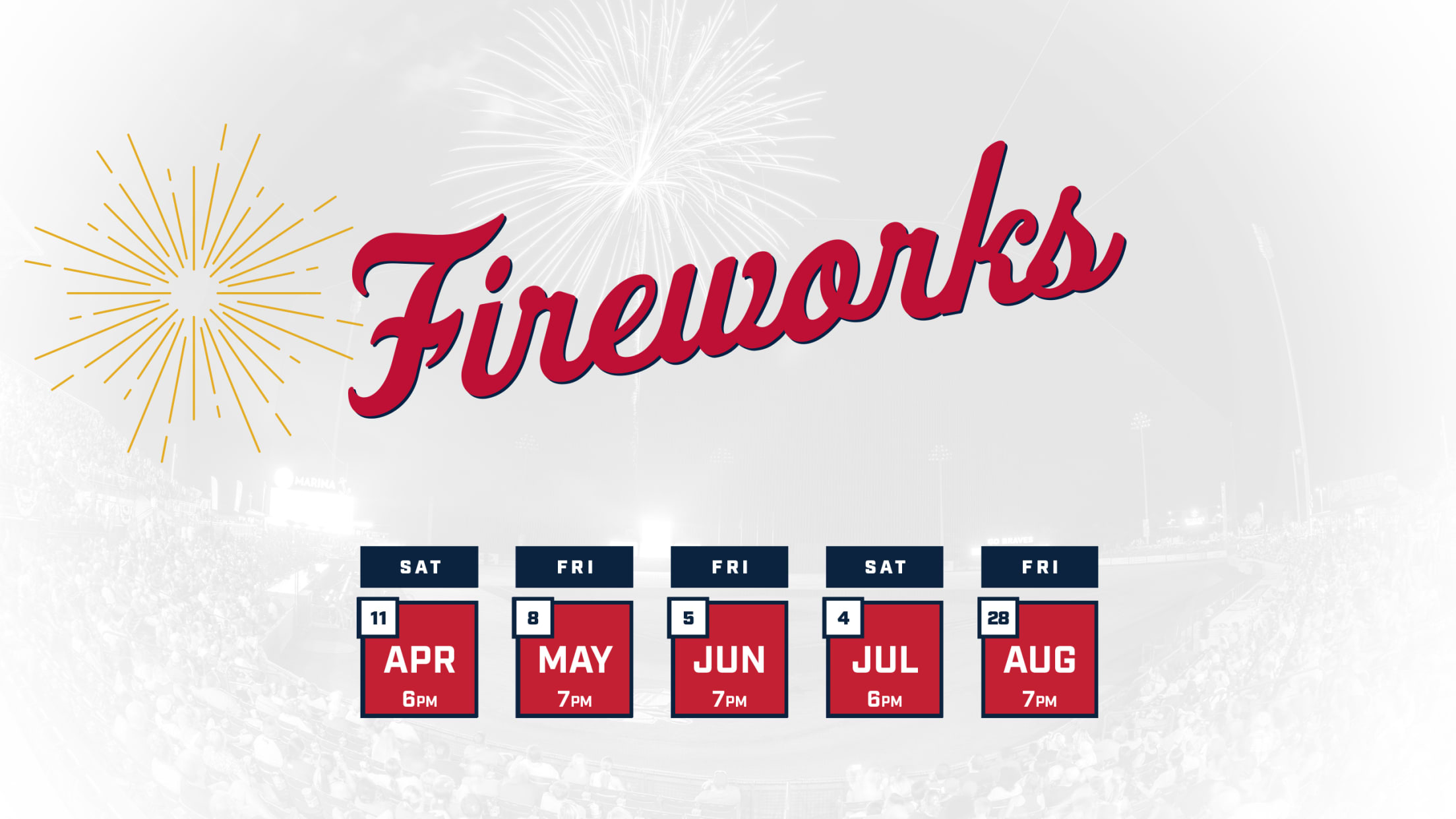 ROME, GA - The Rome Braves, Single-A affiliate of the Atlanta Braves, are proud to announce five post-game fireworks shows for the 2020 regular-season which begins Thursday, April 9 with a seven-game homestand against Hagerstown and Greenville. The upcoming season marks the Rome Braves 18th season at State Mutual Stadium.In
ROME, GA - The Rome Braves, Single-A affiliate of the Atlanta Braves, are proud to announce five post-game fireworks shows for the 2020 regular-season which begins Thursday, April 9 with a seven-game homestand against Hagerstown and Greenville. The upcoming season marks the Rome Braves 18th season at State Mutual Stadium.
In addition to the annual Independence Day Celebration and Fireworks Extravaganza on Saturday, July 4, the Braves will have monthly post-game fireworks this season. Those dates include Saturday, April 11; Friday, May 8; Friday, June 5; and Friday, August 28.
As previously announced in the fall, game times are available online now. Most Monday through Friday games are set for 7:00 PM starts. Saturdays will again start at 6:00 PM with Sunday game times set for 2:00 PM.
Education Day Games are set for 10:35 AM starts on Wednesday, April 15; Wednesday, May 6; Thursday, May 7 and Wednesday, May 20. A handful of 1:00 PM afternoon starts are scheduled throughout the summer months along with a couple of other exceptions.
The Braves also host the 2020 South Atlantic League All-Star Game Tuesday, June 23. More details surrounding the mid-summer classic festivities will be released soon. Full season ticket packages along with mini ticket plans are on sale now. Individual game tickets go on sale at a later, to-be-determined date, and the full promotional calendar will be announced soon.
About Rome Braves
The Rome Braves baseball team is the Single-A affiliate of the Atlanta Braves in the South Atlantic League. Since its inaugural 2003 season, the Rome Braves have captured two South Atlantic League Championships (2003 and 2016). Season tickets, mini ticket plans and individual game tickets are on sale now. Stop by State Mutual Stadium or call 706-378-5100 Monday through Friday, 9:00 AM to 5:00 PM. For the latest news and updates, visit www.romebraves.com or connect with @TheRomeBraves on Facebook, Twitter and Instagram.