Chiefs blank IronPigs in rubber match
Soto and De Aza homer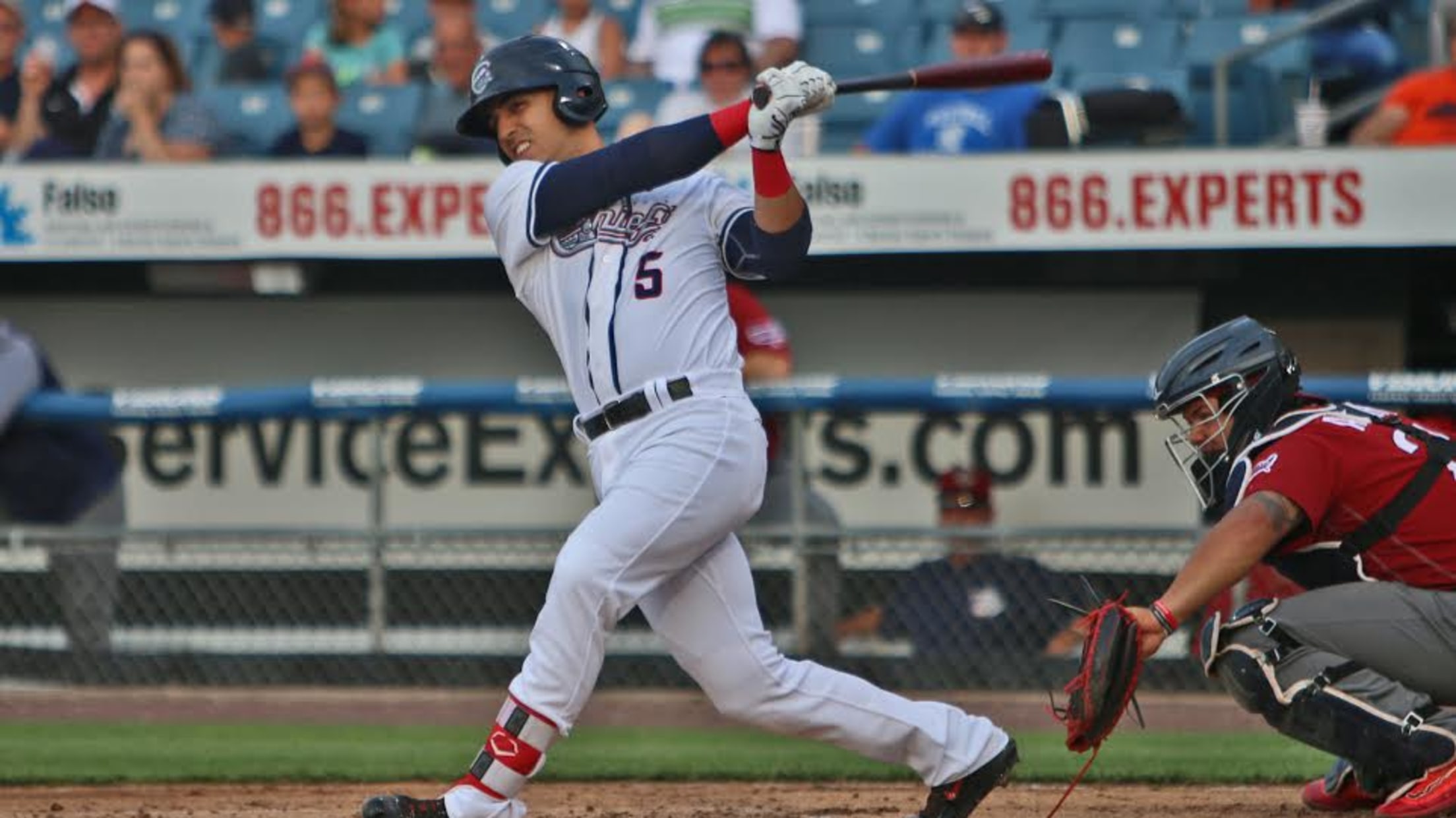 Neftali Soto smashed his fourth home run in 12 games on Thursday. (Danny Tripodi)
The Syracuse Chiefs blanked the Lehigh Valley IronPigs, 5-0, on Thursday night at NBT Bank Stadium. Two home runs, from the bats of Neftali Soto and Alejandro De Aza, powered the Chiefs over the IronPigs. In addition, Syracuse's pitchers struck out 11 batters, the third straight game the Chiefs garnered
The Syracuse Chiefs blanked the Lehigh Valley IronPigs, 5-0, on Thursday night at NBT Bank Stadium. Two home runs, from the bats of Neftali Soto and Alejandro De Aza, powered the Chiefs over the IronPigs. In addition, Syracuse's pitchers struck out 11 batters, the third straight game the Chiefs garnered at least ten strikeouts.
Edwin Jackson tossed five shutout innings in the win. The 33-year-old right hander has yet to give up a run in his four appearances with the Chiefs, in 17 and one-third innings.
The game was tied until two outs in the bottom of the fourth. Soto crushed a 1-0 pitch from Jake Thompson to left-center for his fourth homer of the year. The home run traveled an estimated 420 feet.
Soto then doubled in the bottom of the seventh to lead off the inning. De Aza followed with a blast to right-center for a two-run homer.
Syracuse (32-52) added to its lead in the bottom of the eighth. With one out, Andrew Stevenson singled off Edubray Ramos to center, extending his hit streak to seven. After a strikeout, pinch-hitter Clint Robinson hit the ball to deep center. Herlis Rodriguez struggled seeing the ball under the lights and it fell behind him. Robinson raced to third for his first triple in more than two years. Stevenson scored on the play. Soto continued his dominant performance with a single to center, plating Robinson and putting Syracuse up 5-0.
Austin Adams pitched two scoreless innings in the sixth and seventh. Trevor Gott tossed a scoreless eighth and Wander Suero closed the door with a perfect ninth.
Lehigh Valley (53-34) picked up seven hits but was unable to score a run. The IronPigs had totaled 14 runs in the two prior games. They have now lost seven of their last 11.
Syracuse returns to action Friday night at 7:05 for a three-game road trip against the Rochester Red Wings. A.J. Cole returns to the hill for the Chiefs while the left-handed David Hurlbut is on the mound for the Red Wings.