Chiefs combine for three-hitter to win finale, 2-0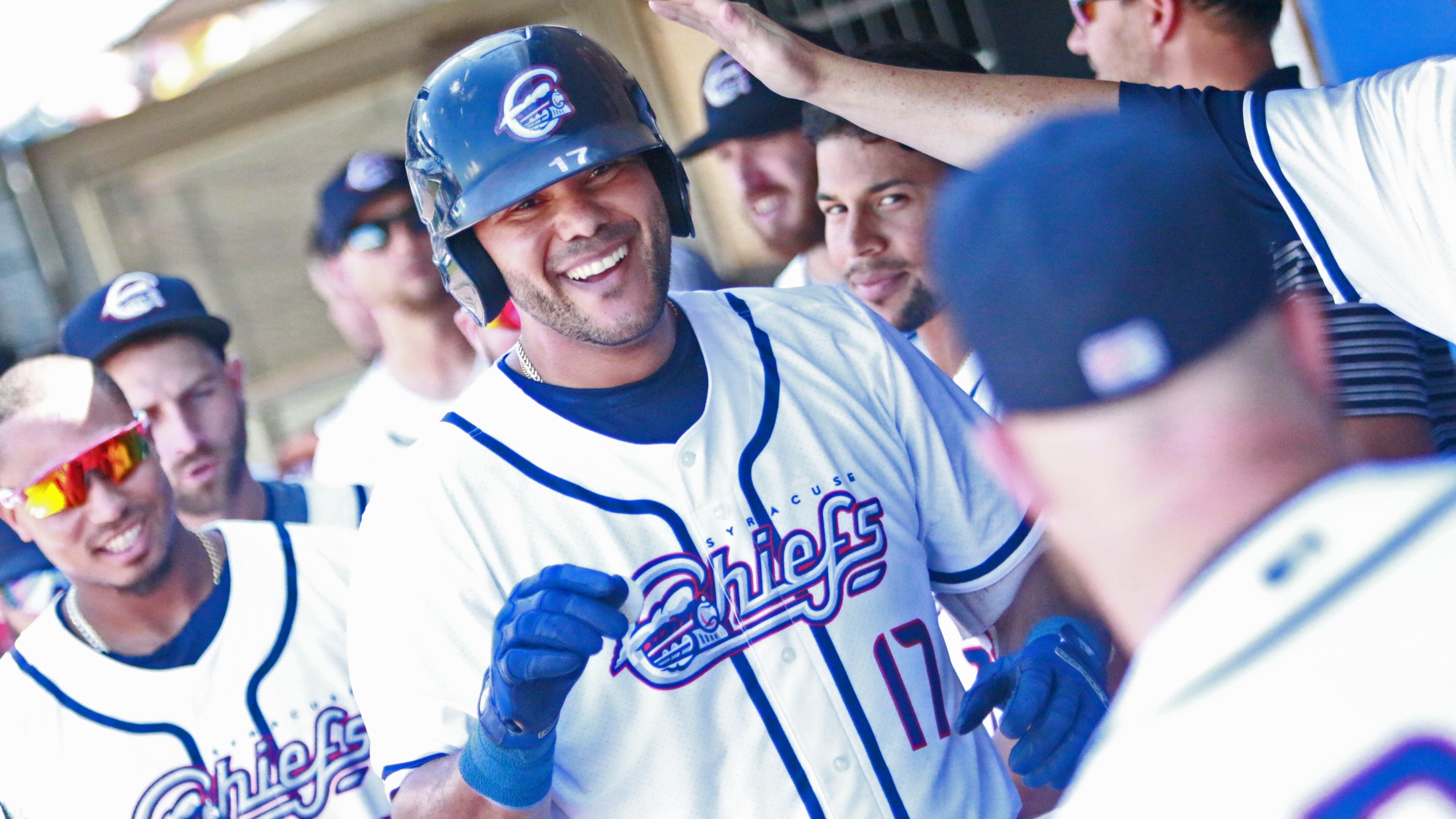 Chris Dominguez had two hits, including a home run on Monday afternoon in a Chiefs 2-0 win at NBT Bank Stadium. (Danny Tripodi)
Syracuse, NY (September 3, 2018) - The Syracuse Chiefs never trailed, combining stellar pitching performances with timely hitting en route to a 2-0 victory over the Buffalo Bisons in front of a crowd of more than 5,800 at NBT Bank Stadium in the 2018 season finale. The win completed a
Syracuse, NY (September 3, 2018) - The Syracuse Chiefs never trailed, combining stellar pitching performances with timely hitting en route to a 2-0 victory over the Buffalo Bisons in front of a crowd of more than 5,800 at NBT Bank Stadium in the 2018 season finale. The win completed a Chiefs sweep of the Bisons and was the seventh win for the Chiefs over the last nine games of the season.
Syracuse (64-76) scored both of the game's runs in the bottom of the third inning against Buffalo starting pitcher Shawn Morimando. Chris Dominguez led off with frame by taking the first pitch thrown to him and launching it over the right-center field wall for a solo home run that gave the Chiefs a 1-0 lead. Three batters later, with two outs, Victor Robles doubled to the left-field wall. Matt Reynolds followed with a hard-hit single up the middle that brought home Robles for a 2-0 Syracuse advantage.

Buffalo (61-77) was stymied by the Syracuse pitching staff. Chiefs starter Kyle McGowin retired 15 of the 16 batters he faced in five innings pitched with five strikeouts. Brady Dragmire then came in relief and allowed just one baserunner in two scoreless frames. Chris Smith pitched a one-two-three eighth inning, and Carlos Torres closed out the game with a scoreless ninth to secure the win for Syracuse.

The Chiefs finished the 2018 season with a 64-76 record, including a 23-14 record since July 27th: the second-best record in the International League since that date. Syracuse outhit opponents in 14 of the last 16 games, securing an 11-5 record over that stretch.