Syracuse opens season with 6-3 loss in ten innings to Pawtucket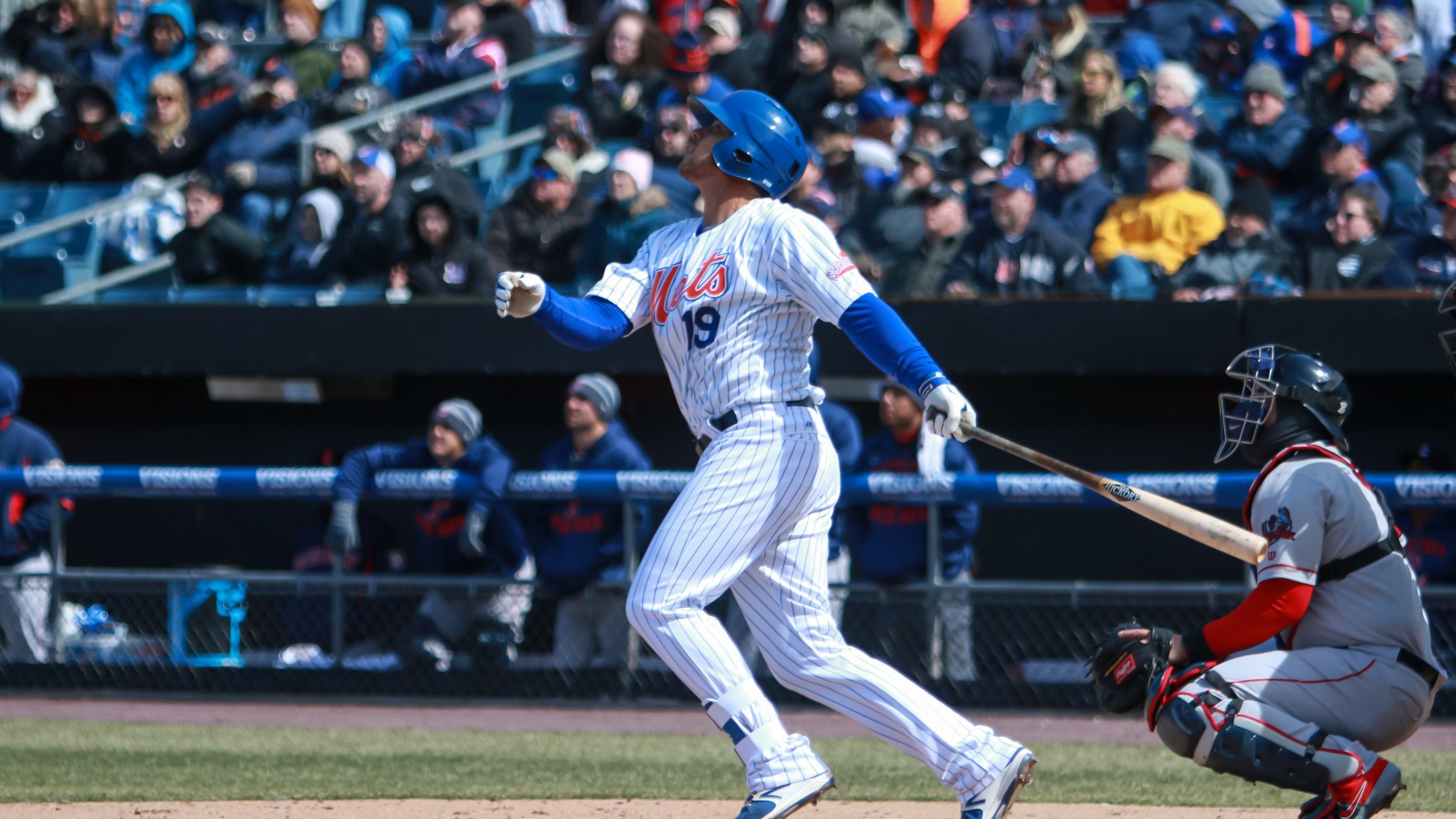 Syracuse, NY (April 4, 2018) - In front of an electric Opening Day crowd of 8,823 at NBT Bank Stadium on Thursday afternoon, the Syracuse Mets fell to the Pawtucket Red Sox in ten innings, 6-3. Travis Taijeron knocked in two runs for the Mets, while Rajai Davis and Adeiny
Syracuse, NY (April 4, 2018) - In front of an electric Opening Day crowd of 8,823 at NBT Bank Stadium on Thursday afternoon, the Syracuse Mets fell to the Pawtucket Red Sox in ten innings, 6-3. Travis Taijeron knocked in two runs for the Mets, while Rajai Davis and Adeiny Hechavarría both collected two hits and scored a run for Syracuse.
Pawtucket (1-0) struck first in the top of the fifth inning. With one out, Sandy León reached on an infield single. Mike Miller followed with a home run down the right-field line to give the Red Sox a 2-0 lead.
Syracuse (0-1) responded in the bottom of the fifth. Hechavarría doubled down the left-field line. With René Rivera bating, a wild pitch allowed Hechavarría to move to third base. After Rivera flied out to center field, David Thompson grounded out to shortstop, but Hechavarría scored on the play to trim the Pawtucket lead to one, 2-1.
The Mets took the lead in the sixth. Danny Espinosa pushed a bunt passed the pitcher's mound towards second base for a single. Rajai Davis then singled to put runners on first and second. Taijeron followed with a double to the left-center-field gap, scoring both Espinosa and Davis to put Syracuse in front, 3-2.
The Red Sox tied the game in the eighth. Michael Chavis led off the inning with a home run over the left-field wall, knotting the game, 3-3, which eventually forced extra innings.
In the top of the tenth, Gorkys Hernández started at second base, per the extra-inning rule that was implemented before last season. Michael Chavis singled to shallow left field. Two batters later, Bryce Bentz walked to load the bases. Tony Renda followed with a double to left-center field, clearing the bases for a 6-3 Pawtucket lead.
Syracuse and Pawtucket continue their four-game series on Friday afternoon. RHP Corey Oswalt is scheduled to throw for the Mets, while RHP Chandler Shepherd will be on the mound for the Red Sox. First pitch is scheduled for 1:05 p.m.