Syracuse snaps road losing skid with 7-1 win at Worcester on Wednesday night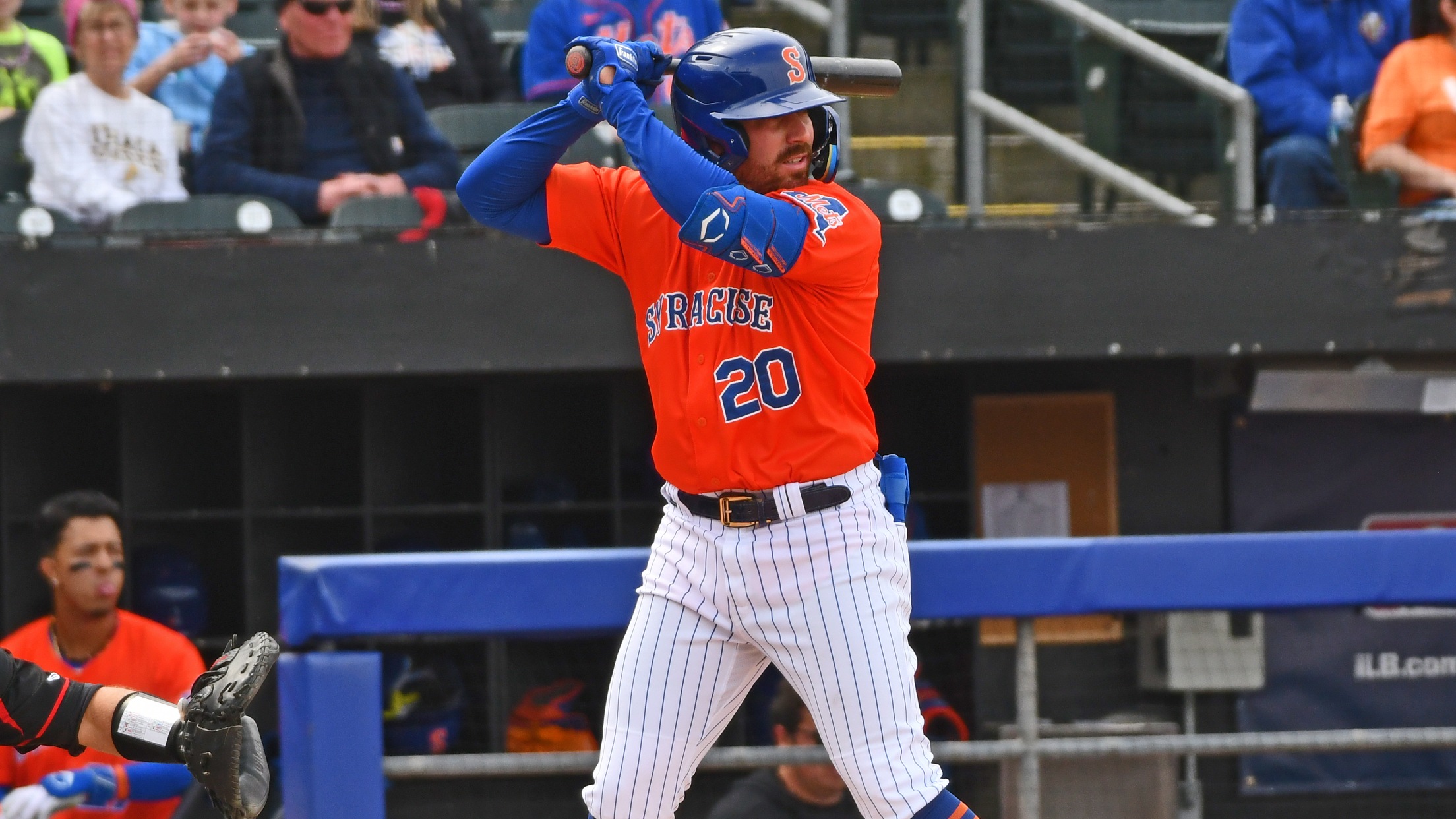 Danny Mendick had two hits and four RBIs for Syracuse on Wednesday night. (Rick Nelson)
Worcester, MA – The Syracuse Mets snapped a long losing skid away from NBT Bank Stadium on Wednesday night, leading the entire way en route to a 7-1 win over the Worcester Red Sox on a cloudy evening at Polar Park. The Mets had not won a road game since
Worcester, MA – The Syracuse Mets snapped a long losing skid away from NBT Bank Stadium on Wednesday night, leading the entire way en route to a 7-1 win over the Worcester Red Sox on a cloudy evening at Polar Park. The Mets had not won a road game since beating the Scranton/Wilkes-Barre RailRiders back on August 10th. Syracuse had lost its past ten road games prior to Wednesday night's triumph.
After striking out three times against Kyle Barraclough in a scoreless first inning, the Syracuse (56-80, 23-39) offense got to the Worcester (75-64, 36-28) starting pitcher in the second inning. First, Syracuse loaded up the bases with one out via two walks and a hit batter. Then, after a strikeout kept the bases loaded with two outs, Wyatt Young drew a bases-loaded walk to produce one run followed by a bases-clearing double courtesy of Danny Mendick that scored three runs and made it a 4-0 game.
The Mets tacked on again against Barraclough in the fourth, scoring two more times to make it a 6-0 game. Michael Perez singled to start the inning, followed by a Cedrola strikeout and a Jaylen Palmer single to put two runners on base with one out. That was followed by a Young flyout and a Mendick walk to load up the bases with two outs as Daniel Palka strode to the plate. The former WooSox got the job done, smacking a sharp single into right field to plate two runs and up the lead to 6-0. That would close the line on Barraclough, who ended with one of the more interesting starting pitching lines you'll ever see. On a positive note, Barraclough struck out eight batters and allowed only four hits in his three and two-thirds innings. On the negative side, Barraclough walked four batters and allowed six earned runs as the Syracuse Mets roared out to an early six-run advantage.
That would prove to be plenty of run support for José Chacin, who tossed a brilliant start for Syracuse. The 26-year-old right-handed hurler tossed six innings of one-run ball, allowing just five hits while striking out three and not walking anybody. Chacin equaled his longest start of the season on Wednesday night – he had gone six innings in three different outings with Binghamton in Double-A earlier this campaign. It was the longest Triple-A start in Chacin's professional career. In his three starts with Syracuse this season, Chacin has allowed just four earned runs in 15 and one-third innings with 12 hits allowed, ten strikeouts, and only three walks in starts on the mound for Syracuse.
The Mets bullpen finished the job from there. Nate Lavender tossed a scoreless seventh, William Woods kept the slate clean in the eighth, and then Eric Orze finished the job in the ninth by retiring the side in order. The tag team of Lavender, Woods, and Orze allowed just one total baserunner in the final three innings. They combined to allow just one hit in the final three frames with no walks and five strikeouts.
Syracuse added a little insurance in the ninth when Jaylen Palmer walked, stole his way to second, moved to third on a groundout, and scored on yet another RBI hit from Danny Mendick. Mendick's RBI single plated Palmer for a 7-1 advantage and capped off an excellent first two games this week for the Rochester native. Mendick is 4-for-7 in the first two games of the series with three walks and four runs driven in. He also has hits in eight consecutive games.
Syracuse continues its final trip away from home during the 2023 season on Thursday against the Worcester Red Sox. The third game of the series is slated for a 6:45 start on Thursday evening with right-hander Mike Vasil scheduled to take the mound for the Mets against left-hander Brandon Walter for the WooSox.