2021 Tarpons Coaching Staff Announced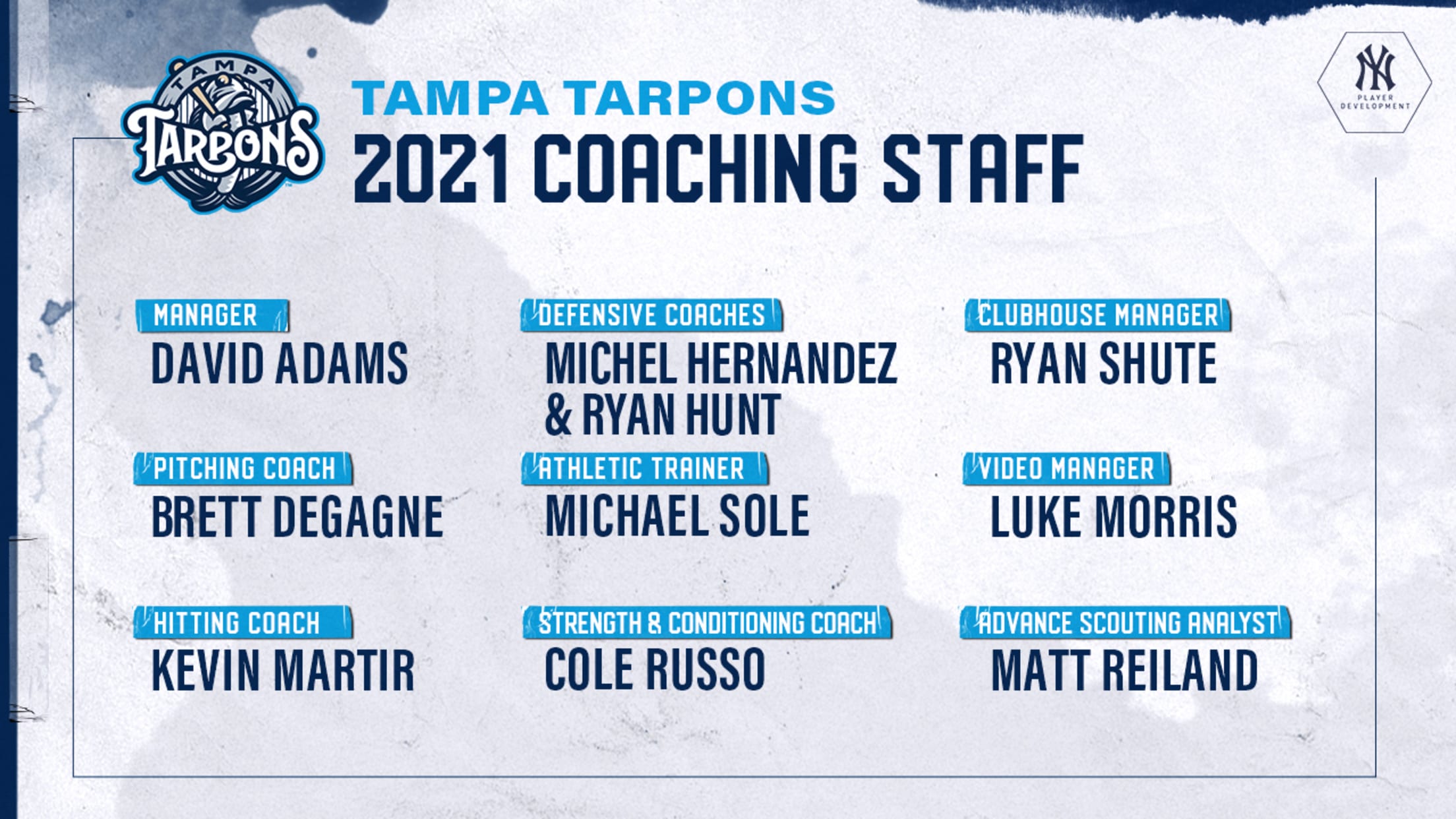 Tampa, Fla. - The New York Yankees have officially announced the 2021 Tampa Tarpons Field Staff. David Adams will manage the club and will be joined by Pitching Coach Brett DeGagne, Hitting Coach Kevin Martir, Defensive Coach Michel Hernández, Defensive Coach Ryan Hunt, Trainer Michael Sole* and Strength/Conditioning Coach Cole
Tampa, Fla. - The New York Yankees have officially announced the 2021 Tampa Tarpons Field Staff. David Adams will manage the club and will be joined by Pitching Coach Brett DeGagne, Hitting Coach Kevin Martir, Defensive Coach Michel Hernández, Defensive Coach **Ryan Hunt, Trainer Michael Sole and Strength/Conditioning Coach Cole Russo.
David Adams joins the Tarpons after managing short-season Single-A Staten Island in 2019 and the GCL Yankees West in 2018. The 33-year-old was set to manage Tampa in 2020 before the season was cancelled due to the global pandemic.
Selected by the Yankees in the third round of the 2008 First-Year Player Draft, Adams spent nine minor league seasons with the Yankees (2008-13), Orioles (2014), Marlins (2015) and Blue Jays (2016), batting .282 (707-for-2507) with 347R, 167 doubles, 22 triples, 45HR and 341RBI in 701 games. In 2013, Adams appeared in 43 Major League games for New York.
Adams played for the Tampa Yankees in 2009 and 2011, taking home a Florida State League Championship in 2009. The Margate, Florida native played collegiately at the University of Virginia, where he was named to the Baseball America Freshman All-America Second Team and a Louisville Slugger Freshman All-American.
Brett DeGagne ("dee-GAHN-yay") joined the Yankees organization in 2020 and was originally slated to be the pitching coach for the DSL Yankees. Since 2016, DeGagne served as a collegiate pitching coach at North Iowa Area Community College (2018-19), the Bismarck Larks of the collegiate Northwoods League (2018) and St. Cloud State (Minn.) University (2016-18). The 28-year-old began his career as a coach at Sauk Rapids (Minn.) H.S. in 2012 before earning a bachelor's degree from the University of North Dakota in 2016 and a master's in educational and administrative leadership from St. Cloud State in 2018.
Kevin Martir, 27, also joined the Yankees organization in 2020, originally chosen to be the hitting coach at Rookie-level Pulaski. In 2019, Martir made his coaching debut as a development coach for the GCL Phillies East, serving on the same staff as former Yankees 3B Charlie Hayes. The Brooklyn, New York native was selected by Houston in the 18th round of the 2015 First-Year Player Draft out of the University of Maryland (2013-15) and played two seasons in the Astros organization. In his junior year with the Terrapins, Martir was a D1baseball.com Third-Team All-American and was named a semifinalist for the Johnny Bench Award, given annually to the nation's top catcher.
Michel Hern_ández_, 42, enters his ninth season as a coach in the Yankees organization, returning to the Tarpons after spending the last four seasons with Single-A Tampa, two as catching coach
(2018-19) and two as bullpen coach (2016-17). In 2015, Hernández served as defensive coach for Double-A Trenton. He was originally signed by the Yankees as a non-drafted free agent in 1998. Hernández played in 45 games in parts of three seasons in the Majors with the Yankees (2003) and Tampa Bay (2008-09), combining to hit .237 with 1HR and 12RBI. In 15 minor league seasons with the Yankees, Philadelphia, San Diego, St. Louis, Tampa Bay, Pittsburgh, Baltimore and Cleveland organizations, he hit a combined .257 with 35HR and 340RBI in 997 games.
Ryan Hunt, 24, enters his third season in the Yankees organization, his first as Tampa's defensive coach. Hunt served in the same role at Rookie-level Pulaski in 2019. He began his coaching career as an assistant at his alma mater, University of Charleston (W.Va.), in 2019. Hunt played infield for three seasons at Division II Charleston (2016-18) after his freshman season (2015) at the University of South Carolina-Aiken. He earned his bachelor's degree in accounting from Charleston and graduated in 2014 from Archbishop Spalding (Md.) H.S.
Michael Sole begins his first season as Tampa's trainer after serving in the same role with Single-A Charleston (2017-20) and short-season, Single-A Staten Island (2016). In 2017, Sole received the South Atlantic League Athletic Trainer of the Year Award. He also earned his Strength and Conditioning Specialist certification (CSCS) that same year. Sole interned with Staten Island in 2013 and previously worked as an athletic trainer for Florida Atlantic University
while he pursued his master's in exercise science and health promotion. While at FAU, he primarily worked with men's soccer, men's and women's tennis and beach volleyball. Sole graduated from Rowan (N.J.) University with a B.S. in athletic training in 2014.
Cole Russo starts his first season with Tampa and second overall with the Yankees. Originally from Arizona and a graduate of Arizona State University, Russo completed internships with University of Arizona Football, EXOS, and Cressey Sports Performance. He continued as a coach at EXOS in Phoenix, Arizona for one year before working at Cressey Sports Performance in Hudson, Massachusetts for two years. Russo currently resides in Tampa.
Ryan Shute will serve as the Clubhouse Manager; Luke Morris will be the Video Manager and Matt Reiland is slated to be the Advanced Scouting Analyst.
The 2021 season will begin in Tampa when the Tarpons host the Dunedin Blue Jays on Tuesday, May 4th at George M. Steinbrenner Field. The Tampa Tarpons are the Low Single-A Affiliate of the New York Yankees. For more information, contact the Tampa Tarpons office at (813) 673-3055 or visit www.tarponsbaseball.com.