Bies, Otto, Sands Selected for Arizona Fall League
Wagner, Stowers to Also Represent Yankees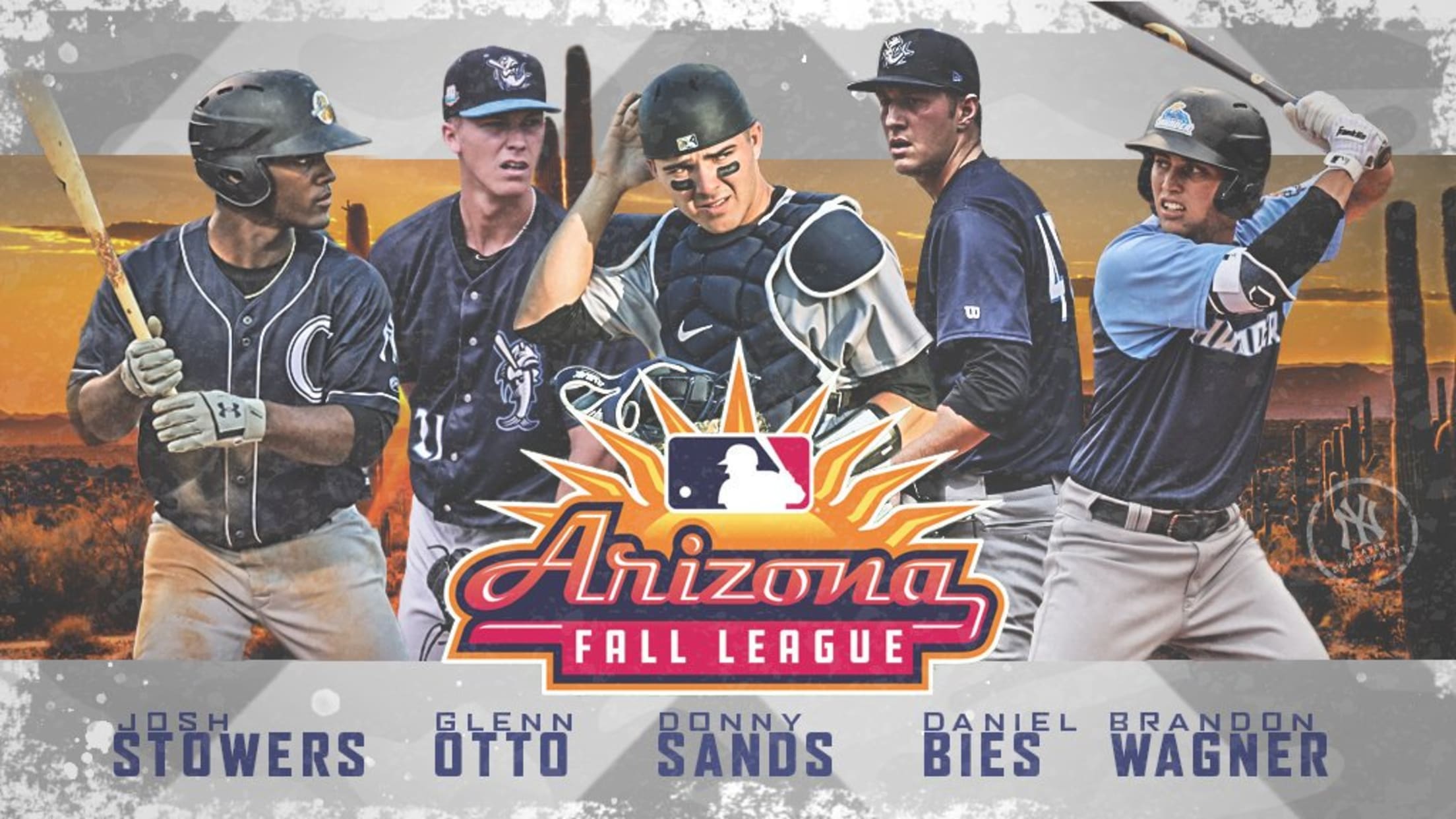 TAMPA, Fla. - Arizona Fall League rosters were announced on Wednesday and a trio of 2019 Tampa Tarpons have been selected to play. RHP Daniel Bies , RHP Glenn Otto and C Donny Sands will be joined by 1B Brandon Wagner and OF Josh Stowers as representatives of the New
TAMPA, Fla. - Arizona Fall League rosters were announced on Wednesday and a trio of 2019 Tampa Tarpons have been selected to play. RHP Daniel Bies , RHP Glenn Otto and C Donny Sands will be joined by 1B Brandon Wagner and OF Josh Stowers as representatives of the New York Yankees on the Surprise Saguaros.
Bies began his season with Single-A Charleston, going 2-2 with four saves and a 2.86 ERA (69.1IP, 58H, 26R/22ER, 18BB, 78SO) in 17 games (six starts) before earning a promotion to Tampa on 7/20. The six-foot-eight right-hander also made a cameo appearance with Triple-A Scranton/Wilkes-Barre on 8/2, allowing 2R(1ER) in 3.0IP (2H, 3BB, 3K) in relief vs. Lehigh Valley
In six games (two starts) with the Tarpons, Bies was 1-1 with a 5.03 ERA (19.2IP, 22H, 15R/11ER, 12BB, 24SO). A seventh round pick out of Gonzaga in 2018, Bies finished his season by holding opponents to 3ER over his last 16.0IP with Tampa.
Otto opened the season ranked No. 26 among Yankees prospects by MLB Pipeline and made 14 appearances (12 starts) with the Tarpons, going 3-3 with a 3.20 ERA (56.1IP, 54H, 24R/20ER, 33BB, 68SO). The 23-year-old also pitched in three rehab games in the Gulf Coast League.
The six-foot-five right-hander struggled to stay healthy, landing on the injured list twice during the regular season. A fifth-round pick in 2017 out of Rice University, Otto will be able to log more innings in the Arizona Fall League.
After spending much of 2018 on the disabled list, Sands remained healthy for most of the 2019 season with Tampa. The 23-year-old batted .221 (50-for-226) with 18R, 12 doubles, 1 triple, 2HR, 22RBI, 18BB and 51SO in 68 games. Sands finished the regular season by batting .259 (14-for-54) in August and will look to continue improving at the plate in the fall league.
Following an all-star season with the Tarpons in 2018, Wagner has shown regression in Double-A Trenton this year, batting .178 (68-for-382) with 42R, 12 doubles, 2 triples, 8HR, 37RBI, 48BB and 142SO in 115 games. The 24-year-old Princeton, New Jersey native will look to finish his 2019 strong with the Saguaros.
The Yankees acquired Stowers in a trade with Seattle this past January and the 22-year-old was named a South Atlantic League Mid-Season All-Star this season with Charleston. Despite two stints on the injured list, Stowers has played 103 games and is batting .272/.383/.398 (104-for-382) with 59R, 23 doubles, 2 triples, 7HR, 40RBI, 61BB, 122SO and 34SB (15CS).
A second-round pick by the Mariners out of Louisville in 2018, Stowers is currently batting .355 (33-for-93) in August and will look to continue his hot-hitting this fall.
The 2019 Arizona Fall League opens on Wednesday, September 18 and concludes with the Championship Game on Saturday, October 26 at Salt Rivers Fields at Talking Stick. The 14th annual "Fall Stars Game" will be held on Saturday, October 12, also at Salt Rivers Fields.