Cruisin' Carela pitches Tarpons past Flying Tigers, 2-1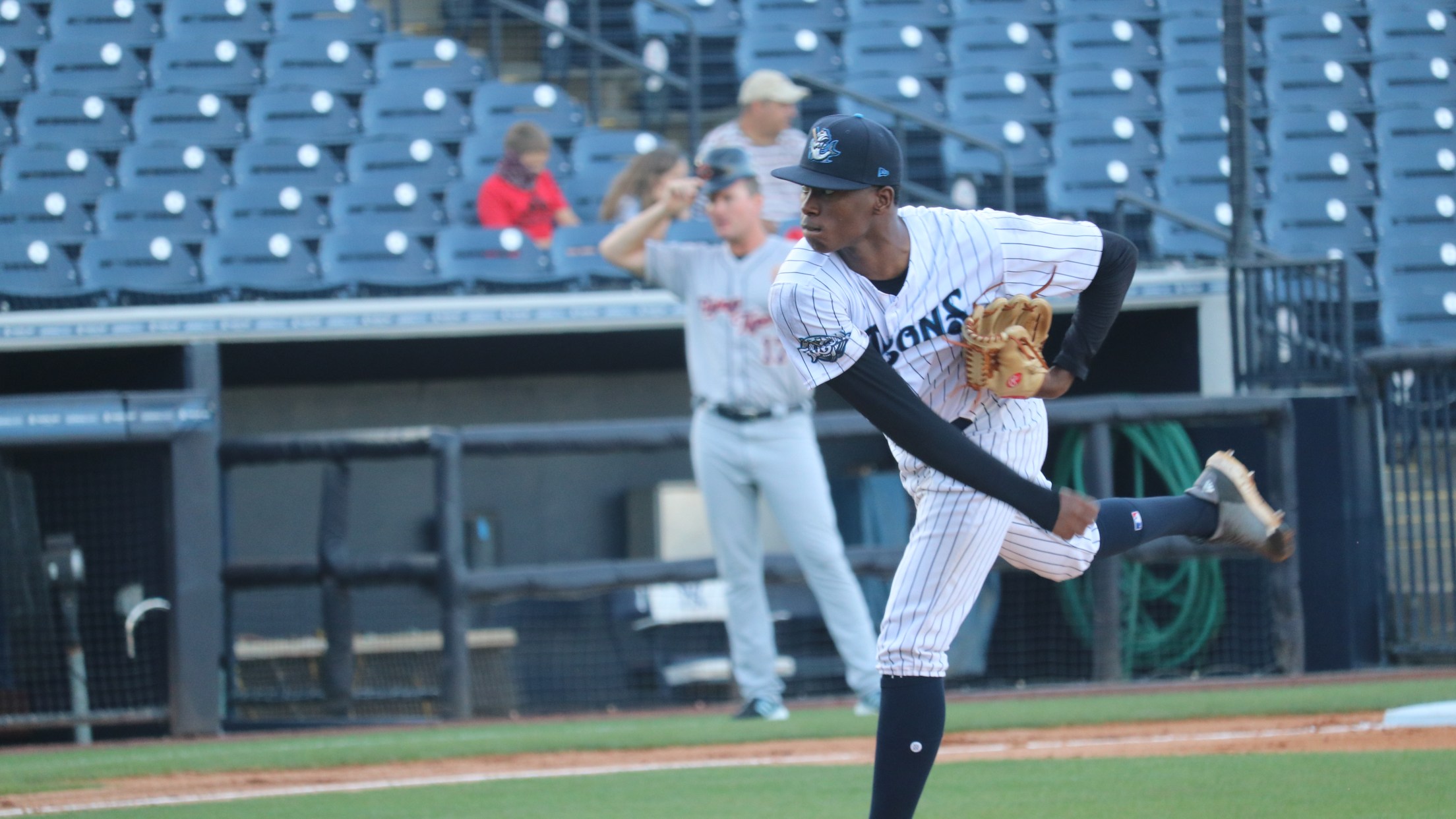 RHP Juan Carela. (Tampa Tarpons.)
TAMPA, Fla. – The Tampa Tarpons made it look easy – picking up their second straight victory against the Lakeland Flying Tigers, 2-1. Unlike yesterday's power surge, the Tarpons had to rely on their pitching staff to secure the win Thursday night at George M. Steinbrenner Field. RHP Juan Carela
TAMPA, Fla. – The Tampa Tarpons made it look easy – picking up their second straight victory against the Lakeland Flying Tigers, 2-1.
Unlike yesterday's power surge, the Tarpons had to rely on their pitching staff to secure the win Thursday night at George M. Steinbrenner Field. RHP Juan Carela and RHP Carlos Gomez combined for 11 strikeouts and held the Flying Tigers' third ranked offense to just two total hits. Red-hot slugger 1B Anthony Garcia provided the only offense for the Tarpons with a 2-run homer in the sixth.
Carela (1-0) toed the rubber for the Tarpons and made his third start of the season. Carela, who has held batters to a .120 average coming into Thursday night's tilt, continued tormenting opposing hitters in the winning effort. Over six scoreless innings, Carela allowed only one hit and one walk while striking out five Flying Tigers. His spectacular outing was his longest of the season and lowered his ERA to an eye-popping 0.71.
Not too much happened early on – the Tarpons loaded the bases in the second inning but were unable to put any runs on the board. 3B Marcos Cabrera singled on a line drive to left after Garcia struck out swinging. Up next, LF Alan Mejia stepped up to the plate during his Tarpons' debut and singled on the very first pitch he saw. DH Anthony Seigler walked on four pitches, but RF Raimfer Salinas was unable to capitalize on the situation and grounded into a double play to end the inning.
Fast forward to the bottom of the sixth inning where SS Alexander Vargas opened the frame with a leadoff single. CF Jasson Dominguez swapped places with Vargas after a fielder's choice to second base, and C Antonio Gomez flied out to right field. With two outs, Garcia launched a no-doubt 2-run homer to deep right-center to put the Tarpons on top, 2-0.
Gomez relieved Carela of his duties in the seventh and finished the game with three strong innings en route to his first save of the year. Gomez' sole blemish came in the top of the eighth, as Carlos Mendoza drilled a line drive RBI-single to Mejia in left field.
The Tarpons and Flying Tigers return to action tomorrow night for game four of a five game series. The Tarpons lead the series 2-1, and the overall season series 4-2. RHP Tyrone Yulie is scheduled to make the start, with the first pitch thrown at 6:30 PM EST.