Dunedin Stuns Tampa with Four-Run Ninth in 5-3 Final
Hicks 0-for-4 in First Rehab Game; Plays Eight Innings in CF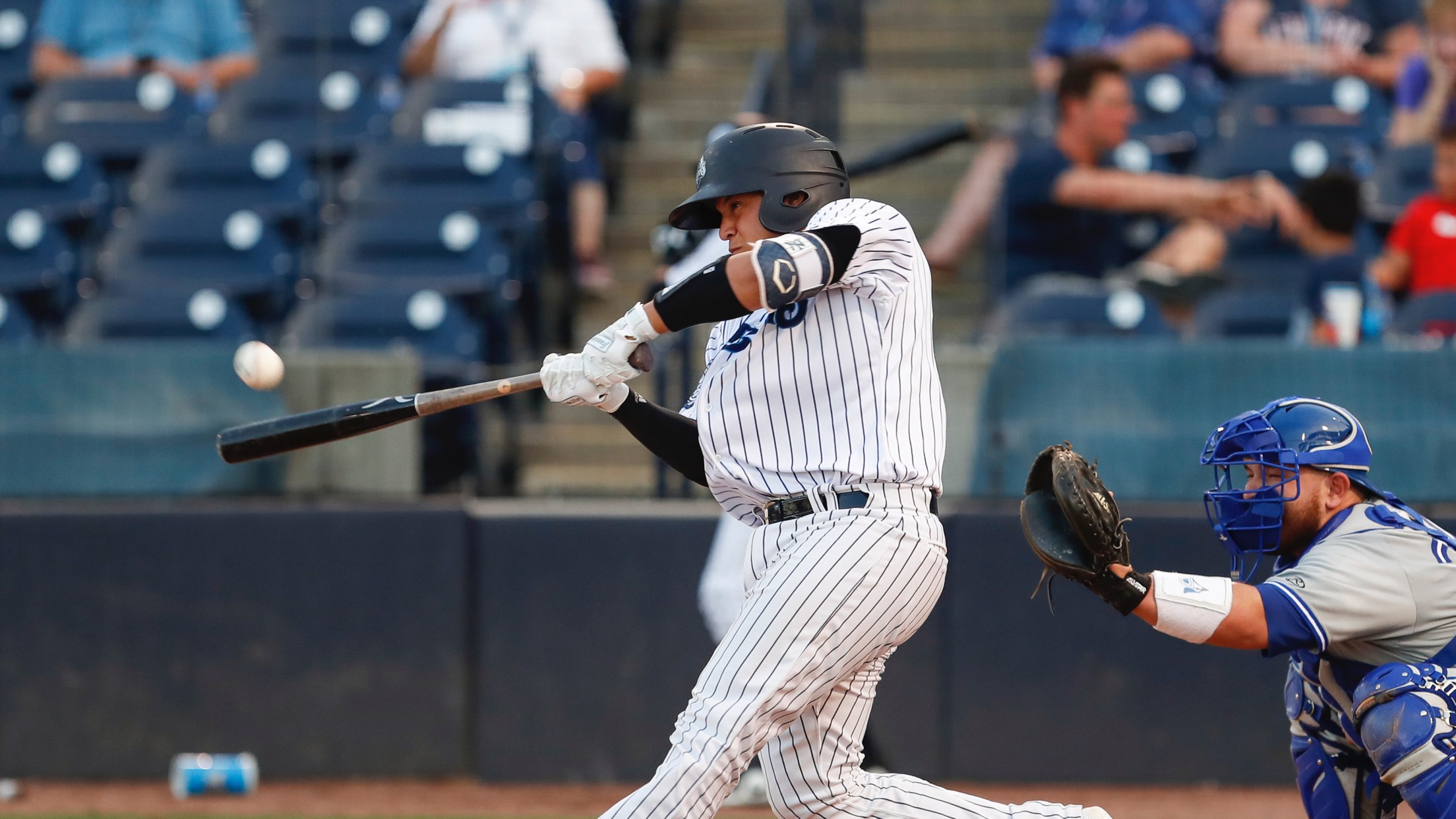 Jason Lopez (1-for-3, 2B, Sac-F, RBI, R) leads off the bottom of the sixth inning with a double in Tampa's 5-3 loss to Dunedin on Monday night at George M. Steinbrenner Field. (Mark LoMoglio)
TAMPA, Fla. - The Tampa Tarpons brought a 3-1 lead into the ninth, but the Dunedin Blue Jays, down to their final out, rallied for four runs and went on to win, 5-3, in the series-opener on Monday night at George M. Steinbrenner Field.Dunedin (18-11) starter Justin Dillon retired the
TAMPA, Fla. - The Tampa Tarpons brought a 3-1 lead into the ninth, but the Dunedin Blue Jays, down to their final out, rallied for four runs and went on to win, 5-3, in the series-opener on Monday night at George M. Steinbrenner Field.
Dunedin (18-11) starter Justin Dillon retired the first 15 batters he faced, taking a perfect game into the sixth before Jason Lopez ripped a leadoff double to left. Lopez advanced to third on a sacrifice bunt by Welfrin Mateo before scoring on a base hit by Max Burt , as Tampa (14-17) broke the scoreless tie.
One out later, Pablo Olivares and Oswaldo Cabrera lined back-to-back base hits to right, with Burt scoring on the single by Cabrera for a 2-0 Tarpons lead.
Dillon allowed two earned runs on four hits in five and two-third innings, walking none while striking out four on 76 pitches (57 strikes).
RHP Jefry Valdez made his first start since his professional debut with the DSL Rockies on August 20, 2015, as scheduled starter Clarke Schmidt was placed on the 7-Day Injured List prior to the game. Valdez scattered three hits and two walks while tallying a season-high four strikeouts in three and a third scoreless innings, throwing 51 pitches (27 strikes).
RHP Bryan Blanton took the baton with one out in the fourth and retired the first six batters he faced before stranding a walk and a single in the sixth. Blanton returned for the seventh and Samad Taylor lined a one-out double to right.
One out later, RHP Hobie Harris entered and Taylor took third on an infield single by Kevin Vicuña before scoring on a passed ball by Lopez, cutting the lead to 2-1. Norberto Obeso followed with a walk before Harris struck out Cullen Large to strand a pair.
Isiah Gilliam hit a leadoff double off RHP Kyle Weatherly in the home half of the seventh and tagged up to third on a deep flyout by Steven Sensley before scoring on a sacrifice fly by Lopez, restoring a two-run lead for the Tarpons.
Harris (L, 0-1) stranded a leadoff double in the eighth and returned for the ninth, getting a flyout by Taylor before hitting Hunter Steinmetz with a pitch. Vicuna grounded out for the second out, but Obeso kept the game alive with a single to right, scoring Steinmetz. Cullen followed with a single up the middle, and Harris walked Ryan Noda, loading the bases.
RHP Matt Wivinis (BS, 1) entered for the save, but Alejandro Kirk delivered a bases-clearing double to left-centerfield, giving the Blue Jays a 5-3 lead.
After tossing a perfect eighth, RHP William Ouellette (W, 1-0) returned for the bottom of the ninth. A hit-by-pitch and catcher's interference put the tying runs on base, but Ouellette struck out Lopez to end the game.
RHP Shawn Semple (0-1, 7.20) will make the start against RHP Turner Larkins (3-1, 1.57) when the series continues on Tuesday at 6:30 p.m. Live play-by-play of the action will be available on the Tampa Tarpons Baseball Network.
On "2-for-1 Tuesday," fans can get buy-one, get-one free deals on lower reserved tickets, hot dogs, burgers, fries and nachos from 5:30-7:30 p.m. (2-for-1 tickets may only be purchased from the George M. Steinbrenner Field Box Office.