Palma's Pinch-Hit Homer Leads Tarpons to Comeback Win in Doubleheader Split
Florial Delivers Game-Winning Hit in Extras in Game One; Blue Jays Cruise in Game Two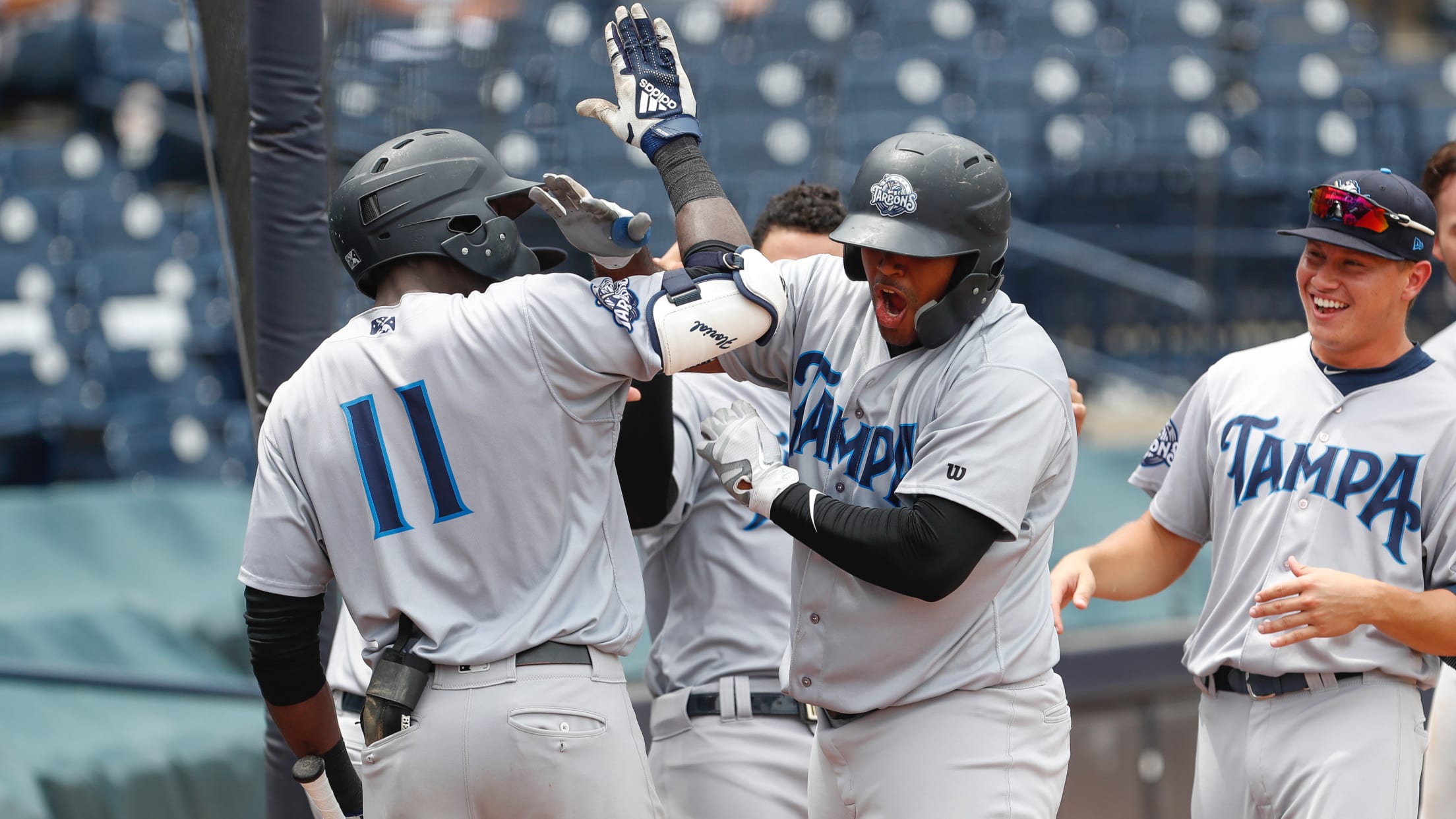 Estevan Florial (#11) and Diego Castillo (R) celebrate after Alexander Palma (C) delivered a go-ahead, pinch-hit, two-out, three-run homer in the 7th in Tampa's 5-4 win in Game One of Sunday's doubleheader vs. Dunedin at George M. Steinbrenner Field. (Mark LoMoglio)
TAMPA, Fla. - Down to their final out in Game One, the Tarpons got a two-out, pinch-hit three-run homer by Alexander Palma that led to a 5-4 win in eight innings before the Blue Jays ran away with a 10-2 victory in Game Two as Tampa and Dunedin split a
TAMPA, Fla. - Down to their final out in Game One, the Tarpons got a two-out, pinch-hit three-run homer by Alexander Palma that led to a 5-4 win in eight innings before the Blue Jays ran away with a 10-2 victory in Game Two as Tampa and Dunedin split a doubleheader on Sunday afternoon at George M. Steinbrenner Field.
Pablo Olivares singled, stole second and scored on a base hit by Estevan Florial , giving the Tarpons a 1-0 lead against major league veteran RHP Clay Buccholz. The 35-year-old tallied seven strikeouts while holding Tampa to one earned run on four hits in four innings, walking none while throwing 46 of 67 pitches for strikes in his rehab start (shoulder inflammation).
The Blue Jays quickly answered with a game-tying solo homer by Alejandro Kirk off of RHP Janson Junk . Dunedin (32-27, 73-51) took the lead when Kevin Vicuña tripled and scored on a go-ahead single by Norberto Obeso in the fourth.
A pair of singles by Kirk and Kacy Clemens put runners on the corners with one out in the fifth. Tampa (29-28, 57-66) turned to the bullpen and Vicuña greeted RHP Kyle Zurak with an RBI single, scoring Kirk to give the Blue Jays a 3-1 lead. Zurak induced a double-play groundball from Obeso to end the frame, limiting the damage.
Junk allowed three earned runs on seven hits in four and a third innings, walking two while striking out five on 77 pitches (49 strikes).
RHP Kyle Johnston relieved Buccholz in the fifth and retired seven-straight batters before Donny Sands hit a one-out single in the seventh. Steven Sensley worked a walk, putting the tying runs on base.
After a strikeout by Leonardo Molina , manager Aaron Holbert brought in Palma to pinch-hit for Kyle Gray . The 23-year-old drove an 0-1 pitch over the wall in right-center to put Tampa ahead, 4-3. It was Palma's 10th home run overall and sixth since rejoining the Tarpons.
Demi Orimoloye singled and stole second to begin the bottom of the seventh and scored, one out later, on a base hit by Vicuña to tie the game at 4-4. Zurak (W, 5-4) then struck out Obeso, and Vicuña was caught stealing for a double-play, sending the game to extras.
Pablo Olivares took second base as Tampa's extra-inning runner in the top of the eighth and scored when Florial pulled a leadoff single into right field. Florial was then doubled-off first on a bunt pop-out by Oswaldo Cabrera , and Mickey Gasper grounded out to end the frame.
RHP Matt Wivinis relieved Zurak in the bottom of the eighth, and Reggie Pruitt entered as a pinch-runner for Obeso as the extra-inning runner at second for Dunedin. Pruitt took third on a sacrifice bunt by Samad Taylor, but Wivinis (SV, 6) struck out Nick Podkul and got a flyout by Chavez Young to end the game.
RHP Daniel Bies got the nod for Tampa in Game Two and struggled with command. After working around a pair of base runners in the first, Bies issued back-to-back one-out walks in the second, and Taylor followed with an RBI single to open the scoring. Bies struck out the next two batters to escape further trouble.
RHP Simeon Woods Richardson retired the first five batters he faced before Jason Lopez hit a ground-rule double with two outs in the second. Sensley followed with a walk before Woods Richardson got Molina to ground into a force-out to end the frame.
Bies walked two more batters to begin the third but got a flyout and a double-play to work out of the inning unscathed. In the fourth, Vicuña reached on an error, and Taylor walked before RHP Aaron McGarity relieved Bies, making his Tarpons debut.
One out later, Pruitt and Young reached on back-to-back RBI infield singles, and a third run scored as Ryan Noda reached on a fielding error before McGarity struck out Orimoloye to end the inning.
Bies (L, 0-1) allowed three runs (one earned) on two hits in three and a third innings, allowing a career-high six walks while striking out four on 82 pitches (45 strikes).
Woods Richardson stranded a one-out double by Castillo in the third and got Gasper to ground into a double-play to face the minimum in the fourth before Sensley doubled and scored on a base hit by Molina in the fifth, cutting the deficit to 4-1.
Dunedin began the bottom of the fifth with a walk by Christopher Bec and a single by Clemens before RHP Jefry Valdez relieved McGarity. The runners advanced to second and third on a groundout, and Taylor drove in Bec with a sacrifice fly before Valdez got Jesus Navarro to ground out to end the frame.
Woods Richardson (W, 2-2) held the Tarpons to one earned run on five hits in five innings. The 18-year-old walked one and struck out three on 77 pitches (45 strikes).
Valdez issued a leadoff walk in the sixth before RHP Hobie Harris entered in relief. A walk by Young and a single by Noda loaded the bases and, one out later, Bec crushed a grand slam to left. Clemens followed with a solo homer to right-center, giving the Blue Jays a 10-1 lead.
Sensley lined his second leadoff double of the game in the bottom of the seventh and later scored on a two-out single by Castillo before RHP Emerson Jimenez closed the game. Jimenez allowed one earned run on two hits and a walk in two innings of relief.
Florial (2-for-8, 2RBI) logged his third-straight multi-hit game in Game One before failing to reach in Game Two. Castillo (2-for-4, 2B, RBI) extended his on-base streak to 16 games. Sands (1-for-3, R) extended his hitting streak to 10 games. Lopez (1-for-3, 2B) has reached base in 13-straight games. Sensley (2-for-4, 2 2B, 2BB, 2R) reached base in four-of-six plate appearances.
Following a league-wide off day on Monday, the Tarpons will travel to Kissimmee for a three-game series vs. the Florida Fire Frogs. RHP Luis Medina (0-0, -.--) is slated to make his High-A debut, getting the start for Tampa. Florida's starter is TBA. Live play-by-play of the action will be available on the Florida Fire Frogs Baseball Network.