Tampa Tarpons 2019 Season in Review
Rehabbing Stars and a No-Hitter Highlight Shortened Season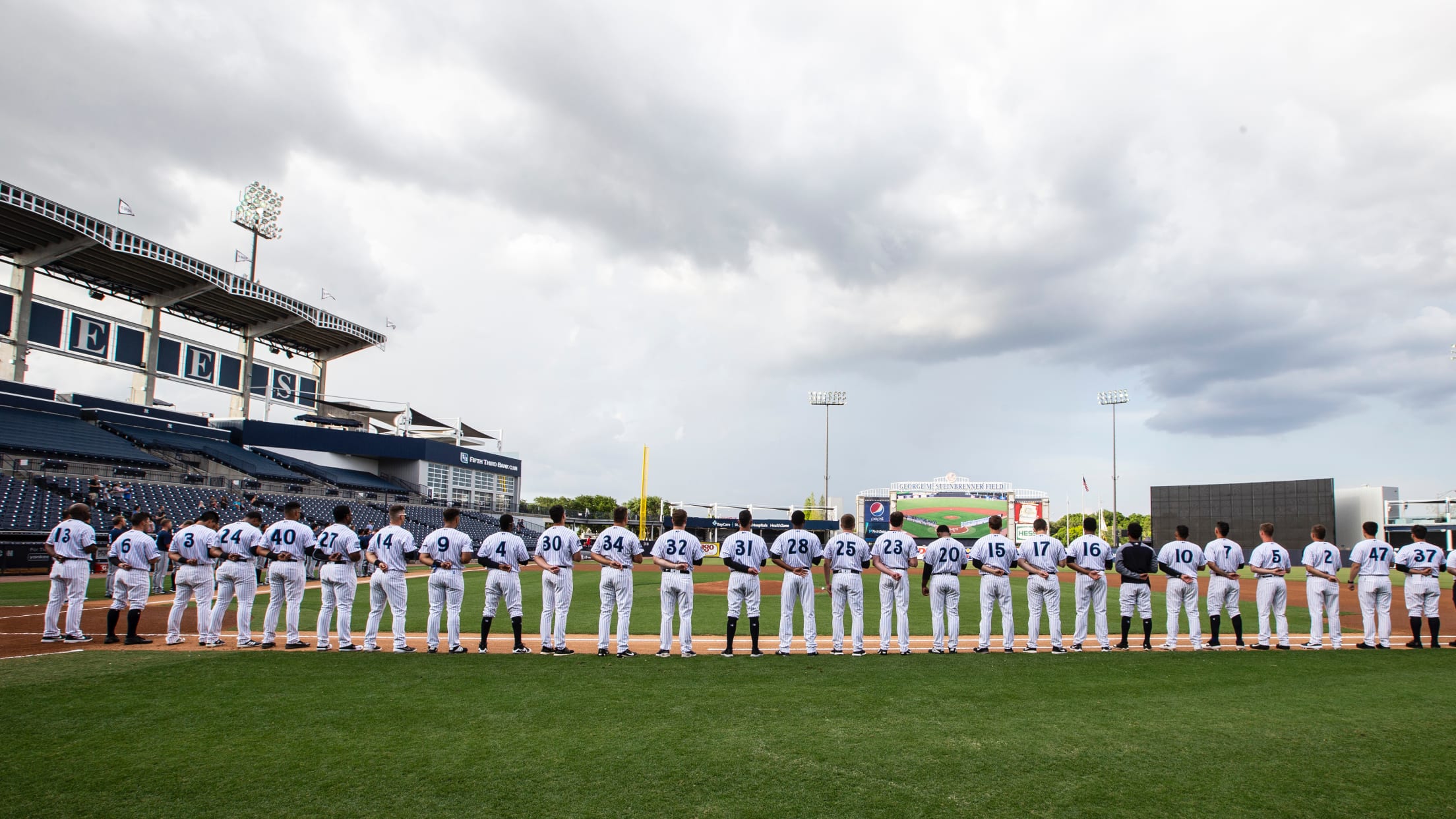 (Mark LoMoglio/ Tampa Tarpons) (Mark LoMoglio)
TAMPA, Fla. - The New York Yankees sent eight different players on rehab assignments with the Tampa Tarpons, and RHP Trevor Stephan tossed one of three no-hitters in the Florida State League in a 2019 season that was cut short by the threat of Hurricane Dorian.Returning from offseason heart surgery,
TAMPA, Fla. - The New York Yankees sent eight different players on rehab assignments with the Tampa Tarpons, and RHP Trevor Stephan tossed one of three no-hitters in the Florida State League in a 2019 season that was cut short by the threat of Hurricane Dorian.
Returning from offseason heart surgery, LHP CC Sabathia became the first big leaguer to don a Tarpons uniform in 2019, getting the start on a Sunday afternoon in the finale of the traditional season-opening four-game series against the Lakeland Flying Tigers.
Sabathia, 39, did not disappoint, tallying six strikeouts while holding Lakeland to one run on one hit and one walk in four and two-third innings. Six days later, the six-time all-star would be activated by New York to embark on his 19th and final Major League season.
As for the game, Tampa trailed until Diego Castillo delivered a game-tying sacrifice fly in the sixth, but the Flying Tigers grabbed a 2-1 lead in the seventh. Oswaldo Cabrera singled to begin the bottom of the ninth and, one out later, Isiah Gilliam clobbered a game-winning, walk-off two-run home run to left - the first of five walk-off victories by the Tarpons in 2019.
At 19 years old, Deivi Garcia was the top pitching prospect on Tampa's opening day roster. His tenure was short, however, as the right-hander was promoted to Double-A Trenton on April 24 after racking up 33 strikeouts in only 17.2 innings over four starts. Just three days later, RHP Brooks Kriske earned his call-up to Trenton after posting a 0.00 ERA in 12 innings over seven relief appearances. Kriske would later be named an FSL Mid-Season All-Star.
Tampa received more big leaguers on the final day of April, with INFs Miguel Andújar and Troy Tulowitzki joining the club in time for a three-game series vs. Charlotte. Tampa took two-of-three from the Stone Crabs, thanks in part to home runs hit by Tulowitzki, Andújar and 21-year-old INF Dermis Garcia .
Up next among the rehab assignments were OFs Aaron Hicks and Giancarlo Stanton , and INF Didi Gregorius . Hicks joined Tampa on May 6 and played in three games, while Stanton homered in one game on May 20 before suffering a setback. Gregorius met the Tarpons in Bradenton on May 25 and homered over a two-game stint.
As May turned to June, one Tarpons pitcher began standing out. Despite not being named on any top prospects lists prior to the season, RHP Miguel Yajure looked the part. After posting a 2.43 ERA (8ER/29.2IP) in May, the 21-year-old held opponents to 1ER in 27.1IP while going 2-0 with a 0.33 ERA in June and continued to go 2-0 with a 1.69 ERA (6ER/32.0IP) in July.
Stanton rejoined Tampa on June 11 and smashed three more homers over a two-game stint, including a multi-HR game against Florida on June 12. In that same game, Gilliam also hit a pair of home runs in what would be a 6-2 win over the Fire Frogs. The 22-year-old outfielder batted .269 with eight homers and 29 RBI in 70 games before getting promoted to Trenton.
At the break, Garcia paced the league with 14 home runs and was selected as an FSL Mid-Season All-Star. The Santo Domingo, Dominican Republic native smashed 25 homers across three rounds to win the Home Run Derby at Roger Dean Chevrolet Stadium. Garcia would tie his career-best with 17 homers while batting .247 with 54 RBI in 75 games before landing on the injured list with a season-ending injury on July 9.
Garcia, Gilliam and C Jason Lopez each made it into the starting lineup for the North Division as all-stars representing the Tarpons. In a game that was won by the South Division, 2-0, Garcia broke up a no-hitter with a base hit in the seventh. Gilliam added a single, and Lopez drew a walk. RHP Braden Bristo pitched in relief, allowing a solo homer in the second.
After going 2-4 over a six-game road trip in mid-July, the Tarpons sat 5.0GB of first in the second-half standings, with a 13-game home stand up next. Tampa split the first six games before getting rained out, leading to a doubleheader against Jupiter on July 26.
Stephan started Game One and secured his name in the FSL Record Book with a seven-inning no-hitter against the Hammerheads. The 23-year-old tallied nine strikeouts over seven nearly perfect innings, with the only base runner reaching on an error in the fifth.
The no-hitter began a stretch of five-straight quality starts by Tampa pitchers, with RHPs Luis Gil , Alexander Vizcaíno, Clarke Schmidt and Yajure all following Stephan. A season-best five-game win streak led to an 8-2 run, lifting the Tarpons back into second-half contention.
Schmidt made a second-straight quality start on August 5 in Lakeland, where he also threw five hitless innings in a no-decision on opening day. This time, the 23-year-old matched a career-high with nine strikeouts while scattering three hits and three walks over a career-long seven shutout innings, earning the win in a 6-0 Tampa triumph. In all, Schmidt went 4-5 with a 3.84 ERA in 13 games with the Tarpons before getting promoted to Trenton on August 15.
After losing Garcia to injury, Tampa got an offensive lift when OF Alexander Palma rejoined the club. In 30 games, Palma hit .260 with six home runs and 23 RBI, including a dramatic two-out, pinch-hit, go-ahead three-run home run with the Tarpons trailing, 3-1, with one out to go against Dunedin in Game One of a doubleheader on August 18 (a 5-4 victory in eight innings).
OF Estevan Florial also began the season on the injured list after suffering a wrist fracture during spring training. The 21-year-old was activated on June 3 and homered in his first game back but hit just .198 in his first 21 games. Florial progressed by hitting .250 in July and .258 in August, collecting eight homers and 38 RBI in a total of 74 games with the Tarpons.
Both Castillo and OF/1B Steven Sensley enjoyed second-half turnarounds with Tampa. Castillo hit just .182 in June, but batted .319 in July, including a 22-game on-base streak, before hitting .272 in August. Sensley hit just four home runs over his first three months before clobbering nine dingers between July and August, finishing with 13 on the season.
Rounding out the octet of rehab assignments were a pair of pitchers coming off "Tommy John" surgery. RHP Ben Heller pitched as the "opener" in a pair of games for Tampa on June 23 in Bradenton and June 27 at Daytona. LHP Jordan Montgomery got the nod in Game One of a doubleheader against the Flying Tigers on August 25.
After dropping 4-for-5 against Lakeland, the Tarpons rebounded by taking 3-of-4 in Jupiter to remain in the playoff push. However, due to the threat of Hurricane Dorian, the league made a decision to cancel the rest of the season, as well as the postseason. Tampa's final month was its best, going 17-12 in August to finish the second half at 36-33 (2.5GB of first place). Overall, manager Aaron Holbert's Tarpons finished with a record of 64-71.
Yajure finished the season ranking second in the league in ERA (2.26) and WHIP (1.08) and tied for second in strikeouts (122) and was promoted to Double-A on August 25. Despite ending his season on July 9, Garcia finished third in the league with 17 home runs. Both players were named FSL Post-Season All-Stars.
Cabrera led the Tarpons with 117 hits, tied for seventh in the league. The 20-year-old infielder also ranked tied for third in the league with 29 doubles and tied for eighth in total bases (170) while batting .260 with eight home runs and 56 RBI in 120 games with Tampa.
OF Pablo Olivares fell one hit shy of the century mark but tallied 47 walks and finished tied for sixth in the league in OBP (.358) and ninth in runs scored (60), batting .250 in 117 games.
A pair of relief pitchers also finished among the league-leaders, with RHP Kyle Zurak ranking second in games pitched (41) and tied for seventh in saves (7), and RHP Matt Wivinis ending tied for third in the league with nine saves.
As a team, the Tarpons finished second in the league with 93 home runs and pitching coach José Rosado's staff ranked second in the league with 1,186 strikeouts - two shy of the mark set by Fort Myers (1,188).
The Tarpons return to action when the 2020 season opens in Lakeland on Thursday, April 9.