Tampa Tarpons Announce Coaching Staff for 2020 Season
Tampa Alum David Adams named Tarpons Manager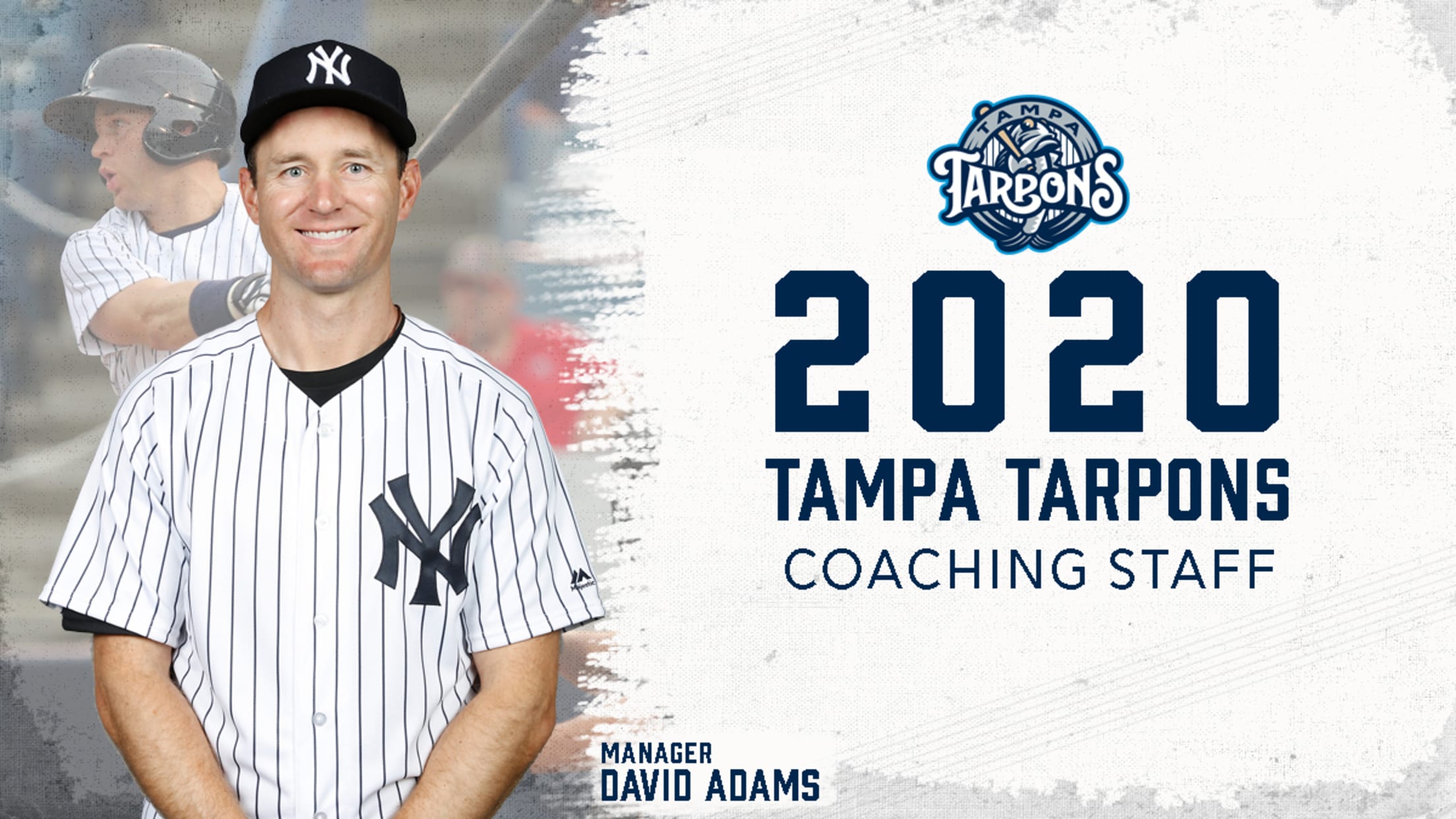 Tampa, Fla. - The New York Yankees Player Development office has officially announced the 2020 Tampa Tarpons Field Staff. New to Tampa, the team welcomes Manager David Adams and Defensive Coach Jason Phillips. Returning from the 2019 season are Pitching Coach Jose Rosado, Hitting Coach Joe Migliaccio, Defensive Coach Kevin
Tampa, Fla. - The New York Yankees Player Development office has officially announced the 2020 Tampa Tarpons Field Staff. New to Tampa, the team welcomes Manager David Adams and Defensive Coach Jason Phillips. Returning from the 2019 season are Pitching Coach Jose Rosado, Hitting Coach Joe Migliaccio, Defensive Coach Kevin Mahoney, Athletic Trainer Michael Becker, and Strength and Conditioning Coach Jacob Dunning.
"We were very excited to learn about our entire coaching staff for the 2020 season and we look forward to working with David Adams and Jason Phillips as they begin their first season with us," said Tarpons GM Matthew Gess. "Our fans got to watch David win a championship as a player in 2009, so it will be fun to have him back as a Manager and watch him go after another one."
David Adams begins his fourth season as a coach in the Yankees organization and his first season with Tampa as Manager. Adams was selected by the Yankees in the third round of the 2008 First-Year Player Draft, appearing in 43 Major League games for the Yankees in 2013. Over nine minor league seasons with the Yankees (2008-13), Orioles (2014), Marlins (2015) and Blue Jays (2016), Adams batted .282 (707-for-2507) with 347R, 167 doubles, 22 triples, 45HR and 341RBI in 701 games. Adams played for the Tampa Yankees in 2009 and 2011, taking home a FSL Championship in 2009. Adams attended the University of Virginia, where he was named to the Baseball America Freshman All-America Second Team and a Louisville Slugger Freshman All-American.
Jose Rosado enters his tenth season as a coach in the Yankees organization and his third with Tampa as Pitching Coach. He served in the same role for Double-A Trenton from 2015-17. Rosado served as pitching coach for Puerto Rico for the second consecutive World Baseball Classic in 2017, filled the same role for the World Team in the 2015 All-Star Futures Game, and for the Surprise Saguaros in the 2015 Arizona Fall League. He spent 2011-14 as a pitching coach in the GCL. He was selected by Kansas City in the 12th round of the 1994 First-Year Player Draft. In five seasons with the Royals (1996-2000) he went 37-45 with a 4.27 ERA in 125 games (112 starts). The two-time AL All-Star earned the win in the 1997 game in Cleveland and was the only left-handed pitcher selected to the AL team for the 1999 game at Fenway Park.
Joe Migliaccio enters his third season as a coach in the Yankees organization and his third season with Tampa as Hitting Coach. In 2018, Migliaccio served his first season as the Hitting Coach at the University of Iowa. Migliaccio spent the 2017 season as a graduate assistant at Missouri. He helped guide the Tigers to their best record since 2008, a season where the team finished 36-22. In 2016, he spent the season at Southeast Missouri as a volunteer assistant coach, helping the Redhawks to the 2016 OVC regular season and tournament championships and a berth into NCAA Regionals. In 2014 and 2015, Migliaccio served as a volunteer assistant at Siena College. He also spent the summer of 2014 as an assistant coach with the Liberal Bees in the Jayhawk Baseball League. As a player, Migliaccio was an infielder at Florida International (2009-10), Parkland College (2010-12), and Oral Roberts (2012-14). The West Melbourne, Florida, native graduated cum laude from Oral Roberts in 2014 with a degree in recreation administration with a minor in humanities. He earned his master's degree in education from Missouri in 2018.
Kevin Mahoney enters his sixth season in the Yankees organization and his second with Tampa as Defensive Coach. In 2018, he joined the GCL Yankees East after spending 2017 as the hitting coach at short-season Single-A Staten Island. Mahoney was also Pulaski's hitting coach in 2016, when his hitters tied for the league lead with 60 HR. Kevin made his coaching debut with the GCL Yankees East in 2015. Mahoney was selected by the Yankees in the 23rd round of the 2009 First-Year Player Draft. In five minor league seasons, the infielder batted .252 with 183R, 34HR and 160RBI in 381 games, reaching Triple-A. He retired in 2014 after one season with Amarillo in the independent American Association.
Jason Phillips enters his second season as a coach in the Yankees organization and his first with Tampa as Defensive Coach. Prior to joining the organization, Phillips served as the bullpen catcher for the Toronto Blue Jays (2016-18) and Seattle Mariners (2009-15). He was selected by the New York Mets in the 24th round of the 1997 First-Year Player Draft and spent parts of seven Major League seasons as a catcher and first baseman with the Mets (2001-04), Los Angeles Dodgers (2005) and Toronto Blue Jays (2006-07). In 465 Major League games, Phillips batted .249 (344-for-1,382) with 138R, 77 doubles, 30HR and 168RBI. Phillips graduated from El Capitan H.S. (Calif.) and attended San Diego State University.

Michael Becker enters his ninth season as a trainer in the Yankees organization and seventh with Tampa. In 2017, he was named the Florida State League Trainer of the year. He worked with Single-A Charleston in 2013 and short-season Single-A Staten Island in 2012. He previously worked as an athletic training student intern at Triple-A Scranton/Wilkes-Barre during the 2010 season and graduated from Ithaca College with a B.S. in athletic training in 2011.
Jacob Dunning enters his begins his eight season in the Yankees organization and fourth season as Tampa's strength and conditioning coach after one season with Double-A Trenton (2016) and two seasons with short-season Single-A Staten Island. He joined the Yankees organization in March of 2013 as a member of the GCL staff. Dunning graduated from the University of South Florida in 2012 with a B.S. in Exercise Science and was a member of the United States Army from 2004-08 and served in Afghanistan.
The 2020 season will begin in Lakeland on Thursday, April 9th at Publix Field at Joker Marchant Stadium. Opening night at George M. Steinbrenner Field will take place on Saturday, April 11th against the Lakeland Flying Tigers.
The Tampa Tarpons are the Single-A Advanced Affiliate of the New York Yankees. For more information, contact the Tampa Tarpons office at (813) 673-3055 or visit www.tarponsbaseball.com.