Tarpons Smash Flying Tigers After Dropping Opener in Split Twin Bill
Volpe, Dunham Homer Twice Apiece in 16-Run Nightcap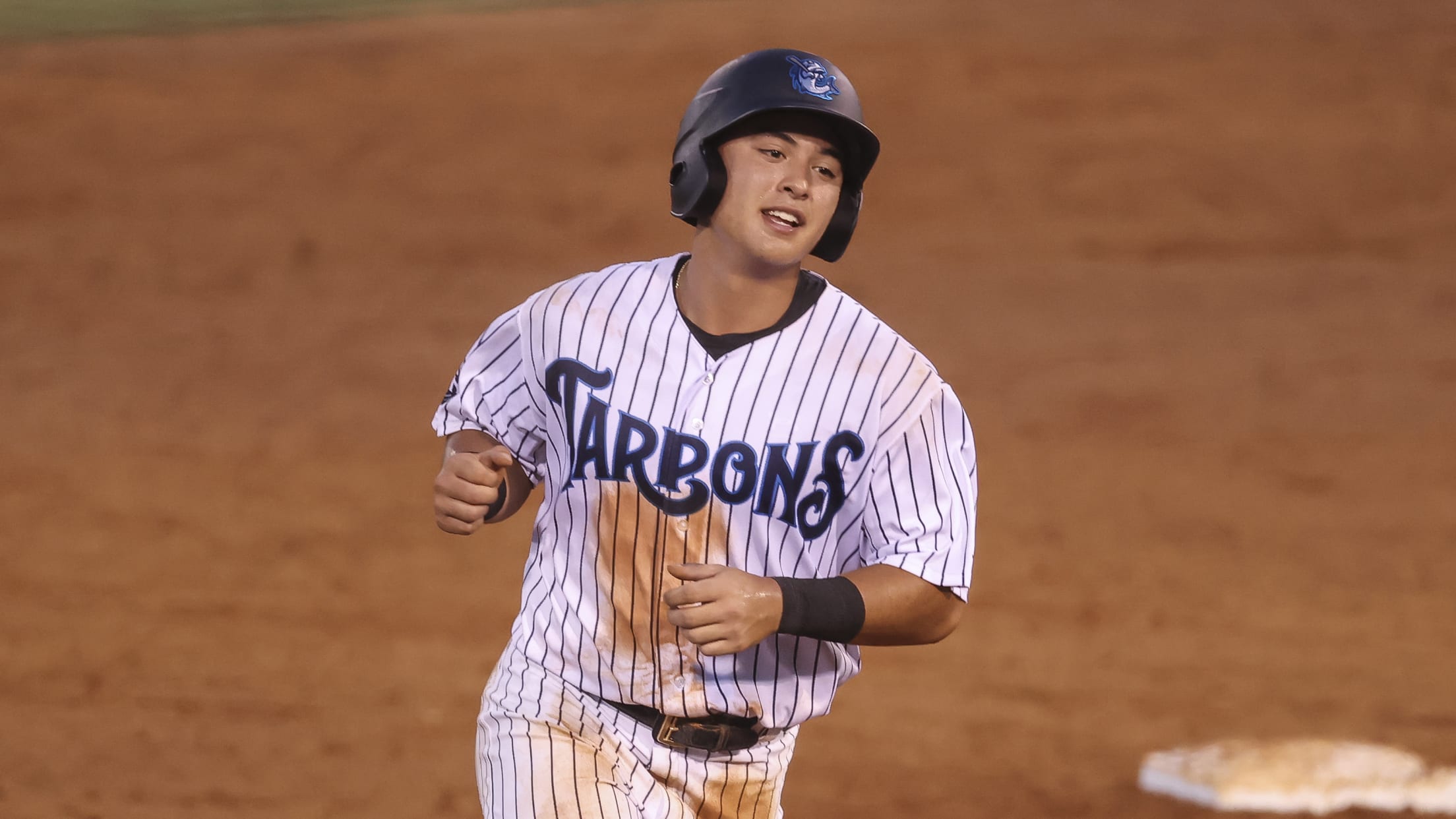 Anthony Volpe logged his first-career multi-HR game in Tampa's 16-2 win vs. Lakeland in Game 2 of a doubleheader on Thursday night at George M. Steinbrenner Field. (Mark LoMoglio)
TAMPA, Fla. – After rain and lightning caused Wednesday's game to be suspended in the sixth, the Tampa Tarpons and the Lakeland Flying Tigers split a doubleheader on Thursday night at George M. Steinbrenner Field. Lakeland (13-14) rallied late to take the continuation game, 7-6, before Tampa (19-8) scored early
TAMPA, Fla. – After rain and lightning caused Wednesday's game to be suspended in the sixth, the Tampa Tarpons and the Lakeland Flying Tigers split a doubleheader on Thursday night at George M. Steinbrenner Field. Lakeland (13-14) rallied late to take the continuation game, 7-6, before Tampa (19-8) scored early and often en route to a 16-2 victory in the nightcap.
RHP Yoendrys Gomez was activated off the injured list on Wednesday to make his first start of the season. Gomez retired the first eight batters he faced before allowing a two-out double by Connor Perry in the third, followed by walk by Kingston Liniak. RHP Sean Boyle entered in relief and issued a walk before allowing a two-run single by Kody Clemens, giving Lakeland a 2-0 lead.
Gomez allowed two earned runs on one hit and one walk over two and two-third innings, getting one strikeout while throwing 22-of-36 pitches for strikes. It was the 21-year-old's first appearance in a game since being added to the New York Yankees' 40-man roster on 11/20/20.
Boyle got a strikeout to escape the third and struck out the side in a perfect fourth before Andrew Navigato reached on an error to open the fifth. Perry followed with a run-scoring double, stole third and later scored on a base hit by Gage Workman for a 4-0 Lakeland lead.
Andres Chaparro and Elijah Dunham knocked back-to-back singles to begin the home-half of the fifth and, two outs later, Jesus Bastidas clubbed a three-run homer to right-center, cutting the deficit to 4-3 against Flying Tigers' starter, LHP Adam Wolf.
After a perfect sixth by Boyle, Anthony Volpe smashed a leadoff, game-tying home run to left. Austin Wells then took ball one before heavy rainfall and lightning alerted the umpires to order players off the field.
Play resumed on Thursday afternoon and Tampa grabbed the lead off RHP Nick Davila (W, 1-0) with back-to-back doubles by Chad Bell and Pat DeMarco in the seventh. Bastidas followed with a base hit into center, scoring DeMarco for a 6-4 lead.
RHP Trevor Holloway (L, 5-1) worked a scoreless seventh before the Flying Tigers rallied to retake the lead in the eighth. Alvaro Gonzalez singled and took third on a double by Nick Quintana before scoring on a sacrifice fly by Jimmy Kerr. Jose De La Cruz then reached on a run-scoring error, and scored on a base hit by Sam McMillan, giving Lakeland a 7-6 lead.
RHP Gabriel Sequeira (H, 1) struck out the side in the eighth and RHP Michael Bienlien (SV, 1) struck out one in a perfect ninth to close the game for the Flying Tigers. Wolf took a no-decision after yielding four runs on six hits in five frames, striking out six on 74 pitches (53 strikes).
LHP Ryan Anderson got the nod in Game 2 and faced the minimum over three nearly perfect innings, with the only base running reaching on a walk before getting caught stealing. Anderson tossed 24-of-40 pitches for strikes in a no-decision, not returning after a 39-minute rain delay.
Tampa quickly loaded the bases against RHP Gio Arriera in the first, and Chaparro delivered a sacrifice fly for a 1-0 lead before Arriera stranded a pair. The Tarpons put two on with two out in the second, and Volpe slammed a two-run double into the gap in left-center before a walk and a flyout ended the inning.
Arriera (L, 1-2) allowed three earned runs on two hits, four walks and a hit-batter in an inning and two-thirds, collecting two strikeouts on 51 pitches (25 strikes).
In the third, Tampa loaded the bases with three walks, and two runs scored as Josh Smith singled off the glove of second baseman Alvaro Gonzalez. Volpe followed with a three-run homer to left. The next three Tarpons drew walks, and Dunham unloaded the bases with a grand slam to right, capping a nine-run inning for a 12-0 advantage.
A sacrifice fly by Dustin Garneau put the Flying Tigers on the board in the fourth before Tampa got a pair of solo homers by DeMarco and Volpe in the home-half of the inning. Dunham then matched Volpe in the fifth with his second home run of the game, giving Tampa a 15-1 lead.
Lakeland got one back in the seventh as a run scored on a fielder's choice groundball hit by Griffin Dey. Tampa got that run back on a sacrifice-fly by Juan De Leon in the eighth.
RHP Nelvin Correa (W, 1-0) held Lakeland to one earned run on three hits while striking out three over two innings of relief to earn the win. LHP Clay Aguilar allowed one earned run on one hit and one walk, striking out one in one and two-third innings. RHP Kevin Milam retired seven-straight over a perfect two and one-third innings to close the game.
Volpe (3-for-5, 2HR, 2B, BB, 6RBI, 2R, 2SB) and Dunham (2-for-4, 2HR, BB, 5RBI, 3R) each logged their first-career multi-HR games in the nightcap. DeMarco (2-for-3, HR, 2B, 2BB, RBI, 3R) and Smith (2-for-3, 2BB, 2RBI, 3R, SB) also had multi-hit games in Game Two.
Tampa batters tallied a season-high five home runs and 15 walks while also tying a season-high for most runs in a single inning with nine in the third (also on 5/5, B-6th) in the nightcap.
Game four of the series is slated for Friday at 6:30 p.m., with RHP Randy Vasquez (0-1, 6.06) set to make the start against RHP Carlos Guzman (2-1, 3.38). On Sink or Swim Fridays, for $20, fans can enjoy all-you-can-drink draft beer and wine until the opponent scores a run.