Cameron, Castro hit RBI triples in loss
Mud Hens lose fifth straight in homestand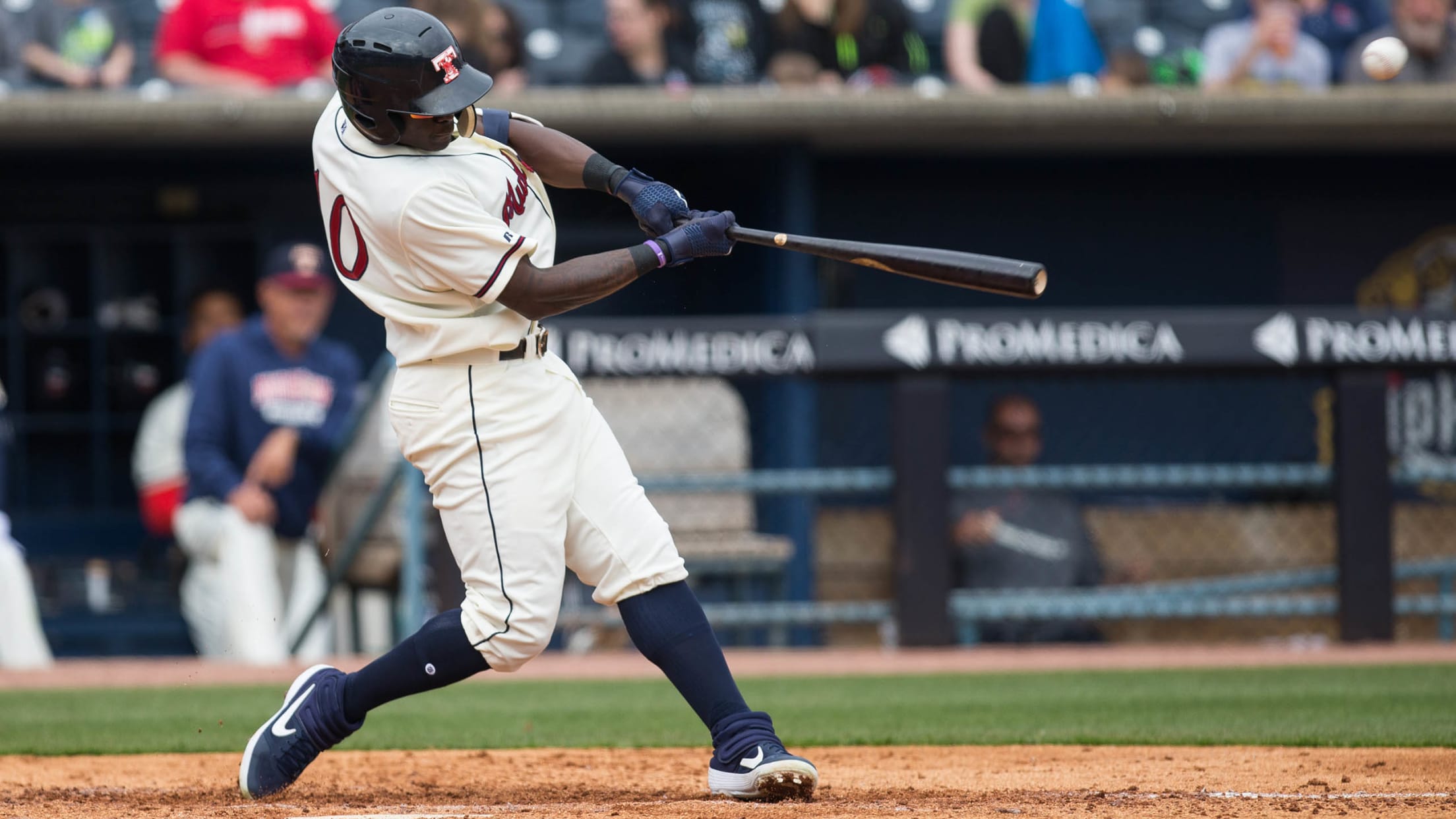 TOLEDO, Ohio - Daz Cameron and Willi Castro garnered both a triple and RBI in the fourth inning Saturday, but the Toledo Mud Hens couldn't pull away in the 4-3 loss to the Scranton/Wilkes-Barre RailRiders at Fifth Third Field. 
TOLEDO, Ohio - Daz Cameron and Willi Castro garnered both a triple and RBI in the fourth inning Saturday, but the Toledo Mud Hens couldn't pull away in the 4-3 loss to the Scranton/Wilkes-Barre RailRiders at Fifth Third Field.
Both teams went into the eighth inning tied at three but the RailRiders broke the deadlock on an RBI single by Brad Miller.
The Mud Hens are now 1-21 this season when trailing after the eighth, posting their 14th loss at home and eighth loss in the month of May.
Saturday was a bullpen outing for Toledo, who used five relievers, as Jose Cisnero (1-2, 3.74 ERA) got the start for the first time in his nine-year minor league career since 2013.
Cisnero, who ended up replacing Trent Szkutnik (0-0, 7.71 ERA), was a member of the Oklahoma City Dodgers (PCL) when he last pitched in the first inning. The Dominican Republic native has gone 83 consecutive games in relief during that five-year span.
It was announced prior to Saturday that Szkutnik was assigned back up to the Mud Hens from Double-A Erie to fill the open roster spot left by Tyler Alexander.
Toledo and Scranton/Wilkes-Barre were tied 1-1 when Caleb Thielbar (0-1, 6.17 ERA) took over for Cisnero to begin the fourth inning.
Jacob Robson would pick up his 12 RBI of the season after hitting the sacrifice fly to left in the third which brought home Pete Kozma.
The Mud Hens are now 3-18 when opposing teams score first.
Cisnero, 30, allowed four hits, one run and one earned run, while walking one and striking out six.
It's the first time in 18 appearances through 2019 that Cisnero left a game having struck out more than three batters.
RailRiders starter Brody Koerner exited the fourth following three consecutive extra base hits registered by Cameron, Castro and Victor Reyes. The 2015 New York Yankees 17th-round draft pick went six innings, giving up six hits and three earned run, as well as striking out three.
Cameron has hit in each of his last five games as well as 11 of his last 13 dating back to May 2.
He entered Saturday slashing .224/.314/.425 with a .739 OPS and 15 XBH.
Harold Castro and Jake Rogers each batted 1-for-4 in the third and eighth spot, respectively.
Castro, in his last 17 games, has gone 24-for-64 with four doubles, four home runs and 21 RBIs.
His continued hitting streak throughout this time period is the longest among all International League hitters this season.
Rogers was coming off his three-run bases clearing double in Friday's 5-0 win. After receiving the callup from Double-A Erie, Rogers has gone 4-for-12 with two doubles, a home run and five RBIs since May 14.
The Mud Hens maintained a 3-2 lead when Szutnik, the 25-year-old native of Jackson, Michigan, entered the fifth. He'd be the third pitcher of the game for Toledo to finish with an earned run after working 2.1 innings.
Tying it in the seventh was Cliff Pennington with his home run over the right field wall.
Going 1.2 innings with two hits and one earned run on the Miller RBI single, Joe Navilhon (1-1, 5.19 ERA) took the loss in his fifth appearance on the mound for Toledo this season.
2013 Baltimore Orioles third-round draft pick Stephen Tarpley got the win in 2.2 hitless innings pitched.
The Mud Hens have been outscored 43-22 in their last seven games.
What's Next:
Ryan Carpenter (1-4, 4.09 ERA) is probable to start Sunday in the final of a four-game series against the RailRiders.
Opening pitch is scheduled for 1:05 p.m. (EST).
Live coverage is available on MiLB.TV, Buckeye Cable Sports Network and Fox Sports 1230 WCWA-AM. "Around the Bases" with Jim Weber and Brad Woznicki begins at 12:35 p.m. (EST).
#RoadToDetroit Report (rankings according to MLB.com 2019 Prospect Watch):
5. OF Daz Cameron: 1-for-4, Run, Triple, RBI
6. RHP Beau Burrows : DNP (IL)
7. IF Willi Castro : 1-for-4, Triple, RBI
11. RHP Kyle Funkhouser : DNP (IL)
13. C Jake Rogers: 1-for-4, Run
17. OF Jacob Robson: 0-for-2, RBI
21. OF Danny Woodrow : DNP
24. RHP John Schreiber : DNP
25. RHP Zac Houston : DNP
28. LHP Matt Hall : DNP
29. IF/OF Dustin Peterson : DNP
Hens Notes:
• Jeimer Candelario made his return to Triple-A on Saturday as the Tigers optioned him Thursday. The switch hitter finished his debut last night by going a combined 3-for-7 in the doubleheader with a triple and two runs scored.
• Szkutnik pitched twice for the Mud Hens before being optioned back down to Erie on April 29. The 2014 Tigers 20th-round draft pick posted a 1-2 record and 3.48 ERA in a combined 13 games before his outing Saturday.
• Alexander leaves for Double-A Erie after starting in six games for Toledo this year.