Offense explodes in series opener win vs Iowa
Multiple Detroit Prospects lead Hens to Victory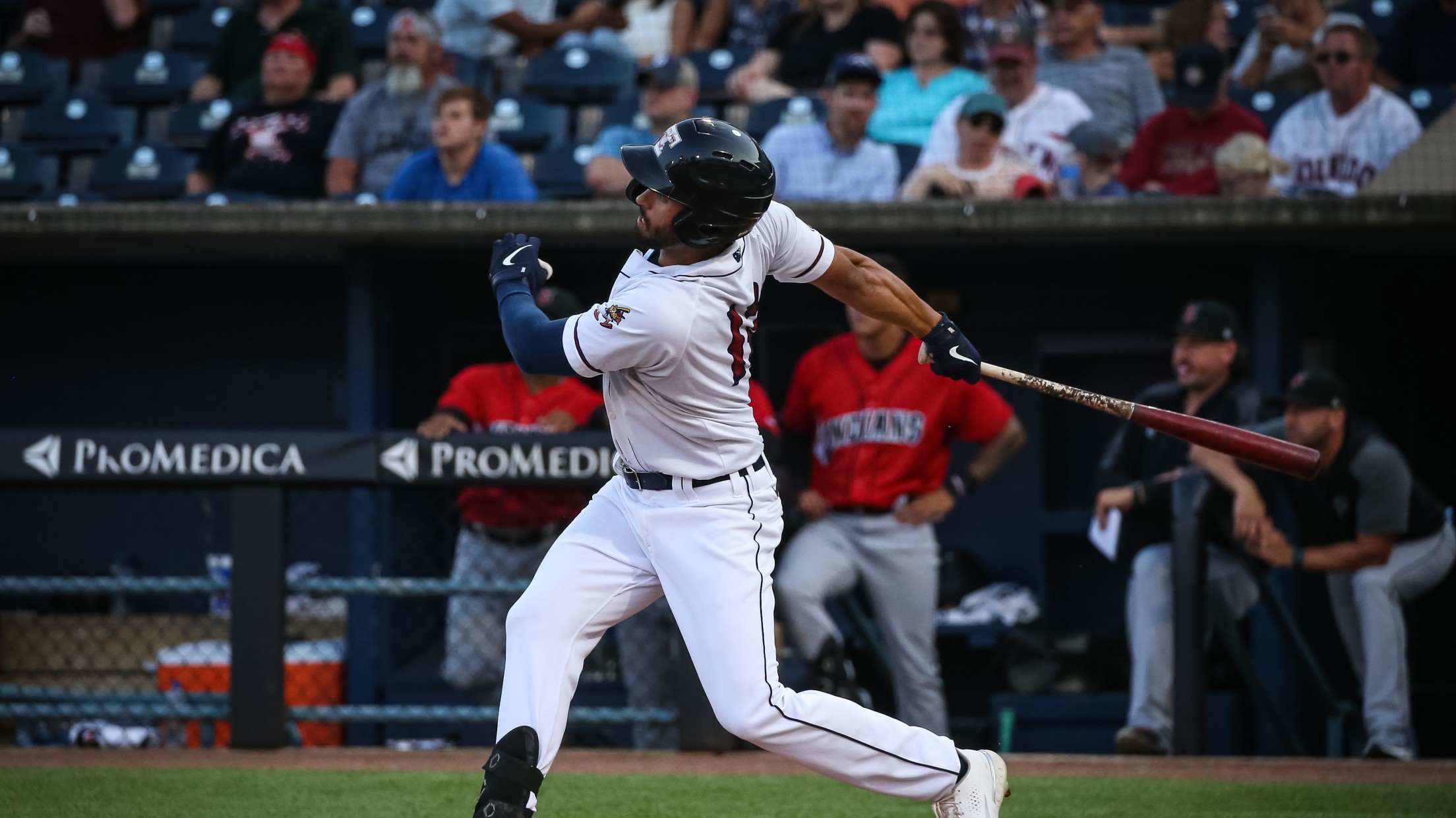 GAME RECAP (TOLEDO OHIO): The Mud Hens began another series at Fifth-Third Field today, competing against the Iowa Cubs, for the second time this season. The Toledo Mud Hens came into today's game, after a crushing series defeat in Columbus. RHP Nivaldo Rodriguez would take the mound, seeking his second
GAME RECAP (TOLEDO OHIO): The Mud Hens began another series at Fifth-Third Field today, competing against the Iowa Cubs, for the second time this season. The Toledo Mud Hens came into today's game, after a crushing series defeat in Columbus. RHP Nivaldo Rodriguez would take the mound, seeking his second win of the season. Along with Rodriguez starting, he would have a great lineup and defense behind him. DH Robbie Grossman would begin his rehab assignment from Detroit, as LF Akil Baddoo and RF Victor Reyes would join in, after OF Austin Meadows was called back to up to Motown.
The Cubs struck first with two runs to open the game, however the Mud Hens would answer. The Mud Hens leadoff batter DH Robbie Grossman opened the bottom half of the first, with a solo shot to right. His homer would cut the lead in half, as the offense would continue to rally. LF Akil Baddoo would walk and steal his first base with Toledo. Then, RF Victor Reyes would move him to third, after a flyball to center. In the next at-bat, Baddoo would score on a wild pitch, as his run tied the game at two apiece. CF Riley Greene would then hit a single, following a walk by 3B Brendon Davis. 1B Josh Lester would crush the ball deep to left-center, hitting a two-run double to score Greene and Davis. Lester now has 28 RBIs this season. The Mud Hens now had their first lead of the game, with a score of 4-2. The Mud Hens would continue the rally, as 2B Jamie Westbrook would tally his 16th RBI, to score Lester. The next batter, SS Zack Short would hit his 28th RBI of the year, to give the Mud Hens a 6-2 lead, as the Hens would bat around in their six-run inning.
The Cubs would try to begin a rally in the fourth inning. They would obtain a solo home run to left field, as the score was now 6-3, in favor of the Mud Hens. With runners on first and second, and one out, The Cubs would hit an infield single to short. However, SS Zack Short would throw out the runner advancing from second to home, which saved Toledo a run.
RHP Nivaldo Rodriguez would finish his outing going four innings. He gave up seven hits, allowing just one walk and three earned runs. He also struck out three Cub batters. Next would come LHP Tyler Alexander, another MLB rehab player from the Tigers. Alexander finished two strong innings, not allowing a single run or hit, with a strikeout to top it off.
The Mud Hens would strike for a run in the fifth, sixth, and seventh inning. In the bottom of the fifth, 2B Jamie Westbrook would tally his second RBI (17) of the game. After RF Victor Reyes would reach first by an error, Westbrook singled on a line drive to right, scoring Reyes. In the sixth, LF Akil Baddoo would hit a single to right, then steal his second base of the game. The top Tigers prospect, CF Riley Greene would single to center, scoring Baddoo. Then in the seventh, SS Zack Short would tally another RBI single, scoring C Dustin Garneau, who was hit by a pitch in his at-bat. Garneau would score all the way from first, as Short now has 29 RBIs this year.
The Mud Hens took the series opener, with a score of 9-3. LHP Tyler Alexander obtained the winning decision, as he looks to continue getting healthier for Detroit.
"I have been working on my swing. It felt great being out there. I'm feeling great, not feeling much pain in my foot anymore…. I'm glad to see him (Spencer Torkelson) up there doing well. I always ask him how he's feeling and hope he's doing well." CF Riley Greene said.
"I am happy to be playing with this team again. As of now I am a Mud Hens and wanting to reach the show. But right now, I am enjoying that I am back in the clubhouse with these guys." INF Ryan Kreidler said.
"We do not want to take our foot off the gas, we want to keep going." LF Akil Baddoo said.
NOTABLE BATTERS:
DH Robbie Grossman: 1-4, HR, R, BB, RBI, 2K'
CF Riley Greene: 2-5, R, RBI
LF Akil Baddoo: 1-3, 2 R, 2 BB, 2 K, 2 SB
1B Josh Lester: 1-5, 2 RBI, 2B, R
2B Jamie Westbrook: 2-4, R, 2 RBI, 2B, BB
SS Zack Short: 2-4, 2 RBI, 2B, 2K
Notable Pitcher:
LHP Tyler Alexander: 2.0 IP, 0 H, 0 R, 0 ER, K
RHP Bryan Garcia: 2.0 IP, 0 H, 0 R, 0 ER, 2 K
NEXT UP: The Mud Hens will continue the series with the Cubs at 7:05pm ET, at Fifth-Third Field.