'Caps Fall in Walk-off Fashion, 3-2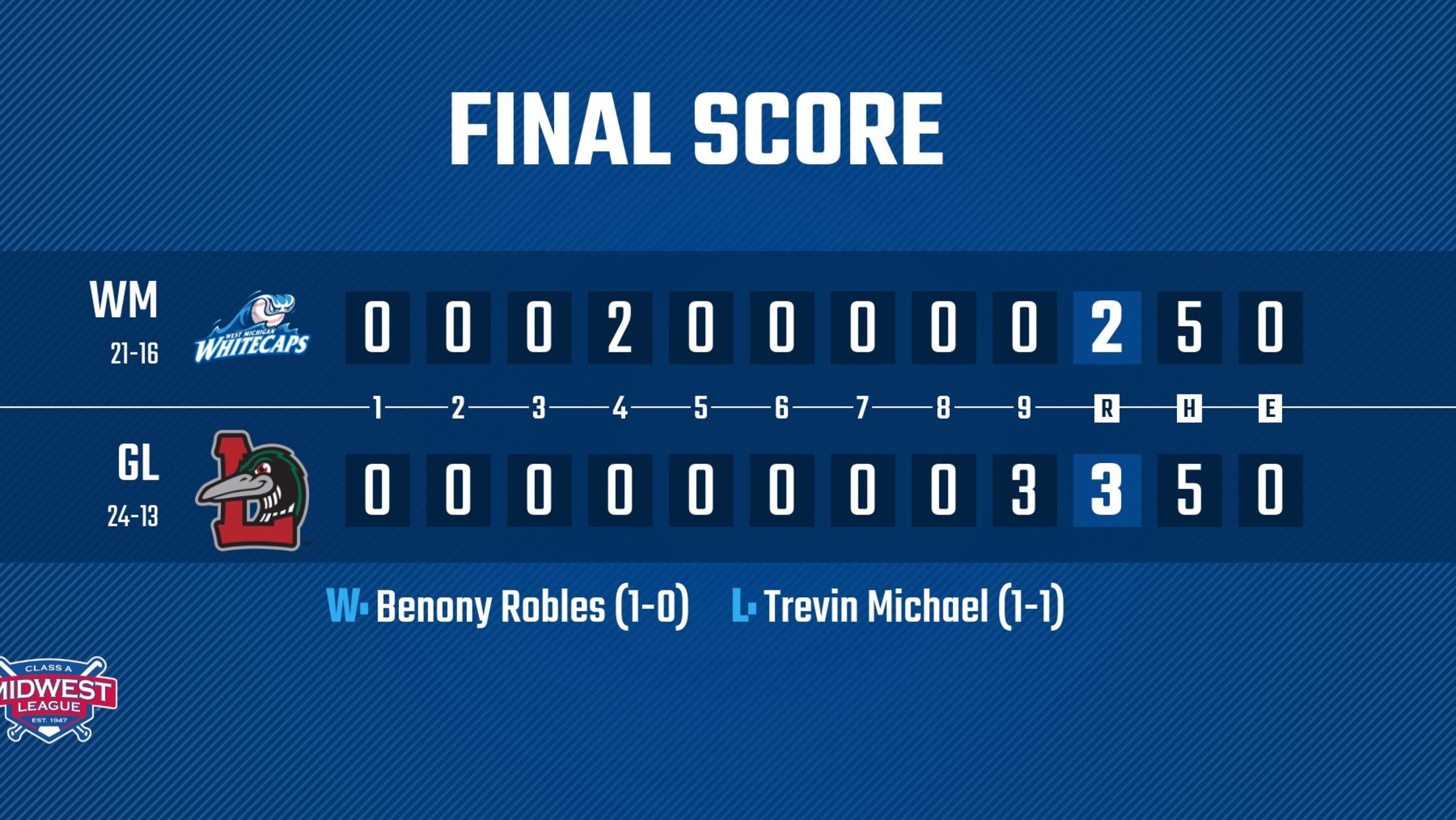 MIDLAND, MI – The West Michigan Whitecaps played with fire in the late innings one-too-many times as Ismael Alcantara launched a game-winning three-run homer in a heartbreaking 3-2 loss to the Great Lakes Loons at Dow Diamond on Friday night. The Whitecaps loss drops them to three games out of
MIDLAND, MI – The West Michigan Whitecaps played with fire in the late innings one-too-many times as Ismael Alcantara launched a game-winning three-run homer in a heartbreaking 3-2 loss to the Great Lakes Loons at Dow Diamond on Friday night.
The Whitecaps loss drops them to three games out of first place behind Great Lakes in the Midwest League Eastern Division.
The Whitecaps scored both of their runs in the fourth inning, as a run-scoring groundout by Carlos Mendoza preceded an RBI-double by Luis Garcia to help West Michigan take a 2-0 lead. Meanwhile, 'Caps pitching was dominant for eight innings, as Burhenn twirled five innings of scoreless baseball while allowing just three base runners and picking up a season-high seven strikeouts. Reliever Blake Holub followed with two perfect frames out of the bullpen. In the eighth, the Loons loaded the bases with one out before pitcher Chavez Fernander retired both Taylor Young and Alex Freeland on called third strikes to end the threat.
In the ninth, reliever Trevin Michael walked Damon Keith and Chris Alleyne before Alcantara blasted a game-winning opposite field home run, a three-run shot to end the contest. The homer became the first time the 'Caps had lost on a walk-off home run since June 25, 2022, when Christian Encarnacion-Strand accomplished the feat against West Michigan in a 6-5 win.
The 'Caps record falls to 21-16, while the Loons improve to 24-13. Great Lakes reliever Benony Robles (1-0) collects his first win of the season, while Michael (1-1) suffers his first loss and a blown save. Izaac Pacheco reached base with a single and three walks, while Austin Murr collected a pair of hits in a losing cause for the 'Caps.
UP NEXT
The Whitecaps and Great Lakes Loons play the penultimate game of this six-game series on Saturday at 6:05 pm. Lefties Jack O'Loughlin and Justin Wrobleski match up with the starts for West Michigan and Great Lakes. Broadcast coverage with Dan Hasty begins on the Whitecaps Baseball Network at 5:50 pm. Get your tickets for all 2023 home games now at www.whitecapsbaseball.com.