'Caps Fall on Friday, 7-5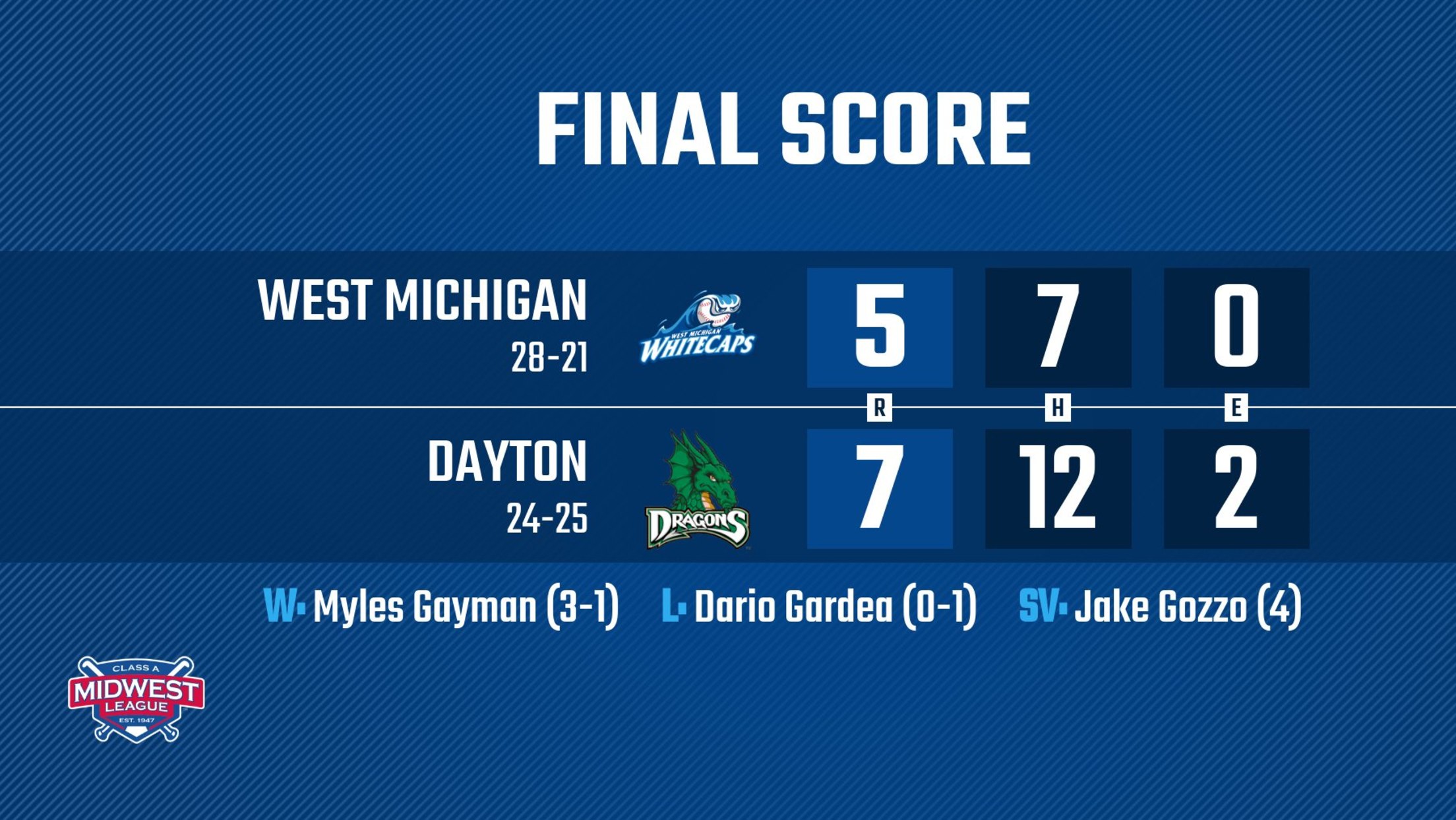 DAYTON, OH – Several costly misplays by the West Michigan Whitecaps in the late innings led to the loss of a three-run lead in a 7-5 loss to the Dayton Dragons on Friday night in front of 7,559 fans at Day Air Ballpark. The loss, combined with the Great Lakes
DAYTON, OH – Several costly misplays by the West Michigan Whitecaps in the late innings led to the loss of a three-run lead in a 7-5 loss to the Dayton Dragons on Friday night in front of 7,559 fans at Day Air Ballpark.
The loss, combined with the Great Lakes Loons sweep of a doubleheader and ninth straight win, leaves West Michigan six games back of first place in the Midwest League Eastern Division with just 17 games to go.
The Whitecaps opened the scoring in a big way when Justice Bigbie, just activated from the injured list before the contest, launched a three-run home run to help West Michigan take a 3-0 lead. The Dragons answered with two runs in the third, highlighted by a run-scoring double from Austin Callahan, before the 'Caps tallied single runs in the fourth and sixth. Jace Jung launched his second homer of the series with a solo shot to give the Whitecaps a 5-2 lead. In the seventh, the Whitecaps outfield ran into several miscues, including what would've been an inning-ending double play that instead resulted in a misjudged fly ball and game-tying RBI triple for Callahan. Edwin Arroyo followed with a go-ahead RBI-single, and Tyler Callihan provided insurance with a run-scoring single of his own, ending the scoring in the contest.
The Whitecaps fall to 28-21, while the Dragons record improves to 24-25. Dragons reliever Myles Gayman (3-1) picks up his third win, while West Michigan righty Dario Gardea gets the tough-luck loss. Jake Gozzo tossed two scoreless innings to the end the contest and collect his fourth save of the season. Jung reached base four times with a 2-for-3 performance, including a walk and hit-by-pitch in the loss.
UP NEXT
This six-game series between the Whitecaps and Dayton Dragons plays its penultimate game from Day Air Ballpark on Saturday at 7:05 pm. Pitchers Wilkel Hernandez and Jose Acuna get the starts for West Michigan and Dayton. Broadcast coverage with Dan Hasty begins on the Whitecaps Baseball Network at 6:50 pm. Get your tickets for all 2023 home games now at www.whitecapsbaseball.com.