Eight-Run Frame Powers TinCaps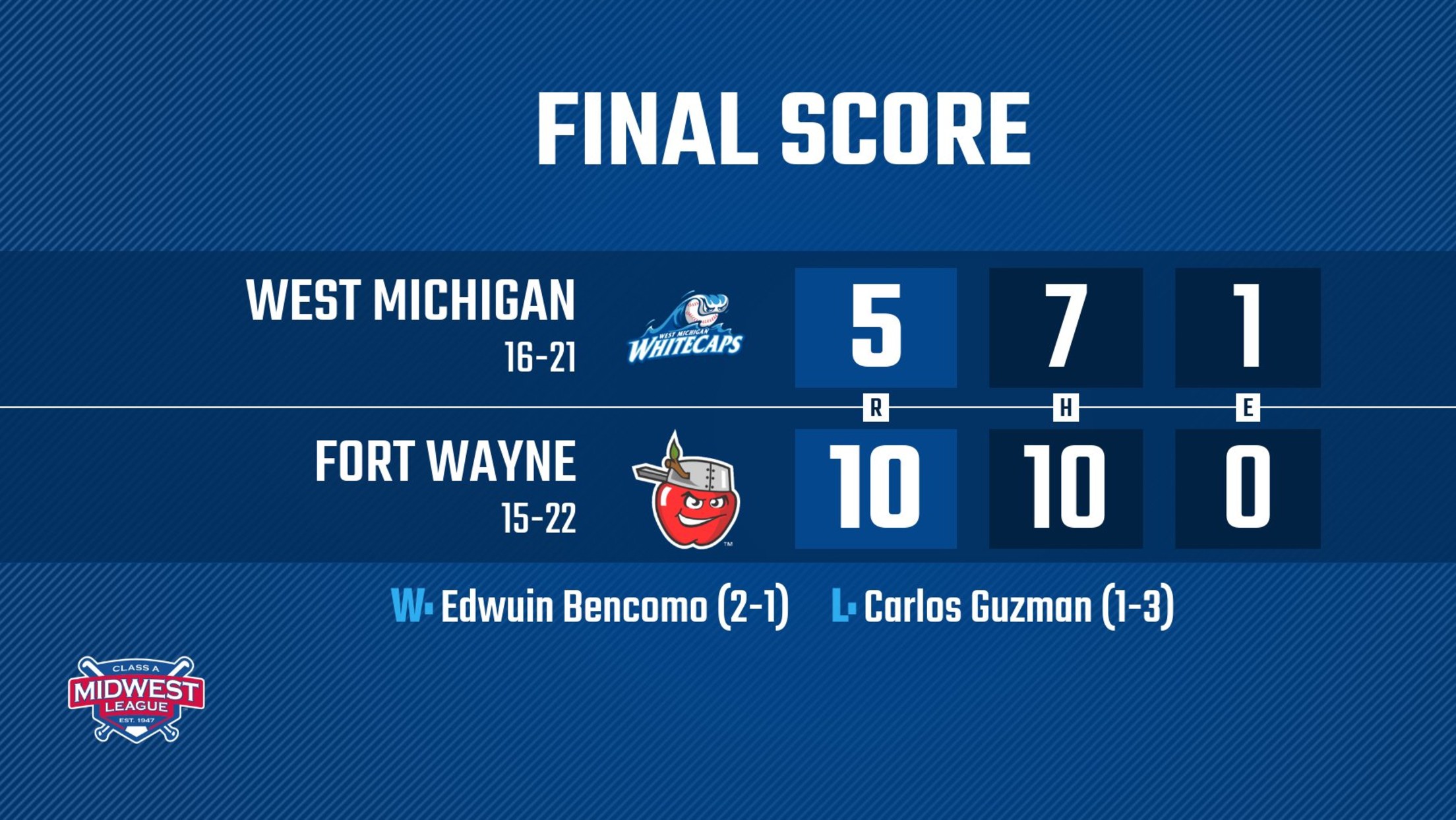 FORT WAYNE, IN – The West Michigan Whitecaps struggled to get out of a wild second inning, giving up the most runs they've allowed in a frame all season in a 10-5 loss to the Fort Wayne TinCaps in front of 8,045 fans on Friday night at Parkview Field. The
FORT WAYNE, IN – The West Michigan Whitecaps struggled to get out of a wild second inning, giving up the most runs they've allowed in a frame all season in a 10-5 loss to the Fort Wayne TinCaps in front of 8,045 fans on Friday night at Parkview Field.
The wild second inning saw 12 Fort Wayne batters come to the plate, and all but one TinCaps position player scored a run. Two singles, two walks, and two doubles gave Fort Wayne its biggest offensive inning of the 2022 season.
Despite the ten runs scored by the TinCaps on Friday night, the 'Caps struck first when Jake Holton blasted a two-run homer, his fifth of the season and third in the four games of this series, to take a 2-0 lead. The second inning saw the TinCaps enjoy their most considerable offensive output of the season. Run-scoring singles from Corey Rosier and Robert Hassell III aided two-run doubles by Ripken Reyes and Brandon Valenzuela to take a commanding 8-2 lead. The 'Caps scored the subsequent three runs in the contest, courtesy of a solo home run by Wenceel Perez and RBI-Triple by Colt Keith to trim the TinCaps lead to 8-5. Fort Wayne scored single runs in the seventh and eighth to add some much-needed insurance and help the TinCaps even the six-game series at two games apiece.
Fort Wayne reliever Edwuin Bencomo (2-1) tossed 2.1 frames out of the TinCaps bullpen to collect his second victory of the season, while 'Caps starter Carlos Guzman (1-3) couldn't escape the troublesome second inning in suffering his third loss of the 2022 campaign. Keith and Perez recorded multiple base hits, and Holton drove in three runs in a losing cause. The Whitecaps record falls to 16-21, while Fort Wayne improves to 15-22.
UP NEXT
The West Michigan Whitecaps play the Saturday night version of this six-game series against the Fort Wayne TinCaps at 7:05 pm. Pitcher Dylan Smith, a Top-10 Detroit Tigers prospect who has allowed just one run over five innings in each of his last two starts, gets the call for West Michigan. Broadcast coverage with Dan Hasty starts on the Whitecaps Baseball Network at 6:50 pm. Get your tickets for all 2022 home games now at www.whitecapsbaseball.com.