Holton Plays Hero in 5-4 Walk-Off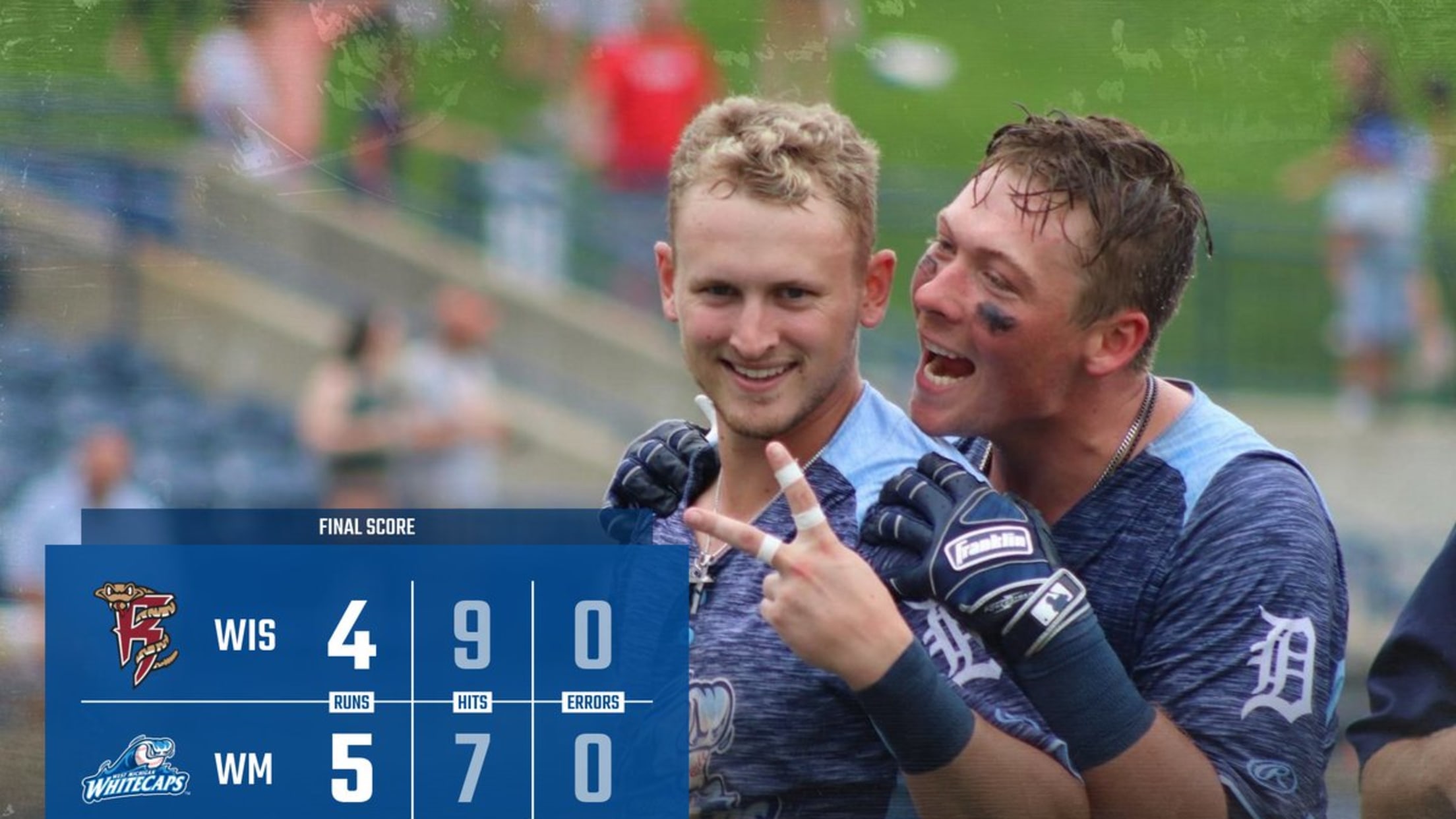 COMSTOCK PARK, MI - Jake Holton's game-winning two-run double delivered the West Michigan Whitecaps a dramatic 5-4, tenth-inning victory over the Wisconsin Timber Rattlers in front of 5,452 fans Sunday at LMCU Ballpark. WATCH: HOLTON WALKS IT OFF Holton finished the game 2-for-3 with three RBIs and his second walk-off
COMSTOCK PARK, MI - Jake Holton's game-winning two-run double delivered the West Michigan Whitecaps a dramatic 5-4, tenth-inning victory over the Wisconsin Timber Rattlers in front of 5,452 fans Sunday at LMCU Ballpark.
Holton finished the game 2-for-3 with three RBIs and his second walk-off hit of the series, while the West Michigan bullpen held Wisconsin scoreless through the last 4.2 innings with three strikeouts in the win.
Timber Rattlers outfielder Tristan Peters opened the game with a two-run home run in the first inning, putting Wisconsin in front 2-0. West Michigan responded in the second as Josh Crouch roped an RBI double before Joe Gray plated Jose Acosta on a run-scoring single in the third, extending the lead to 3-1. Whitecaps relievers Jack O'Loughlin, Bryce Tassin, Andrew Shaps, and Gio Arriera held the Rattlers to two hits as Holton and Bryant Packard pounded back-to-back RBI singles in the eighth, tying the game at three going into the ninth. Wisconsin put runners on first and second with just one out before a double play squandered the opportunity, sending the game tied 3-3 into extra frames.
Wisconsin struck first in the tenth as Wes Clarke lifted a sacrifice fly to put the Timber Rattlers on top 4-3. The Whitecaps advanced runners into second and third base with just one out in the bottom of the tenth before Holton delivered the game-winning two-run double, scoring Trei Cruz and Corey Joyce and sending West Michigan on to the dramatic 5-4 victory.
Whitecaps closer Gabe Sequeira (2-2) collected his second win of the year, allowing one run with a strikeout in the tenth inning. Timber Rattlers closer Taylor Floyd (1-2) suffers his second loss, allowing two runs through two innings pitched. This victory marks the first time the Whitecaps have won five games in consecutive six-game series since Minor League Baseball reformatted its schedule in 2020. Furthermore, five of the last seven victories the Whitecaps have over Wisconsin have come via a walk-off. The Whitecaps improve to 47-40 and 16-5 in the second half. The Timber Rattlers fall to 45-41 and 12-9 in the second half.
UP NEXT
The Whitecaps enjoy the Midwest League All-Star Break this week before getting back to work with a three-game series at Dow Diamond against the Great Lakes Loons beginning Friday at 7:05 pm. The starting pitchers for the contest are to be determined. Broadcast coverage with Dan Hasty starts on the Whitecaps Baseball Network at 6:50 pm. Get your tickets for all 2022 home games now at www.whitecapsbaseball.com.