Meyers Saves the Day in 6-5 Win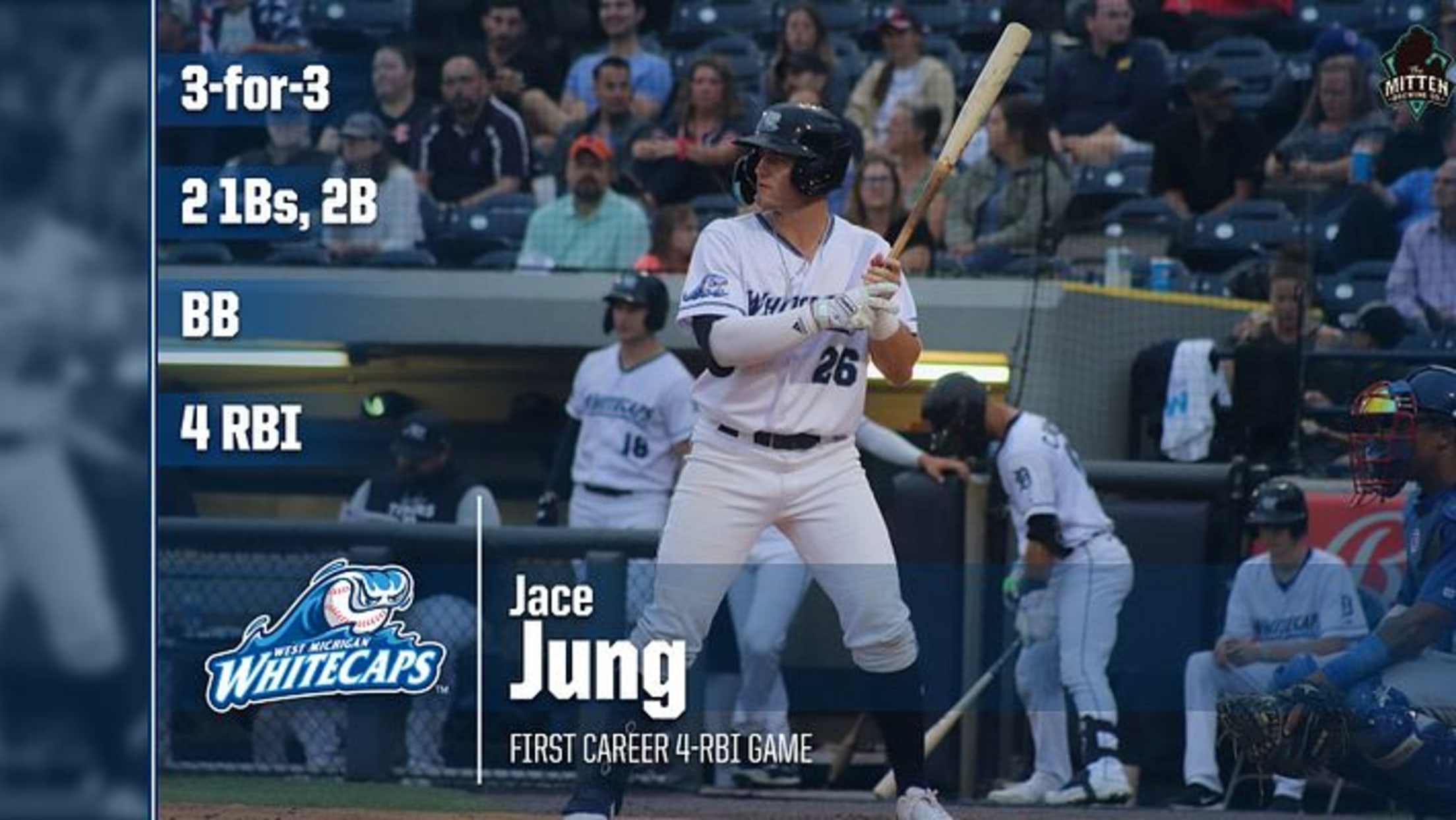 DAYTON, OH – Chris Meyers's game-saving diving catch and a career-best performance by Detroit Tigers Top Prospect Jace Jung helped the West Michigan Whitecaps escape with a 6-5 victory over the Dayton Dragons in front of 7,545 fans Thursday night at Day Air Ballpark. HIGHLIGHTS: WHITECAPS HANG ONTO A 6-5
DAYTON, OH – Chris Meyers's game-saving diving catch and a career-best performance by Detroit Tigers Top Prospect Jace Jung helped the West Michigan Whitecaps escape with a 6-5 victory over the Dayton Dragons in front of 7,545 fans Thursday night at Day Air Ballpark.
HIGHLIGHTS: WHITECAPS HANG ONTO A 6-5 WIN
Meyers, a native of nearby Miamisburg, Ohio, left his feet to make a lunging, diving catch down the first base line with the bases loaded for the final out to preserve the 'Caps sixth win in seven games. Meanwhile, Jung enjoyed a 3-for-3 performance with a double, walk, and career-high four RBIs.
Dayton opened the scoring on Thursday with a controversial sacrifice fly, as MLB Top-100 Prospect Edwin Arroyo brought home Blake Dunn for the Dragons first run on a play that replays showed Dunn being tagged out before touching home plate. In the second, the 'Caps took advantage of three walks and a fielding error, combined with Jung's sacrifice fly to give West Michigan a 2-1 lead. Jung extended the 'Caps lead to 3-1 in the fourth with a run-scoring double. In the sixth, Ruben Ibarra blasted his second home run of the series – a two-run shot to tie the contest at three. In the eighth, Eliezer Alfonzo blasted his third homer of the 2023 campaign, a go-ahead shot to lead off the frame to give West Michigan a 4-3 edge. Later in the frame, Jung brought home two more runs and some much-needed insurance with a two-run single, extending the edge to 6-3. In the ninth, the first three Dragons hitters singled before Austin Callahan brought the 'Caps lead to one run with a run-scoring single before Meyers's incredible catch ended the contest.
The Whitecaps improve to 28-20 and sit 4.5 games behind the Great Lakes Loons for first place in the Midwest League East division, while the Dragons fall to 23-25. 'Caps pitcher Trevin Michael (2-1) threw a scoreless frame out of the bullpen to earn his second win, while Dayton reliever Dennis Boatman (0-2) took his second loss after giving up three runs in 1.1 innings. Jack Anderson was credited with his first save of the season. Jung and Meyers each collected three hits in the victory.
UP NEXT
This six-game series between the Whitecaps and Dayton Dragons continues Friday from Day Air Ballpark at 7:05 pm. Pitchers Williander Moreno and Julian Aguilar get the starts for West Michigan and Dayton. Broadcast coverage with Dan Hasty begins on the Whitecaps Baseball Network at 6:50 pm. Get your tickets for all 2023 home games now at www.whitecapsbaseball.com.