O'Loughlin Twirls Gem in 6-0 Shutout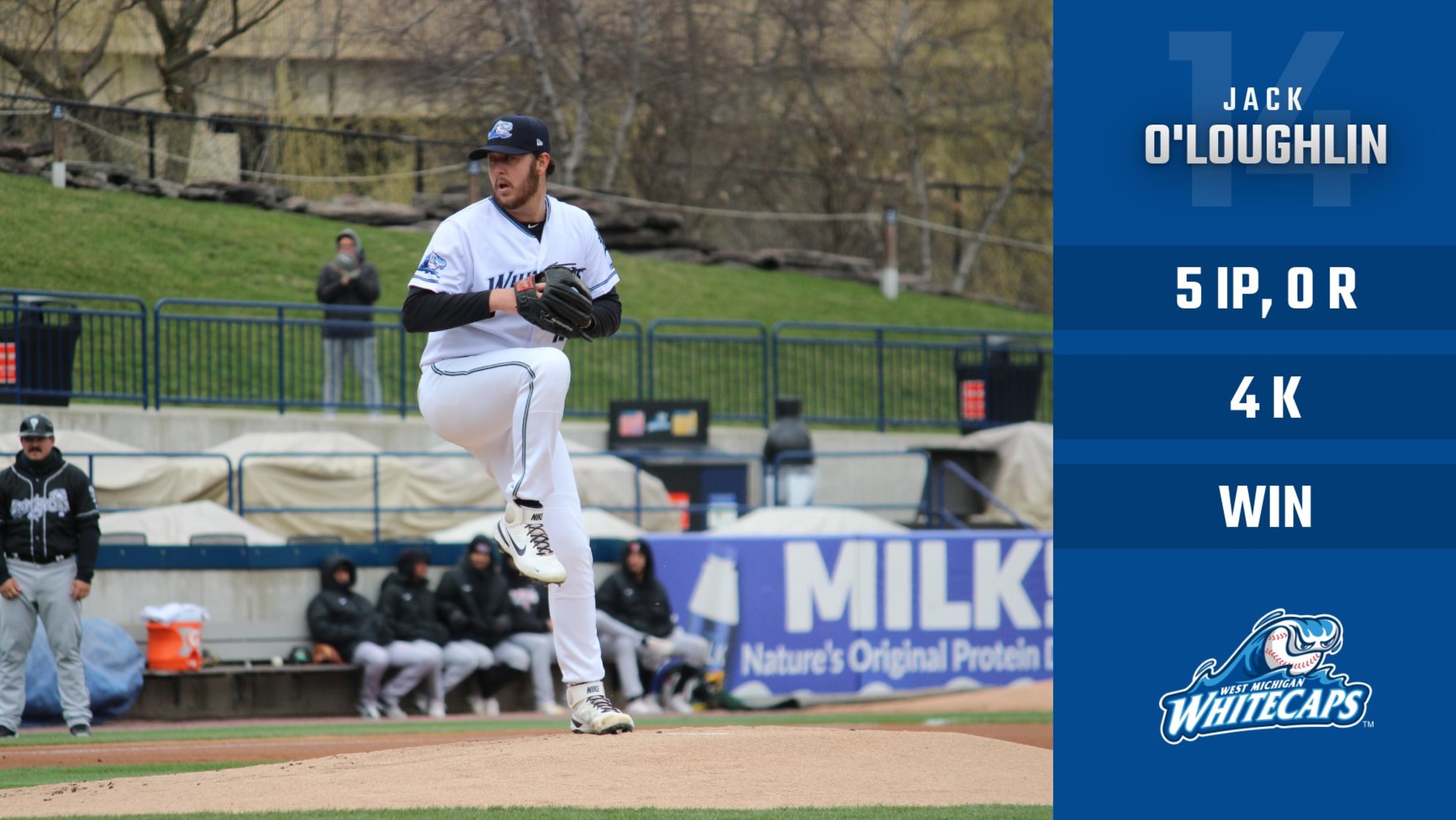 MIDLAND, MI – The West Michigan Whitecaps enjoyed five scoreless innings from starting pitcher Jack O'Loughlin, continuing a dominant run and leading the way to a 6-0 victory over the Great Lakes Loons on Saturday at Dow Diamond. LISTEN: O'LOUGHLIN, 'CAPS SHUT OUT FIRST-PLACE LOONS O'Loughlin (2-3) enjoyed his third
MIDLAND, MI – The West Michigan Whitecaps enjoyed five scoreless innings from starting pitcher Jack O'Loughlin, continuing a dominant run and leading the way to a 6-0 victory over the Great Lakes Loons on Saturday at Dow Diamond.
LISTEN: O'LOUGHLIN, 'CAPS SHUT OUT FIRST-PLACE LOONS
O'Loughlin (2-3) enjoyed his third straight start having tossed five frames without allowing a run, extending his scoreless innings streak to a team-best 15 innings. The 23-year-old lefty allowed only three hits and one walk while striking out four to lower his season ERA to 2.51.
The Whitecaps broke the game open with five runs in the second inning. Carlos Mendoza opened the scoring with a two-run triple to help West Michigan take a 2-0 lead. Mendoza left the game an inning later after appearing to injure his hand on a sacrifice bunt. Later in the frame, Detroit Tigers Top Prospect Jace Jung delivered a run-scoring single to extend the lead to 3-0. Austin Murr drew a bases-loaded walk, and Eliezer Alfonzo enjoyed an RBI-single to highlight the big inning for West Michigan. The score remained the same until the seventh when first baseman Dillon Paulson launched his first home run of the season – a solo shot that came against his former team – as the 2019 Great Lakes Loon in Paulson pounded a 410-foot blast to extend the 'Caps lead to 6-0, ending the scoring in the contest.
The 'Caps record jumps to 22-16, while the Loons drop to 24-14. O'Loughlin gets the victory, improving his record to 2-3, while Loons starter Jerming Rosario (0-2) took the loss after giving up five runs in 1.2 innings. Izaac Pacheco and Eliezer Alfonzo each enjoyed a three-hit game by going 3-for-5 in the victory. The win places the Whitecaps just two games behind the first-place Loons in the Midwest League Eastern Division.
UP NEXT
The Whitecaps and Great Lakes Loons conclude this six-game series on Sunday at 1:05 pm. Pitchers Williander Moreno and Justin Wrobleski get the starts for West Michigan and Great Lakes. Broadcast coverage with Dan Hasty begins on the Whitecaps Baseball Network at 12:50 pm. Get your tickets for all 2023 home games now at www.whitecapsbaseball.com.